Busy Amarista working hard, eyeing starting job
Versatile infielder/outfielder will compete this spring for spot at shortstop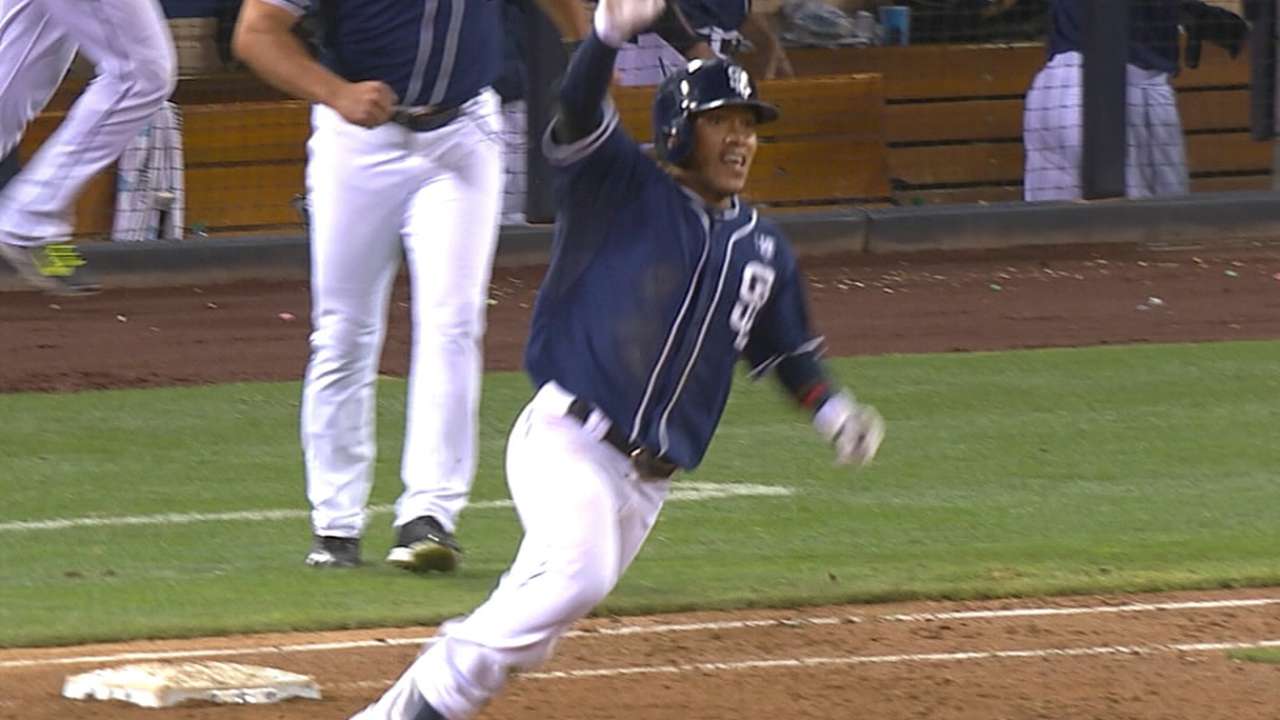 SAN JUAN, Puerto Rico -- Padres manager Bud Black jokes that Alexi Amarista has played in every inning in 350 games in 360 days.There's a morsel of truth behind Black's tall tale.
Amarista played in 148 for the Padres last season and 35 games in winter ball in Venezuela. He's 3-for-5 in two games for Venezuela's Caribes de Anzoategui team in the Caribbean Series. All of those games are part of the reason the utility man will enter Spring Training with a chance to win an everyday job.
On Wednesday, Amarista scored the winning run to lead the Venezuelan team to a 6-5 victory against the Dominican Republic's Gigantes del Cibao. The win improved Venezuela's record to 2-0. The loss drops the Dominican Republic to 1-1.
"The biggest thing is that he is going into Spring Training with a chance to compete for the everyday job at shortstop," Padres general manager A.J. Preller said. "I think he played well the last two months of season. He has opened up some eyes and put himself in a position to come into spring and compete. The big thing is that he loves to play. He loves to play every day."
Known primarily as a utility player, Amarista played 626 innings in 73 games at shortstop for the Padres last season in place of Everth Cabrera. It's quite a jump when you consider the most shortstop he played previously was 83 2/3 innings in 2013.
The Padres eventually cut ties with Cabrera and now the job seems as if it's Amarista's to lose. The club also signed Clint Barmes to provide infield depth.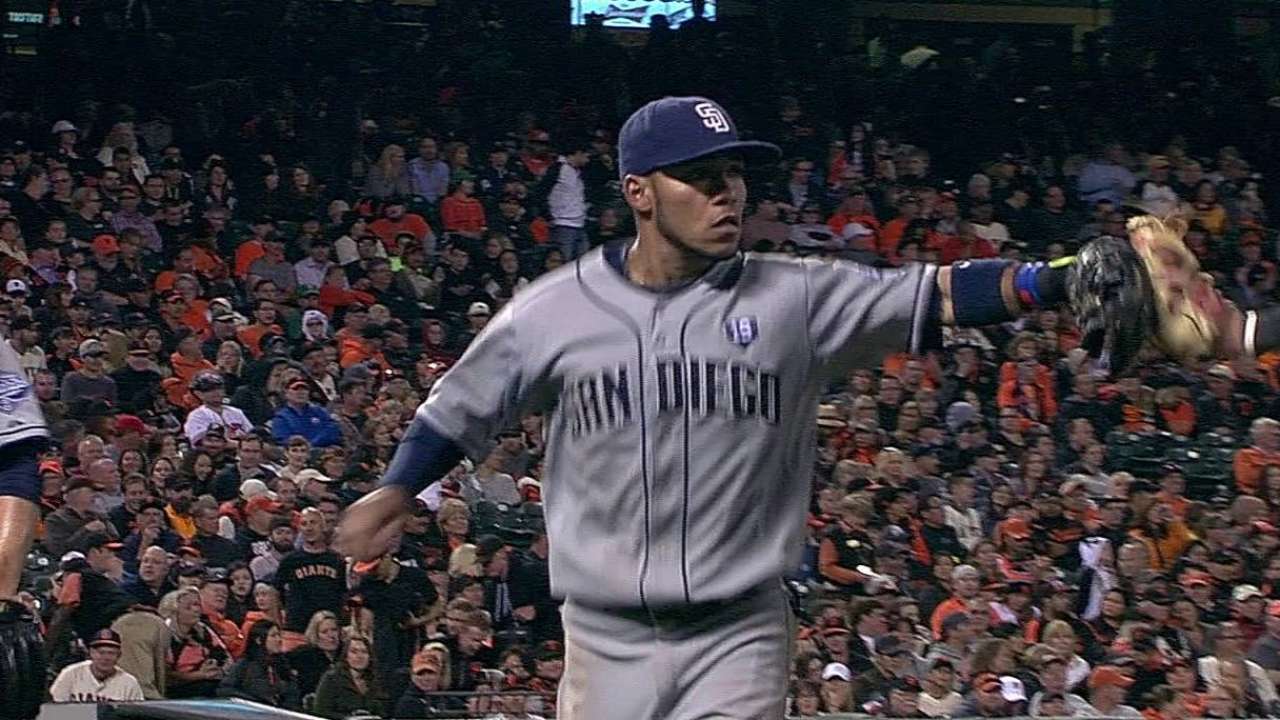 "I would love it. I would love to go back to shortstop -- a position I have played since I was a kid," Amarista said in Spanish. "I've heard the rumors, but nobody has told me anything. I just want to show up to Spring Training and do my job. If manager Buddy Black sees me and he wants to give me the position, I'll do my job."
Amarista also played in 21 games at second base, 22 at third base, six in left field and 21 in center field for the Padres last season.
"Guys that want to play and play with an edge, those are the guys you want on your team," Preller said. "Alexi brings that to the table."
Getting Amarista off the field isn't as easy as it sounds. He says he took two months off at the end of the regular season and he's already looking forward to Spring Training.
There's a reason why he is feeling so confident.
Amarista hit .388 in 67 at-bats with 10 runs, two doubles, one triple and one home run in 16 games for the Caribes during the Winter League regular season. He hit two home runs with 10 RBIs in 14 games during the round-robin playoffs, and he's sported a .350 batting average with one home run and five RBIs in five games during the playoff finals.
"Each case is individual, but playing all of the time is part of what has made him a success," Preller said. "He's had a lot of chances to learn and grow on the field playing, and we are not going to take that away from him. That approach has helped him get to big leagues and overcome some odds."
Should Amarista win the job, he'll join a revamped San Diego lineup that includes now Matt Kemp, Justin Upton and Wil Myers.
"We have a good team. The truth is, we've made great trades, great acquisitions with great players," Amarista said. "San Diego is now one of the favorites to win the division. God-willing, we can win a championship."
Jesse Sanchez is a national reporter for MLB.com. Follow him on Twitter @JesseSanchezMLB. This story was not subject to the approval of Major League Baseball or its clubs.