Golf is only game Oliver's playing these days
Former reliever not interested in coming out of retirement to rejoin Rangers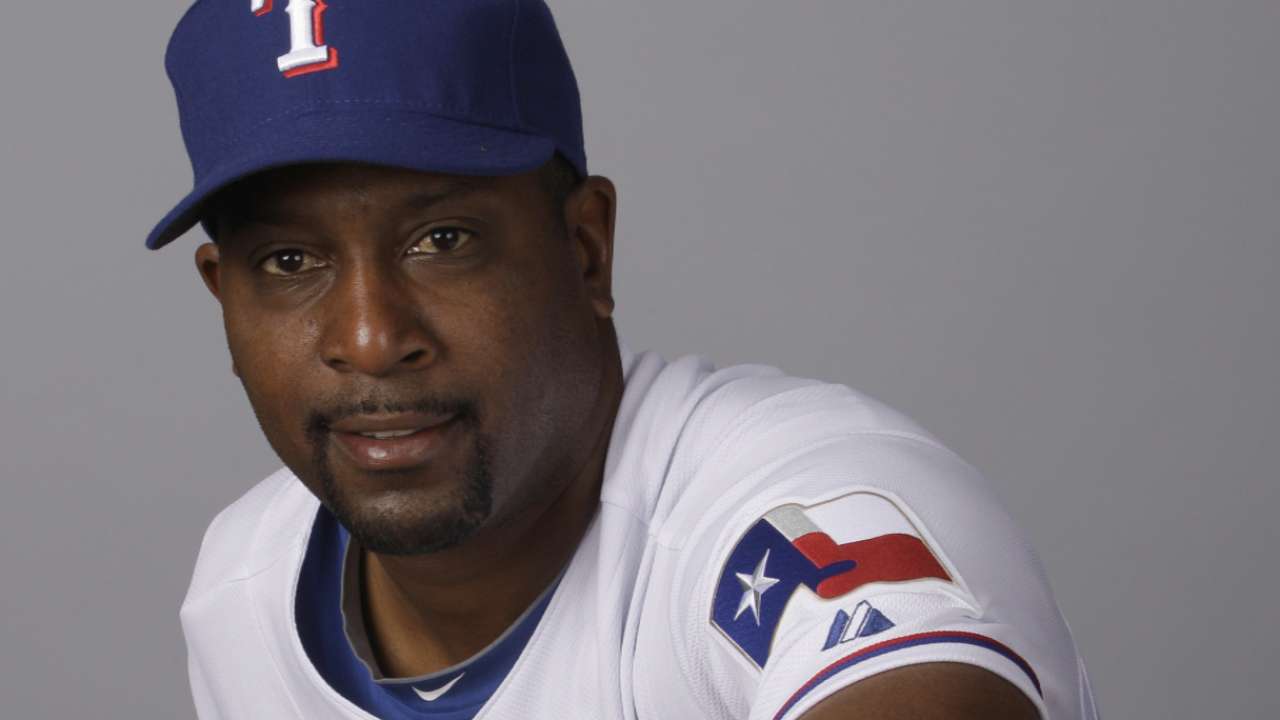 ARLINGTON -- Darren Oliver is still working out, but this time he said it's to get ready for a golf tournament.
"The Lake Tahoe Invitational," Oliver said after Wednesday morning's workout. "It's in July. I've got to get my handicap down to a five. I'm working the kinks out. I'm at an eight right now. It's all about chipping and putting."
Tiger Woods apparently has the same concerns.
"Let me ask you a question," Oliver said. "If you hit .300 five years in a row, would you change your swing? This guy wins all these tournaments and he keeps changing his swing. I don't understand it."
The Rangers aren't interested in athletes in other sports, other than their man-crush on Seahawks quarterback Russell Wilson. What they need are left-handed relievers and Oliver was one of the best.
The problem is he is retired and, unlike Woods, is not interested in any dramatic comebacks.
"I haven't picked up a ball since the end of the season in 2013," Oliver said. "I take that back. I did throw some batting practice to my son's youth baseball team. It was good. I was throwing strikes. That's what those kids need."
That's what the Rangers need.
"That hasn't crossed my mind," Oliver said. "There are plenty of guys they can go out and get. We've got some guys coming into camp."
The Rangers only have three left-handed relievers coming into camp after trading Robbie Ross Jr. to the Red Sox last week. Alex Claudio is on the 40-man roster, and Martire Garcia and Michael Kirkman will be Minor League invites. Oliver is most familiar with Kirkman, who has been in the Rangers' organization since 2005.
"He could be the guy," Oliver said. "He just needs to get there. He just needs to have confidence in his stuff … trust his stuff."
Left-handed relievers are still hard to find, which is why Oliver had a terrific second career out of the bullpen after he seemed done as a starter and just about out of baseball.
"Good ones are hard to find," Oliver said. "People think that if you are left-handed and breathing, you can go out there and pitch. That's not the case. You've got to throw strikes, quality strikes.
"The biggest thing that separates somebody in the big leagues is putting them in front of all those people and make that pitch. It's not easy to do. If it was easy to do, everybody could do it."
Oliver did it. After being used mainly as a starter from 1995-2004, Oliver did not pitch in the big leagues in '05, then revived his career as a reliever. From '06-13, he made 460 appearances in the big leagues -- including one token start -- and was 31-19 with a 2.95 ERA. He pitched in two World Series for the Rangers before finishing his career with two seasons in Toronto.
"I don't miss the pitching part," Oliver said. "The only part I miss is being with the guys. The playing and the traveling, I don't miss. The last couple of years in Toronto were tough being away from my family. I'd come back from the game, get to my room and we were losing and I would think, 'What am I doing here?' It was tough."
Oliver is still in the game. He is one of several special assistants to general manager Jon Daniels, and it is not a ceremonial position.
"I do a little bit of everything," Oliver said. "I'm all over the place. Sometimes I go into the office … basically I'm soaking up everything. I spend a lot of time with [farm director] Mike Daly and the Minor Leagues."
Oliver will be in Spring Training. He will be there when pitchers and catchers report Feb. 20, he will be there when the Minor Leaguers report the first week of March and he will be there at the end of camp when cuts are made.
"That's the fun part, being out with the guys," Oliver said. "I do more stuff during the season, especially going to the Minor League sites. I get dressed, sit in the dugout, sit in the bullpen. I'm grinding it out."
Oliver, who is 44, is trying to make a real contribution to the Rangers. He just isn't interested in doing it on the mound, even though he is just what they need right now.
T.R. Sullivan is a reporter for MLB.com. Read his blog, Postcards from Elysian Fields, and follow him on Twitter @Sullivan_Ranger. This story was not subject to the approval of Major League Baseball or its clubs.