Dombrowski wants hitters to use whole field
President/GM believes Cespedes will benefit from teammates Miggy, V-Mart
DETROIT -- If baseball wants to balance the game for hitters, Tigers president and general manager Dave Dombrowski believes a key is balancing the hitters themselves. And he thinks new Detroit slugger Yoenis Cespedes could be a beneficiary.
"I think in today's game, one of the reasons offense is down is that people have become pull-oriented," Dombrowski said. "I think a guy like Cespedes, for example, will benefit a great deal being around Miguel [Cabrera] and Victor [Martinez] on a daily basis. Cespedes, he can use the whole field. When he was a youngster and we saw him, he would drive that ball to right field and right-center. I haven't been around him quite as much of course over the last few years, but when he's around them and how they use the whole field, I think that will be good for his approach.
"Sometimes guys, they're not purposely doing it, they're just like, 'OK, I'm going to start pulling the ball more.' But when you're around Miguel and Victor, these guys talk hitting all the time."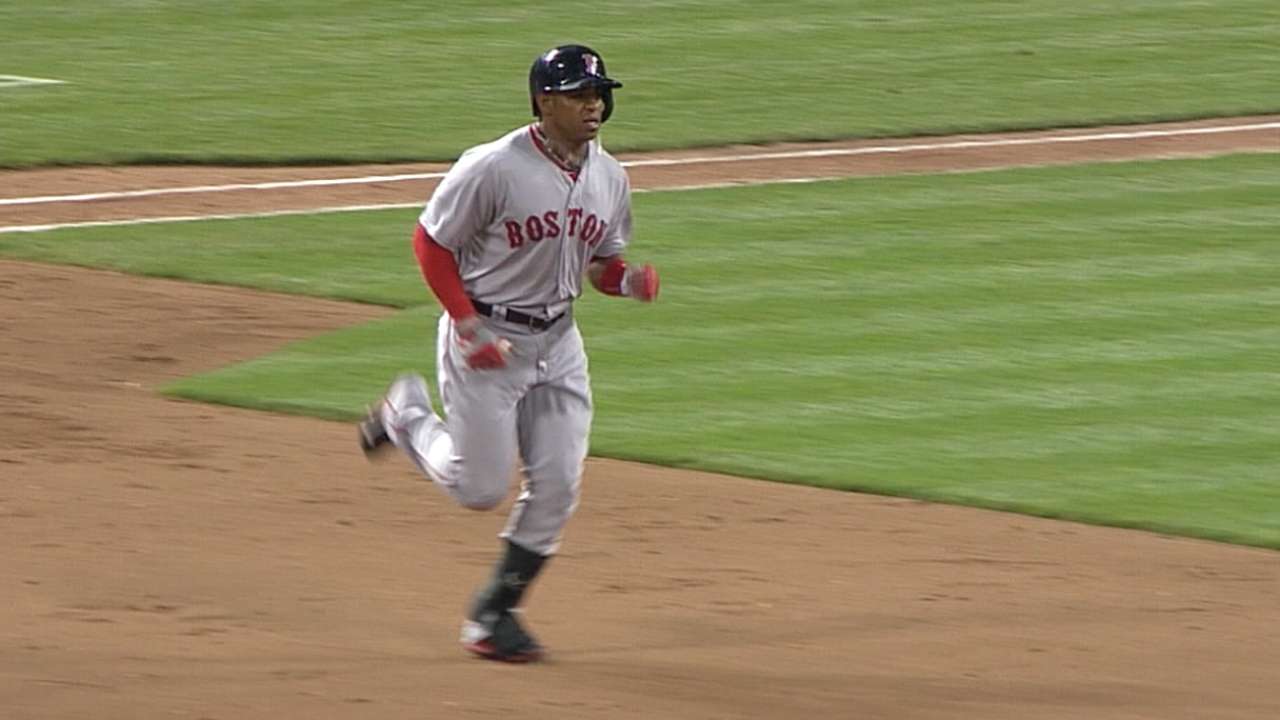 Dombrowski does not believe restricting shifts is a solution, though he said some in the Tigers' front office support the idea.
"You should never penalize intellect," he said, "so if you're smart enough to play players in certain positions, you shouldn't be penalized for that."
Instead, he suggested, hit the ball where the defenders aren't.
In 2014, the Tigers led the Major Leagues in batting average and RBIs, topped the American League in OPS and ranked second in runs scored thanks in part to two of the better all-fields hitters in the game, three-time batting champion Cabrera and AL MVP runner-up Martinez.
Their approach, Dombrowski said, rubs off on other hitters, including third baseman Nick Castellanos and outfielder J.D. Martinez, whose breakout season helped balance out Detroit's lineup.
On J.D. Martinez, Dombrowski said, "Look at how he used the opposite field. Look at how he drove the ball out of the ballpark to right field and to center field. A lot of hitters don't do that. ... If you use the whole field, part of the thing is you usually have less holes. You're in a spot where you can drive more pitches rather than just have one zone that you can handle. And J.D. definitely benefited."
Dombrowski acknowledges that pitching has made a major difference. When he got his first job in a Major League front office with the White Sox in 1978, the average fastball was 90 mph or slower.
"Now it's 91+, and in the bullpen almost 94," he said. "So velocity has improved. I think overall, hitting is tougher, facing more guys with more pitches, but using the whole field will help offense.
"So to me, instead of saying you can't play that person there, what you need to do is be in a position where that hitter needs to take advantage of driving the ball the other way."
Jason Beck is a reporter for MLB.com. Read Beck's Blog and follow him on Twitter @beckjason. This story was not subject to the approval of Major League Baseball or its clubs.