Yankees' middle infield has new look post-Jeter
Gregorius steps in at shortstop, while Drew returns at second base
With the start of Spring Training just weeks away, anticipation is building for the 2015 season. MLB.com is going around the horn to break down each area of the Yankees, continuing with the middle infielders.
A huge challenge for Didi Gregorius, in the first year of the post-Derek Jeter era, will be to ignore the constant reminders of who he is replacing at shortstop. All the Yankees are asking is that Gregorius play up to his potential, and if he can, they believe that should be plenty.
Gregorius was anointed as Jeter's successor in December, when the Yankees acquired him from the D-backs in a three-team trade. In Gregorius, who turns 25 later this month, the Yanks believe they will feature an above-average defensive player who has room to grow offensively.
"We believe there's more gas in his tank in terms of his development on the offensive side," general manager Brian Cashman said. "If he can close the gap from where he currently is to where he potentially can be, then we would have one heck of a player on our hands as we move forward."
The Yankees' thinking going into the spring is that Gregorius will play regularly against right-handed pitching, as he owns a career split line of .262/.332/.411 in 544 plate appearances against them. Yankee Stadium's cozy dimensions could give his left-handed swing a little extra pop, and the club is encouraged by Gregorius' improving knowledge of the strike zone.
But the Yanks seem less certain about Gregorius' ability against lefties, who have eaten him up to a .184/.257/.233 split line over 180 plate appearances. In an effort to correct that, Gregorius said that he has spent a great deal of the winter hitting against lefties, and manager Joe Girardi should give him ample opportunities to tune up against southpaws during the spring.
"I would say I'm proud of everything that I'm doing," Gregorius said. "It's just getting there and just getting the job done. One way or another, you've got to help your team win, so that's how I look at it: keep going from there, keep making improvements, defensively and offensively."
The gloves in the center of the diamond project to be more solid than they were in 2014, when Jeter and Brian Roberts comprised the Opening Day double-play combination. But if the bats are to be more potent, the Yankees must bank that a more normal offseason works wonders for Stephen Drew, who returned in January on a one-year, $5 million contract and is slotted as the starting second baseman.
Drew struggled mightily after missing all of Spring Training in 2014, having turned down a qualifying offer from the Red Sox, and he didn't appear in the big leagues until June. He was dealt from Boston to New York in late July, and Drew played second base for the first time in his career.
Though he handled the position competently, Drew's bat never caught up; with New York, Drew batted just .150 with three homers and 15 RBIs in 46 games, even weaker than the numbers that he produced in Boston.
"If I could take a year back and kind of re-start it, it'd be this year, offense-wise," Drew said in September. "Other than that, you can't do anything about it."
The Yanks hope that Drew returns to the form he flashed in 2013, when he hit .253 with 13 homers and 67 RBIs in 124 games as the Red Sox went on to win the World Series.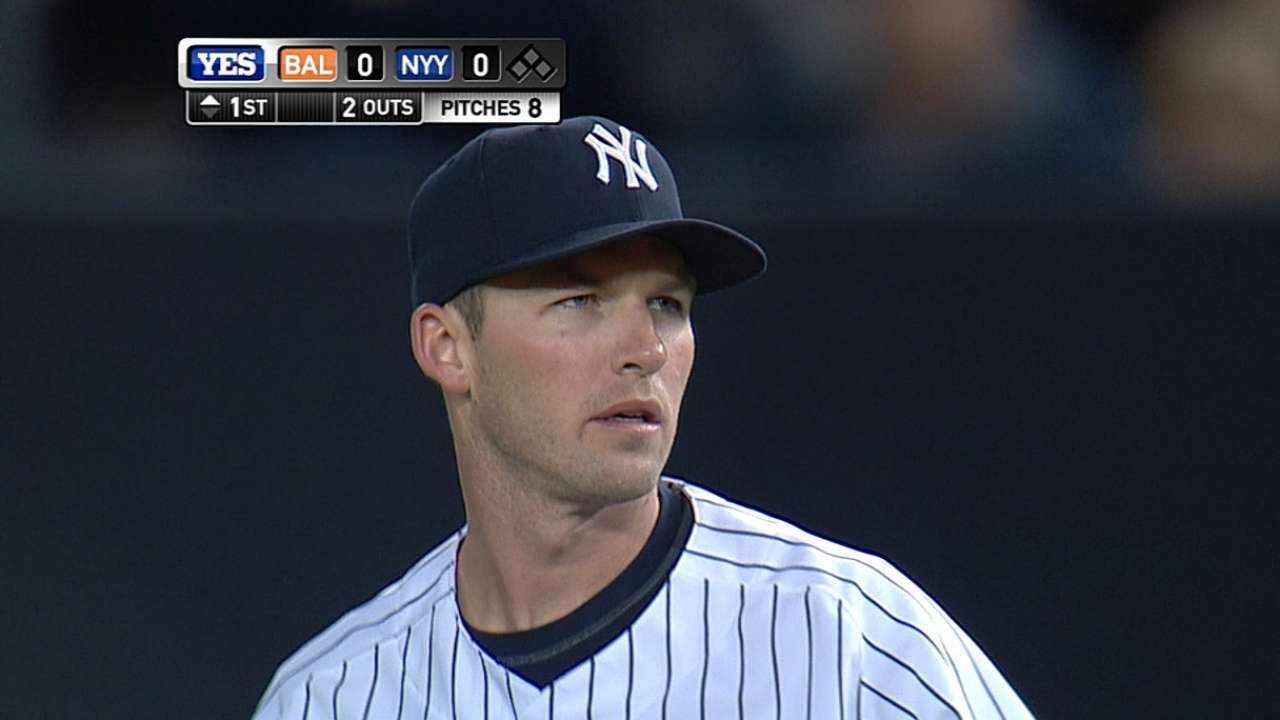 "As we've seen, players that have missed all of Spring Training and as much time as that, it becomes very difficult to try to catch up," Girardi said recently. "I think that's the mistake that players try to do, is they try to catch up too quickly and they're rushed. Obviously when you sign a player, you don't want him in the Minor Leagues to get ready, you want him in the big leagues.
"They're brought up rushed and it can be a difficult situation. You can go all the way back to Scott Brosius -- that was one of the reasons we got Scott Brosius, because he had that tough [1997 season] and then he ended up being great for us. So I think you'll see a really good Stephen Drew."
The Yankees project to use Brendan Ryan, an excellent defender who hit .167 in 49 games last year, as the primary backup for both Gregorius and Drew. It has been suggested that Ryan could handle shortstop in a platoon against left-handed pitching, though his career numbers against southpaws (.245/.309/.320) are not outstanding.
By signing Drew, the Yanks bought more development time for Jose Pirela and Rob Refsnyder, who had been touted to come into the spring and compete for the starting second-base job. It is likely that one or both players will see time in the Bronx at some point, especially if Drew falters.
The 25-year-old Pirela got into seven September games last season and could help in a utility role, while the Yankees continue to be high on the 23-year-old Refsnyder, who posted a .300/.389/.456 slash line at Triple-A Scranton/Wilkes-Barre while settling concerns that the organization had about his infield defense. Refsnyder is ranked by MLBPipeline.com as the Yanks' No. 6 prospect.
"Obviously when you put someone like a Stephen Drew in front of them, I understand that's probably extremely frustrating, but just continue to work really hard and you never know when your opportunity is going to come," Girardi said. "You look at Jose Pirela, and he sees an opportunity here. Now he's definitely on our radar and a guy that we feel is going to contribute this year at some point."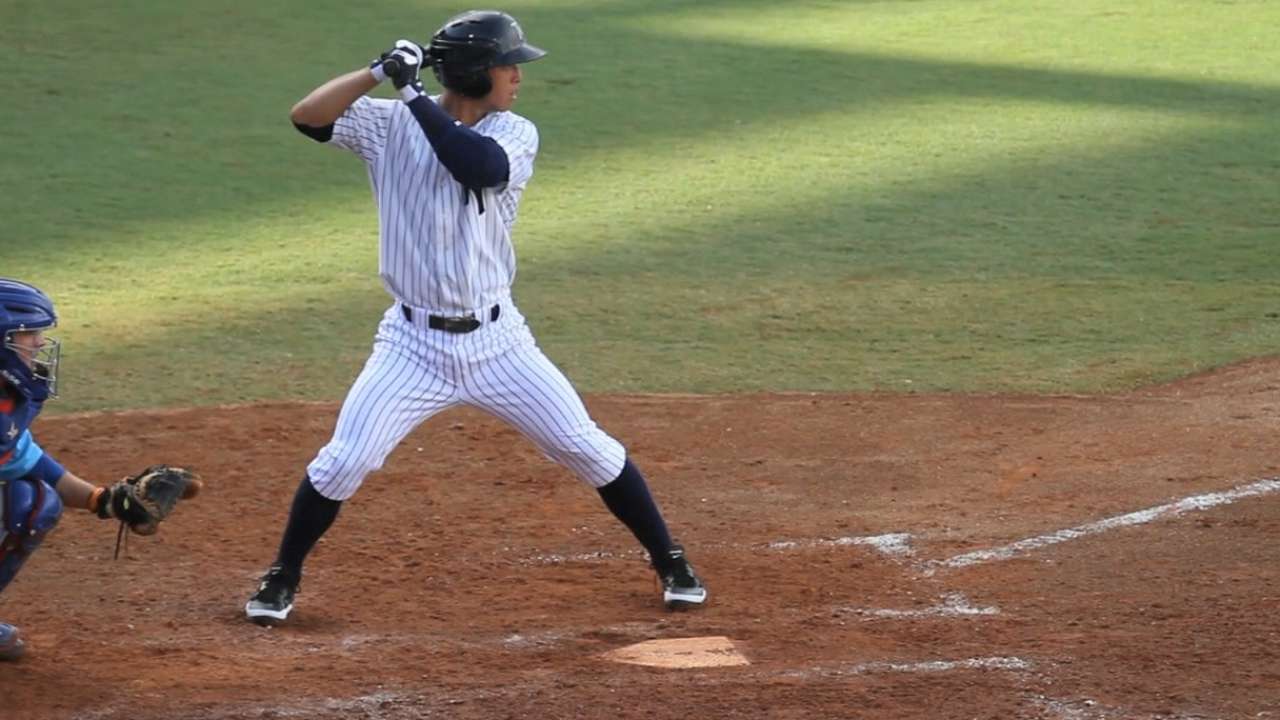 Bryan Hoch is a reporter for MLB.com. Follow him on Twitter @bryanhoch and read his MLBlog, Bombers Beat. This story was not subject to the approval of Major League Baseball or its clubs.