Power aplenty among fantasy first basemen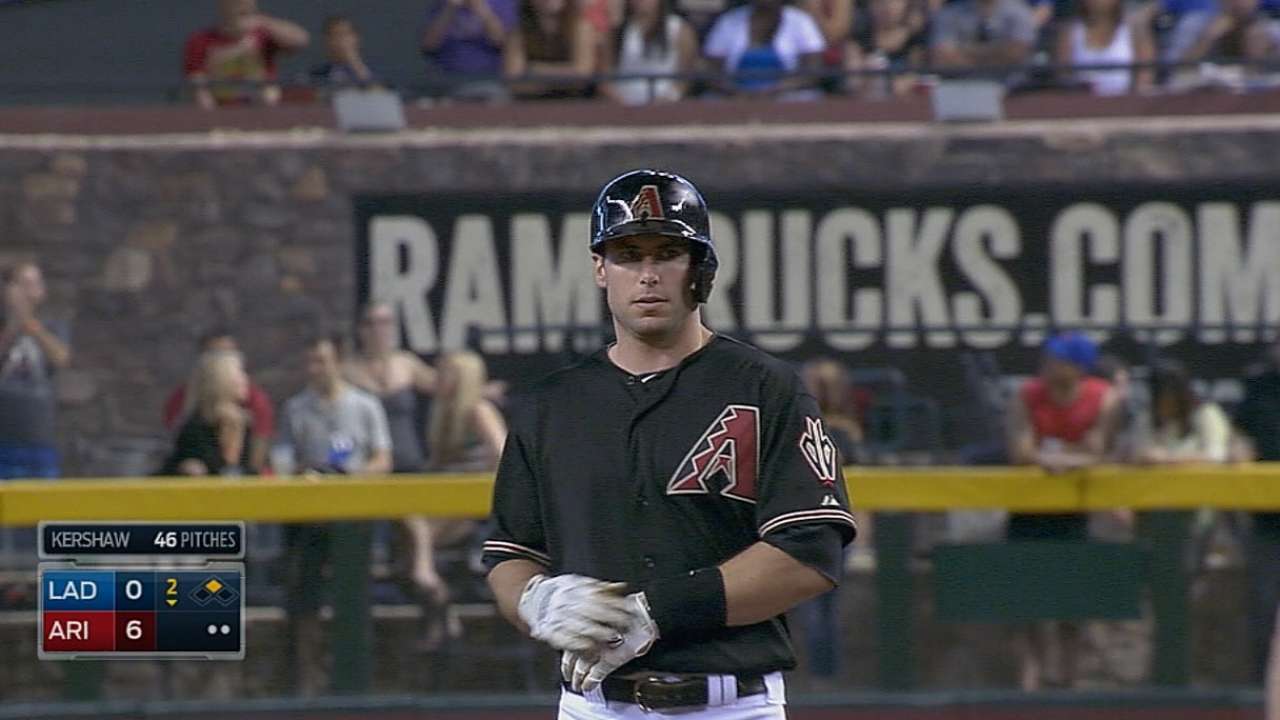 It's getting harder to find true power bats throughout Major League Baseball, but for first basemen, the long ball is alive and well. Power is what separates the elite fantasy first basemen from the rest of the crop, and there's plenty of it to be found in 2015.
TIER 1: Paul Goldschmidt, Miguel Cabrera, Jose Abreu, Edwin Encarnacion, Anthony Rizzo
Last year, this group included Goldschmidt and ... that's it. Now, he's got company. Goldschmidt does it all, and it's not hard to imagine him putting up another season like 2013 (.302/.401/.551, 36 homers, 125 RBIs, 15 steals) if he stays healthy. When he's on the field, he's a high-level fantasy producer.
• MLB.com's 2015 Fantasy Player Preview
Health is also the issue for Cabrera, though he managed to hit .313/.371/.524 with 25 homers and 109 RBIs last year with a bad right ankle. He underwent surgery in October to repair a stress fracture and remove bone spurs. With that in mind, he's projected to bounce back in a few categories, with a chance to hit 30-plus homers. But keep an eye on his health, particularly his ankle, as Spring Training approaches.
Abreu burst onto the scene last season, earning American League Rookie of the Year honors, and he might even improve given the lineup support the White Sox added this offseason. Abreu is projected to take a slight step back overall, hovering on the other end of a .300 average instead of the .317 he hit in '14, but it's reasonable to pencil him in 30-plus homers and more than 100 RBIs.
Encarnacion won't post a .300 average like his counterparts in this tier, but he's a guaranteed homer/RBI threat -- he had 34 and 98 despite only playing 128 games in '14 -- and it's fair to expect 30-plus homers and around 100 RBIs.
Rizzo broke out last year with 32 homers, and his RBI total (78 in '14) should climb into the 90s if the Cubs continue to improve.
TIER 2: Albert Pujols, Freddie Freeman, Adrian Gonzalez, Prince Fielder, Joey Votto, Chris Davis
Pujols simply isn't the same hitter he used to be, but he and Cabrera were the only first basemen with at least 25 homers, 100 RBIs and 85 runs scored last year. So he's still valuable in terms of counting stats -- he's projected to hit .276 with 27 homers and 100 RBIs -- even if his on-base and slugging percentages fall.
• Follow Fantasy 411 on Twitter
Freeman isn't quite the same power threat as the players ranked ahead of him, but he's consistently going to put up a solid average and high on-base percentage. He's projected to put up a .295/.378/.489 line with 23 homers and 88 RBIs in 2015. The biggest concern with Freeman might be his lineup protection, as the Braves have retooled their roster, trading away Jason Heyward and Justin Upton.
Gonzalez, meanwhile, saw his average decline last season, but he made up for it with 27 homers and 116 RBIs. You can pencil him in for 20-plus homers and more than 100 RBIs.
Fielder sat out most of last season and didn't hit all that well when he did play, but he has an impressive track record to lean on, even if his best days may be behind him. It's hard to say what he'll do after missing so much time, but he's projected to hit .279 with 26 homers and 94 RBIs.
Votto is another bounce-back candidate coming off an injury. His average and on-base percentage could return to their normal high levels, but there's some cause for concern considering he's only hit 44 homers over the past three years. It's hard to consider him a truly elite option if he only hits 20 homers and drives in 75 runs, as projected.
Rounding out the list is Davis, who hit 53 homers in 2013 but regressed last year and finished the season serving 24 games of his 25-game suspension. He hit just .196, but his .242 BABIP (batting average on balls in play) certainly contributed to that. Will he repeat his '13 success? Unlikely. But he did have 26 homers and 72 RBIs in a "down" season, so look for Davis, whose suspension will end after he misses Opening Day, to boost his homer total (into the low 30s, most likely) with a corresponding RBI bump into the 80s.
TIER 3: Carlos Santana, Matt Adams, Adam LaRoche, Lucas Duda
There's a lot to like about Santana if he can get his average back up. The switch-hitter led the Majors in walks last year and thumped 27 homers. His average should come back to his career mark around .250, but he's projected to tally similar home run and RBI totals -- about 25 homers and 83 RBIs.
• Complete Fantasy Baseball coverage
Adams, meanwhile, will probably see his power numbers improve after hitting only 15 homers in 2014. He's projected to hit 22 long balls and drive in 76 runs this year. If he maintains his high average to go along with that emerging power, he will be a valuable contributor in St. Louis.
LaRoche is a legitimate power threat, averaging 26 homers over the last three seasons in Washington. Fittingly, he's projected for a 26-homer campaign with the White Sox, with an RBI total settling somewhere in the 80s -- between his great 2012 and '14 campaigns and his disappointing '13 output.
Duda, meanwhile, broke out with a 30-homer, 92-RBI campaign in 2014. He might not hit for a high average, but his power more than makes up for that. Fantasy owners might have reason to worry if Duda continues to struggle against left-handed pitching and the Mets can't put together a strong lineup around him.
TIER 4: Mark Trumbo, Eric Hosmer, Steve Pearce, Justin Morneau, Brandon Belt
Trumbo strikes out a lot, and he'll probably continue to hit for a low average and on-base percentage, but he possesses power and plays in a hitter-friendly home park. That makes him a candidate to hit 30 homers, though his shortcomings will affect his average (.235 last season, projected at .247 this year) and RBI total (61 last season, projected for 79).
• Sign up for Fantasy Baseball 2015
Hosmer is Trumbo's opposite: He hit for a solid average the last two seasons and should continue to do so, but he's only managed 26 homers during that stretch. So he's projected to hit a solid .275 with 15 homers and 71 RBIs. But if he manages to consistently hit like he did in the '14 postseason (.351 with two homers and 12 RBIs in 15 games), watch out.
Belt looked like a fast climber up the rankings following a 2013 season in which he hit .289/.360/.481 with 17 home runs, but injuries slowed him down last year. If the 26-year-old can stay healthy, he's likely to put up a decent average (projected for .264 this season), good OBPs and a homer total in the high teens or low-20s. He's also projected to drive in 66 runs in 2015.
Pearce broke out last year, hitting .293/.373/.556 with 21 homers and 49 RBIs. It's hard to imagine him repeating that production, but he should contribute and play regularly for the Orioles. For that reason, he's projected to hit .270/.339/.479 with 22 homers and 64 RBIs this year.
Rounding out this tier is Morneau, the reigning National League batting champion who hit .319/.364/.496 with the Rockies. Fantasy owners have to worry about some regression -- his average is projected to take a 20- or 30-point hit, for example, which also will lower his RBI total -- but he's still playing half his games at Coors Field with some talented players around him in the Rockies' lineup.
Adam Berry is a reporter for MLB.com. Follow him on Twitter at @adamdberry. This story was not subject to the approval of Major League Baseball or its clubs.