Kendrick agrees to one-year deal with Rockies
Righty, 30, joins Colorado on one-year, $5.5 million contract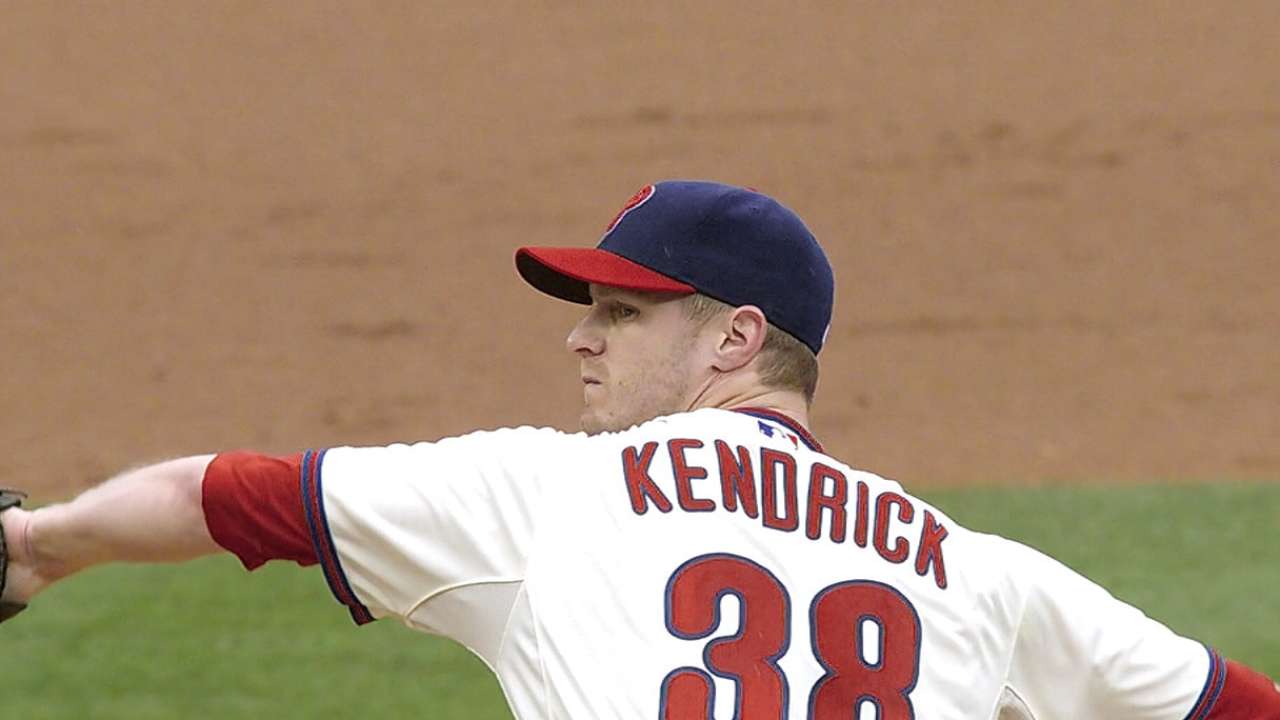 DENVER -- In hopes of adding right-handed experience and durability to the starting rotation, the Rockies on Tuesday reached a one-year, $5.5 million contract with pitcher Kyle Kendrick. The club announced the signing on Wednesday.
Kendrick, 30, went 10-13 with a 4.61 ERA in 32 starts and logged 199 innings last season for the Phillies. In eight Major League seasons, all with the Phillies, Kendrick is 74-68 with a 4.42 ERA in 226 games, including 185 starts.
Yahoo! Sports reported that Kendrick can earn an additional $500,000 if he pitches 190 innings. Left-hander Yohan Flande was designated for assignment to make room on the 40-man roster.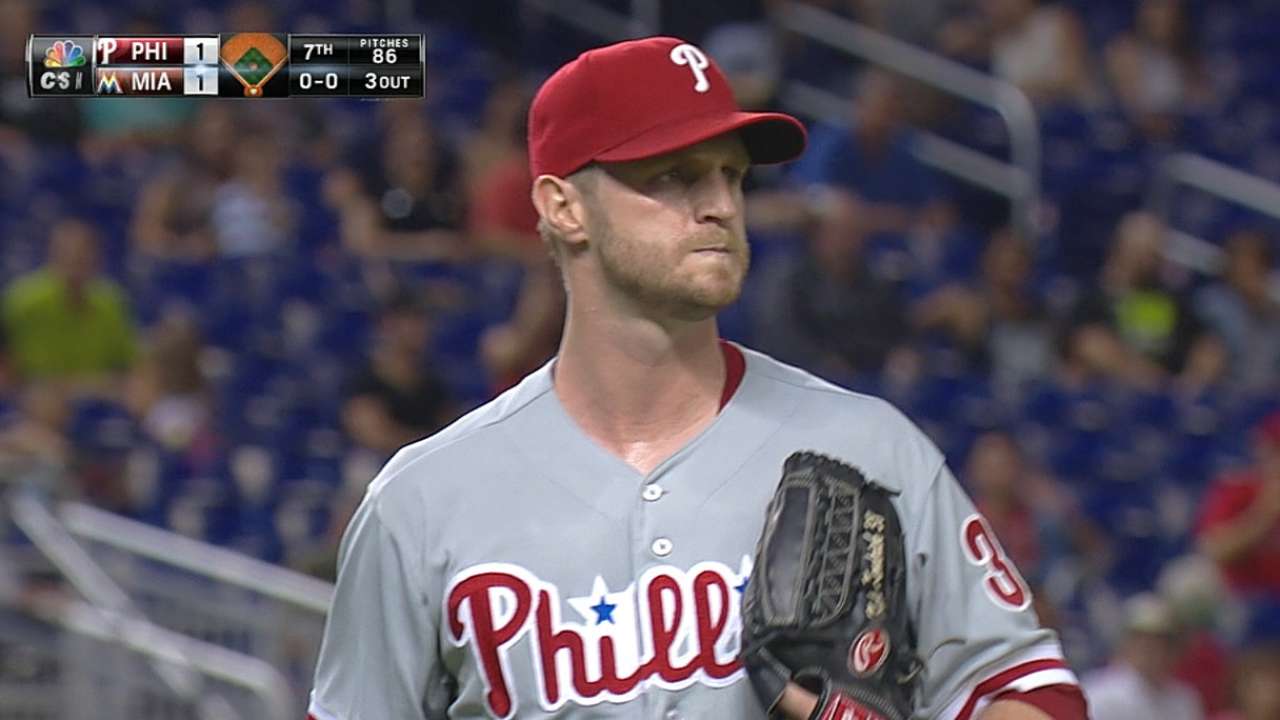 9/24/14: Kyle Kendrick gives up only one run and six hits over seven innings of work to pick up his 10th win of the season for the Phillies
Kendrick brings a pitching style that could work at Coors Field.
According to Fangraphs, which uses PitchF/x data, Kendrick's most frequently used pitch is his sinker (between 44.3 percent and 59.5 percent since 2010), but he mixes in a representative percentage of changeups (as high as 23.1 percent in 2013). He forces ground balls 46.1 percent of the time, slightly above the 44.6 percent Major League average for 2014. And pitching many of his games at homer-friendly Citizens Bank Park illustrated the importance of staying low in the zone. He has yielded homers on 11.2 percent of his career fly balls; the Majors average last season was 9.8 percent.
The Rockies have spent much of the winter looking to add to a rotation led by lefty Jorge De La Rosa, who last summer signed a two-year, $25 million deal, and righty Jhoulys Chacin, who missed much of last season with rotator cuff problems and is pitching on a one-year, $5.5 million deal with free agency looming at season's end.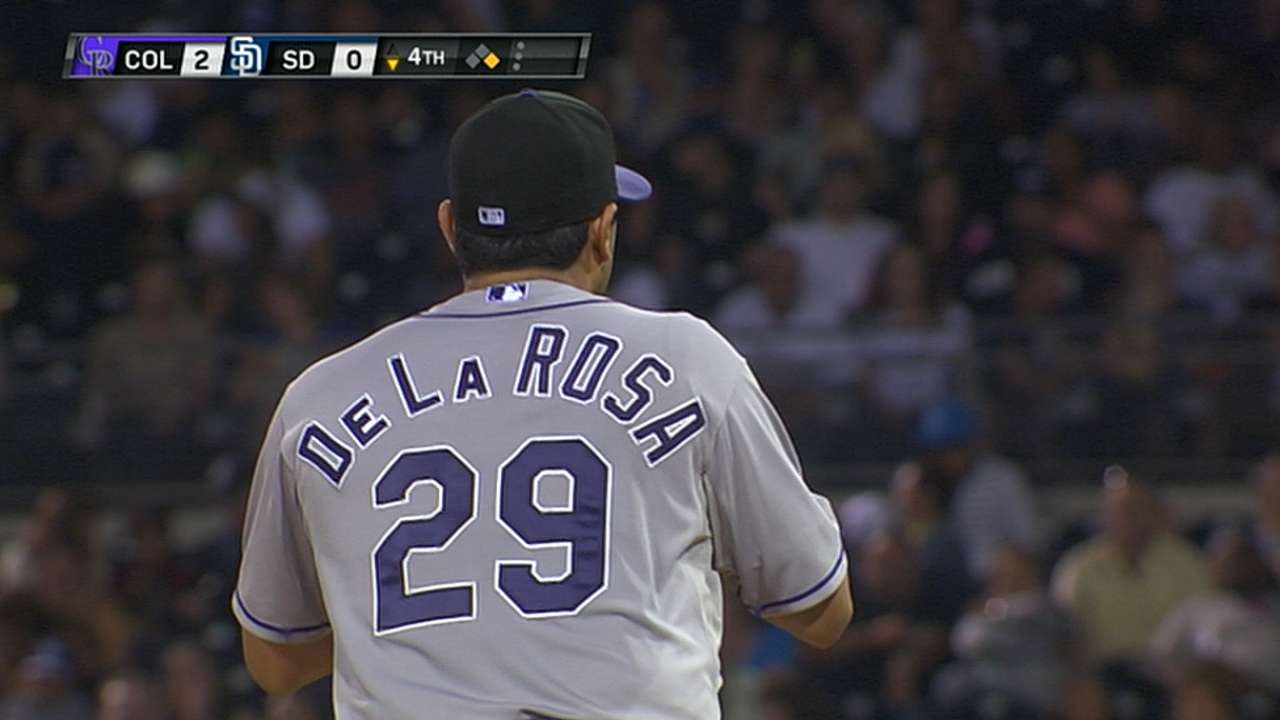 9/23/14: Jorge De La Rosa strikes out seven and allows two runs on seven hits over six innings of work against the Padres
The rest of the projected rotation is young. Righty Jordan Lyles (7-4, 4.33 ERA in 22 starts) missed time with a broken left hand but had his moments with the Rockies after spending the previous three seasons with the Astros, and lefty Tyler Matzek (6-11, 4.05 ERA) was called up from Triple-A in May and had a strong finish. Both are 24.
The Rockies also have righty Christian Bergman (3-5, 5.93 ERA in 10 starts), a former 24th-round pick who earned his way to the Majors; touted righty prospects Eddie Butler (1-1, 6.75 ERA in three starts in an injury-affected big league debut) and Jon Gray; righty reliever-turned-starter Chad Bettis (0-2, 9.12); two righties acquired from the Braves in a trade last week in David Hale (4-5, 3.30) and Gus Schlosser (0-1, 7.64); a righty waiver claim from the Cubs in Chris Rusin (0-0, 7.11 in four games); and journeyman lefty Yohan Flande (0-6, 5.19 ERA) as roster competitors for the rotation.
Although the Rockies have issued non-roster invitations to righty Jair Jurrjens and lefties Aaron Laffey and John Lannan, the team had been seeking an experienced righty so it won't necessarily be dependent upon youth going into 2015.
Last year explains why the Rockies want to increase their experience and depth. The Rockies' 4.89 starters' ERA was highest in the National League and surpassed only by the 5.06 mark of the Twins in the Majors. In a related stat, Rockies starters threw the fewest innings in the Majors -- 905 1/3.
De La Rosa was the only wire-to-wire rotation member, and the grab-bag nature of the rotation after injuries hit was one of the reasons Rockies starters tied for the third-most walks in the Majors (332) and yielded the third-highest batting average (.276).
Flande, 29, made his Major League debut in 2014, going 0-6 with a 5.19 ERA in 59 innings over 16 appearances. He spent the balance of the season with Triple-A Colorado Springs, where he went 3-11 with a 5.60 ERA, 33 walks and 67 strikeouts in 88 1/3 innings. Flande was signed by Colorado as a non-drafted free agent in November 2013.
Thomas Harding is a reporter for MLB.com. Read his blog, Hardball in the Rockies, follow him on Twitter @harding_at_mlb, and like his Facebook page, Thomas Harding and Friends at www.Rockies.com. This story was not subject to the approval of Major League Baseball or its clubs.