Around the Horn: Outfield
Trout coming off AL MVP Award season, while Hamilton has setback; Calhoun leading man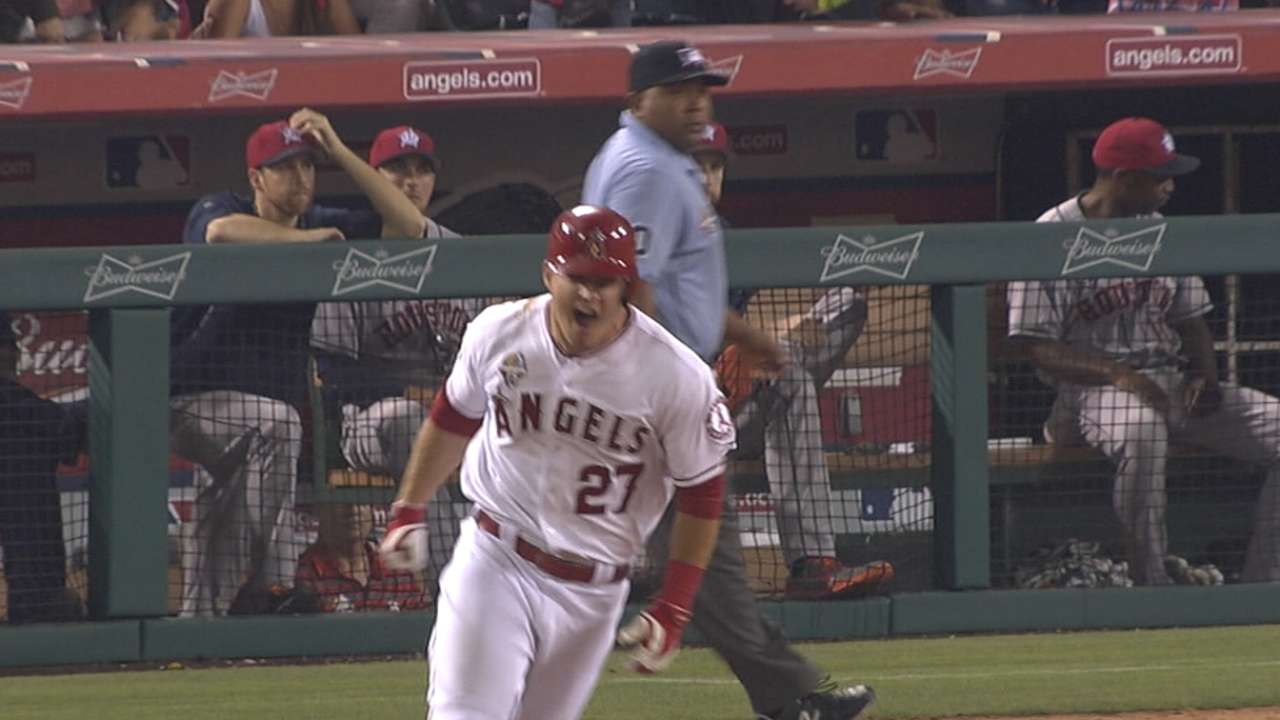 With pitchers and catchers scheduled to report to Tempe, Ariz., by Feb. 19, it's time to dissect the Angels' 2015 roster. This is the fourth of a six-part Around the Horn series taking a position-by-position look at projected starters and backup options heading into the season. Next up: The outfield. (previously: corner infield, middle infield, catcher)
ANAHEIM -- Welcome to the Angels' most fascinating department, home to baseball's best all-around player and one of its greatest enigmas.
It's Josh Hamilton in left, Mike Trout in center and Kole Calhoun in right, with Collin Cowgill entrenched as the fourth outfielder and Matt Joyce seeing time in the corners on days when he isn't the designated hitter.
All eyes, however, will be fixated on Trout and Hamilton.
Perhaps the greatest compliment one can pay to Trout -- something Angels general manager Jerry Dipoto touched on while presenting his American League Most Valuable Player Award in New York on Jan. 24 -- is that he continues to live up to such lofty expectations.
Trout entered 2012 with all the hype, then posted one of the greatest rookie campaigns in baseball history. Pundits wondered if he could follow that up in 2013, and he put together a season that was perhaps even better. Many felt the pressure of a $144.5 million extension would get to him in 2014, and he became the youngest unanimous MVP Award winner ever.
"One of the remarkable things about great players is that they go out and achieve when they're expected to," Dipoto said in his speech at the Baseball Writers' Association of America dinner. "At 22 years old, coming off of back-to-back seasons of finishing second in MVP voting, Mike went out and won the award by becoming the best player in the league while playing for the winningest team."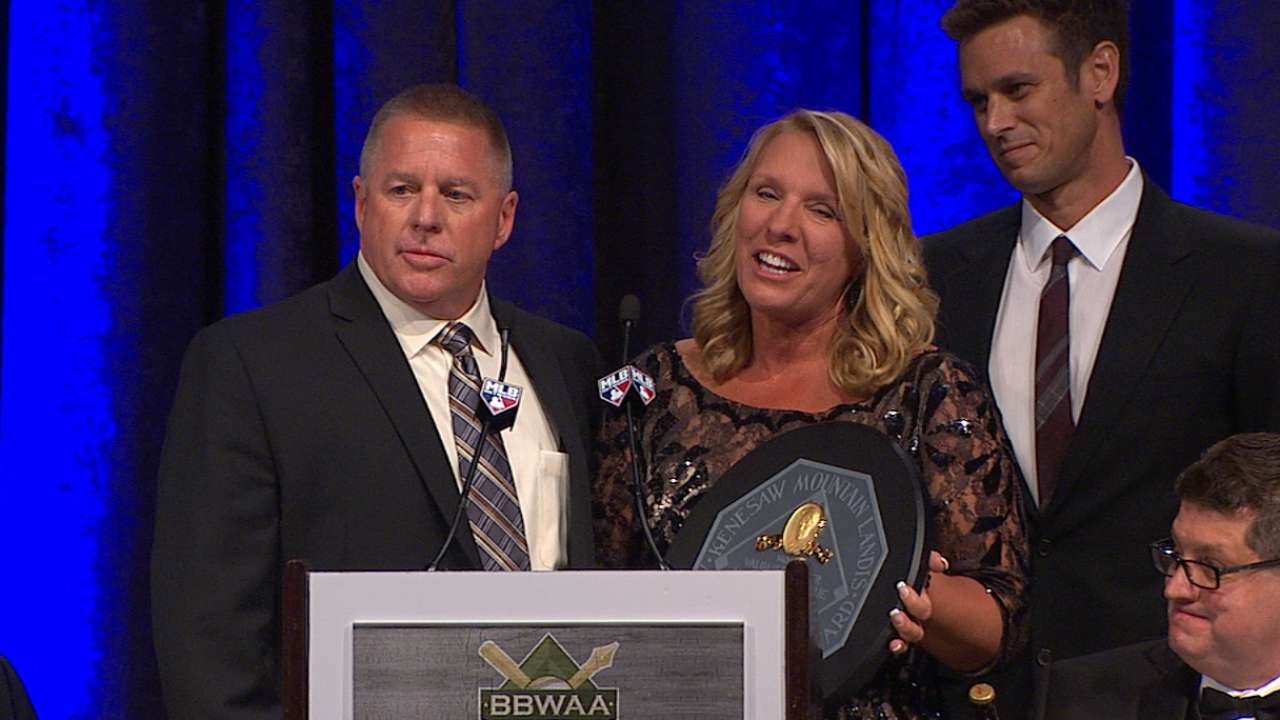 Trout turned 23 on Aug. 7, and now he has another question to answer: Can he cut down on those strikeouts?
Trout's MVP season might have been his worst, which serves mainly as a testament to how great his first three full seasons have been. His batting average went from .324 from 2012-13 to .287 in 2014, and his on-base percentage dropped from .416 to .377, mainly because he led the AL with 184 strikeouts -- 48 more than the prior year and the most ever by an MVP.
Many believe Trout's strike-zone awareness is too good, his discipline too advanced and his swing too short to strike out so often. They also believe he's at an age when he can change that.
"It's not like he's not aware of it," Angels bench coach Dino Ebel said earlier this offseason. "This guy's got a great eye, this guy's got lightning hands to the ball, and I really believe he's going to make adjustments and you're going to see a guy who's going to put the ball in play more."
On Jan. 25, Hamilton stated a very specific goal for the 2015 season: .300 batting average, 30 home runs, 100 RBIs.
Nine days later, the Angels announced that Hamilton will undergo surgery to repair the right AC joint of his right shoulder, a procedure that is expected to keep him out six to eight weeks and makes him doubtful for Opening Day.
The injury is another hiccup in a tumultuous 25-month stint with the Angels.
With the Rangers from 2008-12, Hamilton hit .305 while averaging 28 homers and 101 RBIs. With the Angels from 2013-14, he's posted a .255/.316/.426 slash line with an average of 16 homers, 62 RBIs and 133 strikeouts per season.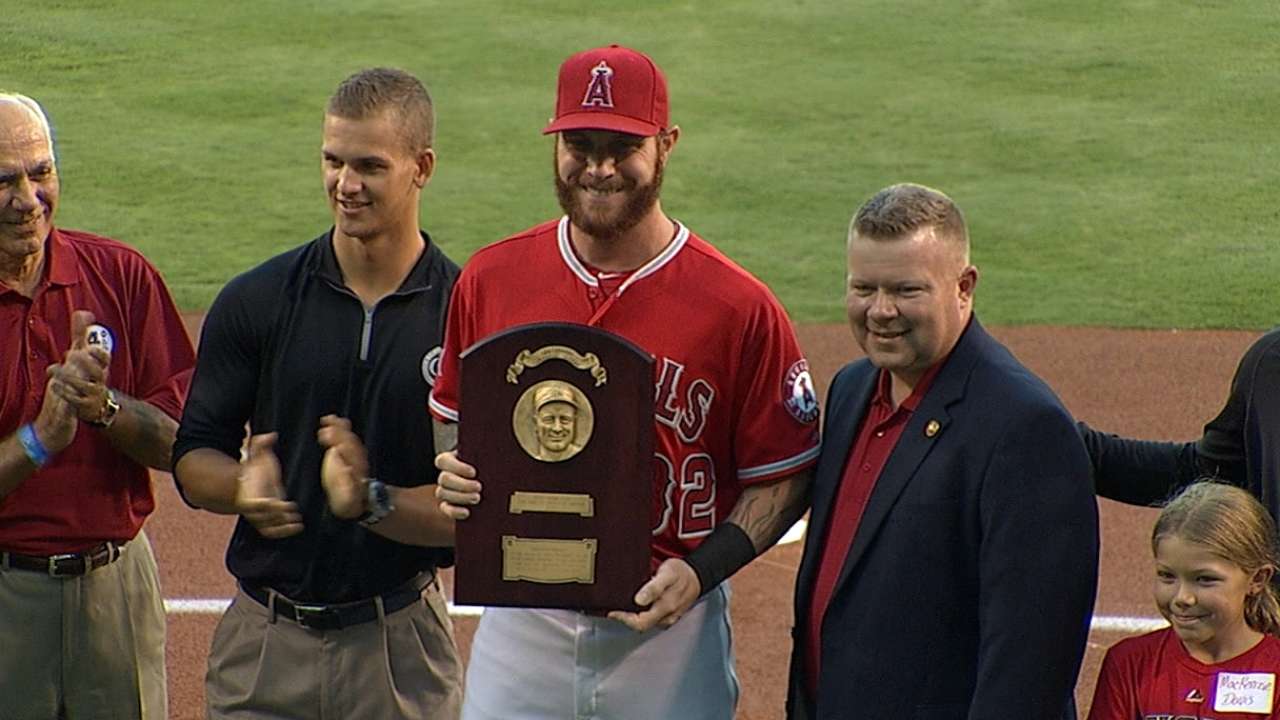 Hamilton will be 34 on May 21, and he is entering the third season of a five-year, $125 million contract and is coming off an injury-riddled 2014, during which he missed nearly two months recovering from thumb surgery, spent almost all of September rehabbing ailments to his right side -- starting with that injured AC joint -- and then went 0-for-13 in the playoffs.
"The last couple years have not been me at all," Hamilton said recently. "I'm always looking to improve, looking to do more than I've done. I can't focus on the last two years. You have to be positive."
Hamilton's contract is an albatross, but seemingly one of the best decisions made by the Angels' front office was to trade Peter Bourjos in November 2013 -- for David Freese and Fernando Salas -- to open up an outfield spot for Calhoun. In his first full season in the Majors, the 27-year-old emerged as a solid, if not ideal, leadoff hitter, posting a .272/.325/.450 slash line while adding 17 homers and driving in 58 runs, both ranked third among leadoff hitters last season.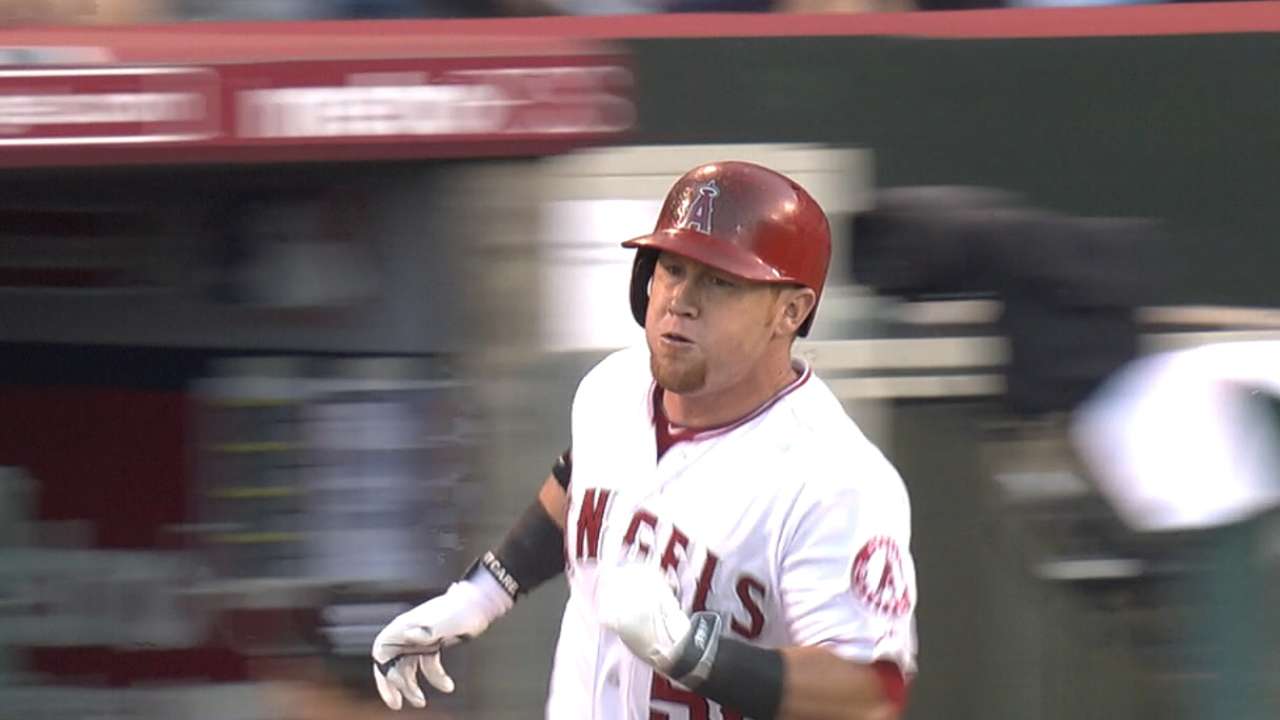 Calhoun projects to bat first again this season -- but he may have someone other than Trout hitting behind him. Those duties could fall on Joyce, the patient left-handed hitter who was acquired from the Rays for Kevin Jepsen on Dec. 16.
Joyce, 30 and heading into his final year before free agency, has posted a .252/.341/.428 slash line while averaging 136 games with the Rays the last four years. With Calhoun establishing himself and Joyce on board, Angels manager Mike Scioscia may finally have two hitters he feels comfortable with at the top of his lineup, thus allowing Trout to move into the prominent No. 3 spot (at least once Hamilton returns).
Joyce can bat second against right-handers, while getting the majority of his at-bats at DH, and the right-handed-hitting Cowgill can fill in against lefties.
"We feel like this adds balance to our team," Dipoto said upon acquiring Joyce. "Left-hand bat, the ability to go out there and beat up right-handed pitching the way Matt has throughout his career, really fits us well."
Beyond the active roster: Outfielders are the next organizational priority, an area that is now sorely lacking in promising prospects throughout the Angels' system. The youth of Trout (six years away from free agency), Calhoun (five) and Cowgill (four) buys them some time, however. … Dan Robertson, Roger Kieschnick, Alfredo Marte and D'Arby Myers -- all acquired this offseason -- will be invited to Spring Training and will likely make up the Triple-A group of outfielders. Efren Navarro, Marc Krauss and Grant Green can also play the outfield corners. … Natanael Delgado, ranked 14th in the Angels' system by MLB.com, is a 19-year-old, left-handed-hitting left fielder who has batted .284/.321/.441 in Rookie ball the past two years.
Alden Gonzalez is a reporter for MLB.com. Read his blog, Gonzo and "The Show", and follow him on Twitter @Alden_Gonzalez. This story was not subject to the approval of Major League Baseball or its clubs.