MLB.com Columnist
Jesse Sanchez
Cuba's Moncada cleared to sign with any MLB club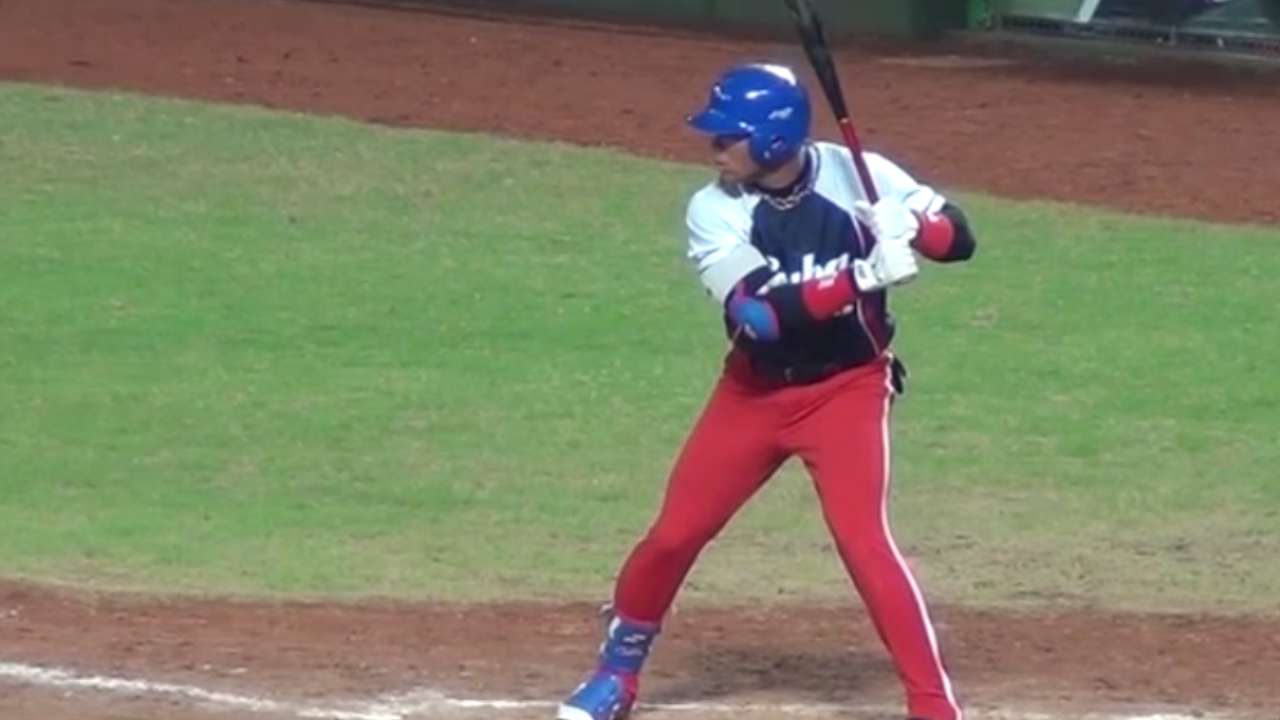 The path was cleared Tuesday for top Cuban prospect Yoan Moncada to negotiate and sign with the Major League club of his choice.
Moncada's availability as a free agent came after Major League Baseball met with the U.S. Department of the Treasury's Office of Foreign Assets Control (OFAC) for clarification regarding new guidelines for a general license for an unblocked Cuban national, according to a memo sent to MLB clubs.
Moncada is the most celebrated young prospect to leave Cuba since Yasiel Puig and Jorge Soler signed lucrative contracts with the Dodgers and Cubs in 2012. The 6-foot, 210-pound Moncada debuted for Cienfuegos in Cuba's Serie Nacional at age 17 and hit .277 during parts of two seasons. He made a name for himself by dominating the 16-and-under and 18-and-under leagues in Cuba.
According to MLB.com's Jim Callis, Moncada will rank as one of the game's top prospects when he signs, which is expected to happen soon, although he has private workouts scheduled through the middle of February. Moncada has worked out privately for the Yankees, Red Sox, Dodgers, Padres, Giants, Rangers, Rays, Tigers, and Brewers, according to sources.
"He's really, really good," said Callis. "He's not on the Top 100 Prospects list because he's not signed yet. But were he to sign, I think he'd be in the top 10 somewhere -- he's that good.
"You're talking about a 19-year-old, switch-hitting middle infielder who hits for average, has power, above-average runner, good arm. I think the only question on him is he's not really a shortstop, maybe more of a second baseman or third baseman."
Moncada established residency in Guatemala in October and has the documentation to meet the new general license requirements, according to his agent, David Hastings. It had been MLB's policy to require a specific license for unblocking from OFAC before it allowed a Cuban national to enter into an agreement with a team.
"I'm glad this part of the process is clear and we can move forward to finalizing a contract to secure Yoan's promising future in Major League Baseball," said Hastings.
Because he is not yet 23 years old and did not play in a Cuban professional league for at least five seasons, Moncada is subject to MLB's international signing guidelines, under which each team is allotted a $700,000 base and a bonus pool based on the team's record the previous year to be used during the international signing period, which started on July 2 and ends on June 15.
Clubs are penalized if they exceed their bonus pools by certain amounts, and the Yankees, Rays, Red Sox, D-backs and Angels have all exceeded their allotted money by more than 15 percent and are in the maximum penalty range for the upcoming 2015-16 signing period. The penalty includes a 100-percent tax on their pool overages and prohibits them from signing any pool-eligible player for more than $300,000 during the next two signing periods.
MLB will begin requiring a sworn statement that says a Cuban player is in compliance with Section 515.05 of Cuban Assets Control Regulations in order to sign with a Major League team.
Amended on Jan. 16, Section 515.505(a)(2) of the CACR unblocks "any individual national of Cuba who has taken up permanent residence outside of Cuba, provided certain required documentation is obtained and the individual is not a prohibited Cuban government official or prohibited member of the Cuban Communist Party."
Jesse Sanchez is a national reporter for MLB.com. Follow him on Twitter @JesseSanchezMLB. This story was not subject to the approval of Major League Baseball or its clubs.