Inbox: Are Rays headed in right direction?
Beat reporter Bill Chastain fields fans' questions
I don't buy most of what's been said about these changes. I worry about president of baseball operations Matt Silverman's words about having a clean break with the past because the past few years have been the only successful ones. I'm trying to remain positive, but let's be honest, they have dismantled a team with a huge potential to cut the payroll, haven't they?
-- Manny B., Havana, Cuba
The recent past certainly has been exceptional. However, I don't agree that they dismantled a team with huge potential to cut the payroll. I think they have conducted an efficient makeover for a team that won just 77 games last season. I understand that fans grow attached to certain players, and all of the departed were great guys. Alas, as I recently wrote, it isn't like the Rays have been tearing apart the 1927 Yankees.
While the team has lost some good players, my biggest concern is how they handle the loss of manager Joe Maddon. Is new manager Kevin Cash going to be able to garner enough respect from the players to keep the clubhouse in check?
-- Lori O., Florence, Italy
Submit a question to the Inbox
Fair question. Maddon certainly is a tough act to follow. Having been around Cash, in addition to listening to what others he's worked with have to say about him, I've got to believe he has the baseball knowledge for the job. On top of that, he's a big believer in communicating with his players. Whether that communication leads to respect remains to be seen. Based on the fact that the Rays were able to select a pretty good manager in Maddon the last time they conducted a search, you've got to give them the benefit of the doubt. They're batting 1.000 in that area.
Now that Jose Molina is gone, who now replaces him as this team's "slowina"?
-- Mason M., Fernandina Beach, Fla.
That's cold, dude. But you are correct, Molina won't be heading into professional track any time soon. Based on the roster in place, I don't see any players who will rival Molina's speed. Then again, Molina did steal three bags last season without getting caught. So he's got that going for him.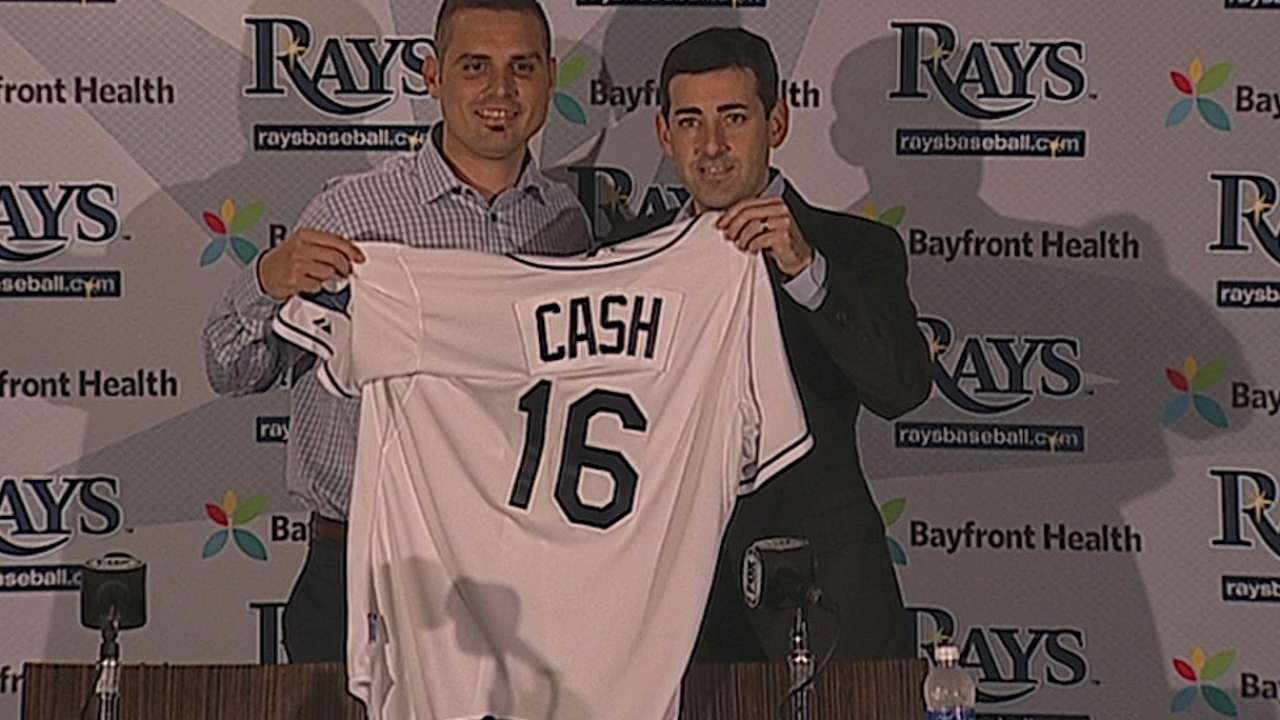 With Cash as the new manager, do you see him doing the matchup game Maddon always used? I've always felt that a player's offense improved by playing every day.
-- Don C., Bradenton, Fla.
I'm sure they will continue to play matchups, which is the organization's signature for running a game. Cash believes in that as well, and you can't argue with the success the Rays had employing said method. I'm with you, though. I like to run a player out there every day to see what he can do against right-handers or left-handers. However, my preference could be naive based on the many matchups that come from the bullpen these days.
The sky is not falling, people. Our pitching will be strong enough to keep us in the race. Except for Ben Zobrist, who is on the downside of his career, the players we dealt didn't do much anyways. I'm excited about this season, and I think Rays fans shoud be also. We do need a designated hitter, though. Any chance we bring Ryan Howard in if Philly pays most of the salary? John Jaso is not the answer.
-- Tony R., Tampa, Fla.
I agree with you, the sky is not falling. I do believe that some of the departed players will have nice seasons. I expect Jeremy Hellickson should rebound to form. Wil Myers is still young and was injured last season. Zobrist is Zobrist. And Yunel Escobar can play -- if he wants to. As for bringing in Howard, I think that scenario is doubtful.
Bill Chastain is a reporter for MLB.com. This story was not subject to the approval of Major League Baseball or its clubs.