MLB.com Columnist
Jonathan Mayo
Pipeline Perspectives: Ruiz the best hitter not in Top 100
Atlanta's recently acquired third-base prospect has plenty of promise at plate
There's a good amount of subjectivity regarding baseball prospects. With the evaluation of talent being in the eye of the beholder, finding consensus is often difficult. Even Jim Callis and Jonathan Mayo of MLBPipeline.com don't always see eye to eye. They discuss their viewpoints regularly in a feature called Pipeline Perspectives. Submit a topic for them to debate.
By now, hopefully all of you have seen the new Top 100 Prospects rankings. The list typically elicits a variety of opinions, critiques and even some praise. One of the most popular questions we get is, "How close was Prospect X to making the Top 100?"
So we figured we should ask ourselves that question in a two-part Pipeline Perspectives series. In this first edition, Jim Callis and I are asking, "Which hitter not on the Top 100 do we like the best?" We've both picked third basemen in this exercise. Jim has gone with Rockies prospect Ryan McMahon, a worthy choice. I've cast my lot with Rio Ruiz, now a member of the Atlanta Braves organization.
Ruiz was taken in the fourth round of the 2012 First-Year Player Draft by the Astros after a senior season of high school that was cut short by a blood clot in his neck. That was the Draft when Houston took Carlos Correa No. 1 overall and used the savings to sign Lance McCullers and Ruiz to over-slots deals (Ruiz got $1.85 million).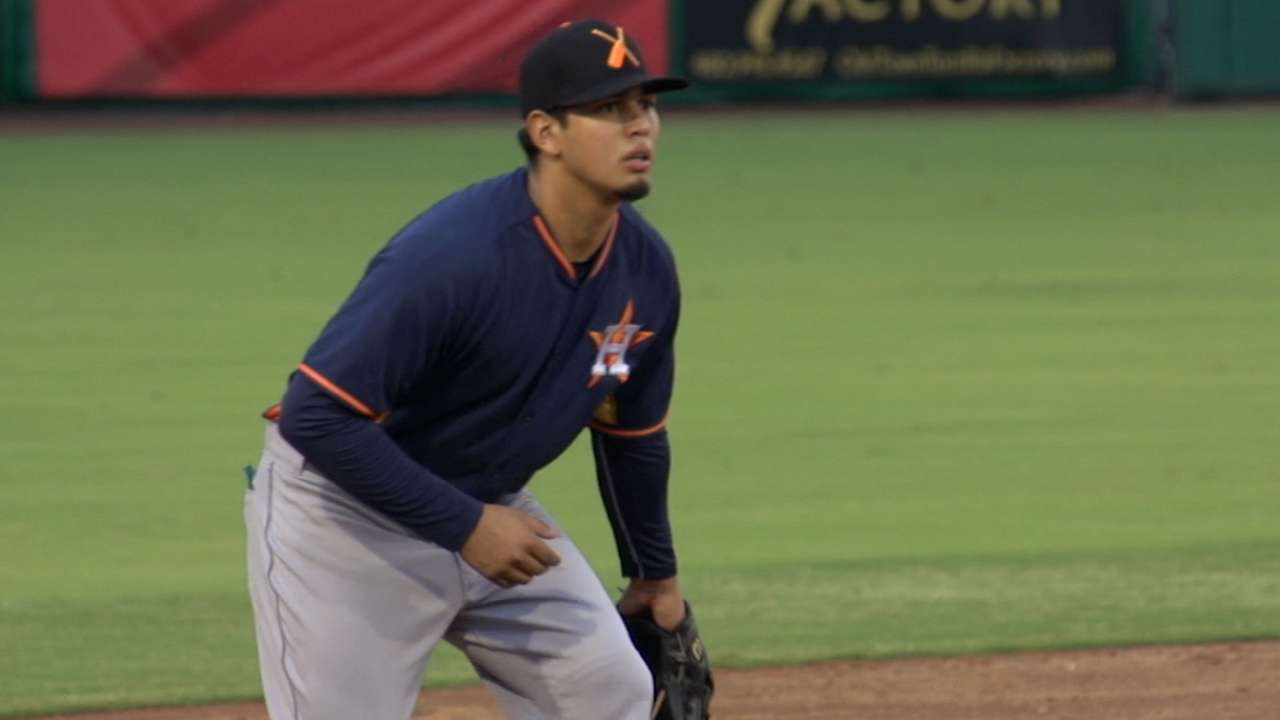 Thought to be one of the best pure hitters among the high school position players in the class, Ruiz has lived up to that reputation after making adjustments following some early adversity. He shows an advanced approach at the plate (.361 on-base percentage thus far in his career) while making consistent contact without striking out too much. The pop many projected would come has shown up at times, and his left-handed swing should generate more home runs as he matures. Ruiz is only 20, after all, and way ahead of the curve after spending the 2014 season in the Class A Advanced California League.
It looked like Correa and Ruiz might form a pretty impressive left side of the infield one day in Houston. That ended when the Astros included Ruiz in a package sent to the Braves to get Evan Gattis. So now Atlanta has the 10th-best third-base prospect in the game, one with plenty of upside to lift himself onto the Top 100 at some point in the near future.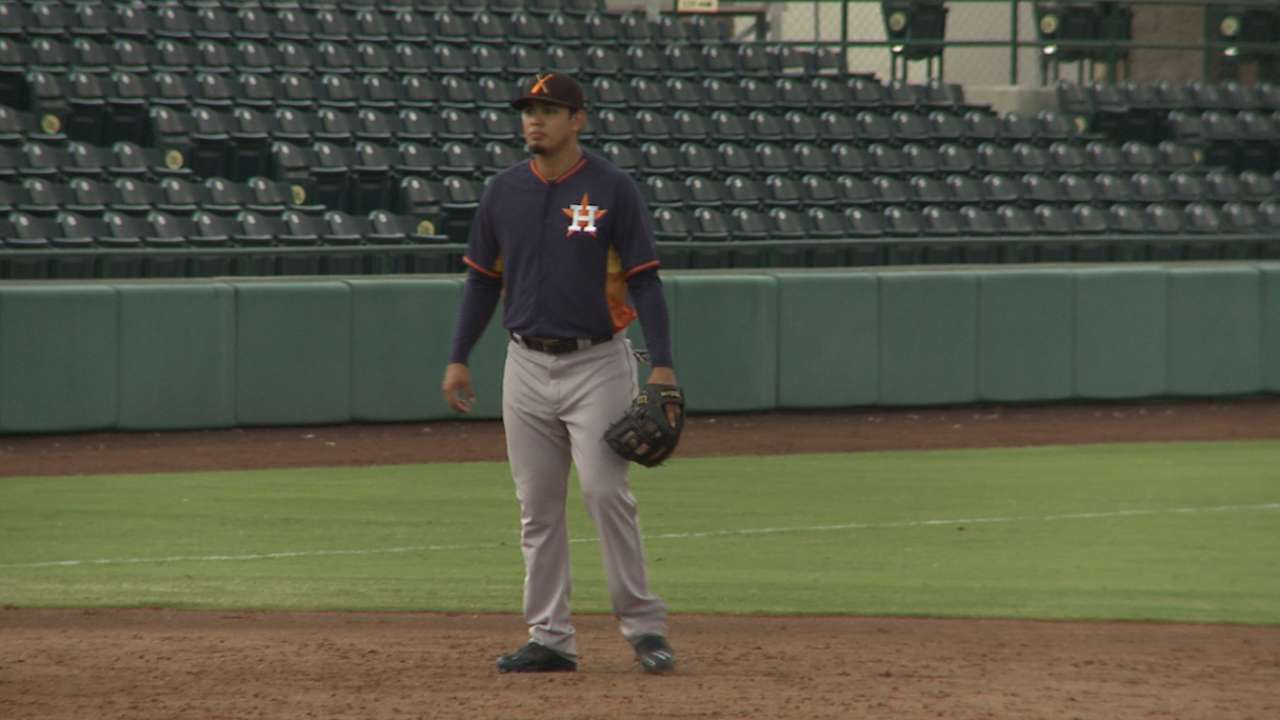 Most of that is because of the offensive ceiling mentioned above. Ruiz has hit 70 doubles over the past two years. He's hit 23 homers in that time while slugging at a career .429 mark. That doesn't sound like a prototypical third baseman's numbers, but those doubles should start turning into over-the-fence drives with more consistency in the future. Ruiz's approach, along with the ability to make adjustments he's shown, should allow him to continue to hit for average and tap into that power as well.
Some of you are probably thinking, "But Ruiz was in the California League in 2014! His home park in Lancaster is one of the most hitter-friendly parks in all of Minor League Baseball! How can you talk about his power when he didn't see an uptick at least from the Midwest League to that launching pad?"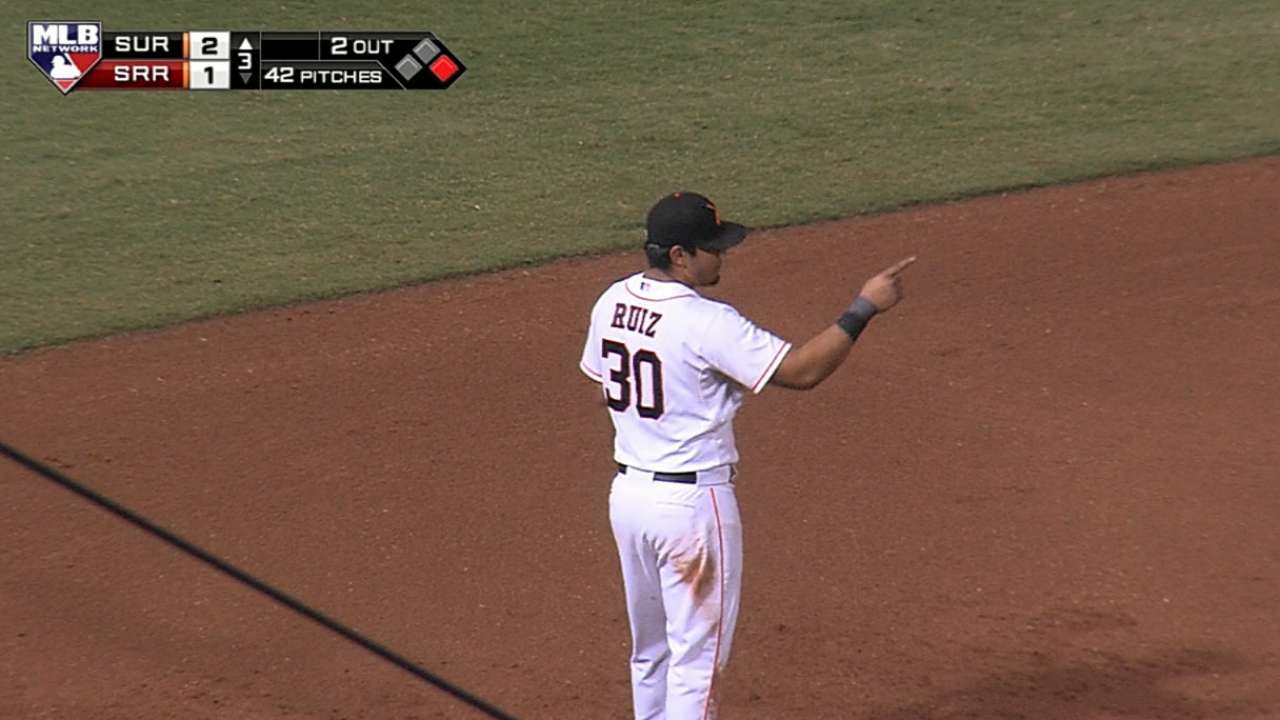 It's a fair point, but there are things worth pointing out. One, Ruiz actually hit slightly better on the road than at home. To me, Ruiz didn't stray from his approach despite the bandbox. He also hit lefties as well as righties, another good sign of consistency. And there are other indices of improvement. In 2014, Ruiz's walk rate went up and his strikeout rate went down, always a very good sign. He struggled in the Arizona Fall League, but I fully expect Ruiz to take those lessons and use them to his advantage as he moves up to Double-A.
Ruiz continues to be a work in progress at third, but he has a strong arm and good hands, and most don't see any issues with him staying there long term. He's the future at the hot corner for Atlanta now. Instead of forming a duo with Correa, Ruiz can look forward to playing with top Braves prospect Jose Peraza in Atlanta's infield. I see him joining the middle infielder in the Top 100 as the 2015 season unfolds.
Jonathan Mayo is a reporter for MLBPipeline.com and writes a blog, B3. Follow @JonathanMayoB3 on Twitter. This story was not subject to the approval of Major League Baseball or its clubs.