MLB.com Columnist
Anthony Castrovince
If Shields' price has dropped, Yankees should open wallet
The cumbersome contracts that helped pave the way to the Yankees' most recent (though, by their standards, not recent enough) World Series run are the very contracts that encourage their payroll prudence now. Beyond that, the Yanks have also looked around today's game and discovered that prioritizing the bullpen, the defense, the value of versatility and the accrual of young talent is not a bad way to go about your business.
I get all of that, and I think the Yankees will be well served for the long run by what they've done here this winter. But I also think that in what could be a wide-open American League East, the Yanks would be remiss not to make every effort to shore up their greatest weakness -- starting-pitching stability -- before Opening Day. The most logical way to do that is to sign James Shields.
Now, if you're scoring at home (and I hope not), this is far from the first time I've advocated putting Shields in pinstripes. It's just that prior arguments were contingent upon Shields' price tag dropping precipitously from the nine-figure range in which it was rumored to be. The Yankees don't need to be handing out $100 million contracts to 33-year-old pitchers. Everybody understands that. But I've never viewed Shields as an obvious candidate for that size of deal, and the fact that he's still unsigned the first week of February is pretty good indication that plenty of executives and/or owners agree.
So now, we could be at or nearing the point where Shields' best contractual hopes are in line with the Yankees' most logical levels of commitment. In fact, with so many teams locked into their current budget parameters, it's not inconceivable that Shields might be dropping into Ubaldo Jimenez (four years, $50 million) and Ervin Santana (four years, $55 million) territory. And if that's the case, the Yanks have the need and the resources to pounce.
The need, actually, is obvious. Shields wouldn't make the Yankees a clear favorite in the AL East, but is a player who, if we believe the sabermetricians, made a four-win difference for the Royals in 2014. And for whatever it's worth, Baseball Prospectus' PECOTA projections see the Yanks as an 80-win team. Another four wins could be the difference between contention and mediocrity.
Even if you don't subscribe to WAR theory, Shields would instantly slot in as the Yankees' most durable rotation option.
Since 2008, only two guys -- the Mariners' Felix Hernandez and the Tigers' Justin Verlander -- have thrown more than Shields' 1,570 2/3 regular-season innings, and only Verlander (26,021) has Shields (24,291) beat in overall pitch count. Verlander's recent troubles are reminders that such durability comes with a cost, and those costs are bound to catch up to whomever signs Shields. Everybody understands that, too.
But again, if we're evaluating Shields not as a $20 million-plus-per-season arm but more like a guy whose salary falls in the low-teen range over a shorter term, that's a scenario the Yanks can swallow.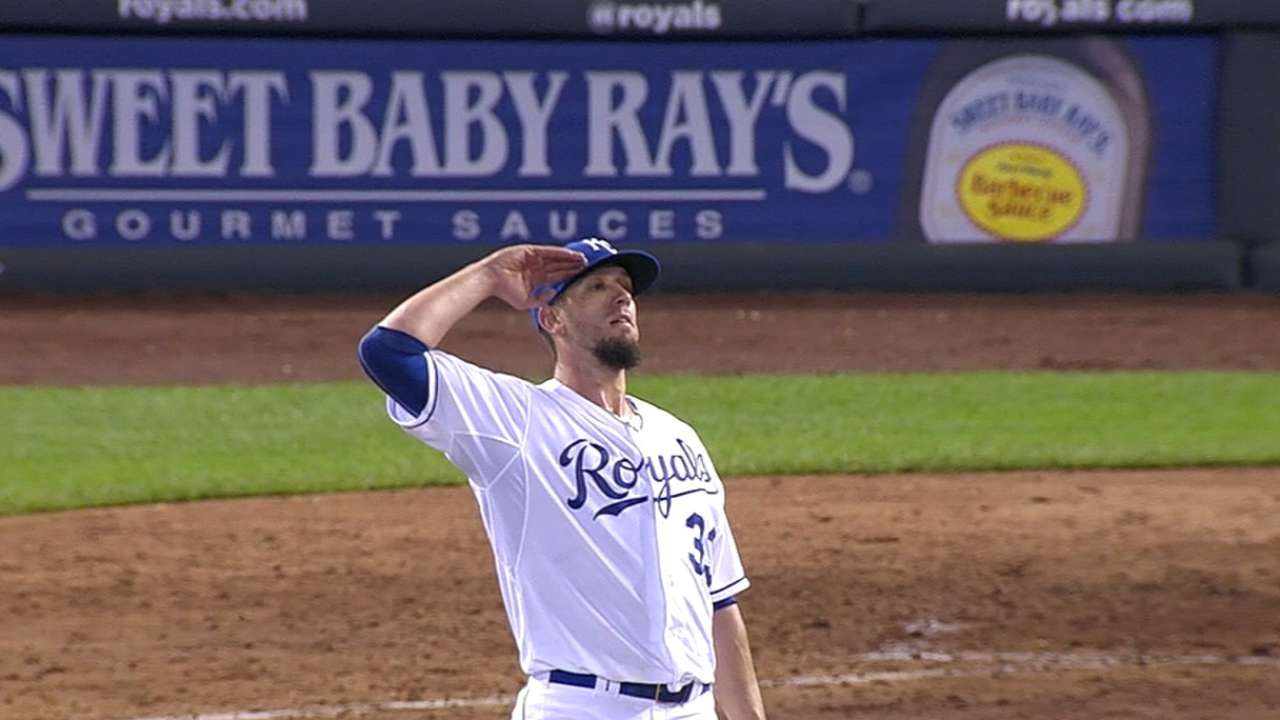 The four-year, $52 million commitment the Yankees made to soon-to-be-31-year-old third baseman Chase Headley is proof that they still value the right veteran presences on the right terms, and Shields -- unmatched in work ethic and unquestioned in leadership on a pitching staff -- would certainly fit that formula.
As it stands, the Yanks' starting-pitching outlook is possibly the most suspect in the AL East. CC Sabathia, Masahiro Tanaka, Michael Pineda and Ivan Nova combined to make a grand total of 45 starts last season. Sabathia will be 34 and coming off surgery to address degenerative issues in his right knee. Pineda has long battled issues with the shoulder, a pitcher's worst nightmare. Nova is working his way back from Tommy John surgery. And as far as Tanaka is concerned, recent history is littered with instances in which a "partial tear" of the ulnar collateral ligament becomes a full one.
Hard-throwing right-hander Nathan Eovaldi might be this unit's most encouraging source of upside. That said, he's also coming off a 2014 in which his output fell south of league average, and the transition from the National League East to the AL East is a sizable one. And with Shane Greene, David Phelps and Vidal Nuno all traded recently and Hiroki Kuroda back in Japan, the Yankees' depth options -- Chris Capuano and Chase Whitley -- are not tantalizing high-end prospects but, well, depth options.
Ultimately, the Yanks are only going to go as far as the health of their aging lineup takes them. It could be, in fact, that the impact of the starting pitching is being overstated.
But a Yankees team that has put such an emphasis on shortening games with the acquisition of Andrew Miller should take the next step and emphasize how those games begin. Right now, they look particularly susceptible to the threat of injury in the rotation, and Shields, who has now turned in eight straight seasons of at least 203 innings, would guard against that.
I get that the Yankees, like all teams, are hesitant to part with a Draft pick, but they're getting a compensatory pick back for the White Sox signing of David Robertson. Speaking of which, one wonders if the Yanks will take the 100 percent tax bullet to sign 19-year-old Cuban infielder Yoan Moncada, as their spending spree on international talent last July has already guaranteed they'll be pigeonholed into a paltry $300,000 international budget for 2015-16. Moncada would be another young investment that could, in some measure, diminish the organizational impact of losing a first-round pick.
Something has clearly gone wrong in the Shields camp for him to still be lingering in the open market this late in the winter, and somebody's going to pounce on the discount one of these days. I've long thought that a guy with past success in the AL East and experience on the postseason stage (albeit varied experience) would fit in well with the Yankees, provided he comes at the right price.
It has taken an awfully long time, but it could be that Shields' price is reaching that right range.
Anthony Castrovince is a reporter for MLB.com. Read his columns and follow him on Twitter at @Castrovince. This story was not subject to the approval of Major League Baseball or its clubs.