Wood as new: Braves lefty is ready for camp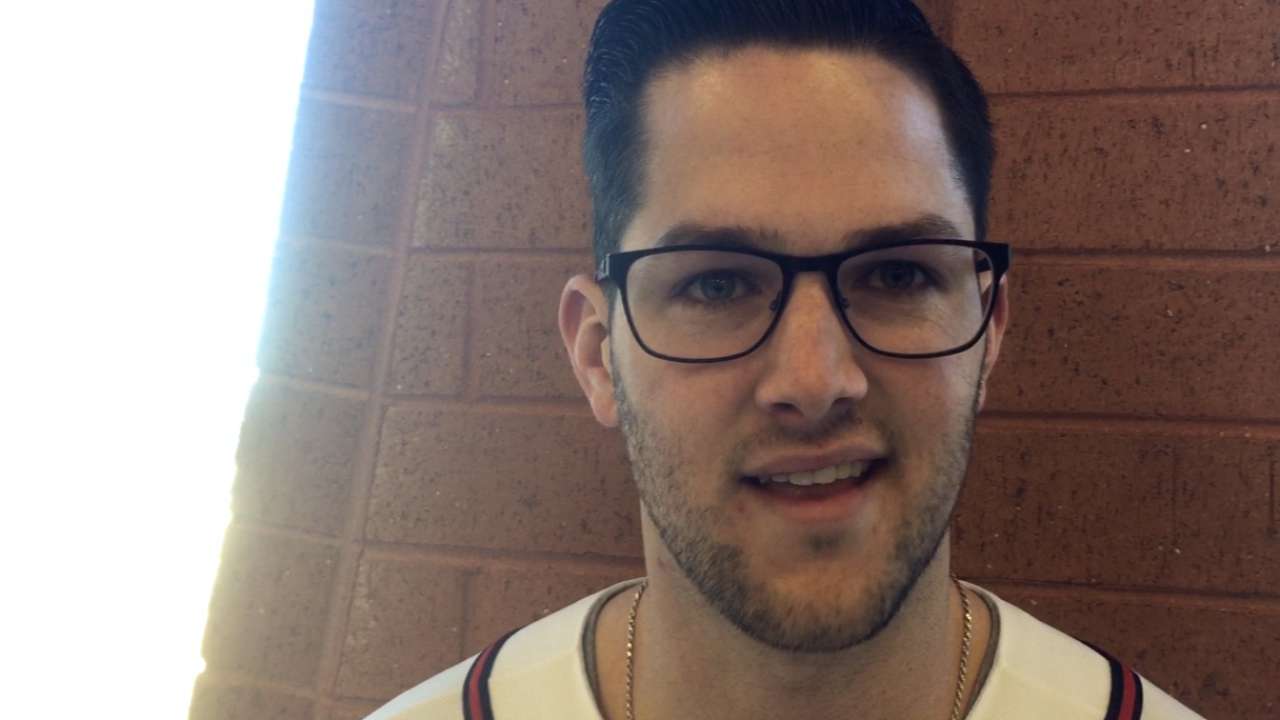 ATLANTA -- The Braves got their Early Throwing Program underway on Monday. The club's annual week-long ritual is an exciting event for many because it precedes the team packing up and leaving for Spring Training in Lake Buena Vista, Fla., but it was especially exciting for left-hander Alex Wood.
While it was too cold to throw outside and really give the day a proper baseball feel, Wood and newly acquired right-handers Shelby Miller and Michael Kohn opened the workouts. Miller and Kohn each threw off a mound in the indoor batting cages at Turner Field in front of pitching coach Roger McDowell. Wood played long toss.
"I feel great," said Wood after his throwing session. "I think that's what I'm most excited about. The body's finally come back around to where I feel good. I'm ready to head off and get started. I'm definitely ready to get going."
That's good news for the Braves and their fans, whose last report from Wood was that he was being scratched from his final start of the 2014 season with mild left forearm tightness. That concluded a campaign that saw the 24-year-old go 11-11 with a 2.78 ERA (the lowest among Atlanta's starters). It also set into motion some questions over the possibility that "forearm tightness" could be a precursor to something worse.
Wood said Monday he never felt any reason for fear.
"I see all this stuff, people talking about forearm injury. The thing that people don't think about, the guys that have serious injuries, it's not like the front office comes out saying Tommy John five minutes after they hurt their arm. They're going to say it's a forearm injury," Wood said. "But you play long enough, you know when something's serious and something's not, when it's actually just a little strain in your forearm and you need two weeks to rest. That's what it was."
The start Wood skipped would have been No. 25 (one more than his career total) and appearance No. 36 (five more than he's made in any season). Being scratched was precautionary and was done as much because the Braves were out of playoff contention and Wood had already thrown 171 2/3 innings, 94 more than he'd thrown in his 2013 debut season.
"I was never worried about it at all," Wood said. "It's funny seeing all that stuff, when people asked me and talk about it, it was like, 'No. I was 180 innings deep and I just tweaked my forearm a little bit.'"
Wood believes that the doom forecast predicted by some for Atlanta in 2015 could be as off as it was for his injury.
"Especially in this sport, you get used to it real quick, not just from a team perspective but from an individual perspective," Wood said. "That's why you play the games. How many teams are projected to win their division or win the World Series each year? And how have they actually done?"
Wood pointed to the 2014 Kansas City Royals.
"You want to talk about a great example of guys coming together as a unit and just kind of feeding off each other and seeing each guy take his role and run with it," Wood said. "That's the good thing about baseball. It's going to be exciting and hopefully we'll be able to do the same thing."
Wood, who has thrown off a mound about five times this winter, approached training differently this offseason, doing strength training three times a week and conditioning two days a week. The result is he feels refreshed heading into the Spring Training.
"I've always been somebody that if I'm not doing something every day I feel like I'm losing," Wood said. "But really I feel like every year you get older, you start to learn the ropes. It's more about working smarter than anything. So I've had a really good offseason program. I'm excited about how it's gone this offseason and I'm looking forward to seeing how well I hold up this year."
Jon Cooper is a contributor to MLB.com. This story was not subject to the approval of Major League Baseball or its clubs.