Follow Fantasy 411's comprehensive mock draft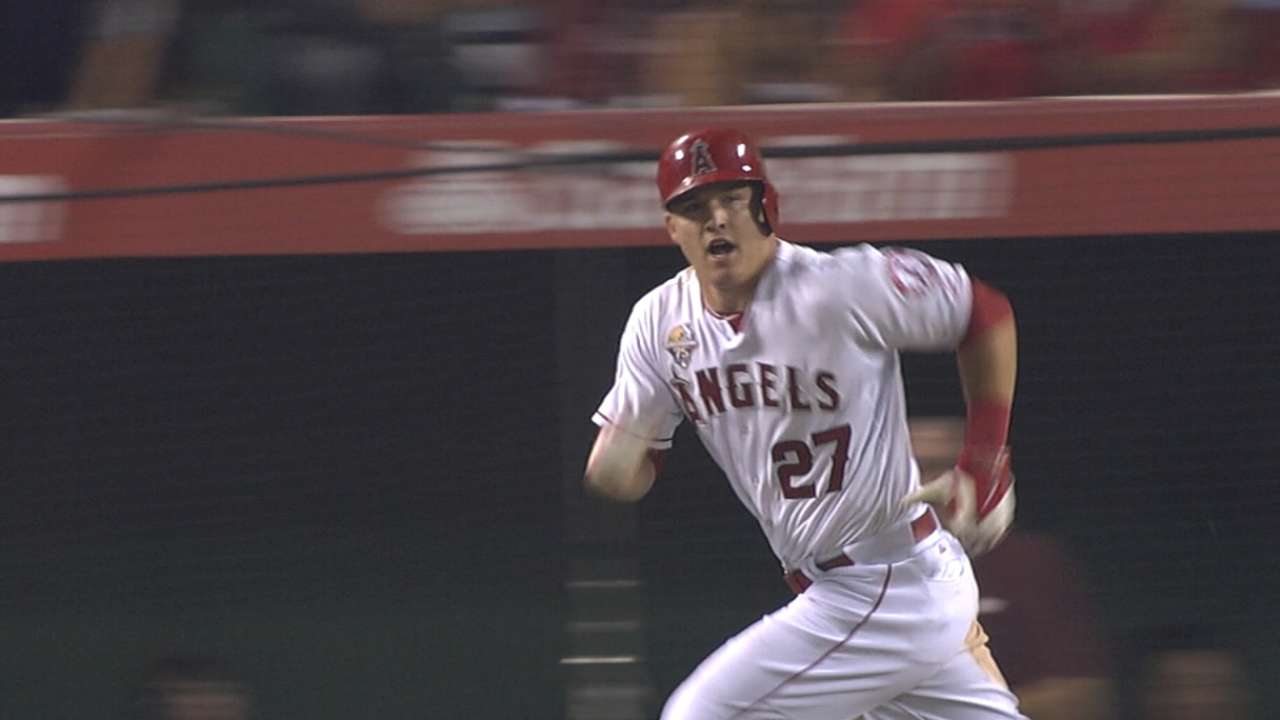 Spring Training is just around the corner, and smart fantasy baseball owners should be ready to start their draft preparations. While rankings, such as the MLB.com 2015 Player Preview, are great places to start, it is also useful to see how the draft-day dominoes are falling in early mock drafts. The good folks at Fantasy 411 recently set up a panel of several industry veterans, and allowed them to give a glimpse of how this year's player pool will be valued on draft day. They have begun a slow, detailed mock draft that will be updated as results come in.
To no one's surprise, Mike Trout led off the draft. The Angels' superstar should be the first pick off the board in every 2015 draft, thanks to his brilliant combination of previous work and future potential. Fellow outfielders Giancarlo Stanton and Andrew McCutchen immediately followed Trout off the board, as owners were seduced by Stanton's absurd power and McCutchen's consistent five-category excellence.
Jason Collette threw the draft its first curveball at pick No. 4 when he chose Jose Abreu over more established first basemen Paul Goldschmidt and Miguel Cabrera, who were tabbed with the following two selections. Abreu produced elite power in the first half of 2014, and he followed that up with an elite batting average in the second half. The reigning American League Rookie of the Year could be as valuable as virtually any hitter if he can put those talents together for a full year in 2015.
With six hitters off the board, Eric Mack tapped into the pitchers pool when he selected Clayton Kershaw at pick No. 7. The Dodgers' ace is as likely as any player -- including Trout -- to be the most valuable fantasy asset this season. Because of a deep group of fantasy aces, Kershaw is unlikely to be taken first overall in any draft, but he can be considered at any other pick.
Carlos Gomez was taken at pick No. 8, and he seems to consistently come off the board in the middle of the first round in early mocks. The 29-year-old's ability to rack up homers and steals in bunches makes him a great way to start building a balanced roster.
Based on the results of the Fantasy 411 slow mock draft, Blue Jays fans would be wise to buy seats in the outfield this season, as three of the club's sluggers -- Edwin Encarnacion, Josh Donaldson and Jose Bautista -- were selected during the final four picks of round one. These hitters are tremendously similar, as their patient, powerful approach should lead to plenty of homers, RBIs and runs.
Adam Jones broke off the run of Toronto batsmen when he was picked 10th overall by Zach Steinhorn. Like McCutchen, Jones is the picture of stability, and the 29-year-old is as likely to meet his projections as any hitter taken in the first round.
Each expert is providing detailed commentary on all of their selections, which will allow readers to gain perspective on the individual players, and expert draft strategies. Bookmark this link and follow along as they fill out their 23-man rosters during the month of February.
Fred Zinkie is a fantasy baseball writer for MLB.com. This story was not subject to the approval of Major League Baseball or its clubs.