MLB.com Columnist
Jim Callis
Pipeline Inbox: Correa still may be underrated at shortstop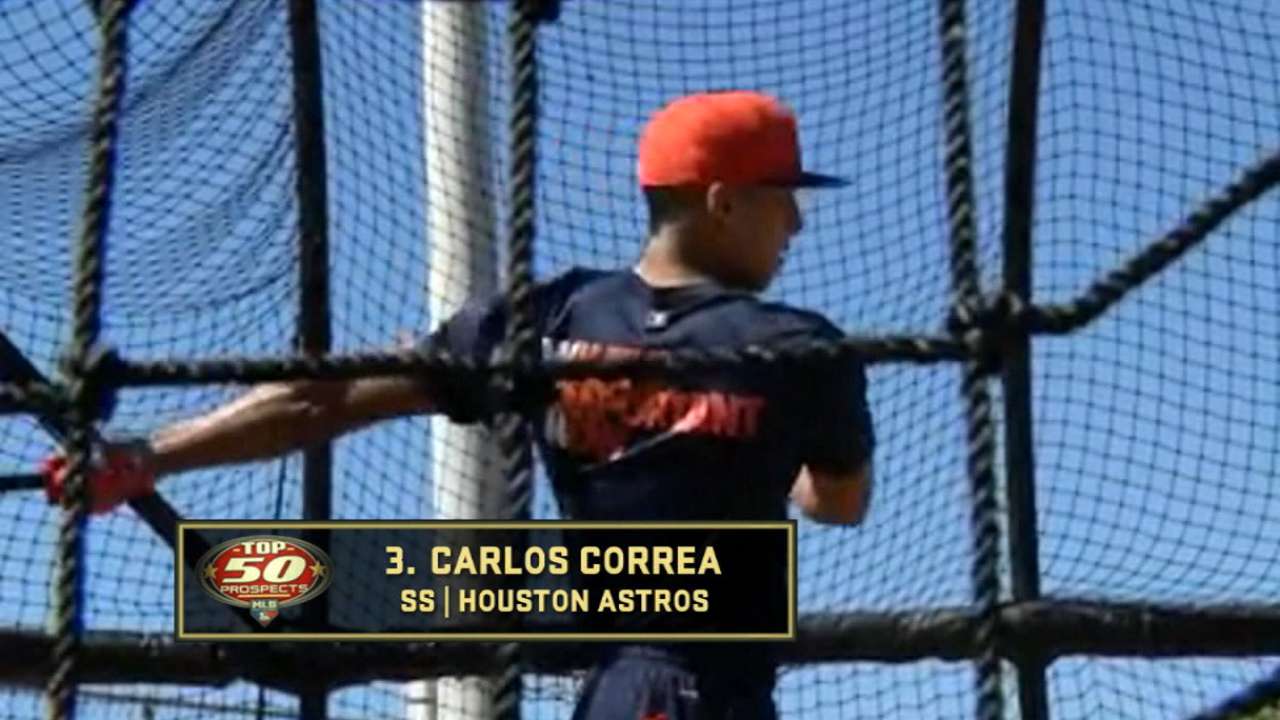 Click here to submit an Inbox question
Before we get to your Top 100-related questions in the latest edition of the Pipeline Inbox, I'll answer a query I've gotten repeatedly on Twitter: MLBPipeline.com will update our team-by-team prospect lists in March -- and we're expanding them from Top 20s to Top 30s this year. We'll also update those during the season and overhaul them at midseason.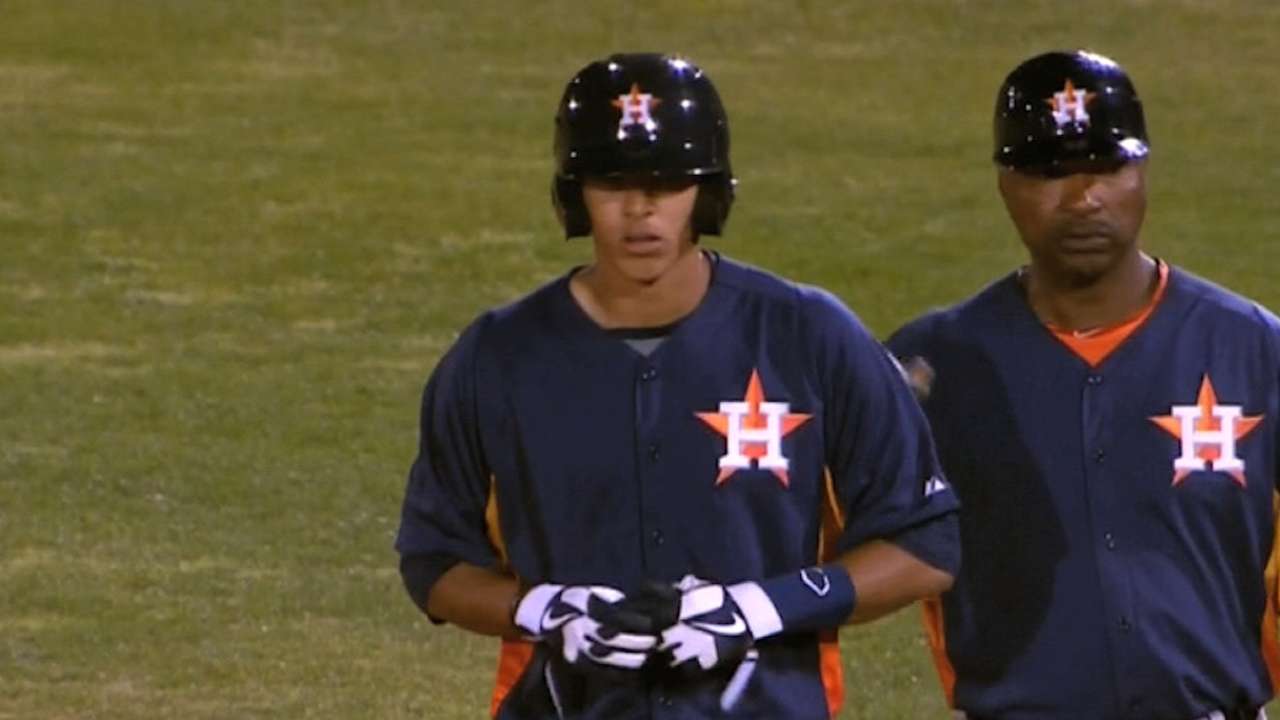 How good can Astros shortstop Carlos Correa be? Alex Rodriguez or Troy Tulowitzki good?
-- Sean W., Houston
As I noted on the MLB Network broadcast, Correa might be underrated, which seems silly to say about someone who went first overall in the 2012 Draft and currently ranks No. 3 on the Top 100. But he doesn't get included in the Buxton vs. Bryant debate as to baseball's best prospects as much as he should, and Correa is even better than we realized on Draft Day three years ago. He has more pure hitting ability and a better chance to stay at shortstop than anticipated.
Correa also should grow into big-time power as he gets stronger and more experienced, so those Rodriguez and Tulowitzki comparisons aren't outlandish. Correa is a big-bodied shortstop capable of providing at least solid defense at the position while contending for batting titles and possibly home run titles. He's a special player.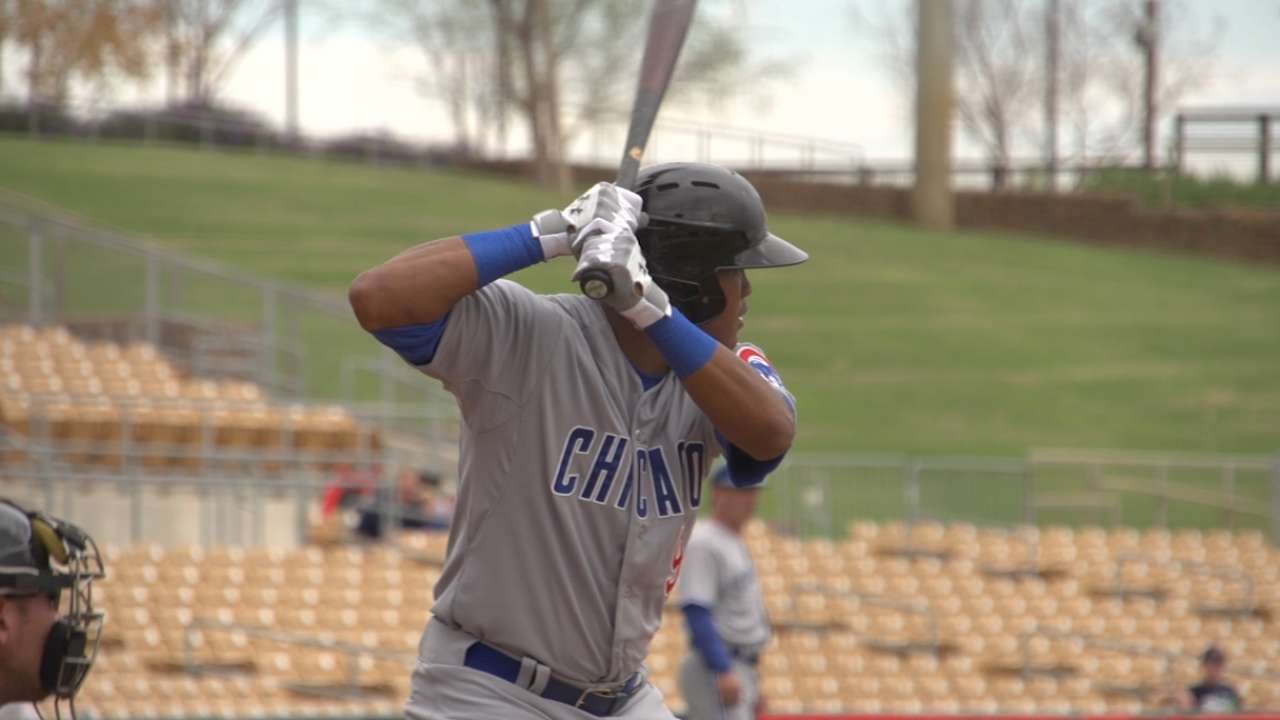 Is Cubs shortstop prospect Addison Russell special enough to push Starlin Castro off of the position? Could Russell possibly be traded for pitching?
-- Cody S., Des Plaines, Ill.
Though Castro already has made three All-Star Games through age 24, he has done so on the basis of his bat and not his glove. He's a fringy to average defender at best and would fit better at second base, to be honest. It's unclear whether the Cubs would actually move Castro, however.
Russell isn't a future Gold Glover, but he should be an average to solid defender at shortstop. He also should get on base more and provide more power than Castro, so I'd take Russell if I had to pick between the two. Chicago plans on contending in 2015 and Castro is established while Russell needs more time in the Minors, so I don't see either getting traded this year.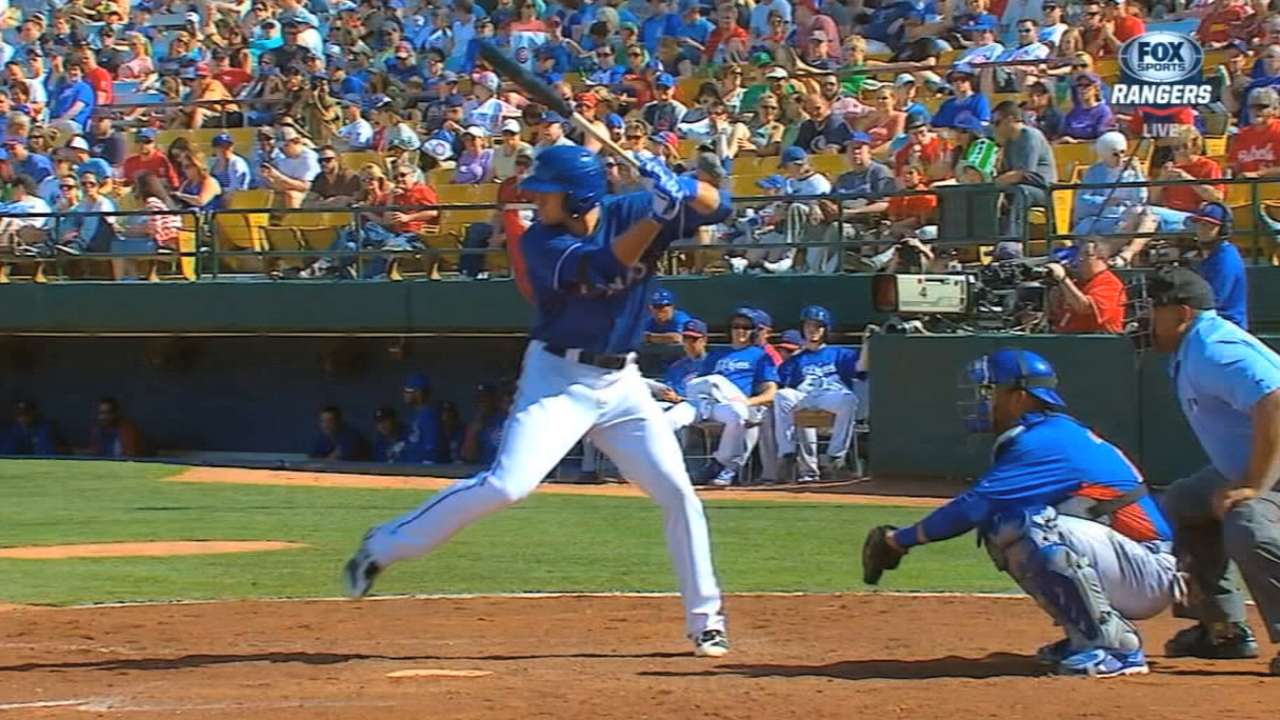 How soon do you think we see Rangers third baseman Joey Gallo in the Majors? Could we see him as early as May? When he does come up, where will he play? DH for Gallo with Adrian Beltre and Prince Fielder on the corners?
-- Tyler H., Castle Rock, Colo.
Gallo has crazy raw power, as anyone who saw the 2014 Sirius XM All-Star Futures Game would attest. He ranked second in the Minors last year with 42 homers, including 21 in 68 games after getting promoted to Double-A at age 20. But Gallo also hit .232/.334/.524 with 115 strikeouts in 291 plate appearances at that level, indicating that he might be best served by another full year in the Minors.
The only way I see that changing is if the Rangers bounce back to contention this year and Gallo starts to make more consistent contact against upper-level pitching. In that scenario, I could see him breaking into Texas' lineup at DH or in left field. Neither position is settled at this point, while Beltre and Fielder (assuming he's healthy after neck surgery) are entrenched.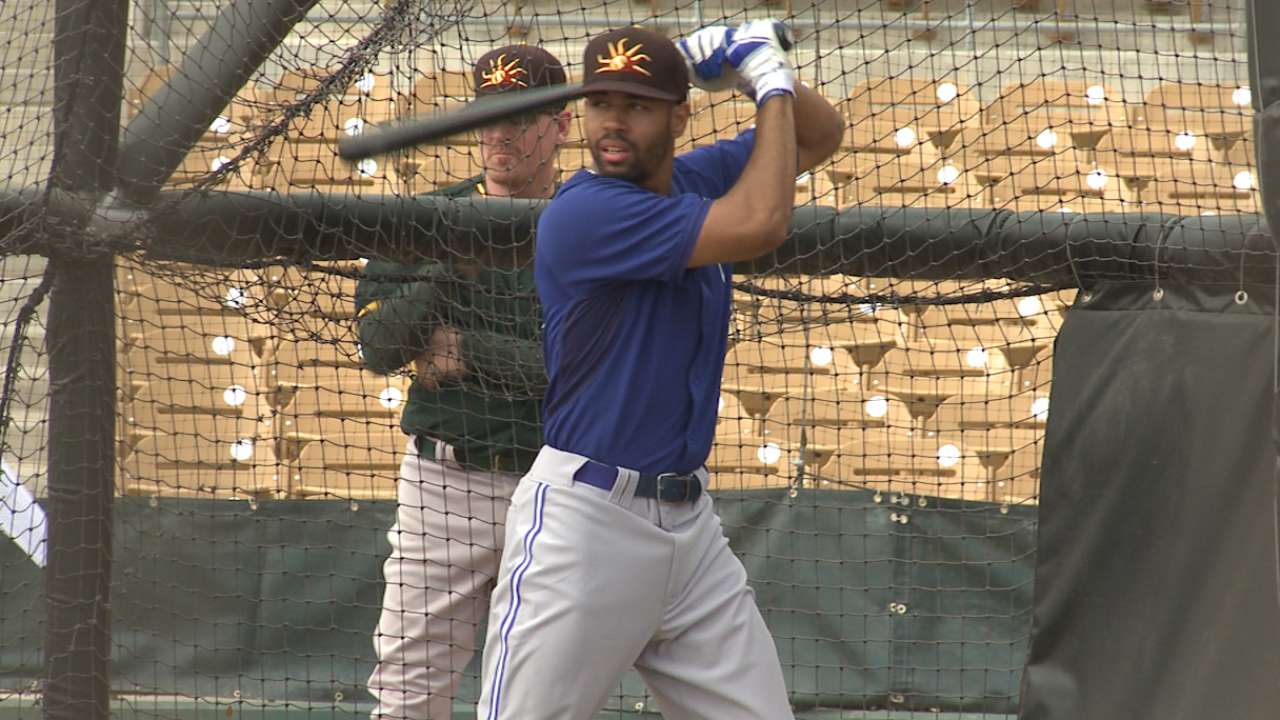 If he were eligible, would Red Sox center fielder Rusney Castillo have ranked higher than Blue Jays counterpart Dalton Pompey?
-- Troy B., Edmonton
International players who have enough age and experience to not count against MLB's bonus pools aren't eligible for MLBPipeline.com prospect lists. That's why Jose Abreu and Masahiro Tanaka went unranked in 2014, and why Castillo and D-backs outfielder Yasmany Tomas share the same fate this year.
Pompey checks in at No. 43 on the Top 100, and this question is a good one, because he and Castillo are very similar players. They're both quality center fielders with plus speed, good hitting ability and close to average power. I'd give Pompey the edge because he's five years younger (22 vs. 27) and a switch-hitter, but a case easily could be made for Boston's $72.5 million man.
What's your evaluation and projection of White Sox right-hander Spencer Adams? Was he close to making the Top 100?
-- J.P. S., Springfield, Ill.
The White Sox and their fans are excited that Carlos Rodon, who entered last year as the slam-dunk No. 1 Draft prospect, fell to them at No. 3 in June. And they should be, because Rodon (No. 14 on the Top 100) could be a steal who helps them as soon as this summer. But they also should be elated that they got Adams in the second round with the 44th overall pick after he projected to go at the end of the first round.
One of the most athletic and projectable pitchers in the 2014 Draft, Adams is a 6-foot-3, 171-pounder who starred in three sports in high school. He not only has a low-90s fastball that reached 96 mph and a slider that could give him a second plus pitch, but he also has an easy delivery and advanced command. Adams posted a 59-4 K-BB ratio -- that's not a misprint -- in the Rookie-level Arizona League during his pro debut.
As much as I like Adams, it's a bit early for me to consider him for the Top 100. Two of the last three pitchers on the list are Dodgers right-hander Grant Holmes (No. 95), who was 11th on our final 2014 Draft rankings, and D-backs righty Touki Toussaint (No. 98), who was eighth. Adams was 27th, and while he has boosted his stock since turning pro, I'd like to see more before putting him on the Top 100.
Jim Callis is a reporter for MLB.com and writes a blog, Callis' Corner. Follow @jimcallisMLB on Twitter. This story was not subject to the approval of Major League Baseball or its clubs.