MLB.com Columnist
Bernie Pleskoff
On the Cusp: Los Angeles Dodgers
Seager, Pederson among top prospects who could impact big league club in 2015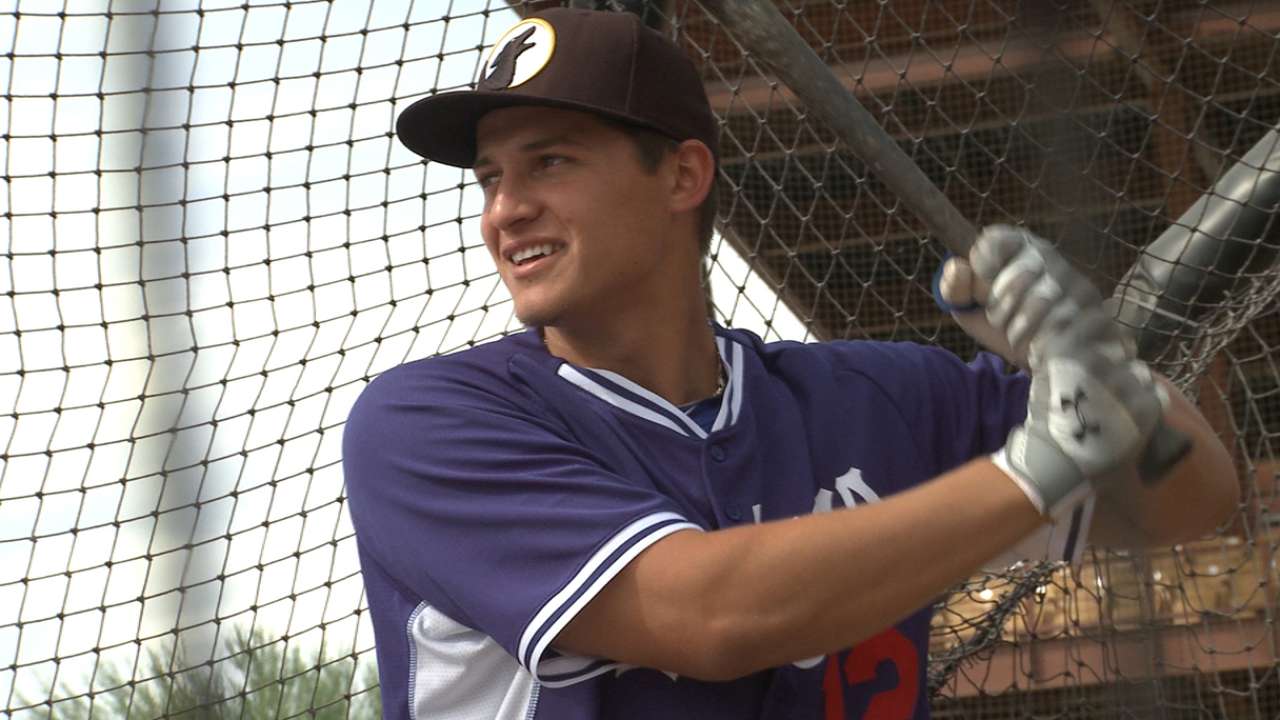 In this series, Bernie Pleskoff takes a team-by-team look at which top prospects are poised to make a contribution at the big league level in 2015.
After several offseason deals, the Dodgers' 25-man roster remains loaded with quality players. Their farm system stands ready to supplement the big league club, mostly on the mound. If needed, there are several candidates who are close to finished with their development.
Corey Seager | SS | 6-foot-4, 215 pounds | No. 1
It would take extraordinary circumstances for the exciting, five-tool Seager to make the club before September. Only 20, the left-handed hitter has all the talent to become a star. While he may outgrow shortstop, he has the talent to convert to third base. Strong and athletic, he has power and the ability to hit for average while playing solid defense. Seager fashioned a 20 home run season between Class A Advanced Rancho Cucamonga and Double-A Chattanooga last year. He hit .349 and drove in 97 runs.
Joc Pederson | OF | 6-foot-1, 185 pounds | No. 3
Left-handed-hitting Pederson's time has likely arrived. With the departure of Matt Kemp, Pederson is slated to compete for the starting center-field role. For me, he projects to be a very good Major League player. Pederson has an evenly distributed five-tool skill set. His power began to emerge in 2013 when he smoked 22 homers at Chattanooga. He'll eventually hit for average, but it may take some time for him to adjust. He'll play solid defense and run well. He's coming off a .303 season at Triple-A Albuquerque with 33 home runs and 78 RBIs.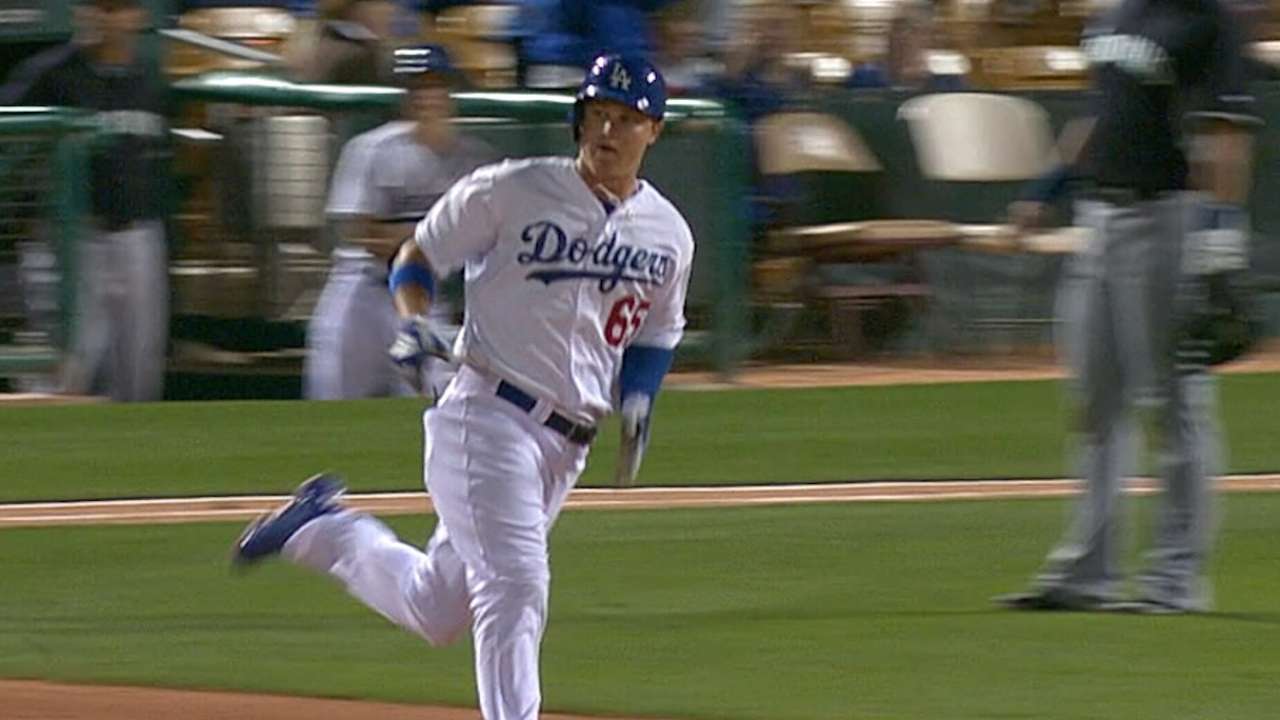 Zach Lee | RHP | 6-foot-3, 195 pounds | No. 6
Lee is among the advanced Dodgers pitching prospects. If a starter is needed from within the organization, he may very well get the call. He has a solid four-pitch mix that includes a fastball ranging from 89-93 mph, a curveball, slider and changeup. He's good at sequencing those pitches, mixing them all in as needed. His command is not great, and his strikeout rate dropped in '14. He remains promising.
Chris Reed | LHP | 6-foot-4, 195 pounds | No. 7
Probably the club's best lefty pitching prospect, Reed could offer help at some point in the coming season. Tall and thin, he adds depth to the staff of prospect pitchers. He was a closer at Stanford and converted to starting. Using a bit of an unusual delivery, he is deceptive with a sinking fastball that hits 95 at times. He also throws a slider and a less developed changeup.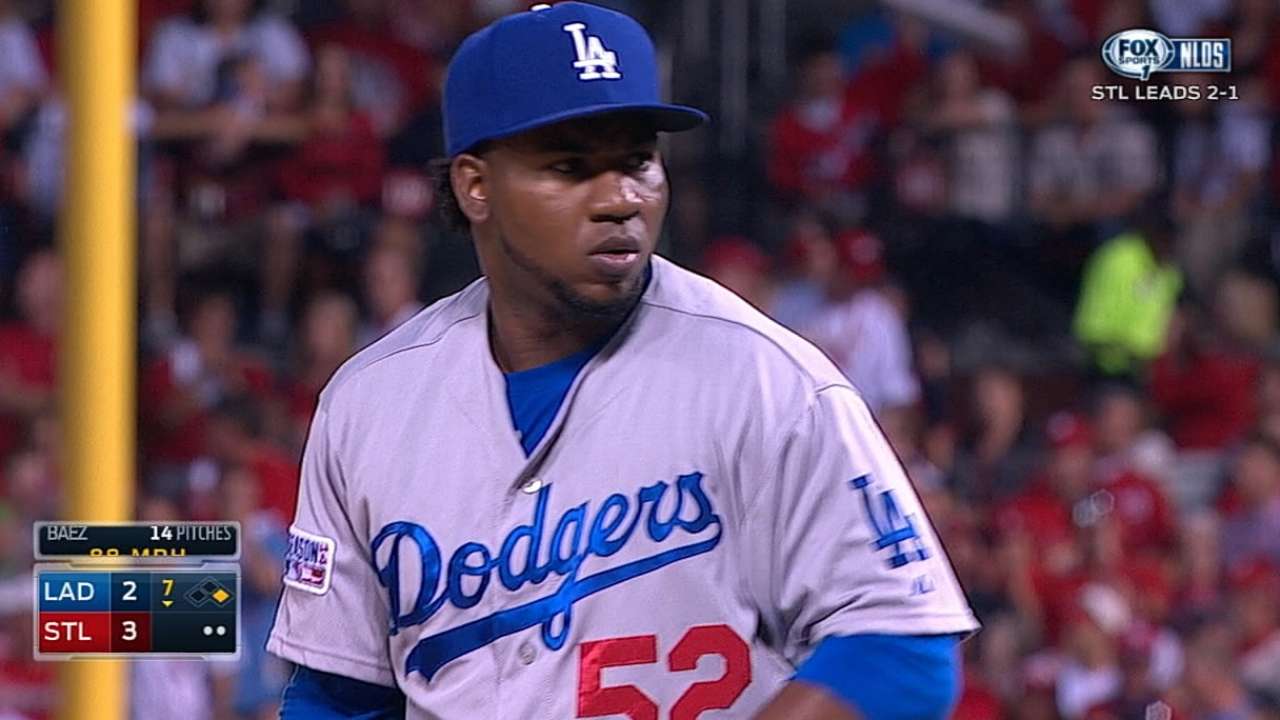 Pedro Baez | RHP | 6-foot-2, 230 pounds | No. 11
A stocky right-handed reliever, Baez has already made his Major League debut, even pitching against the Cardinals last year in the National League Division Series. When he came to the United States as an international free agent from the Dominican Republic, Baez was a third baseman. His sluggish bat and his powerful arm convinced the Dodgers to try him in short spurts on the mound. Having spent parts of eight seasons in the Minor Leagues, Baez seems ready to claim a big league job.
Yimi Garcia | RHP | 6-foot-1, 175 pounds | No. 16
The 24-year old out of the Dominican Republic threw 10 very solid relief innings for the big league club last year. He finished with an ERA of 1.80 and a WHIP of 0.70. Garcia can bring his fastball to 96 mph, but he generally sits at 92-93. He also throws a good slider that he uses to strike out hitters, as well as and an emerging changeup and split-finger. Long and lean, Garcia has some effort in his delivery, but the fastball/slider combination fits well in the back end of the bullpen.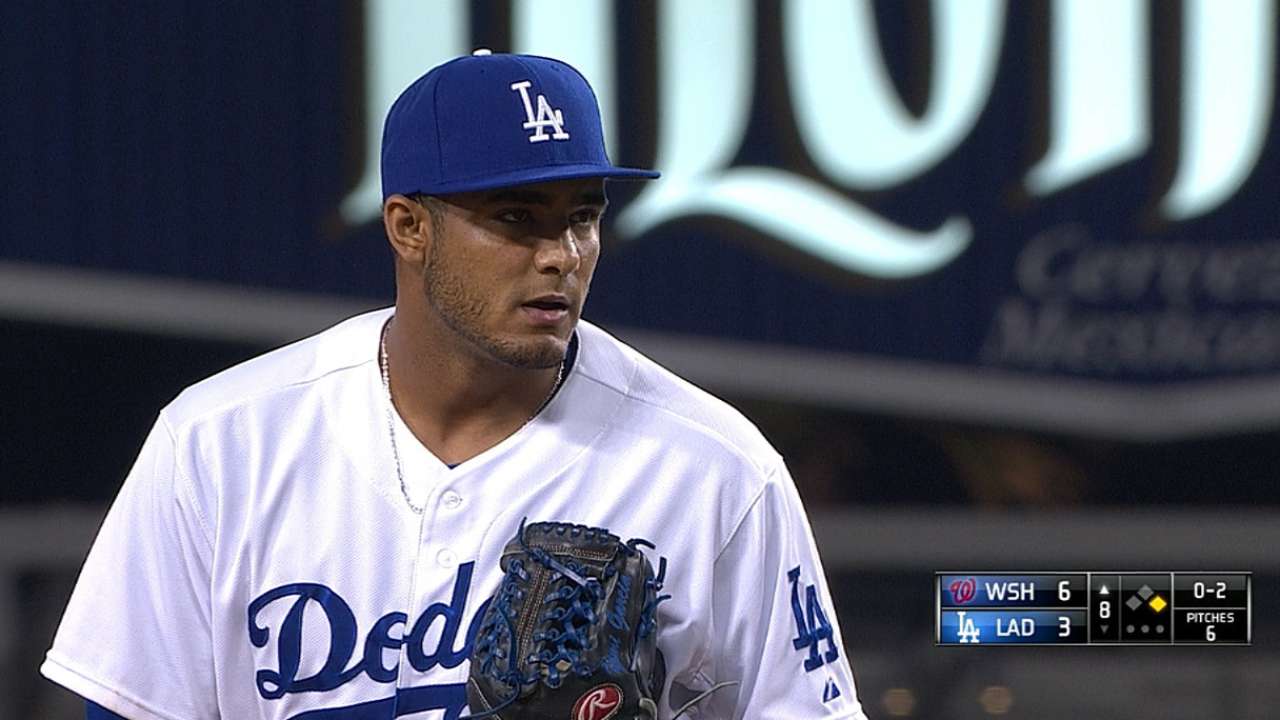 Alex Guerrero | OF/2B | 5-foot-10, 205 pounds | unranked
In 2013, the Dodgers signed Guerrero as an international free agent from Cuba. He played 11 Major League games, including the first two games of the season against the D-backs in Australia. He was then sent to the Minor Leagues for more seasoning. Questions remain regarding his potential role with the big league club. However, he is available to the Dodgers as a utility type player that can add depth in the middle infield or even the outfield.
One to watch: RHP Chris Anderson has pitched only one and a half professional seasons and likely needs more seasoning. He's a major pitching prospect.
Bernie Pleskoff has served as a professional scout for the Houston Astros and Seattle Mariners. Follow @BerniePleskoff on Twitter. This story was not subject to the approval of Major League Baseball or its clubs.