MLB.com Columnist
Anthony Castrovince
Groundhog Day: Kluber right on time after being late to dance
Indians ace wouldn't change a thing after becoming one of MLB's top pitchers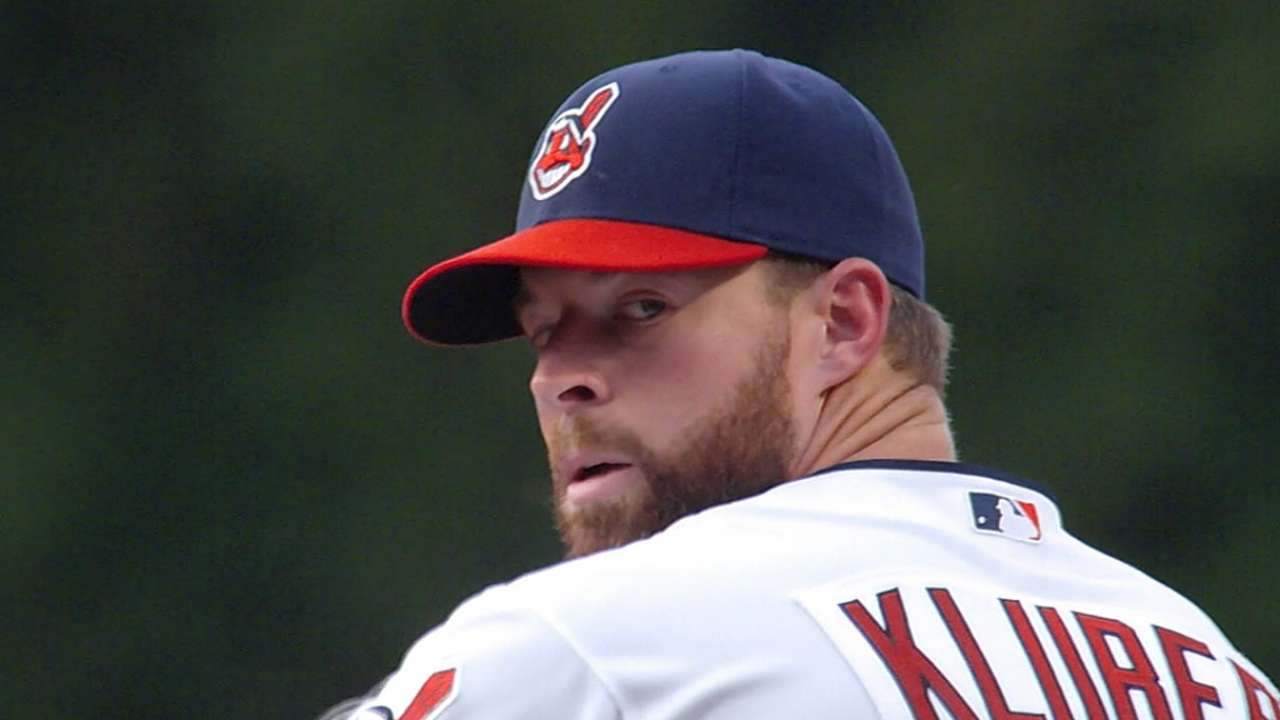 CLEVELAND -- The first thing to understand about Corey Kluber is that he wouldn't have it any other way. How he got here to this Cy Young stage, to this spot among the game's elite arms, might be a bit unorthodox, and he might be the classic late bloomer in a game often swept up in raw stuff and prospect hype.
But for Kluber, the wayward journey has only enhanced his appreciation for the end result, and time has no substitute.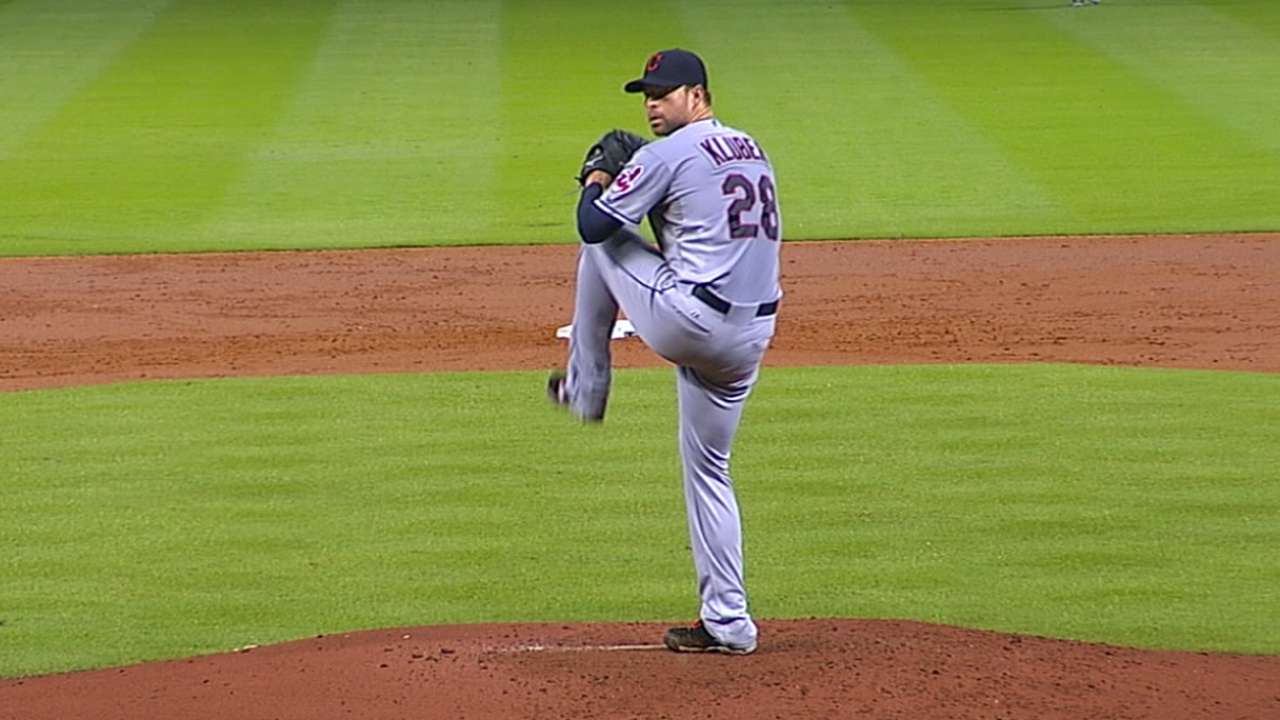 Still, in the spirit of "Groundhog Day," at a time when those of us at MLB.com revisited some of the game's more momentous moments with the people who lived them and discussed how they might have gone differently, Kluber's career is worth examination. After all, the movie in question centers around a character, Phil Connors, who takes advantage of his time-loop trap to master skills -- interpersonal and otherwise -- that would have otherwise taken years, if not decades.
So in that vein, let's go back to Eugene, Ore., in late July 2007.
Kluber is weeks removed from his fourth-round selection by the Padres in the First-Year Player Draft and days removed from signing his first professional contract with a modest bonus of $200,000. He has no way of knowing he's seven years away from compiling 18 wins and a 2.44 ERA for the Indians and edging out Seattle's Felix Hernandez for the AL Cy Young Award.
If Kluber could relive this day, over and over and over again, incorporating and refining the pitches that would make him a star, what would he discover?
Well, for one, the 28-year-old Kluber hopes his 21-year-old self would develop an improved understanding of the big picture.
"I would imagine for everybody that gets drafted, it's one of those things where you want to get to the big leagues as soon as possible," he says now. "You just want to get there as soon as possible and don't see the whole developmental side. People that are higher up know what you need to do to be successful, whereas you're just focused on getting there."
There were two people on the developmental side for the Indians who would prove instrumental in Kluber's Minor League metamorphosis -- Minor League pitching coordinator Mickey Callaway, who would join Terry Francona's Major League staff in 2013, and Triple-A Columbus pitching coach Ruben Niebla.
Neither of these men worked for the Padres, and now we're trending into some type of tampering here. But in our little time-hop experiment, Kluber would definitely fly them both into Oregon for some tutelage.
"We started to change how I attack guys in 2012," Kluber said. "Ruben and Mickey had the most direct say-so with me. I was making the final calls, but they were communicating it to me, and I'm sure there were a lot of other people telling them to do it, as well."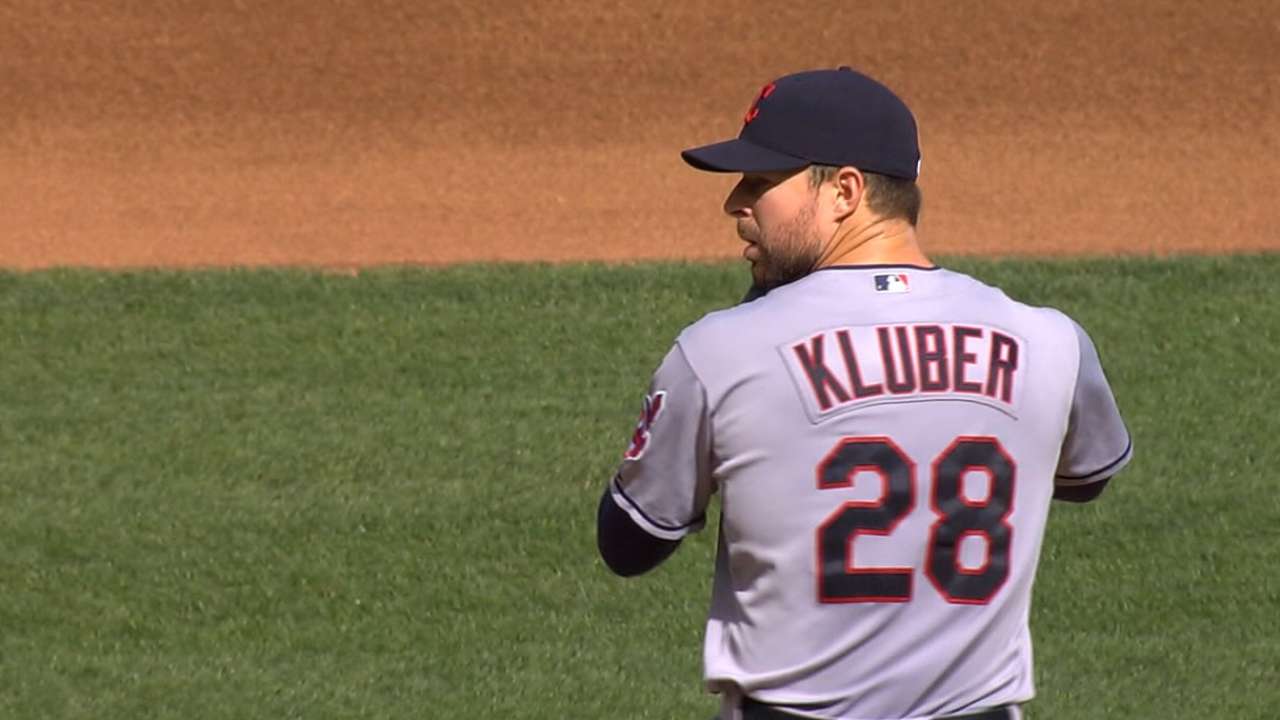 Here's what's interesting about Kluber: Among the pitches he carried with him out of Stetson University, only his curveball and changeup have survived at the big league level. Per FanGraphs.com, he threw the curveball -- a unique pitch, given its velocity (82.5 mph), vertical drop and right-to-left cut -- 15.8 percent of the time in his Cy Young season and the changeup just 3.8 percent of the time.
The majority of Kluber's pitch selection revolves around his two-seam fastball (52.4 percent) and his cutter (28 percent). He didn't even learn to throw the cutter until 2011 and the two-seam until '12, hence the winding nature of his personal road.
In our "Groundhog Day" approach to Kluber's career, consider Callaway and Niebla to be like the piano-teacher character. We'll send Kluber off to his cutter and sinker lessons, watch him fumble around a bit that first time on the mound and then, day by day, make those two pitches more and more of a weapon.
What Kluber could not have known in 2007 is that Major League use of the sinker would increase four percent -- from 35 to 39 -- just over the next five years and that the cutter would grow from a usage rate of 2.9 percent all the way up to 6.2 percent by 2014.
"It seems like baseball goes through cycles," Kluber said. "There are periods where there's an 'it' pitch. Right now it's the cutter, and who knows what it'll be in 10 years? That's part of the evolution. Guys are always looking for what can give them an advantage."
Kluber's advantage, we'd come to learn, was his no-nonsense demeanor and unshakable work ethic. Beyond that, there's some humility at play here, because it can be hard for a professional ballplayer -- an inherently confident and quite often stubborn subset of the human population -- to acknowledge that his game must be significantly refined in order to advance and thrive at the next level.
Looking back on that 2007 season -- a year in which he had a 3.51 ERA and 1.290 WHIP in 10 appearances for the Emeralds -- Kluber doesn't remember envisioning himself as one of the league's best arms.
"It's more of a blur than anything," he said. "I got drafted, it took a little while before I signed my contract, and then maybe the next day or two days later, you're on the mound. It's hard to make that jump from sitting around waiting to all of a sudden being in game action. But I never really thought about winning a Cy Young or any award. It was all about being the best I could be. Whatever that is, I accept it."
And though he was willing to play along with the "Groundhog Day" idea, Kluber readily embraces his status as a bit of a late bloomer. Sure, it would be fun to revisit 2007, to learn the cutter and the sinker and quickly climb the ladder, to be something other than a low-profile 2008 trade acquisition (the Indians sent Jake Westbrook to St. Louis, while the Cardinals sent Ryan Ludwick to San Diego), to arrive to the Majors highly touted as opposed to under-the-radar.
But Kluber's real story has been a rewarding one. And he wouldn't trade that for anything.
"I needed to go through that stuff," he said, "to get to where I am now."
Anthony Castrovince is a reporter for MLB.com. Read his columns and follow him on Twitter at @Castrovince. This story was not subject to the approval of Major League Baseball or its clubs.