Agent: Samardzija open to extension talks with White Sox
Right-hander will be eligible for free agency for the first time after 2015 season
Right-hander Jeff Samardzija is a year away from free agency, but he and his agent are at least willing to listen to any offers from the White Sox about a long-term contract extension.
Samardzija's agent, Mark Rodgers, appeared on MLB Network Radio's "The Front Office" with Jim Bowden and Jim Duquette on Sunday to discuss the idea of staying in Chicago for the long haul. Samardzija has been part of a big offseason in the Windy City, as the White Sox have also acquired closer David Robertson, outfielder Melky Cabrera, first baseman Adam LaRoche and reliever Zach Duke this winter.
"Obviously they really put in a lot of effort this offseason to make that club better," Rodgers said. "And so out of due respect to [White Sox chairman] Mr. [Jerry] Reinsdorf and to [general manager] Rick Hahn, who's done a heck of a job, and [executive vice president] Kenny Williams, I told those guys, 'Any time you want to talk, I'll listen. Jeff and I will certainly talk.'"
That doesn't necessarily mean anything will happen, of course. Rodgers went on to describe the situation as "difficult," considering how much pitchers can sign for as free agents. Samardzija is only a year away from being able to gauge his value on the open market, so agreeing to a deal now might ultimately cost him.
"The truth of the matter is the system we have in baseball, those who get to that sixth year and through it and survive it typically get compensated the best. And unfortunately -- or fortunately, depending on your perspective -- you have to get there," Rodgers said on MLB Network Radio. "You have to get to that finish line and cross it before you ultimately find out what your ultimate value is in the open market, which is what free agency is all about. At the end of the day, we owe it to the White Sox to at least consider anything that they would want to talk about, so that's first."
Rodgers promoted his client's unique skill set, pointing out that he has a relatively fresh arm despite being 30 years old because, unlike most other big leaguers, the former college football star didn't play baseball year-round as a teenager. He also argued that Samardzija is only getting better, and it's true that the righty's performance last year -- a 2.99 ERA in 219 2/3 innings with a 4.7 strikeout-to-walk ratio and his first All-Star nod -- was the best of his career.
"If Jeff continues to get exponentially better, I don't know where the market for that goes. He's got No. 1-type stuff," Rodgers said. "He's got Cy Young-type stuff to win 20 games, strike out 230-240 guys in 220 innings and just have a monster year. So to talk about what his value is in free agency a year early would really do him injustice because I think there's more to come, better to come for Jeff."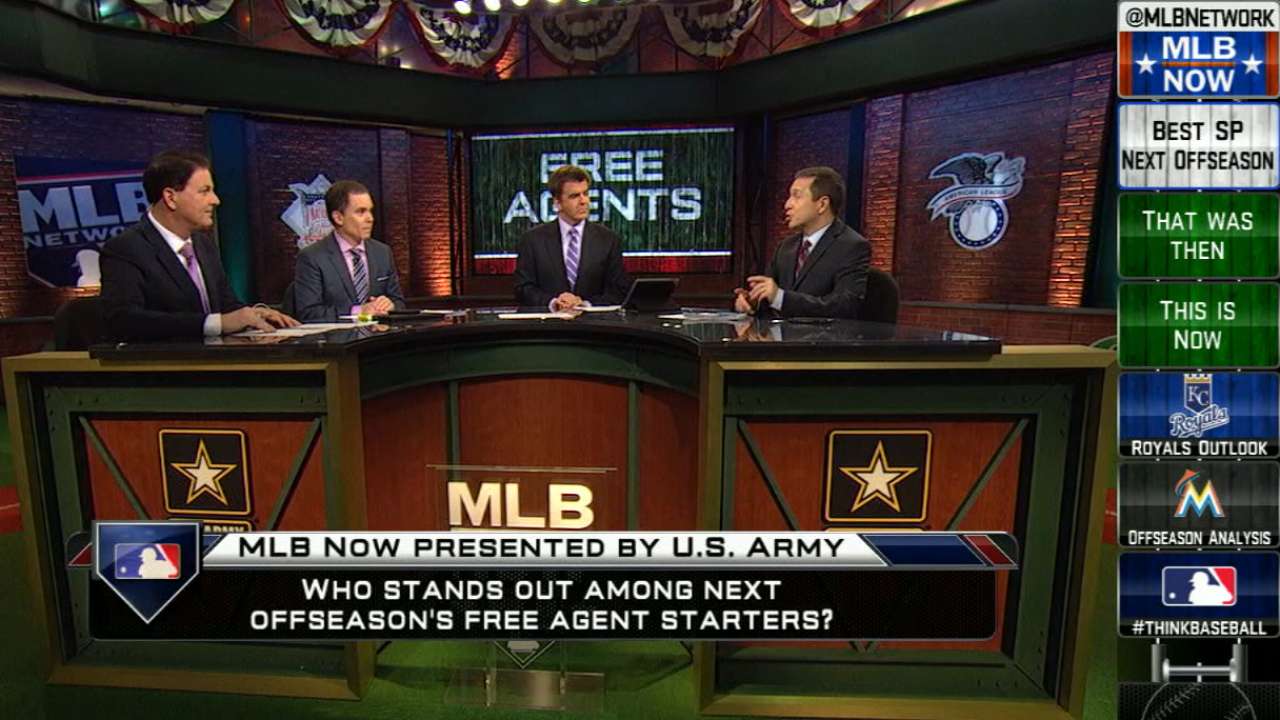 Samardzija would hardly be the only top starter available next offseason, though. The list of pending free agents includes pitchers like David Price, Johnny Cueto, Jordan Zimmermann, Doug Fister, Hisashi Iwakuma, Rick Porcello and possibly Zack Greinke.
"The other problem obviously in this market is we've got a lot of great pitchers coming out next year," Rodgers said. "It'll be interesting to see how it all shakes out, how guys do."
Adam Berry is a reporter for MLB.com. Follow him on Twitter at @adamdberry. This story was not subject to the approval of Major League Baseball or its clubs.