Dodgers faithful get up-close experience at FanFest
LOS ANGELES -- Forget the calendar.
"This is the official beginning of the 2015 year," iconic announcer Vin Scully said Saturday at Dodgers FanFest.
"Believe me when I tell you that I am highly honored and deeply grateful to be here today," said Scully. "At my age, I'm grateful to be anywhere."
The 87-year-old Scully was the headliner at the star-studded Dodger Stadium event, where more than 22,000 fans turned out for autographs and a chance to see up close more than half of the 40-man Major League roster, as well as numerous alumni and current coaches.
Among the current Dodgers participating Saturday were starting pitchers Zack Greinke and Brandon McCarthy, relievers Kenley Jansen and Chris Hatcher, outfielders Yasiel Puig and Joc Pederson, infielders Adrian Gonzalez and Howie Kendrick and catcher Yasmani Grandal.
Among the alumni were Fernando Valenzuela, Ron Cey, Bill Russell, Eric Karros, Mickey Hatcher, Orel Hershiser and Jerry Hairston.
Representing the coaching staff were Mark McGwire, Tim Wallach, Lorenzo Bundy and Steve Yeager.
Hall of Fame manager Tom Lasorda delivered his annual pep talk, which served as the warmup for Puig's rock-star autograph session.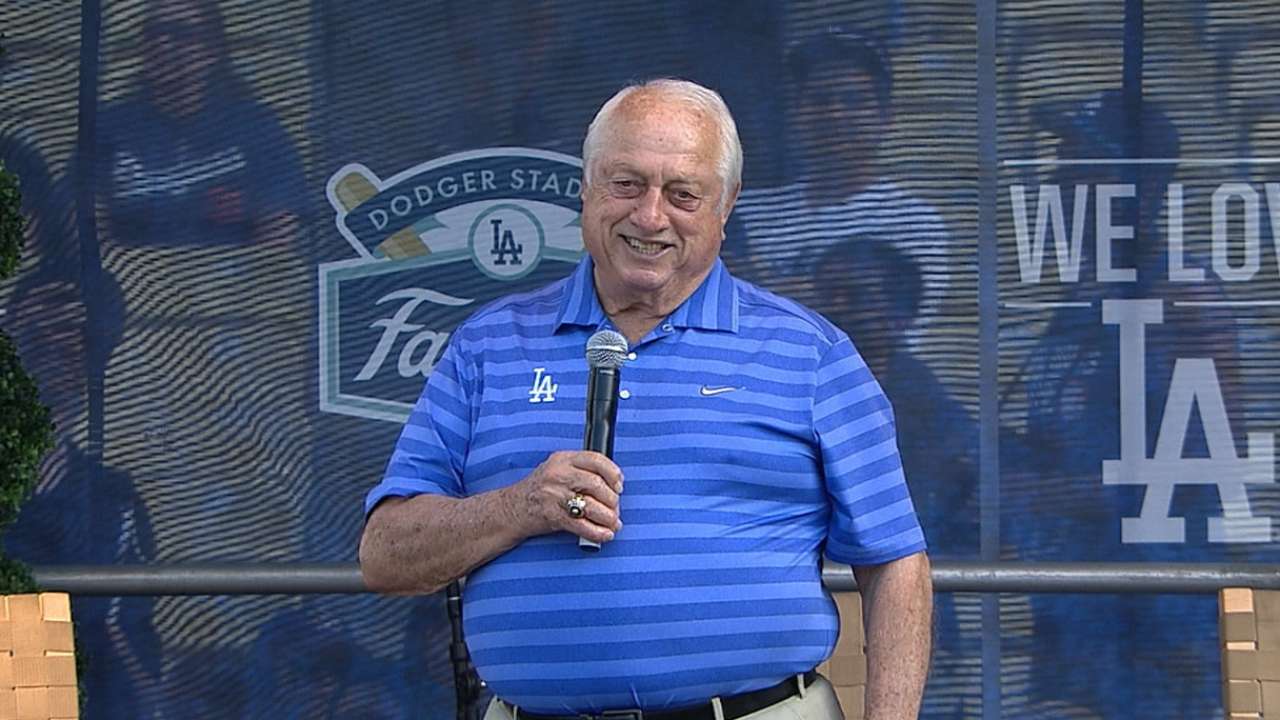 Scully made an early impact on McCarthy, who grew up in Southern California listening to the Hall of Fame broadcaster.
"The Scully thing is still weird for me," said McCarthy. "I met him this morning in the parking lot. It's nuts, hearing that same voice I remember as a little kid. In Dodger Stadium, it's kind of a surreal thing. Maybe next year at this time, I'll be used to it."
At the event, Pederson addressed his upcoming first Spring Training with a chance to make the Major League club, now that Matt Kemp's trade loosened the outfield logjam a bit.
"Time will tell," Pederson said when asked if he was ready, acknowledging the pressure to prove himself led to "emotions" that probably impacted his rocky September callup.
"I don't expect anything to be handed to me. I never have."
Grandal, the key incoming piece for the Dodgers in Kemp's trade to San Diego, said a stint in the Dominican Winter League assured him his knee is completely recovered.
Grandal also said he met with manager Don Mattingly and A.J. Ellis and envisions no issues regarding sharing playing time behind the plate with Ellis.
Chris Withrow, whose elbow blowout was an overlooked factor in the bullpen's fade last season, said he doesn't expect to be back until late in this coming season. While recovering from Tommy John surgery, Withrow also had surgery to repair a herniated disk in his lower back.
Jansen said he took criticism of the bullpen personally, but he trusts the front-office moves made this offseason position the bullpen to be more reliable.
"They know what they're doing," he said of the front office, which has acquired Hatcher, Joel Peralta and Juan Nicasio, among others.
Ken Gurnick is a reporter for MLB.com. This story was not subject to the approval of Major League Baseball or its clubs.