Banks honored during memorial service in Chicago
Pillars from all walks of life come together at Fourth Presbyterian Church to celebrate Mr. Cub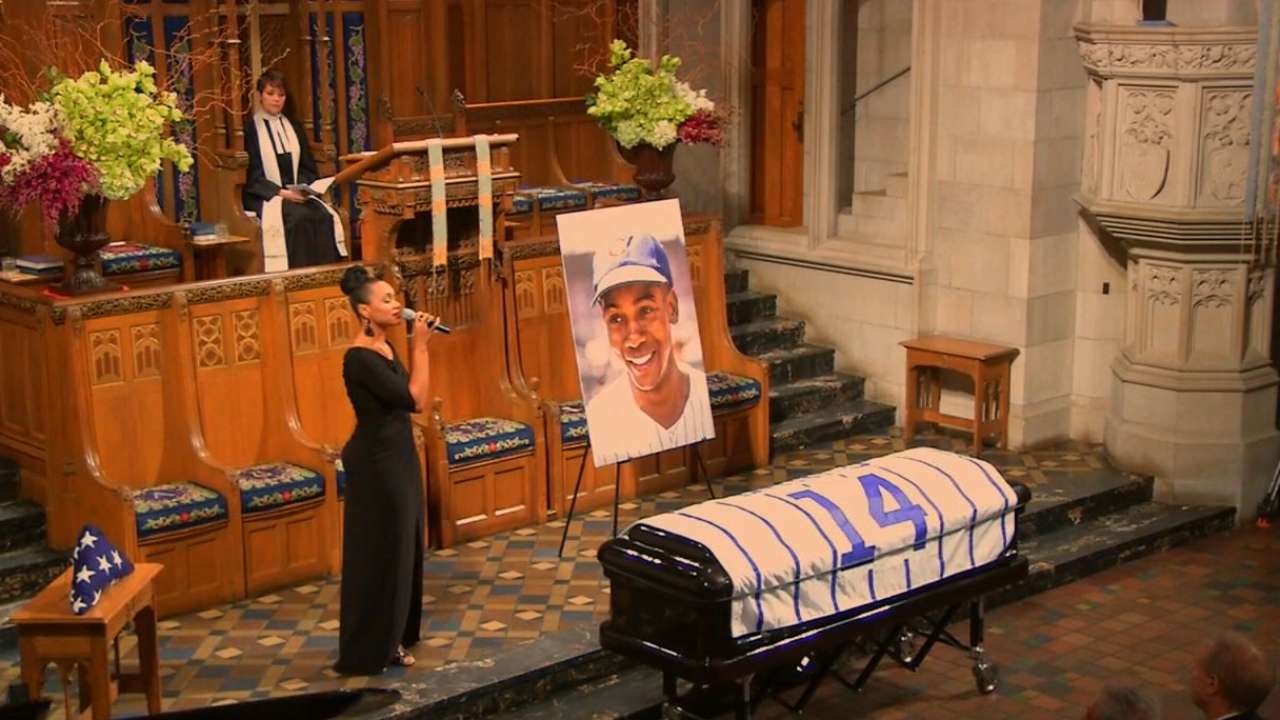 CHICAGO -- Instead of mourning Ernie Banks on Saturday, his teammates, family and friends urged everyone to celebrate the life of Mr. Cub on what would have been his 84th birthday.
"We have come here to thank God for Ernie Banks," Rev. Shannon Kershner said in her welcome statements.
The Fourth Presbyterian Church was nearly full for Banks' memorial service on Saturday, and the crowd included former Cubs teammates Billy Williams, Randy Hundley, Ferguson Jenkins and George Altman, plus Hall of Famers such as Hank Aaron, Reggie Jackson, Lou Brock and Andre Dawson. Also in the crowd were Kerry Wood, Anthony Rizzo, Sean Marshall, Jon Lieber, Minnie Minoso and Scott Sanderson.
Cubs broadcasters Len Kasper, Pat Hughes and Ron Coomer attended, as well as former Chicago Bulls great Bob Love, Blackhawks executives John McDonough and Jay Blunk, White Sox executive vice president Ken Williams and former Cubs general manager Jim Hendry. Cubs president of baseball operations Theo Epstein and GM Jed Hoyer were there, as well as Joe Torre, who represented Major League Baseball.
Banks' twin sons, Joey and Jerry, each delivered personal tributes. Joey thanked his dad for letting them come to Wrigley Field, calling it "the best playground ever."
"Move over Honus Wagner, there's a new shortstop in heaven," Joey Banks said.
Jerry wished his father happy birthday, and said the Wrigley family's decision to purchase Banks' contract from the Kansas City Monarchs was "the best $10,000 ever spent."
"Who would've imagined you would become the icon of the great city of Chicago, representing not only Chicago but giving the fans love and devotion," Jerry Banks said. "We've heard countless stories of interactions with fans. It makes our mourning his passing easier. For every tear we shed comes 10 stories of laughter followed by, 'That sounds like dad.'"
Jerry then shared three of his father's favorite sayings to his children:
"You learn more from losing than winning."
"I feel like Tony the Tiger. I feel great."
"How do you feel? I feel like I can fly."
Cubs chairman Tom Ricketts read from the 1953 scouting report on Banks, and noted that it said the slender infielder from Dallas "can play now." Banks played 19 seasons with the Cubs from 1953-71.
Ricketts pointed out Banks' Hall of Fame career statistics -- his 512 home runs, for example -- but said that "never in time have numbers fallen so short in describing the true greatness of a baseball player."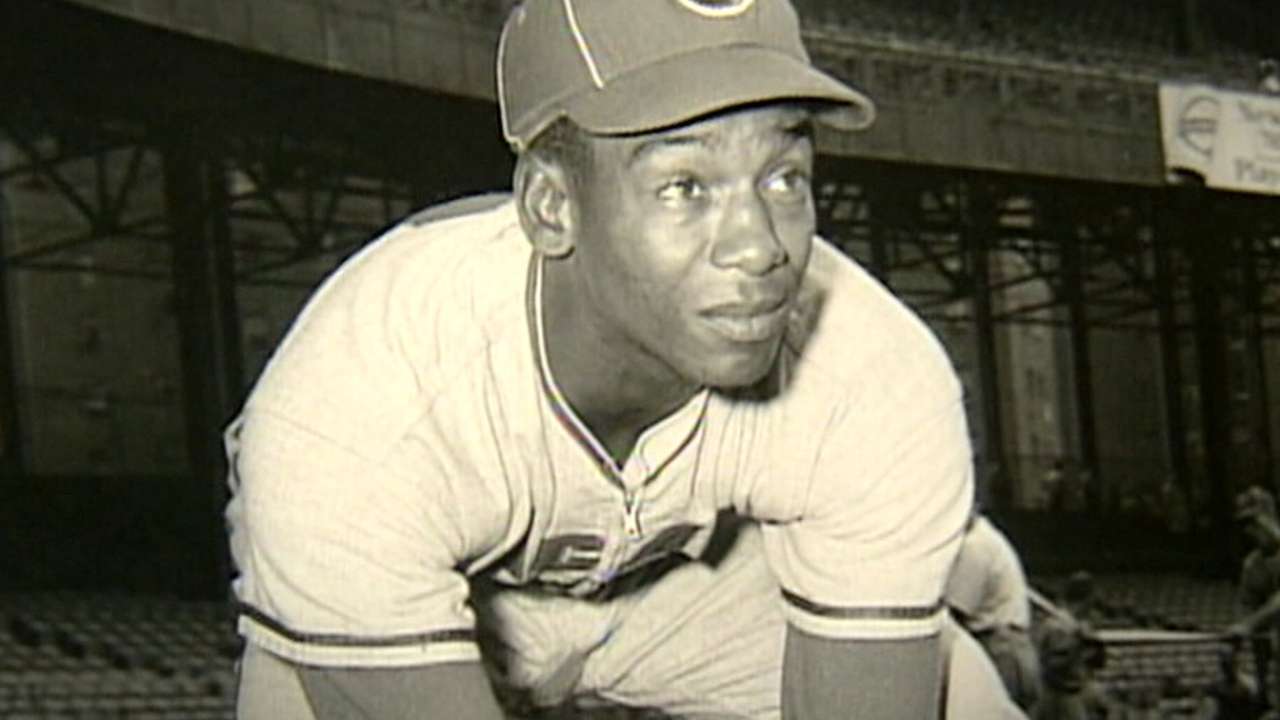 On Friday, Ricketts talked to some of the thousands of fans who came to Fourth Presbyterian Church to pay their respects during a visitation, and said nearly everyone had a story about Banks.
"Ernie Banks is not Mr. Cub because we loved him," Ricketts said. "Ernie Banks became Mr. Cub because he loved us back. As it turns out, Ernie became Mr. Cub through no more magic than just being himself."
Torre, now chief baseball officer with Major League Baseball, pointed out that Banks was knocked down four times by four different pitchers in 1957, and responded appropriately.
"Each and every one of those times, he got up and the next pitch, hit a home run," Torre said.
The Rev. Jesse Jackson Sr. said he asked Banks how he handled being thrown at by pitchers.
"He said, 'Umpires call the balls, I hit the strikes,'" Jackson said.
Banks made Wrigley Field friendly, the Cubs lovable and baseball worthy of being the national pastime, Torre said.
"Ernie Banks was truly living proof that you don't have to wear a championship ring on your finger in order to be a pillar in baseball or in life," Torre said.
Chicago Mayor Rahm Emanuel said Banks was "summer personified, he was Mr. Sunshine, Mr. Cub and always Mr. Chicago, but to many throughout the city, he was just 'Ernie.'"
Illinois Gov. Bruce Rauner said he was 13 years old in 1969, and recited the Cubs' lineup that year, the "summer of dreams." That season, the Cubs had a nine-game lead in mid-August, but stumbled in early September and finished second to the Mets. Still, Banks remained optimistic.
"He knew every day was a great day for baseball," Rauner said.
Jackson got the crowd on its feet to applaud and wish a happy birthday to Banks, who passed away on Jan. 23.
"We're not here because Ernie died; we're here because he lived," Jackson said.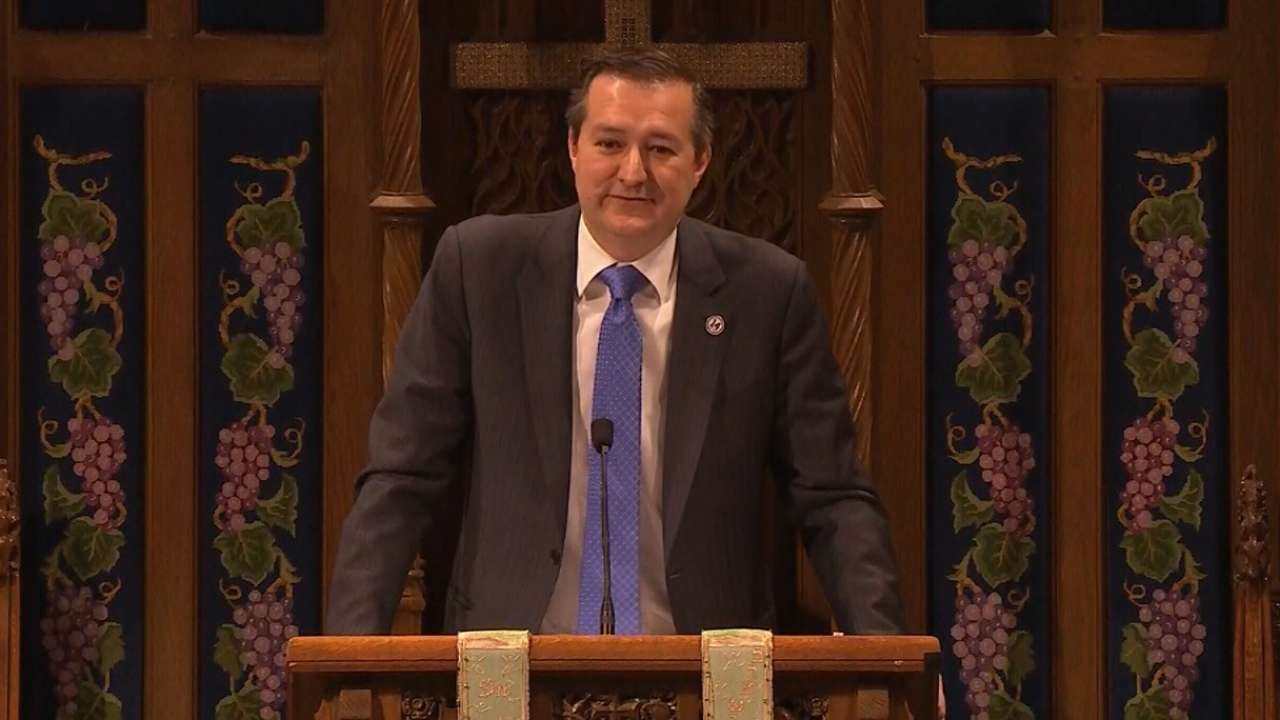 John Rogers, one of Banks' close friends, said he talked to Mr. Cub a few weeks ago, and noted how excited he was about Opening Day this year. Rogers also told a story about how Banks nearly missed being honored at the White House when he received the Presidential Medal of Freedom. Banks had apparently forgotten his photo identification, which is necessary for admittance.
But Banks was recognized, and the Secret Service made an exception. In a private moment, Banks presented President Barack Obama a Jackie Robinson bat, Rogers said.
The nearly two-hour service appropriately ended with the singing of "Oh Happy Day." A motorcade carrying Banks' casket then passed a bronze statue of Mr. Cub in Daley Plaza, and headed north to Wrigley Field. The procession paused outside the ballpark's marquee at Clark and Addison streets, and fans there applauded. The crews doing the renovation work at the 100-year-old ballpark also lined the streets to salute Banks one more time.
"He didn't want the title of being a star," Jenkins said. "He wanted to be a teammate."
"He just had an amazing outlook on life," Hughes said. "I think he woke up every day trying to make new friends. 'I'm going to meet as many new friends as I can, I'm going to make as many people happy as I possibly can.' He was a rare person."
Williams, 76, recalled that Banks was one of the first people he met at his initial Spring Training with the Cubs. The two roomed together, they carpooled together to Wrigley Field, they talked nonstop about baseball and life while driving along Lake Shore Drive, and Williams learned from watching how Banks handled everything.
Then, paying homage to Banks, who had a saying for the Cubs every year, Williams delivered a message for this year's team.
"I know Ernie would put his stamp of approval on this -- 'The Cubs will win as a team in 2015,'" Williams said.
Ernie Banks had to smile at that.
Carrie Muskat is a reporter for MLB.com. She writes a blog, Muskat Ramblings, and you can follow her on Twitter @CarrieMuskat. This story was not subject to the approval of Major League Baseball or its clubs.