Cruz fondly recalls Puerto Rico's legendary title teams
Mired in 15-year Caribbean Series drought, country reveres '95, '00 champs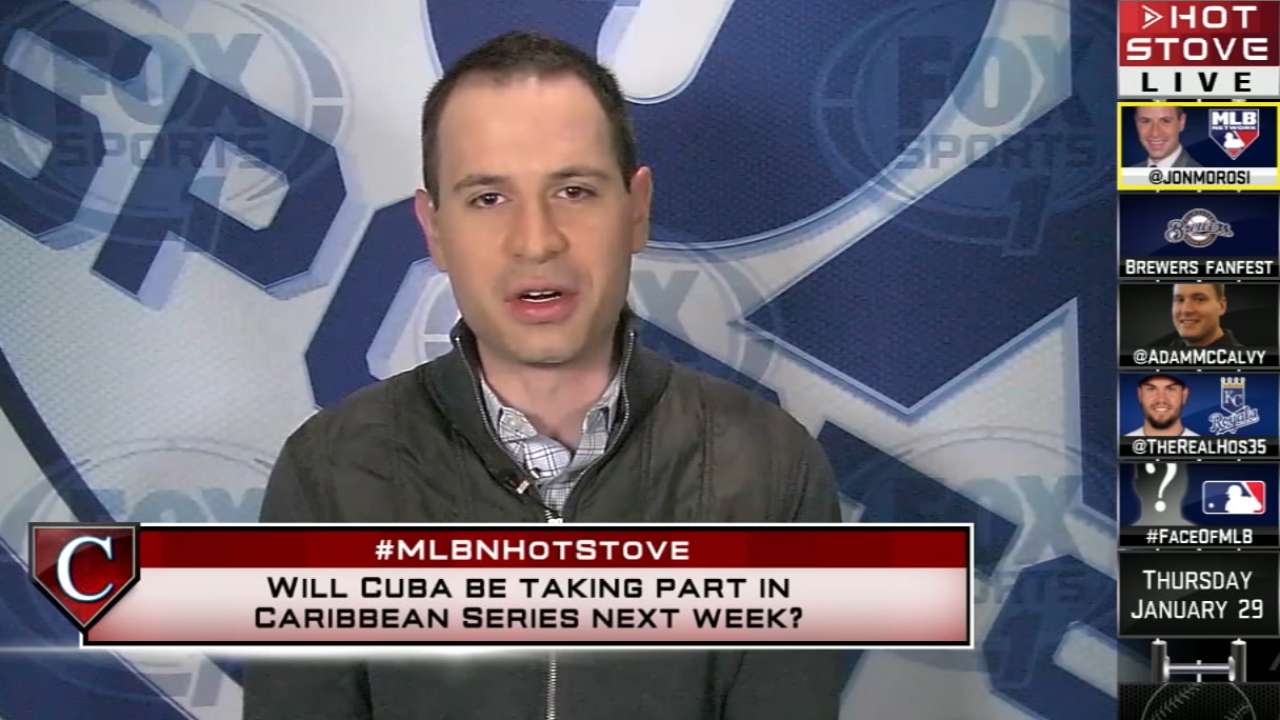 The first 15 years of this millennium haven't been too kind to fans of Puerto Rican baseball, given the decline in the local winter league that halted play for the entire 2007-08 season and a Caribbean Series championship drought that dates back to '00. But there have been positive signs the last two years.
Team Puerto Rico's surprising appearance in the championship game of the 2013 World Baseball Classic was a big lift for the island. A year later, the Indios de Mayagüez, managed by Carlos Baerga, qualified for the final round of the Caribbean Series while representing Puerto Rico, falling to Naranjeros de Hermosillo (Mexico) in the deciding game. And now, as the island prepares to host the 2015 edition of the event in San Juan's Hiram Bithorn stadium starting Monday through Feb. 8, nostalgia is in the air for 1995's Puerto Rican "Dream Team," which swept the series that year with a constellation of big league stars.
Since then, the only other team representing Puerto Rico to win the Caribbean Series was the Cangrejeros de Santurce, in the Dominican Republic in 2000. The MVP of that series, Jose Cruz Jr., reflected recently on what that meant to him and the group representing the island that year.
"That Caribbean Series was extremely special," said Cruz, who hit .385 with five doubles, eight runs and 10 RBIs to help Puerto Rico go undefeated in its six games. "It was all about the team and country."
With a lineup that featured such big leaguers as Cruz, Jose Vidro, Jose Valentin, Armando Rios and Eduardo Perez -- who is managing the Santurce team representing Puerto Rico in the 2015 series -- the Cangrejeros (Crabbers) set records for hits (86), doubles (24) and team batting average (.365).
"Everybody was hot," said Cruz, who hit 204 home runs in a 12-year Major League career from 1997 to 2008 and is now in the player services department of the MLB Players Association. "It was well deserved, I thought. I thought we were definitely the best team that year."
In addition to the success on the field during that first week of February 2000 in Santo Domingo's Quisqueya Stadium, what stands out for Cruz was the closeness of that team for those few days.
"We had the best time," he said. "We as a team got along great. The bus rides to the stadium were hilarious. Then when everybody got to the field, they did their thing, enjoyed it and it really wasn't so much of a job. Everyone was pulling for each other.
"It was a great moment, not only for my team but for my country."
Since that win in the 2000 Caribbean Series, Puerto Rico has seen its share of hard times in local baseball. For the winter league, it's been a slow but steady process to emerge from the abyss of cancelling an entire season seven years ago, when playing it out was deemed financially unfeasible.
"Puerto Rico went through a lull there for a bit. It's definitely concerning," said Cruz, son of local legend and former Houston Astros standout Jose Cruz Sr. "It's something that we're working on, trying to promote baseball and spark that fire again. The island loves the game, so now it's about getting the youth back involved in it."
Cruz believes a good showing by Santurce as the host club at this year's Caribbean Series -- which will also include Tomateros de Culiacan (Mexico), Gigantes del Cibao (Dominican Republic), Caribes de Anzoategui (Venezuela) and Pinar del Rio (Cuba) -- could go a long way toward achieving that goal.
"If we could get to the final and hopefully pull it out in our homeland, our home park, it would work wonders, I think, for amateur Puerto Rican baseball players for years to come."
In 2015, enthusiasm for the present will be combined with celebrating the 1995 Puerto Rican team, the Senadores de San Juan, whose members will be honored on Tuesday between games of the scheduled doubleheader.
Composed of Roberto Alomar, Baerga, Carlos Delgado, Bernie Williams, Edgar Martinez, Ruben Sierra and Juan Gonzalez -- among other renowned big leaguers -- that squad earned the nickname "Dream Team" while easily winning its six games in San Juan.
At the time, Cruz was just a few months away from being selected in the First-Year Player Draft by the Seattle Mariners.
"I remember that team. I was so excited to see all those guys on that team," Cruz said. "They were such icons, especially when I was growing up.
"These were the guys I was looking up to, that I wanted to play with, play against and play like. What a team."
David Venn is Executive Editor of LasMayores.com, MLB.com's Spanish language site. This story was not subject to the approval of Major League Baseball or its clubs.