Groundhog Day: What could Tribe do for do-over in '97?
Loss to Marlins in 11th inning of World Series Game 7 was full of crucial moments
CLEVELAND -- The World Series trophy was in the room. Plastic sheeting was being stapled to the walls to protect the clubhouse from the spray of champagne. There was only one problem: Game 7 of the World Series was still undecided above on the field at Pro Player Stadium.
Nearly two decades later, Indians radio voice Tom Hamilton still winces some at the memory. He left the broadcast booth and headed to the visiting locker room in anticipation of a possible World Series triumph over the Marlins in that 1997 Fall Classic. When he walked in the room, he was troubled by all he saw before him and said so to vice president of public relations Bobby DiBiasio.
"I said to Bobby D., 'I don't like this. This doesn't feel right,'" Hamilton recalled. "Bobby was like, 'Hey, they do this every World Series. They have to be ready.'"
In the tradition of Groundhog Day, what if the Indians could go back in time and relive that infamous day in team history? What could they do differently to change the chain of events? Maybe manager Mike Hargrove would have stuck with Brian Anderson for the ninth inning instead of handing the ball to struggling closer Jose Mesa. Maybe Sandy Alomar Jr. could have slid into home plate at a critical moment in the top of the ninth.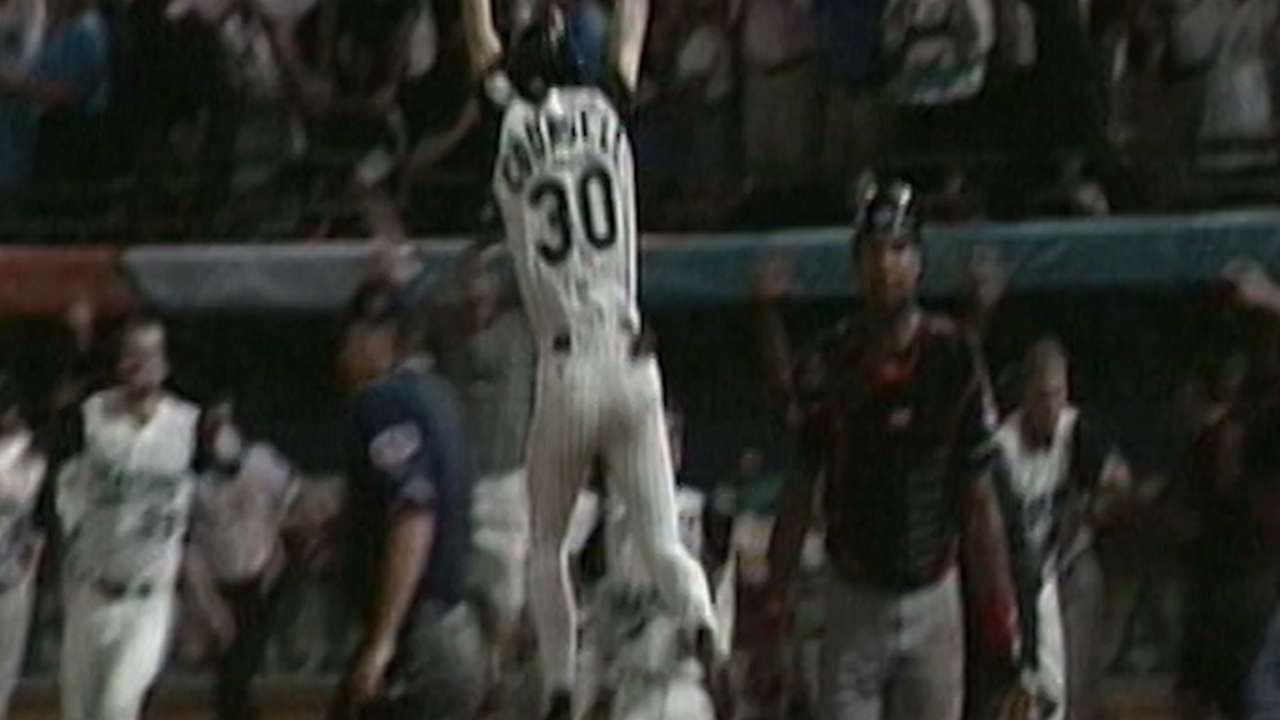 If he could go back in time, Hamilton knows what he would change. He would tell those clubhouse workers to hold off on rolling in the trophy and bubbly. He would try to convince somebody to rip down those plastic sheets in the name of karma. Maybe he would have told owner Dick Jacobs and general manager John Hart to hold off on heading to the manager's office.
"Mr. Jacobs was in [Grover's] office with John Hart," Hamilton said. "They're just sitting there and it's like watching a train wreck, because I didn't think we were going to get out of the ninth inning. I thought we were going to lose it right there. Craig Counsell almost hit a ball out of the park. Now, they are wheeling that trophy out of there faster than you've ever seen anything move in your life. They're tearing stuff down. Moving the stage.
"And I've got to run back to the upper deck, because I've got to do the 10th inning. So, I just wish that I wasn't down there in the ninth inning to see all that."
Not that Indians fans need a reminder, but Mesa coughed up one run in the bottom of the ninth inning. Shortstop Omar Vizquel wrote in his 2003 book, "Omar! My Life On and Off the Field," that "Jose's own eyes were vacant. Completely empty. Nobody home. You could almost see right through him. Not long after I looked into his vacant eyes, he blew the save and the Marlins tied the game."
Alomar shrugged when asked about Mesa, noting that it would have been hard to not go to the closer for the World Series-clinching save.
"I know that Brian Anderson did a good job the inning before," Alomar said, "and, if you go by a hunch, yeah, you'd probably stick with him. He had a good changeup, but that messes with your closer. He's done that job the whole year. He got 40-something saves. Throughout the playoffs, without him, we would not be in that situation to begin with."
Hamilton said Mesa simply did not trust his stuff that night.
"You had to [go to Mesa in the ninth]," Hamilton said. "First off, Mike Jackson was done. He was exhausted. He had pitched so much that year and in October, and in that game. Grover got as much out of him as he could. You don't start changing things in the ninth inning of Game 7. I just don't think Jose trusted his fastball."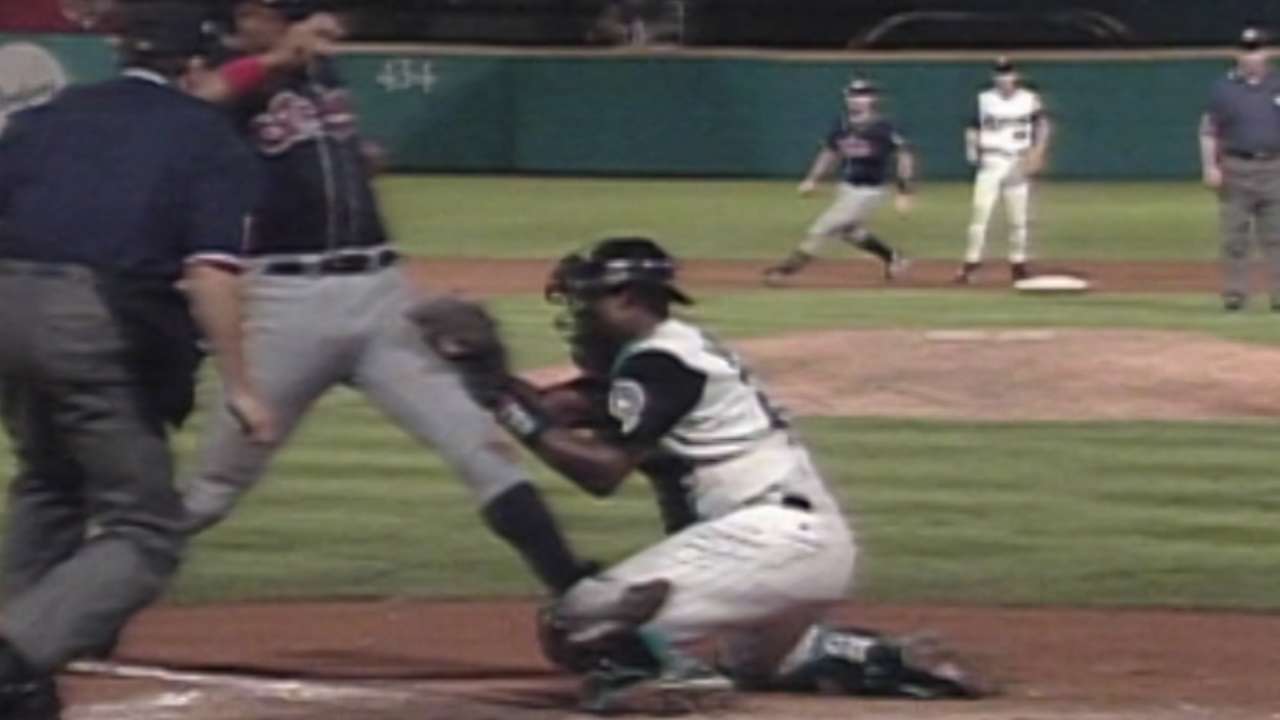 Alomar added that he gets asked about being thrown out at home plate in the ninth. With runners on the corners and one out, Alomar ran home on a ball hit to short by Marquis Grissom. Shortstop Edgar Renteria threw to catcher Charles Johnson, who retired Alomar for a crucial out that helped set the stage for the game's final outcome.
"Everybody asked me, what if I had slid at home plate?" Alomar said. "I was going to be out whether I slid or not and I was playing on one leg. I had problems sliding on my right side, so I got caught up on my left side. But, I don't know. I go 100 percent every time."
In the bottom of the 11th inning, Renteria provided the dagger, chopping a pitch from right-hander Charles Nagy up the middle for a walk-off single. Maybe if Nagy was an inch taller, he would have gloved the baseball and the Indians' hopes for their first World Series win since 1948 would have remained alive.
If only the Indians could go back in time.
"I'd catch that ball," Nagy said. "It tipped off my glove. I get asked all the time about Game 7. It's just one of those things. I've moved on."
Jordan Bastian is a reporter for MLB.com. Read his blog, Major League Bastian, and follow him on Twitter @MLBastian. This story was not subject to the approval of Major League Baseball or its clubs.