AFL a proving ground for many of Top 100 prospects
More than 40 on list have Arizona Fall League experience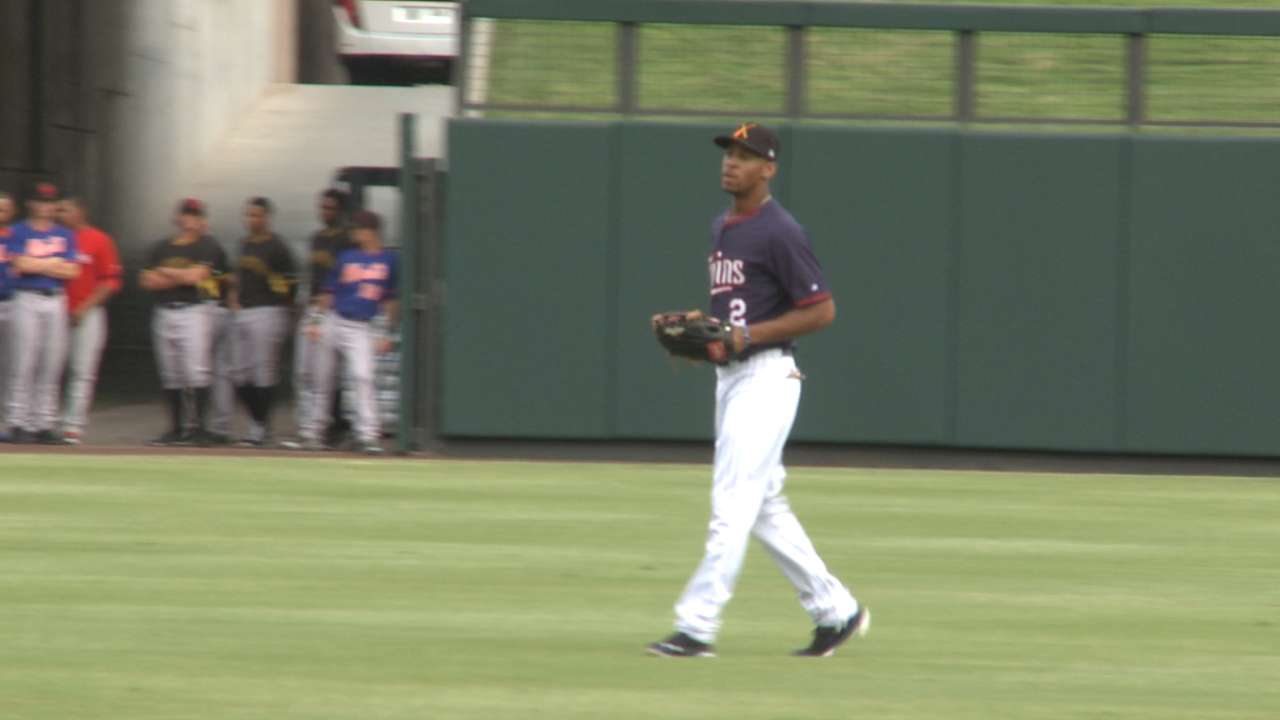 NEW YORK -- The Arizona Fall League has long been considered a proving ground for the next generation of baseball stars. But now, it's almost like a prerequisite for stardom. The MLB.com list of top 100 prospects came out Friday, and more than 40 of the players involved have AFL experience.
The annual ranking of baseball's Top 100 Prospects is assembled by MLBPipeline.com Draft and prospect experts Jonathan Mayo and Jim Callis, who compile input from industry sources, including scouts and scouting directors. It is based on analysis of players' skill sets, upsides, proximity to the Majors and potential immediate impact to their teams. The list, which is one of several prospect rankings on MLBPipeline.com's Prospect Watch, only includes players with rookie status in 2015. Team-by-team Top 30 Prospects lists for 2015 will be unveiled in March.
The list includes five of the top 10 prospects, highlighted by Byron Buxton and Kris Bryant, who are considered the top two up-and-coming players in baseball. Bryant was named the AFL's Most Valuable Player in 2013, and Buxton has played two injury-plagued campaigns in the Fall League.
Buxton, 21 years old, was taken by the Twins with the second overall selection in the 2012 First-Year Player Draft, but he's only played in one game above Class A. The two spins in the AFL represent the bulk of his upper-level experience, but his 2014 fall season was cut short by a broken left middle finger.
Bryant, meanwhile, was selected by the Cubs second overall in the 2013 Draft, and he broke out in a major way last season. Bryant, just removed from his AFL tear, batted .355 with 22 home runs for Double-A Tennessee and then doubled down by hitting .295 with 21 homers for Triple-A Iowa.
Three future middle infield stars -- Francisco Lindor (No. 4) of the Indians, the Cubs' Addison Russell (No. 5) and the Dodgers' Corey Seager (No. 7) -- parlayed their AFL runs into elite prospect status. Russell, who began the year in Oakland, was dealt to Chicago as part of the Jeff Samardzija trade.
Bryant and Russell are part of a six-player haul for the Cubs on this list, all of which are listed in the Top 100 prospects and have played in the AFL. Chicago's talented crop includes outfielders Jorge Soler (No. 22) and Albert Almora (No. 57), pitcher C.J. Edwards (No. 47) and catcher Kyle Schwarber (No. 49).
Mayo: Breaking down the Top 100 | Callis: Best tools in the Top 100
Another one of the top 10 prospects -- shortstop Carlos Correa -- was slated to play in the AFL but was pulled due to an ankle injury. Despite Correa's absence, the Astros still sent two other prospects, former top draftee Mark Appel (No. 30) and Vincent Velasquez (No. 86) to the postseason showcase.
The Dodgers expect big things out of Seager, who hit .345 in a 38-game run at Double-A Chattanooga last season. But they also had another top-shelf AFL alumnus in Joc Pederson, who batted .303 for Triple-A Albuquerque but wilted in a brief September audition with Los Angeles last season.
The Pirates are also represented on the prospect list, fronted by power right-handers Tyler Glasnow (No. 12) and Jameson Taillon (No. 31). Another future Pirate, outfielder Josh Bell (No. 34), began his progression toward playing first base on a regular basis in the AFL in 2014.
Toronto had two players on the list -- outfielder Dalton Pompey (No. 43) and right-handed pitcher Aaron Sanchez (No. 44) -- who saw time in the Majors. Pompey began in Class A and made it all the way to the Majors before finishing in Arizona, while Sanchez logged a 1.09 ERA in 24 games for Toronto.
The Padres had a noteworthy trio of players on the list. Outfielder Hunter Renfroe (No. 48) and catcher Austin Hedges (No. 51) give the Padres a pair of prospects close to the Majors, while shortstop Trea Turner (No. 62) will reportedly be dealt to Washington this summer as a player to be named later.
Spencer Fordin is a reporter for MLB.com This story was not subject to the approval of Major League Baseball or its clubs.