Biggio family begins preparations for induction weekend
COOPERSTOWN, N.Y. -- Craig Biggio's visit to the National Baseball Hall of Fame on Friday was more than just an opportunity to celebrate the greats of the game. Biggio and his wife, Patty, also had some business to take care of.
After touring the Hall of Fame and meeting with the media, the Biggios spent the second half of the day huddled with Hall staff to discuss the logistics of the July 24-26 induction weekend. Biggio, the longtime Astros second baseman, will be inducted alongside John Smoltz, Pedro Martinez and Randy Johnson.
Among the things the Biggios have to work through with the Hall are accommodations for friends and family, guidelines for the acceptance speech and, of course, what's going to be on his plaque. The plaque -- and which Astros logo he'll have on his cap -- won't be known until induction day, and the Hall of Fame has final say in its design after input from Biggio.
"Our job while they're here is to help them understand the schedule, how much time they will be committing to Hall of Fame events that the public can enjoy and participate, how much time they will be focused on events behind the scenes, private gatherings and parties, and how much time they will have to be able to spend with families and friends," said Brad Horn, the Hall of Fame's vice president for communications and education and a Houston native.
The Biggios were sent a large binder a few weeks ago containing information they'll need to know, including guidelines on tickets and accommodations. Much of the time spent Friday was helping them understand how many family and friends the Hall of Fame can accommodate on induction weekend based on its protocol.
The Hall sets limits on tickets in order to accommodate each of the four new members and the roughly 55 living Hall of Famers who will return to Cooperstown in July. The Hall will maintain constant contact with the Biggio family until induction weekend.
"There's so many moving pieces of Hall of Fame weekend, once it hits it goes so fast," Horn said. "We want them to focus on the time they have with other Hall of Famers and not miss the experience."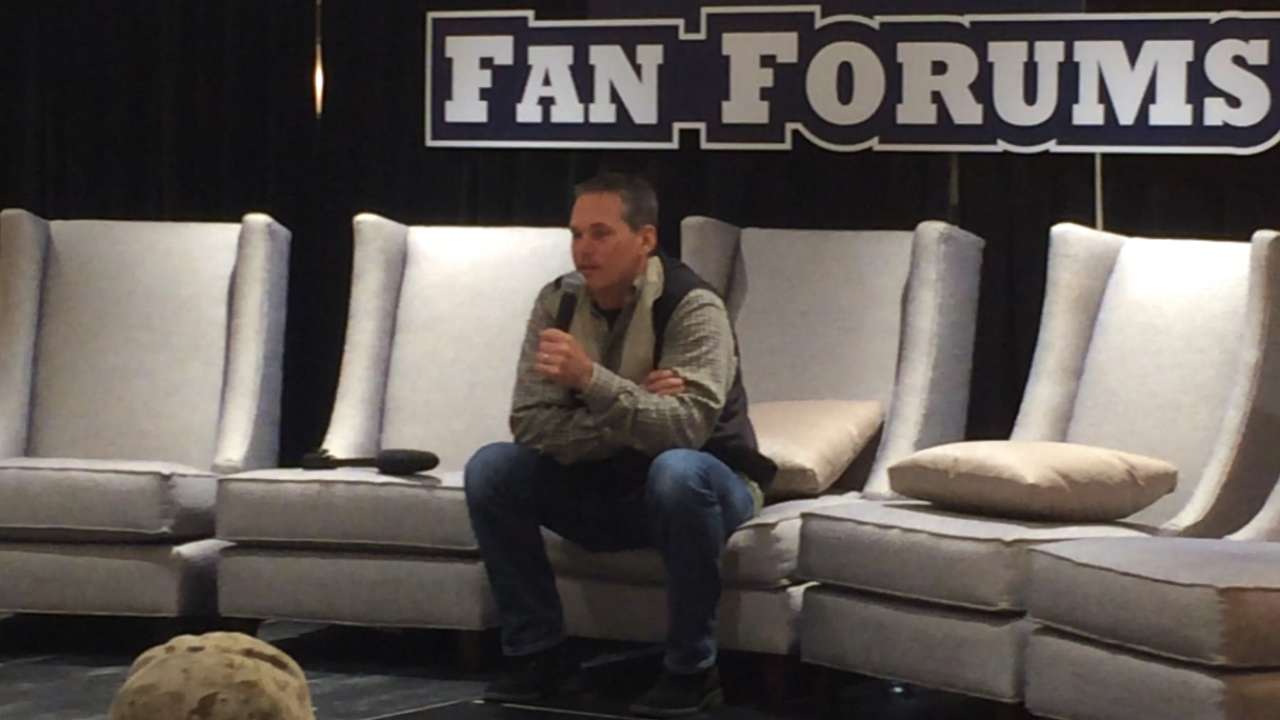 When it comes to the acceptance speech, the Hall asks players to keep them to 10-12 minutes max. They want the players to be thorough and thoughtful, as well as prepared and heartfelt. The Hall will ask for a copy prior to the induction, but it doesn't approve content.
"We know it can be a natural fit for a player to stand at a podium and deliver those meaningful words," Horn said. "Craig, thankfully, is very well-spoken, very thoughtful and is a very confident speaker, so he's really got a leg up on many who are uncomfortable in that role."
Erik Strohl, the Hall of Fame's vice president for exhibitions and collections, will work with the Biggios about what to put in his inductee case, which will be on display beginning in the spring for a year. Often times, it's personal items that normally wouldn't be on display.
"You look at the profile of his career, what made him who is and where did he come from," Strohl said.
Horn said the Hall is expecting a large contingent of Astros fans based on early sales numbers of trips booked through Sports Travel and Tours, which is the Hall's official tourism partner, as well as new membership sales. A gift of $1,000 to the Hall will get you a seat at induction day.
"We do believe, as history shows, when a guy plays his entire career with one team and market, we'll have a very large turnout," Horn said. "We know that Astros fans are passionate and also looking forward to having their first true Hall of Famer."
The ceremony itself takes place about a mile south of the Hall at the Clark Sports Center, which is currently a large snow-covered field. The Hall sets up a bandshell stage in front of about 7,000 seats for Hall of Famers, guests, baseball officials and fans. All other fans can watch the ceremony for free from the hill surrounding the field, and Horn said last year 40,000 fans attended.
"I'm pretty excited about it," Biggio said. "The biggest thing is making sure the accommodations for the people you're trying to get here and seating and all the things you have to go through, trying to make sure you have to thank everybody you have to thank when you have an opportunity to speak.
"I didn't get here on my own. There's so many people you're grateful for that had an impact on your life. I don't want to sit down and then forget [to mention someone] because you can't get back up there. That's the biggest thing for me, is making sure I get the list of people I really, truly need to thank. There's a lot of people who had an impact."
Brian McTaggart is a reporter for MLB.com and writes an MLBlog, Tag's Lines. Follow @brianmctaggart on Twitter. This story was not subject to the approval of Major League Baseball or its clubs.