Giolito headlines Nats prospects on new Top 100 list
Pitcher jumps to No. 6 overall; righty Cole moves up to No. 52, outfielder Taylor debuts at No. 42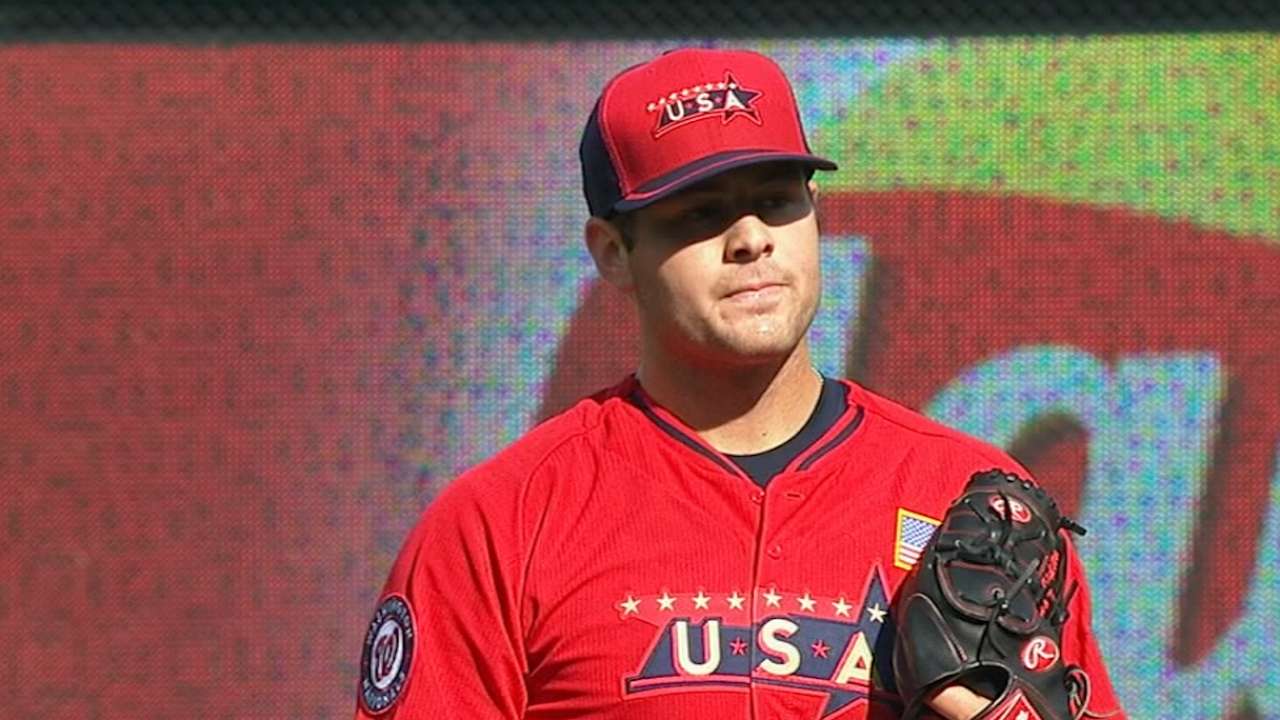 WASHINGTON -- For the Nationals, 2015 is another year of great expectations at the Major League level, as the club will look to repeat as National League East champions while pushing further into the postseason.
At the same time, general manager Mike Rizzo and his staff have continued to build a farm system that has churned out no shortage of impact talent in recent seasons. With players like Bryce Harper and Anthony Rendon now entrenched in Washington, the next crop is on its way.
Three from that group earned a place on MLBPipeline.com's Top 100 Prospects list, which was unveiled on Friday night, with the Top 50 presented during a one-hour special on MLB Network and MLB.com. Right-handers Lucas Giolito (No. 6) and A.J. Cole (No. 52) both moved up from their positions on last year's list, while center fielder Michael Taylor (No. 42) jumped into the Top 100 after a breakout season that included his Major League debut.
The annual ranking of baseball's Top 100 Prospects is assembled by MLBPipeline.com Draft and prospect experts Jonathan Mayo and Jim Callis, who compile input from industry sources, including scouts and scouting directors. It is based on analysis of players' skill sets, upsides, proximity to the Majors and potential immediate impact to their teams. The list, which is one of several prospect rankings on MLBPipeline.com's Prospect Watch, only includes players with rookie status in 2015. Team-by-team Top 30 Prospects lists for 2015 will be unveiled in March.
Mayo: Breaking down the Top 100 | Callis: Best tools in the Top 100
The Nats tied for 15th in the Majors by getting three players on the list. But they rank 10th with 203 "prospect points," a measurement that assigns a score of 100 for the No. 1 prospect, 99 for the No. 2 prospect, and so forth.
It's also worth noting that the Nationals would rank better if it got credit for the No. 62 prospect, shortstop Trea Turner, who remains with the Padres. Turner is widely known as the player to be named later in the three-team trade the Nats pulled off with San Diego and Tampa Bay in December. But Turner, a first-round pick in the 2014 First-Year Player Draft, cannot be traded officially until this June, a year after he was selected. That means he will begin '15 in the Padres' system.
Giolito moves up from 44th on last year's list following his first full professional season. The No. 16 pick in the 2012 Draft out of a Los Angeles high school, Giolito underwent Tommy John surgery soon after and came back in time to pitch 11 games in '13. He then made 20 starts for Class A Hagerstown as a 19-year-old last year, going 10-2 with a 2.20 ERA and 110 strikeouts over 98 innings before hitting a limit imposed by the Nationals.
Ranked as the top pitcher on the list, Giolito is listed at 6-foot-6, 255 pounds, and he has reached triple digits with his fastball. He pitched for the U.S. team in the All-Star Futures Game in July and was named the Nats' Minor League Pitcher of the Year. Giolito enters this season another year removed from surgery and should be let loose to rack up more innings.
"It's going to be awesome," Giolito told MLB.com earlier this month. "Being able to pitch deeper into the games, maybe going seven, eight -- even complete games on occasion. Being able to throw every five or six days -- however our rotation is set up. It's going to be really fun. Having a really great vibe -- I know a lot of guys I played with last year will all be together again. I look forward to winning."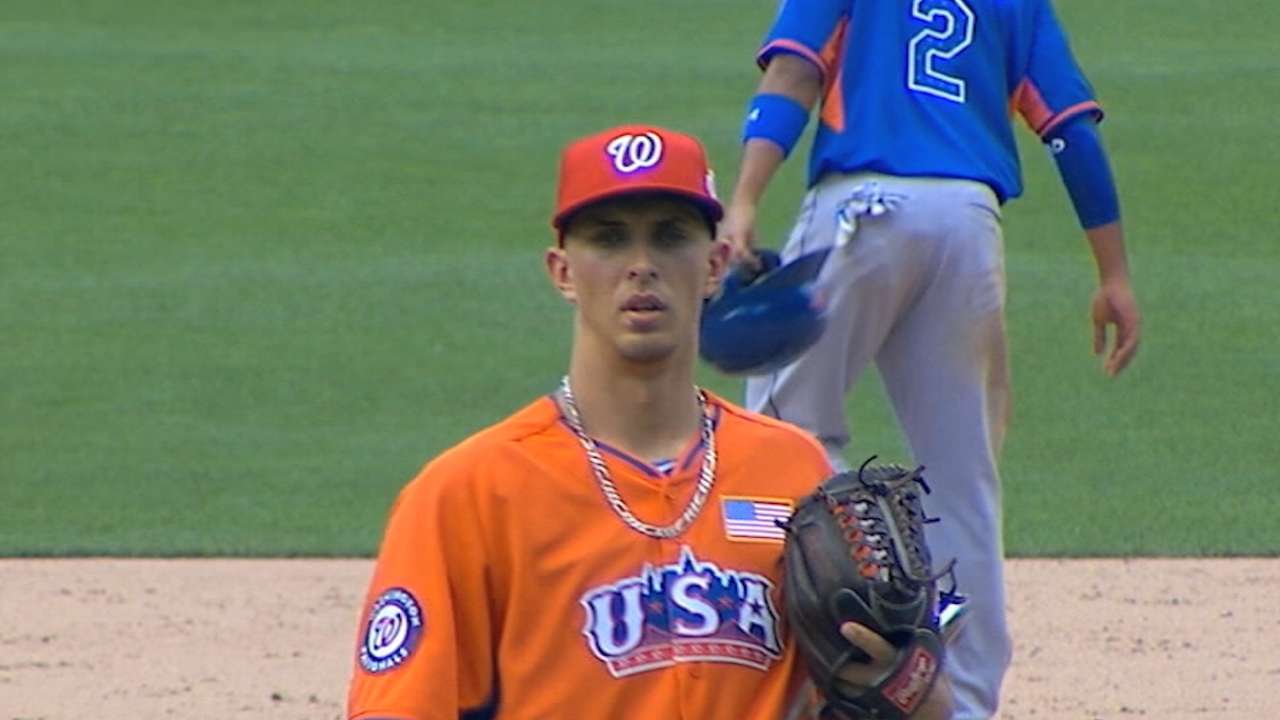 Cole also moved higher, from 69th on last year's list. The 23-year-old may not possess Giolito's high ceiling, but he's closer to Major League-ready, having gone 7-0 with a 3.43 ERA over 11 starts after reaching Triple-A Syracuse last year. In 25 outings split between Syracuse and Double-A Harrisburg, Cole notched a 3.16 ERA, walking 32 and striking out 111 in 134 innings.
Cole figures to begin 2015 back at Triple-A, with no room available in Washington's star-studded rotation. However, Rizzo has mentioned Cole as a possibility to help out the Nationals' bullpen if the need arises.
Taylor, a sixth-round pick back in 2009, always has possessed a strong collection of tools. He finally put them all together last year, tearing up Double-A pitching for a .313/.396/.539 line, with 22 homers and 34 steals in 98 games. That earned Taylor some time in the Majors, where he flashed his potential but went 8-for-39 (.205) with one homer and 17 strikeouts.
Taylor is considered a strong defender in center and could make the Nats' Opening Day roster, especially if Jayson Werth begins the year on the disabled list as he recovers from recent shoulder surgery. But with only 12 Triple-A games under his belt, Taylor also could get some more Minor League seasoning and continue to work on his development at the plate.
Turner, the 13th overall pick last June out of North Carolina State, split his first pro season between two of the Padres' Class A affiliates. In 69 games overall, he hit .323/.406/.448 with five homers, 16 doubles, 23 steals and 67 strikeouts.
"It's a unique situation that hasn't been done before," Rizzo said at the time of the trade, while declining to name Turner specifically. "I've never done it before. I've been doing this thing for a long time. [The Nationals and Padres] are going to trust each other and do what's right by the player, and we'll monitor that player quite closely and trust that the Padres will do right by him and do the right thing."
Andrew Simon is a reporter for MLB.com. Follow him on Twitter @AndrewSimonMLB. This story was not subject to the approval of Major League Baseball or its clubs.