Viola cherishes return to coaching after health scare
Mets' Triple-A pitching coach happy to bounce back after open-heart surgery last spring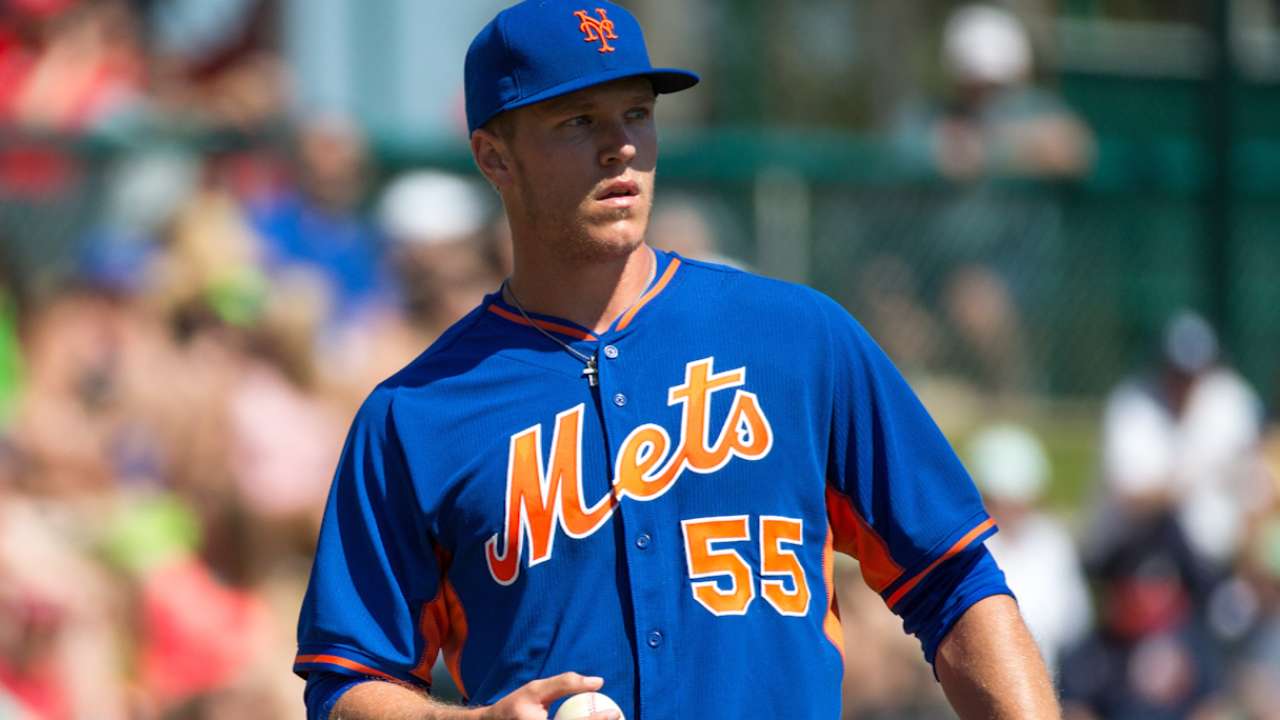 NEW YORK -- It was a Saturday morning last spring, one of the first of camp, when a Mets trainer handed Frank Viola a phone. Where doctors are concerned, good news doesn't typically come on Saturday mornings. So Viola recalls being cautious when he took the receiver, listening as a cardiologist in New York City told him about his enlarged aorta.
At age 53, Viola would need open-heart surgery.
"My initial thought was, 'How in the heck am I supposed to coach the Vegas team?'" said Viola, whom the Mets had recently entrusted as pitching coach at Triple-A Las Vegas. "Honest to God, that was my first thought.
"And then I took a step back and I realized, 'We're talking about my life here. Let's put things in perspective.'"
So it came to be that Viola -- a former American League Cy Young Award winner, World Series Most Valuable Player Award winner, three-time All-Star and two-time 20-game winner -- gained perspective at the age of 53. Shortly before learning of his heart condition, Viola lost both of his parents within the span of weeks. He grieved, reporting to Spring Training with a heavy heart.
And now this.
"He had a rough year in a lot of ways," said Mets special assistant to the general manager J.P. Ricciardi, who recommended Viola for his first professional coaching job in 2011. "I'm sure he missed baseball, because baseball was the one thing that kind of takes your mind off those things. It's your comfort zone. But as an organization, we were just like, 'Hey, Frank, take care of yourself first, and everything else is going to take care of itself.'"
* * * * *
Viola was not born into coaching. To the contrary, he spent most of his playing career considering it a pointless profession, a glorified babysitting service for multimillion-dollar athletes. Pitchers would think what they wanted regardless of his message, Viola figured. And so for more than a decade after a 15-year career that wound through five cities -- most notably Minneapolis, New York and Boston -- Viola's only brush with the professional game came in the broadcast booth.
Because family was most important, Viola did coach in the high school ranks. There, he learned patience as his son Frank III -- now a knuckleballer in the Blue Jays' system -- attempted to follow in his footsteps. The Violas are an athletic family, with daughters Brittany and Kaley a former Olympic diver and Division I volleyball player, respectively.
Then Frank III graduated, and, as he spent time working as a part-time broadcaster, Viola realized that maybe this coaching thing really was for him, after all. He called up Ricciardi asking for a gig, interviewed and earned a job -- the local boy suiting up as pitching coach at Class A Brooklyn, by way of East Meadow High School and St. John's University.
From there, Viola's new career flourished. Charming the Mets' staff with his natural teaching ability, he moved from Brooklyn to Class A Savannah to Las Vegas, where he was slated to spend last season developing Noah Syndergaard, Rafael Montero and some of the organization's other most highly-touted young pitchers. When both of his parents died within a four-week span, Viola deflected the emotions as well as he could. He had a job to do.
But the news of Viola's heart condition made that infinitely less possible.
"It would be a big challenge for anyone, even without baseball weighing on his mind -- just all the other things he had to deal with," Ricciardi said. "Once he started to get those other things prioritized in his life, once he started to get through grieving his parents -- I don't think you ever get through that, but once he started handling it, and then he started to know he was going to be OK, that the surgery was successful -- only then do I think he really started thinking, 'Gee, I miss these guys. I want to help these guys. I want to be with these guys.'"
* * * * *
These days, Viola is doing just fine. Following a brief spell on Long Island during his rehab last April, staying in the cottage of a family friend, Viola moved back to Florida to reacclimate to the heat, then served as one of the Mets' Draft representatives in New Jersey.
A few weeks after surgery, Viola's desire to coach returned. Though his chest plates were not yet strong enough for him to throw batting practice, and though the Mets urged him to take all the time he needed -- Viola is particularly grateful to chief operating officer Jeff Wilpon, who put him in contact with a world-class cardiologist and surgeon -- he flew out to Las Vegas in June to resume his job.
"I was getting to the point where I was able to get up, walk around, maybe half a mile, I had no pain or discomfort or anything along those lines," Viola said. "And that's when I started getting the itch back."
With a clear mind and a healthy body, the itch appears to be here to stay. Once again, Viola will coach at Vegas, where Syndergaard, Steven Matz and perhaps even Montero will start the year. Once again, the Mets plan to put some of their finest pitching prospects in the hands of a former star.
Nothing has changed, save for Viola's perspective.
"I enjoy things a heck of a lot more than I did before," said Viola, who recently became a first-time grandfather. "And believe it or not -- my wife might argue this one -- but I have a lot more optimism in my life than I did before.
"I just realized how fortunate I was, and how much I really love doing what I'm doing. When you know you're going through a life and death thing and your first thought is, 'God, I'm going to miss these kids,' I know I'm doing something because I love doing it."
Anthony DiComo is a reporter for MLB.com. Follow him on Twitter @AnthonyDicomo. This story was not subject to the approval of Major League Baseball or its clubs.