Bryant, Russell lead six Cubs prospects on Top 100 list
Soler, Edwards, Schwarber and Almora round out impressive group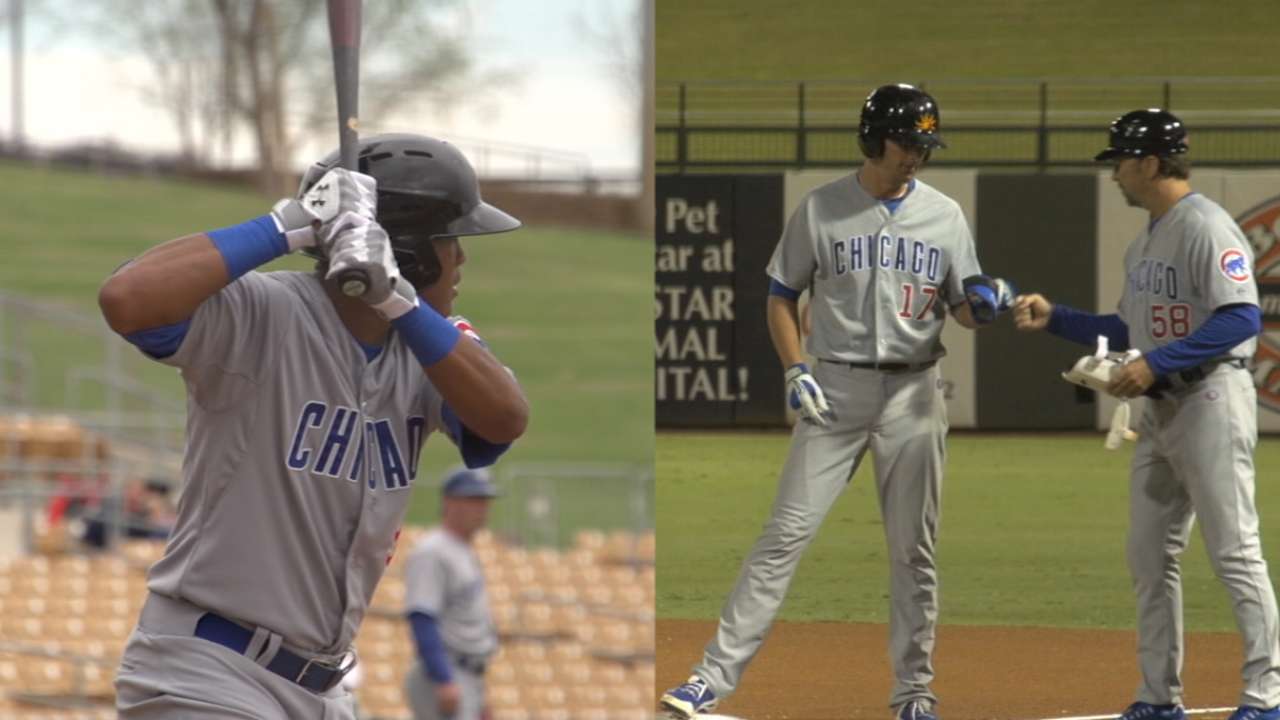 CHICAGO -- Cubs fans got a peek at some of the top prospects in the system last season, and there are more on the way, including a pair ranked in the top five among MLB.com's Top 100 list, Kris Bryant and Addison Russell.
The Cubs have six players in the Top 100 (only the Pirates have more with seven). Besides Bryant and Russell at Nos. 2 and 5, respectively, Jorge Soler checks in at No. 22, C.J. Edwards at No. 47, Kyle Schwarber at No. 49, and Albert Almora at No. 57.
"We've hit on trades, we certainly feel good about what we've done in the Draft," said Jason McLeod, the Cubs' director of scouting and player development. "We know that soon enough these players will graduate on to the Major League team, so for us, it keeps us incredibly invigorated to find talent."
Mayo: Breaking down the Top 100 | Callis: Best tools in the Top 100
The annual ranking of baseball's Top 100 Prospects is assembled by MLBPipeline.com Draft and prospect experts Jonathan Mayo and Jim Callis, who compile input from industry sources, including scouts and scouting directors. It is based on analysis of players' skill sets, upsides, proximity to the Majors and potential immediate impact to their teams. The list, which is one of several prospect rankings on MLBPipeline.com's Prospect Watch, only includes players with rookie status in 2015. Team-by-team Top 30 Prospects lists for 2015 will be unveiled in March.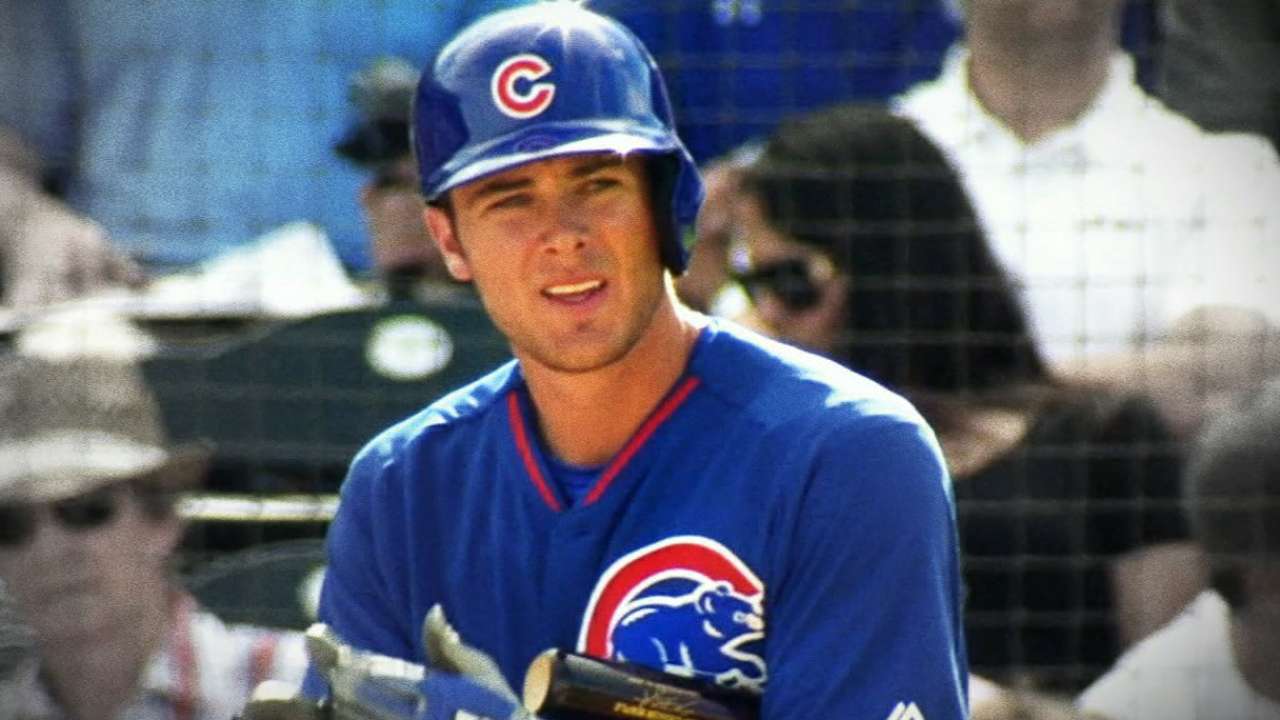 Bryant, second to the Twins' Byron Buxton, may not be a prospect for long in 2015. The Cubs expect the 23-year-old third baseman to be contributing to the big league team at some point this year. The second player taken overall in the 2013 Draft, Bryant batted .325 with 43 home runs and 110 RBIs in 138 games last season with Double-A Tennessee and Triple-A Iowa, and was named the Minor League Player of the Year. Not a bad way to follow up being honored as the College Player of the Year in 2013.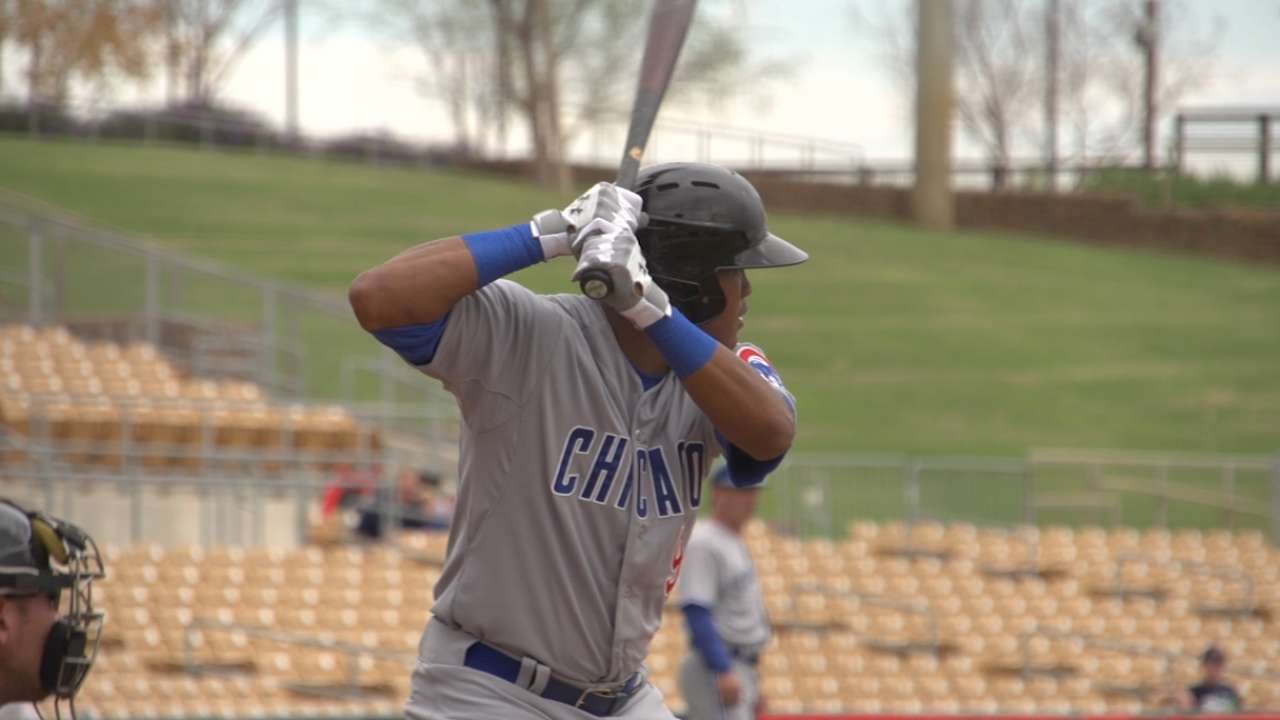 Russell, who turned 21 on Jan. 23, is ranked at No. 5 on the list. The shortstop, who was the A's first-round pick in 2012, was a key piece in the Cubs' deal last July when they sent Jeff Samardzija and Jason Hammel to Oakland. Russell was slowed last season by a hamstring injury, but finished with a slash line of .295/.350/.508 in 68 games with 13 home runs, 14 doubles and 45 RBIs. He was impressive with Tennessee, batting .294 with 12 home runs in 50 games. He got a few more at-bats in the Arizona Fall League last October.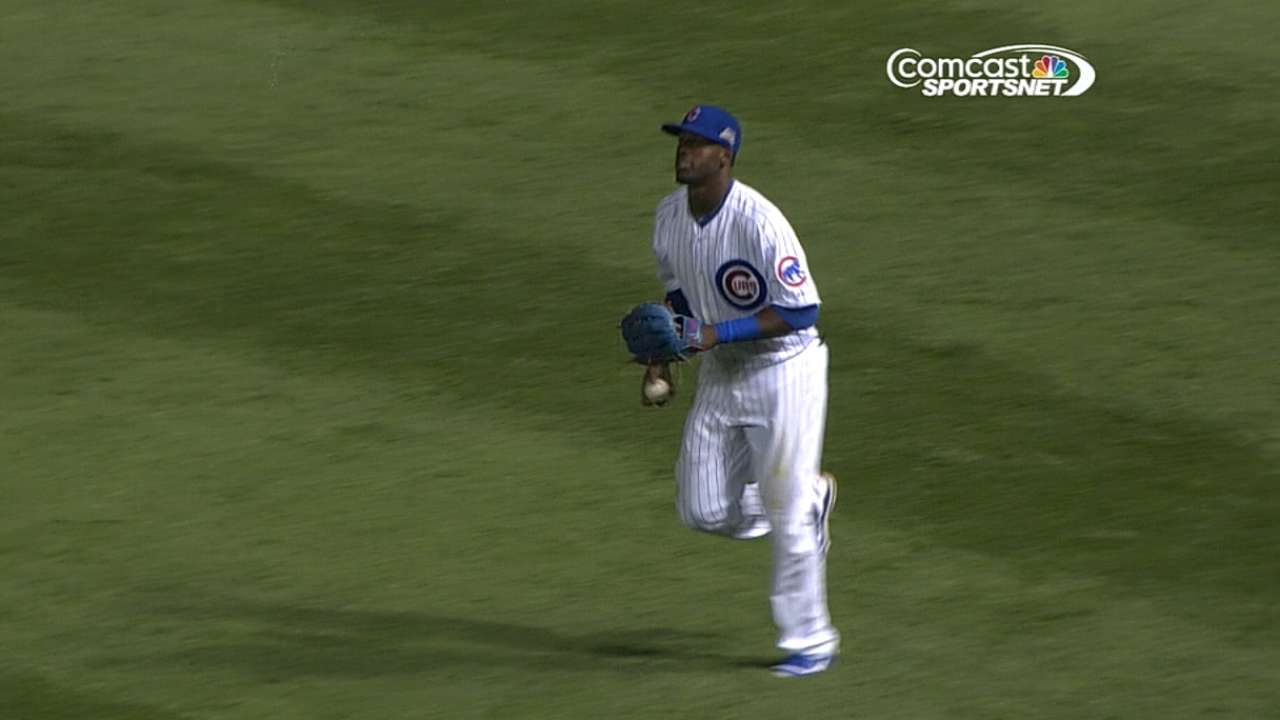 Soler, 22, will likely shed his status as a "prospect" this season. He made quite a first impression last Aug. 27 when he homered in his first Major League at-bat at Great American Ball Park against the Reds. The Cuban outfielder finished with a .292 average in 24 games, hitting five home runs and eight doubles.
Soler missed time last year because of leg injuries, but it may have been beneficial. He changed his workout program, his diet and focused this winter on strengthening his legs.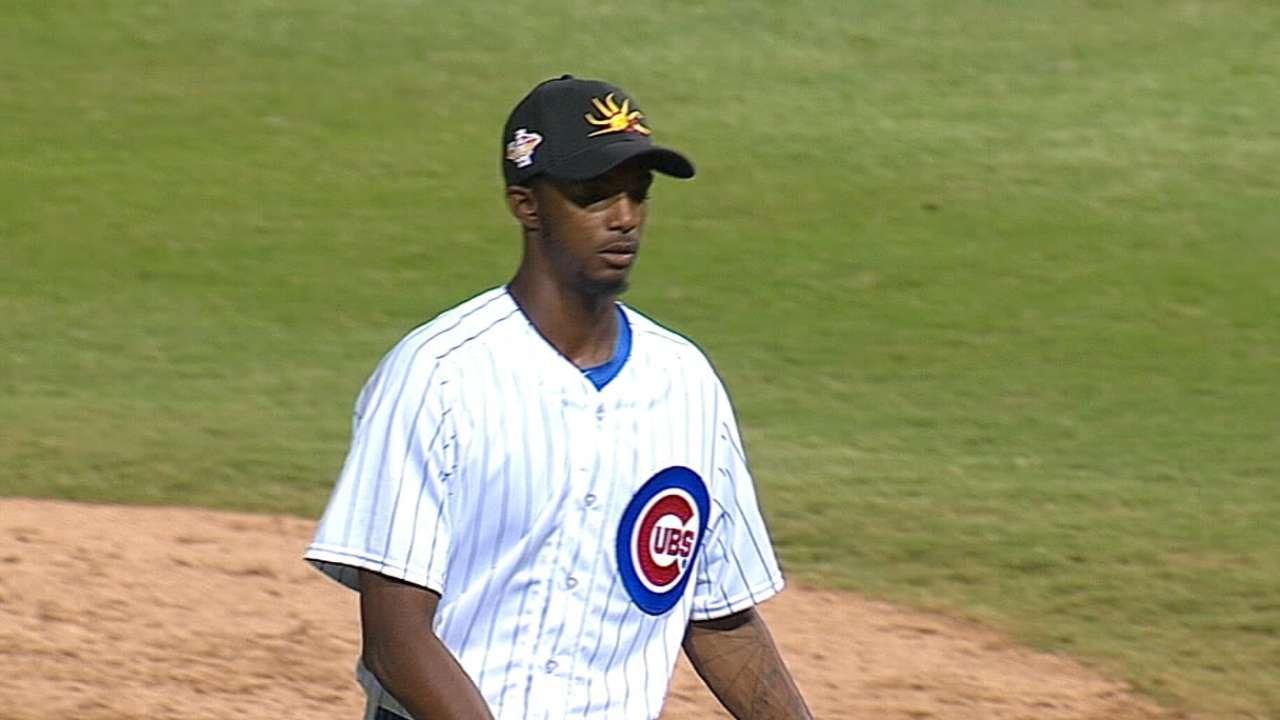 Edwards, 23, is coming off a season in which he spent quite a bit of time rehabbing in Mesa, Ariz., from shoulder soreness. The right-hander finished with a 2.44 ERA in 10 starts, giving up 13 earned runs over 48 innings. What's impressive is that Edwards has served up just two home runs over 237 innings in 50 games, while striking out 294.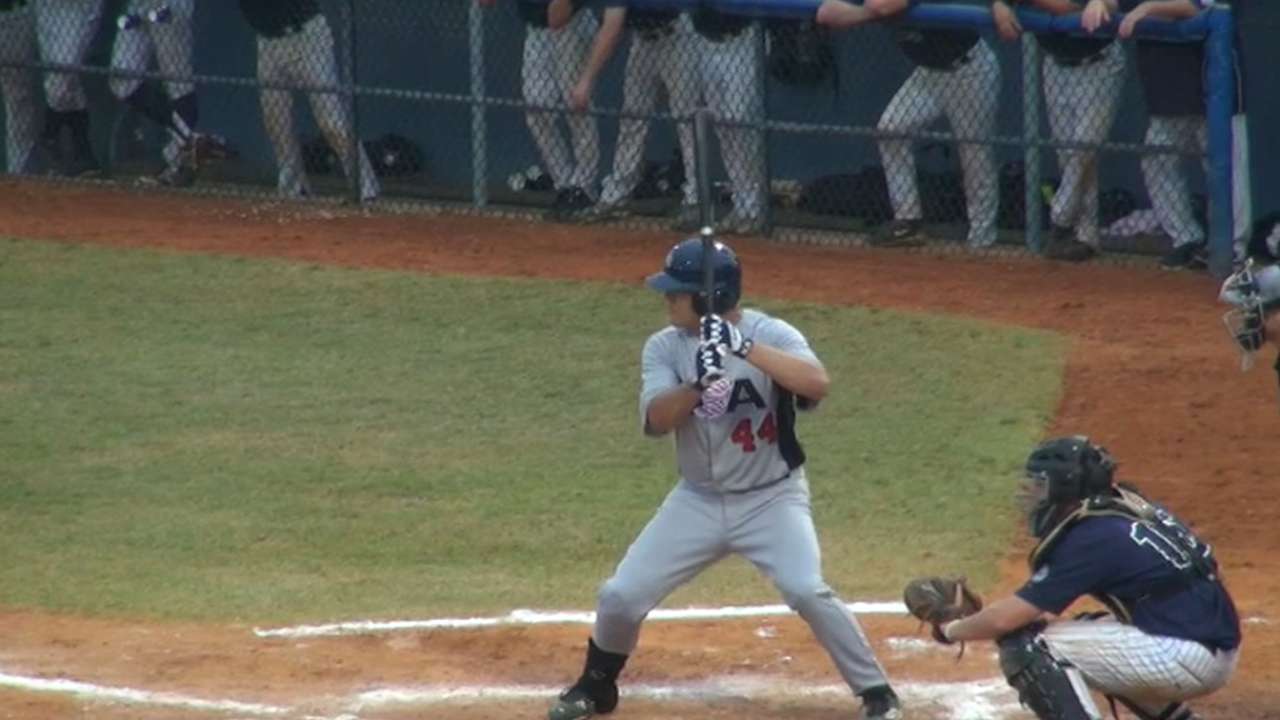 The Cubs' first-round pick last June, Schwarber, 21, convinced the Cubs he can handle catching after some tutelage with Kane County manager Mark Johnson and Minor League coordinator Tim Cossins. One thing that isn't in doubt is whether Schwarber can hit. He compiled an impressive slash line of .344/.428/.634 in 72 games at three levels last season, including a .302 average in 44 games with Daytona.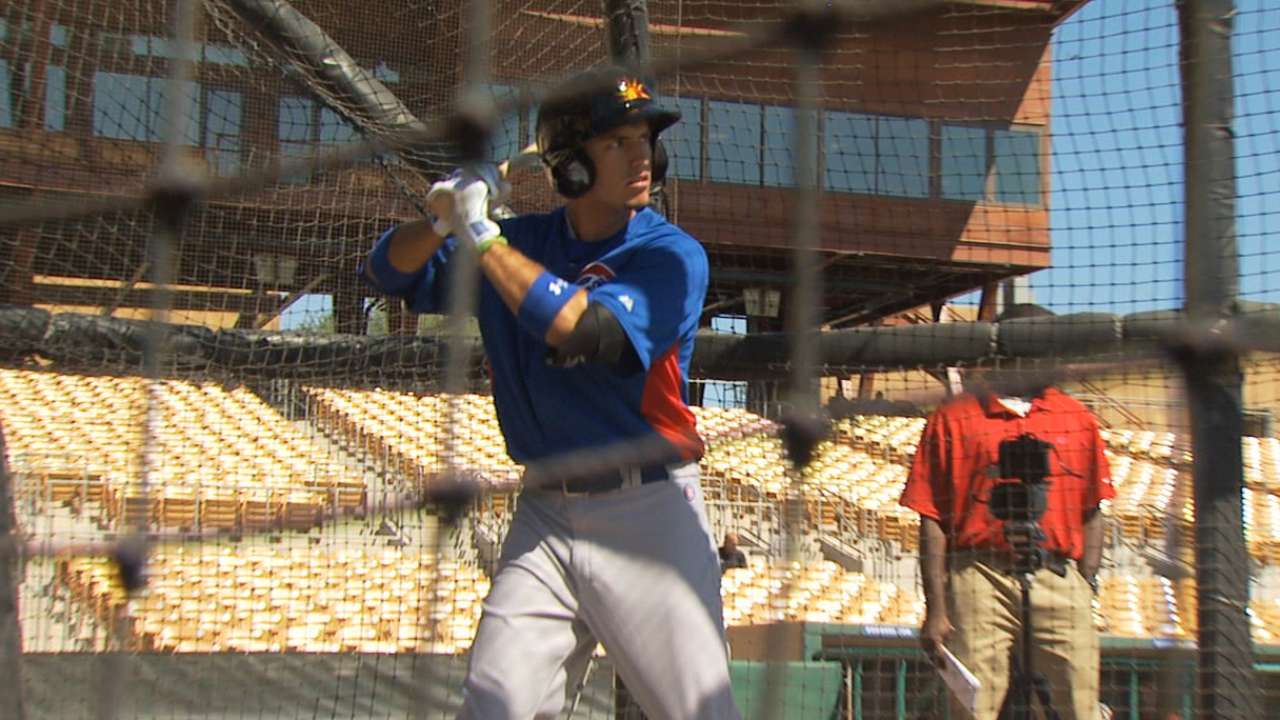 Almora, 20, the Cubs' first-round pick in 2012, hasn't progressed as quickly in the Cubs system, but is still highly regarded, particularly for his defensive skills. Last season, the outfielder batted .270 at Daytona and Tennessee.
Carrie Muskat is a reporter for MLB.com. She writes a blog, Muskat Ramblings, and you can follow her on Twitter @CarrieMuskat. This story was not subject to the approval of Major League Baseball or its clubs.