Lindor, Frazier represent Tribe on Top 100 Prospects list
Shortstop earns No. 4 spot while outfielder garners No. 53 rank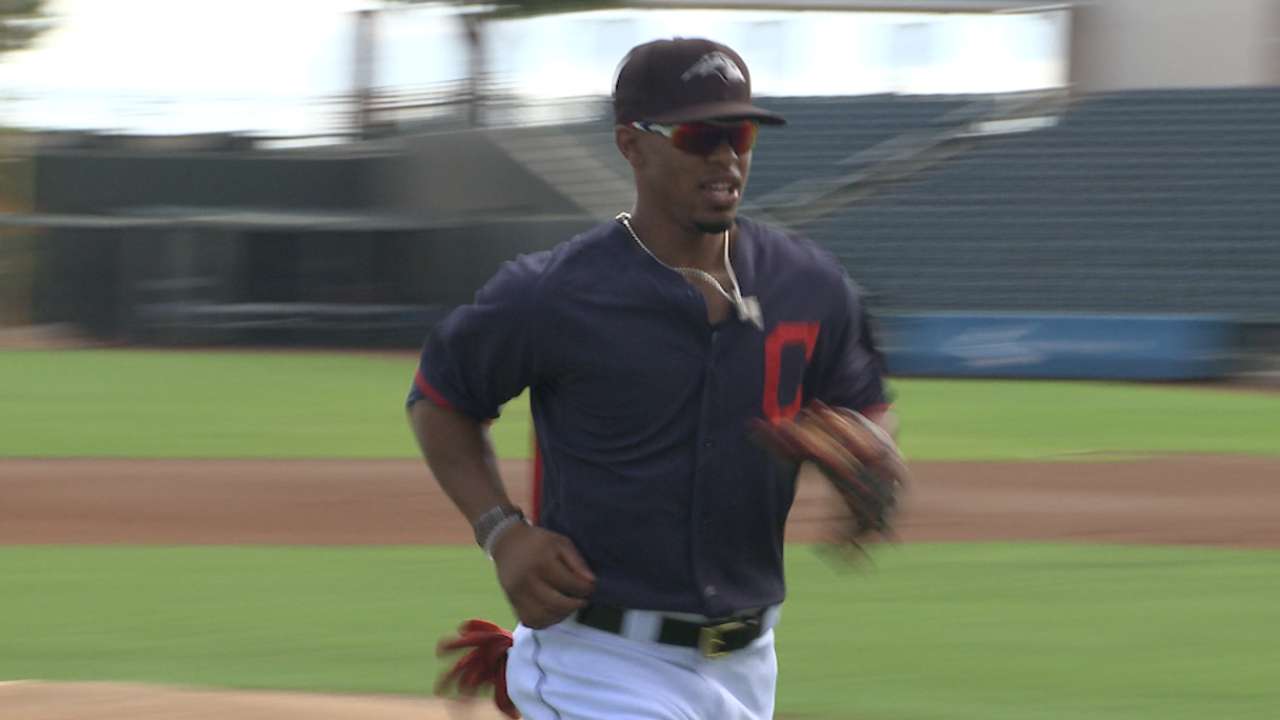 CLEVELAND -- Francisco Lindor could probably hold his own in the big leagues right now. Under different circumstances, the prized shortstop prospect might have been heading into this Spring Training as a favorite to be playing up the middle for Cleveland come Opening Day.
The Indians are maintaining a patient approach with Lindor, who is ranked as Major League Baseball's fourth-best prospect in the annual MLB.com Top 100 list that was unveiled on Friday night. The young shortstop will be in camp with the Tribe this spring, but the plan is to have him start this season with Triple-A Columbus with the potential for a promotion later this summer.
"He has extremely high expectations for himself, which we want," said Carter Hawkins, the Indians' director of player development. "I think we'd be disappointed if he didn't have those expectations for himself, so we never want to slow him down. We never want him to stop reaching for these very high goals, because we don't know how good he's going to be. We don't know how soon he's going to come up."
Mayo: Breaking down the Top 100 | Callis: Best tools in the Top 100
Lindor joins outfielder Clint Frazier (No. 53) as the only Indians Minor Leaguers to make the Top 100 Prospects rankings. Only Twins outfielder Bryan Buxton (No. 1), Cubs third baseman Kris Bryant (No. 2) and Astros shortstop Carlos Correa (No. 3) rank ahead of Lindor, who is the Tribe's consensus No. 1 prospect in rankings by multiple publications.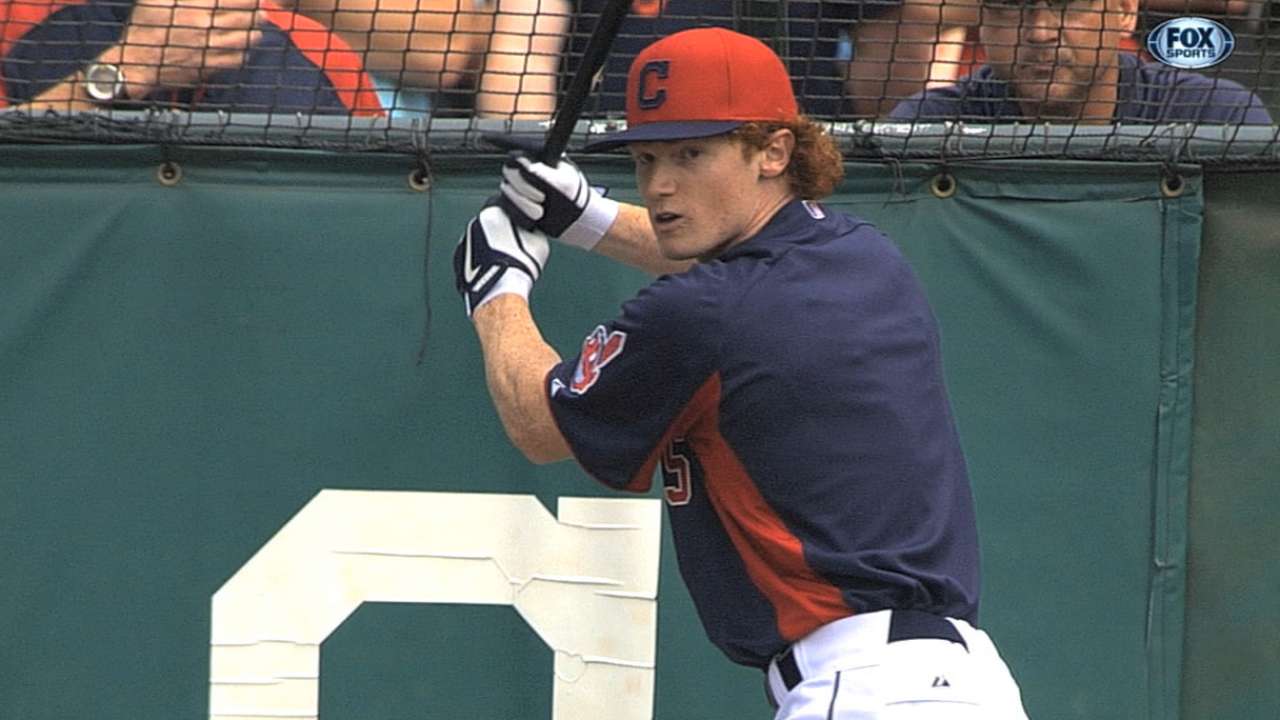 The annual ranking of baseball's Top 100 Prospects is assembled by MLBPipeline.com Draft and prospect experts Jonathan Mayo and Jim Callis, who compile input from industry sources, including scouts and scouting directors. It is based on analysis of players' skill sets, upsides, proximity to the Majors and potential immediate impact to their teams. The list, which is one of several prospect rankings on MLBPipeline.com's Prospect Watch, only includes players with rookie status in 2015. Team-by-team Top 30 Prospects lists for 2015 will be unveiled in March.
As things currently stand, Cleveland plans on sticking with young shortstop Jose Ramirez as its starter in the Major Leagues. The Indians also have a capable backup in veteran Mike Aviles, providing a layer of protection against promoting Lindor before the team deems him ready for the big leagues. When Cleveland does pull the trigger on bringing Lindor up, the club wants him to have a seamless transition.
"When Lindor gets here," Indians manager Terry Francona said, "we want him to impact our team offensively, defensively, on the bases. That takes time, so we're going to let him settle in."
Last season, the 21-year-old Lindor (selected in the first round of the 2011 First-Year Player Draft) hit .276/.338/.389 with 11 home runs, 16 doubles, four triples, 62 RBIs, 28 stolen bases, 49 walks and 75 runs in 126 games between Double-A Akron and Triple-A Columbus. In 38 games at Triple-A, though, he posted an uncharacteristic .307 on-base percentage and .695 OPS in 180 plate appearances.
Part of the issue at Columbus was an inflated strikeout rate. Lindor struck out in 22 percent of his at-bats at Triple-A after posting a career rate of 15 percent in his previous stops up the organizational ladder. The Indians expect the switch-hitting Lindor to find more consistency at the Triple-A level in the coming campaign.
"He's still extremely young in his career and trying to focus just on making himself a better baseball player every day," Hawkins said. "That comes from making himself a more consistent baseball player every day. I think, as he finds that consistency, because of how hard he works on his entire game, that he'll get back to some of those [career] norms [at Triple-A].
"I think he understands where he is in his career and how early it is in his career, and that just focusing on the process right now is going to be the best thing for him short and long term."
The 20-year-old Frazier -- Cleveland's first-round selection in the 2013 Draft -- spent his first full professional season with Class A Lake County last year. In 120 games, the outfielder posted a .266/.349/.411 slash line with 13 homers, 18 doubles, six triples, 50 RBIs, 12 stolen bases, 56 walks and 70 runs. His season, which included 161 strikeouts, got off to a rough start.
Frazier was limited in Spring Training due to a hamstring issue and then hit .243/.319/.365 from April-June with a .684 OPS in 263 at-bats. As the summer progressed, Frazier altered his approach and tweaked his swing mechanics, showing clear improvement down the stretch. In August and September combined, Frazier hit .296/.390/.476 (.866 OPS) in 206 at-bats.
"First full season, [he] struggled a little bit early," Hawkins said. "Towards the second half, [he] really had some great strides and started to understand the type of hitter he really wanted to be, both from an approach and a mechanics standpoint. He's worked really hard this offseason to continue to add strength, to continue to add flexibilty and mobility.
"We feel like he's going to come into Spring Training and just be really excited about getting better and the challenges that await for him. I think he understands, now more than ever, that it's a process, and understands that we're along on the ride with him for it."
Jordan Bastian is a reporter for MLB.com. Read his blog, Major League Bastian, and follow him on Twitter @MLBastian. This story was not subject to the approval of Major League Baseball or its clubs.