Arcia represents Crew on Top 100 Prospects list
Coming in at No. 88, shortstop seeing offensive skills catch up with defense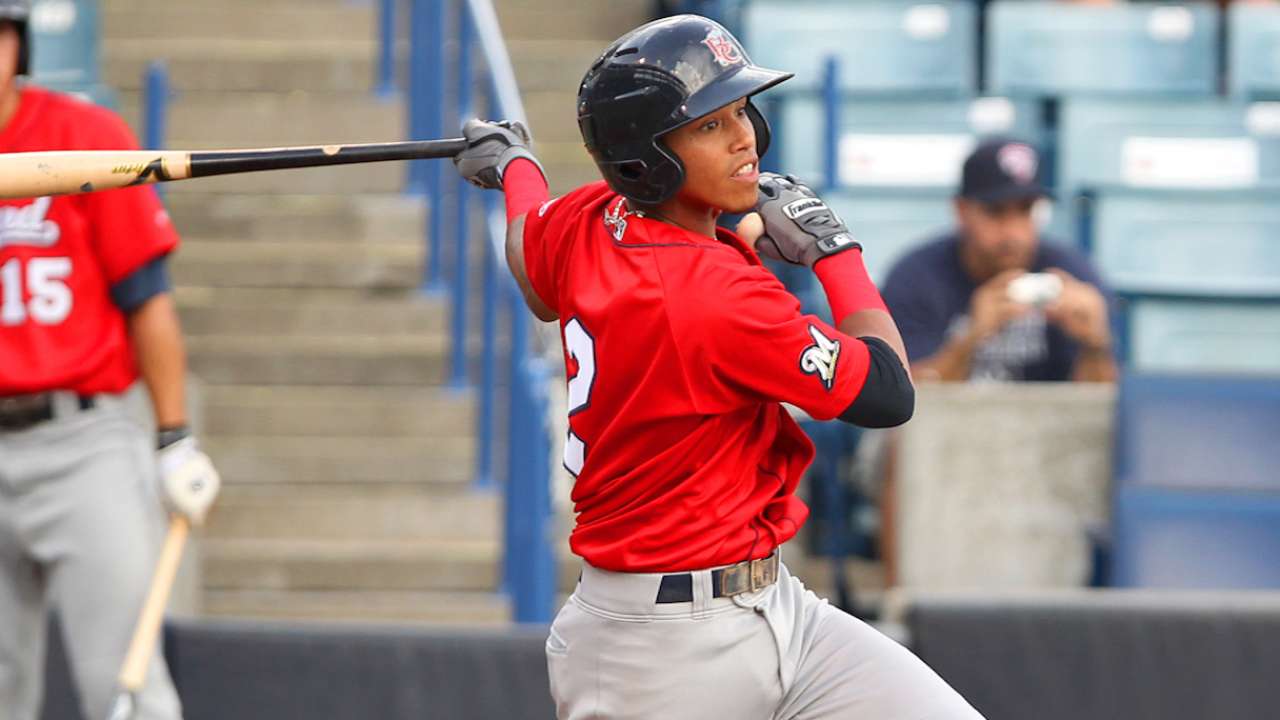 MILWAUKEE -- MLB.com's list of baseball's Top 100 Prospects, unveiled Friday in an MLB Network special, signaled a change coming to the top of the Brewers' heap of hopefuls.
Shortstop Orlando Arcia was the only Milwaukee farmhand to make the overall Top 100, coming in at No. 88 overall. It's a sign that Arcia will leap over outfielder Tyrone Taylor when MLB.com releases its updated rankings of Brewers prospects in March.
The annual ranking of baseball's Top 100 Prospects is assembled by MLBPipeline.com Draft and prospect experts Jonathan Mayo and Jim Callis, who compile input from industry sources, including scouts and scouting directors. It is based on analysis of players' skill sets, upsides, proximity to the Majors and potential immediate impact to their teams. The list, which is one of several prospect rankings on MLBPipeline.com's Prospect Watch, only includes players with rookie status in 2015. Team-by-team Top 30 Prospects lists for 2015 will be unveiled in March.
Mayo: Breaking down the Top 100 | Callis: Best tools in the Top 100
Arcia, 20, is the younger brother of Twins outfielder Oswaldo Arcia. Orlando lacks his big brother's power, but he is a superior defensive player who made a big jump offensively in 2014, his second season back from an ankle injury that cost him all of '12. At Class A Advanced Brevard County, he hit .289/.346/.392 and more than doubled his output of doubles, from 14 in 2013 at Class A Wisconsin to 29 in 2014. He also hit five triples, four home runs and drove in 50 runs in 127 games.
The Brewers were one of four teams (also the Cardinals, Giants and Tigers) with only one player in MLB.com's Top 100. A National League Central rival, the Pirates, led the way with seven prospects in rankings, and the Cubs had six.
After MLB.com assigned points to each player on the list (100 for No. 1; 99 for No. 2; 98 for No. 3 and so on), the Twins came away with the most "prospect points" in baseball, with 464, led by top overall prospect Byron Buxton, an outfielder. The Cubs were second with 424 "prospect points," led by third baseman Kris Bryant (No. 2 overall) and shortstop Addison Russell (No. 5).
It's the third straight year that only one Brewers player has cracked MLB.com's Top 100. In 2013, Wily Peralta was 64th on the list before spending the entire following season in Milwaukee's Major League rotation. Last year, Jimmy Nelson was No. 86, and he is now poised for his first full season in the big leagues.
Adam McCalvy is a reporter for MLB.com. Read his blog, Brew Beat, and follow him on Twitter at @AdamMcCalvy. This story was not subject to the approval of Major League Baseball or its clubs.