Kotsay a hit early on in new job with Padres
Myers, Gyorko, Black effusive in praise of longtime big leaguer turned hitting coach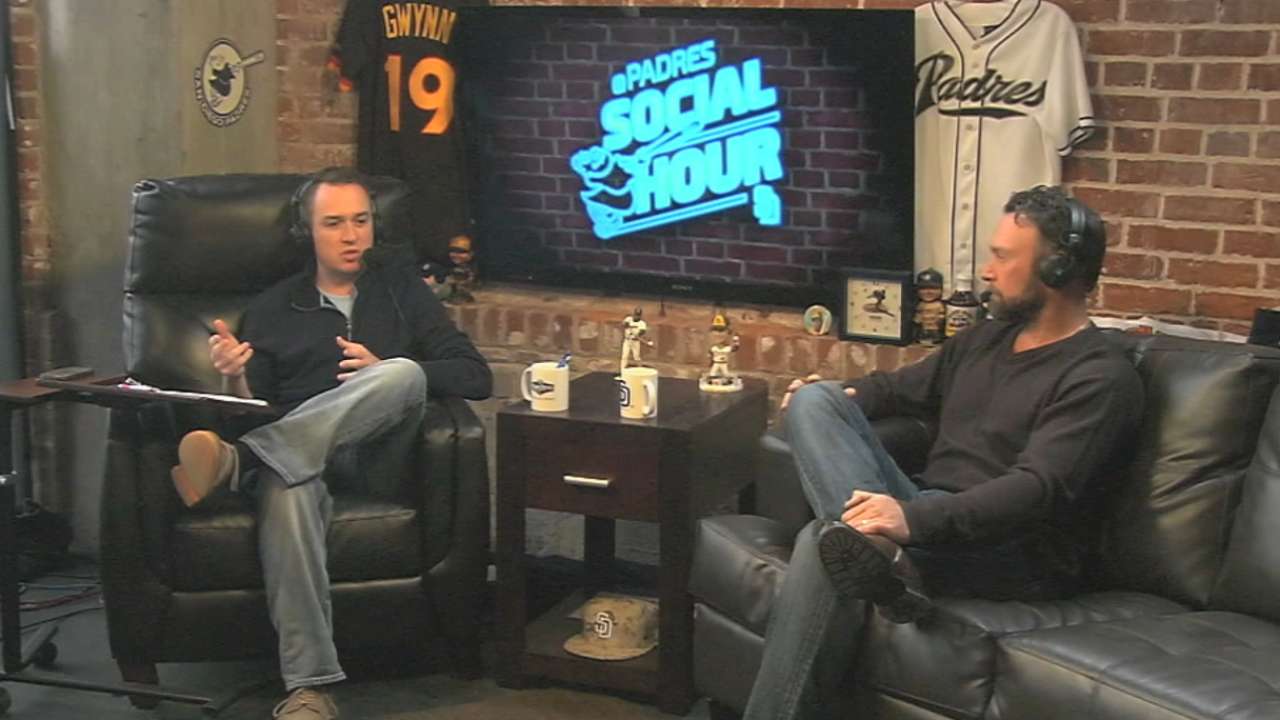 SAN DIEGO -- It's still a few weeks until the Padres find their way to Arizona for the beginning of Spring Training, yet new hitting coach Mark Kotsay has already made an impact.
Kotsay, two years removed from playing, has been a fixture this offseason at the batting cage at Petco Park, working with and speaking with the team's hitters.
The impression Kotsay has left so far has been more inspirational than mechanical, as there's still plenty of time to break down swings once the team arrives in Arizona next month.
"He was great," said new Padres outfielder Wil Myers, who met Kotsay earlier this month and hit in the batting cage at Petco Park with him. "He's energetic and positive, and those are the two biggest qualities [you want] in a hitting coach.
"I don't think it's about how much you know, because everyone at this level knows how to hit. It's more being optimistic and getting the most out of your players -- whether that is feeding their ego, or telling them how good they are. It's building confidence."
Kotsay, who turned 39 last month, was a special assistant to the general manager last season and got to see various aspects of baseball operations. It was the perfect job to keep him attached to the game after retiring following the 2013 season, which was his 17th in the big leagues.
But he found himself wanting more and more to get back in uniform.
"The past year was a great learning experience for me. ... I got my feet wet on the scouting side, player development," Kotsay said on the day he was hired in October. "But at the end of the year, my calling and my passion lay in the uniform."
Bud Black said he likes Kotsay's enthusiasm, his competitive nature, listening to him talk about his at-bats and his leadership skills, among his other traits, and the manager felt they would translate well to this new position.
"I think it all added up," Black said. "I think it will make an impact at the big league level immediately."
Second baseman Jedd Gyorko was in San Diego recently and spent three days working out with Kotsay. Gyorko, coming off a season in which he struggled offensively and played only 111 games because of plantar fasciitis in his left foot, is looking to get back to his form of 2013, when he hit 23 home runs.
He thinks Kotsay can help get him there.
"His last season was my rookie year, so there weren't a lot of introductions that needed to be made," Gyorko said. "Before, if anything ever came up, I went to him to talk about hitting, so it's like he's been my hitting coach for a full year already.
"It's going to be good. There's a reason why he played 17 or 18 years. It's good to hear a new voice. But at the end of the day, the players still have to go out and perform."
Corey Brock is a reporter for MLB.com. Keep track of @FollowThePadres on Twitter. This story was not subject to the approval of Major League Baseball or its clubs.