Hosmer looks back on Royals' 'incredible ride'
First baseman excited for upcoming season after club's successful '14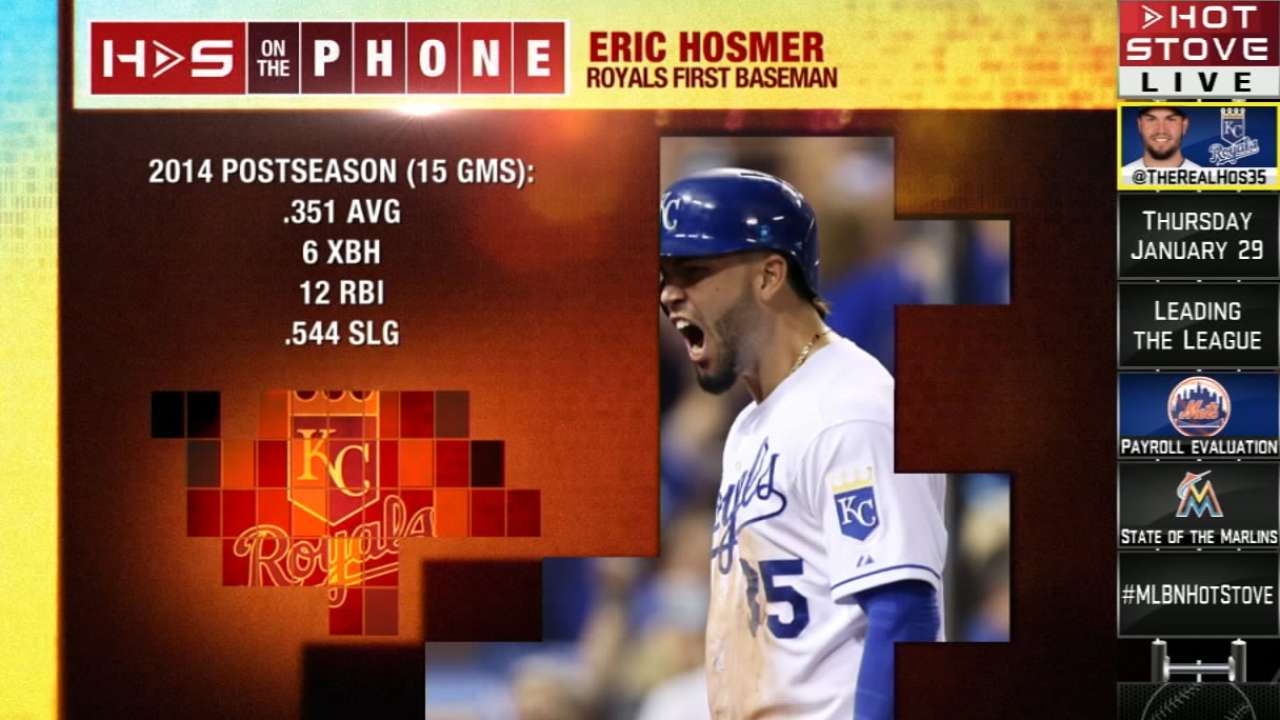 Watching the Royals sweep their way through the early part of the postseason and into the World Series, it was apparent just how much the club's run energized the organization and Kansas City itself. After getting over the disappointment of the Royals' Game 7 loss to the Giants in the Fall Classic, first baseman Eric Hosmer said he's taken time to appreciate all he and his teammates accomplished in October.
"It was an incredible ride. It really was. To sweep through the American League, that's absolutely insane in itself," Hosmer said Thursday during a phone interview on MLB Network's Hot Stove. "It was an exciting World Series. Obviously the outcome didn't come out the way we wanted it to, but it was a great ride.
"It's so fun getting to look back on video, different stuff you missed actually living the postseason experience. But I look forward now to 2015. We have a lot of the same guys coming back. You really look forward to what this upcoming season has to come for us."
Asked to revisit the disappointment in the Royals' clubhouse following their Game 7 loss to Madison Bumgarner and the Giants, Hosmer pointed out that it "definitely hurt." But he believes the club is ready to move forward in 2015.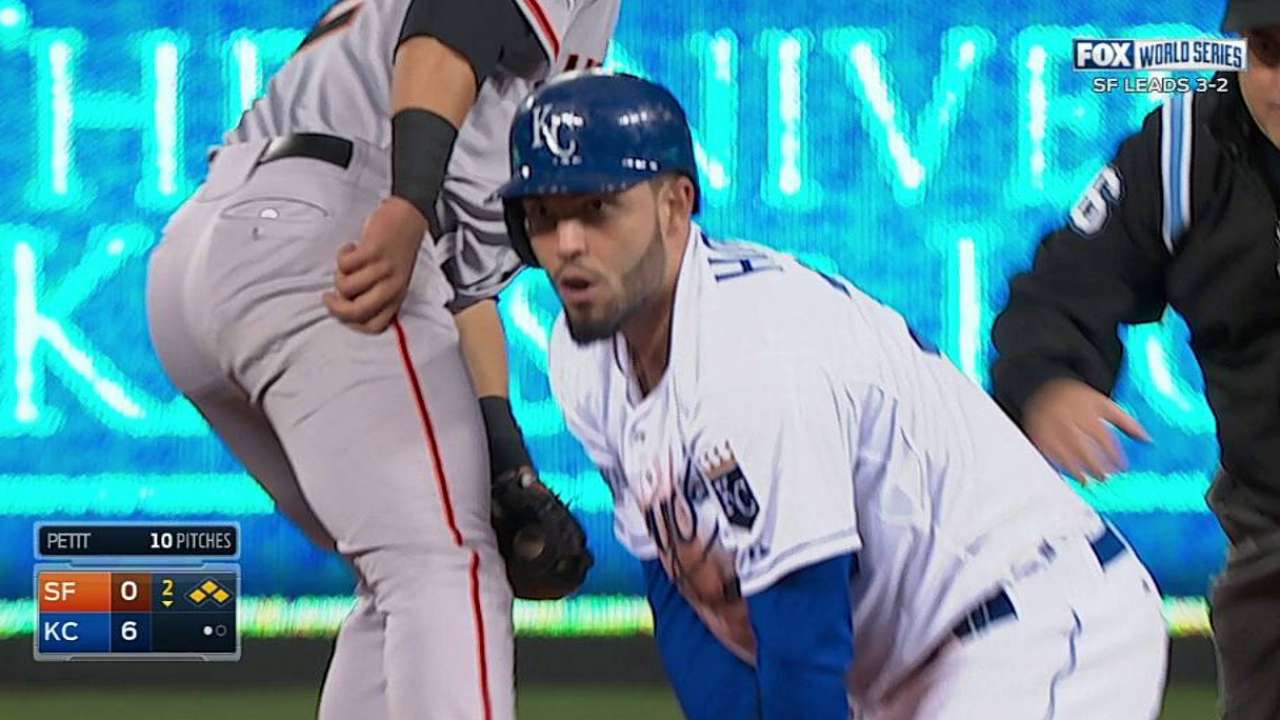 "I think we've obviously had enough time to get over it now," Hosmer said. "Everyone's pretty much about done with their offseason programs and ready to head into Spring Training, so I think there's a lot of excitement heading into this season and I think everyone's really ready to go."
The 25-year-old Hosmer put together an exceptional postseason, hitting .351/.439/.544 with two homers and 12 RBIs in the Royals' 15 games. Following an inconsistent regular season, Hosmer felt he learned from his playoff experience.
"Whenever you struggle or whatever you struggle to do during the regular season, they're going to exploit it as much as possible in the postseason," Hosmer said. "As a hitter you've got to realize you've got to be as disciplined as you can and really stick to your game plan about that."
During his interview, Hosmer also chimed in on some of the recently suggested rule changes and tweaks to improve the pace of play and offensive output throughout the Majors. Hosmer was asked specifically about eliminating or limiting defensive shifts and the idea of forcing a pitcher to face more than one batter. As a hitter, Hosmer was obviously in favor of the proposals.
"As an offensive player, you want to say, 'Yes.' But it's just part of the game," he said. "Those who have shifts and those who are in the right spot at the right time, that means you're doing your homework before the game. Maybe you're preparing better than the other team is. That's just all part of the everyday process of being in the big leagues, getting to the field early, getting your work done, preparing for a game, knowing where you have to be and what you have to do."
Adam Berry is a reporter for MLB.com. Follow him on Twitter at @adamdberry. This story was not subject to the approval of Major League Baseball or its clubs.