Ichiro first player from Japan to suit up for Marlins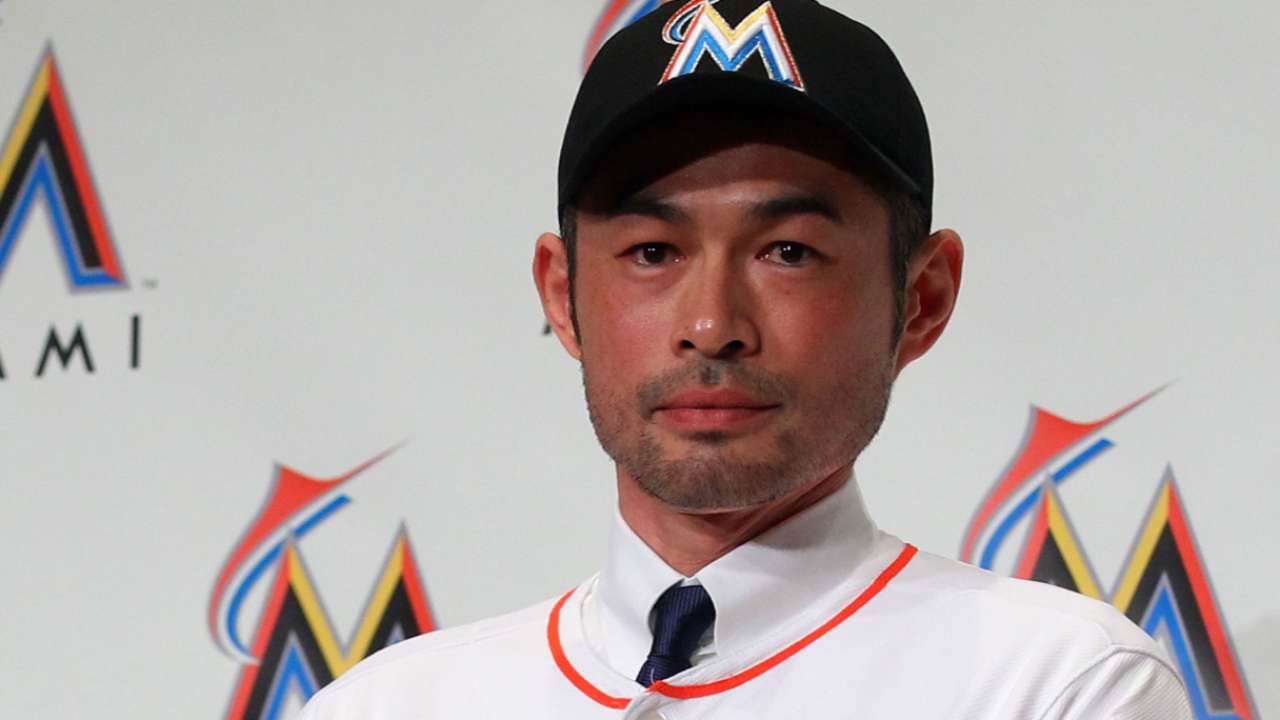 TOKYO -- Now that the Miami Marlins have signed Ichiro Suzuki, the Cincinnati Reds are the only team in Major League Baseball for which a Japanese player has never appeared.
The Reds were the first team to gain a player from Japan through the posting system after it was created in December 1998. The player from Japan that Cincinnati outbid all other teams for in the secret bidding process was a Dominican. Pitcher Alejandro Quezada belonged to the Hiroshima Carp when they posted him before the 1999 season.
The Reds won Quezada's negotiating rights with a bid of $400,000. Quezada, who later changed his surname to Diaz, pitched in the Minor Leagues for Cincinnati through 2003 without ever appearing in a Major League game.
Masanori Murakami became MLB's first player from Japan when he pitched for San Francisco in 1964.
The following is a list of the first Japanese player to appear in a Major League game for each franchise:
Giants: Murakami, 1964
Dodgers: Hideo Nomo, 1995
Mariners: Mac Suzuki, 1996
Angels: Shigetoshi Hasegawa, 1997
Mets: Takashi Kashiwada, 1997
Yankees: Hideki Irabu, 1997
Red Sox: Tomo Ohka, 1999
Brewers: Hideo Nomo, 1999
Tigers: Masao Kida, 1999
Royals: Mac Suzuki, 1999
Rockies: Masato Yoshii, 2000
Cardinals: So Taguchi, 2002
Rangers: Hideki Irabu, 2002
Twins: Micheal Nakamura, 2003
Padres: Akinori Otsuka, 2004
Indians: Kazuhito Tadano, 2004
White Sox: Shingo Takatsu, 2004
Blue Jays: Micheal Nakamura, 2004
A's: Keiichi Yabu, 2005
Nationals: Tomo Ohka, 2005
Rays: Akinori Iwamura, 2007
Pirates: Masumi Kuwata, 2007
Phillies: Tadahito Iguchi, 2008
Cubs: Kosuke Fukudome, 2008
Astros: Kazuo Matsui, 2009
Orioles: Koji Uehara, 2009
Braves: Kenshin Kawakami, 2009
D-backs: Takashi Saito, 2012
Marlins: Ichiro Suzuki, 2015
Brad Lefton is a contributor to MLB.com. This story was not subject to the approval of Major League Baseball or its clubs.