Hunter to mentor Twins' young outfielders
Back in Minnesota, veteran plans on working with Hicks, prospect Buxton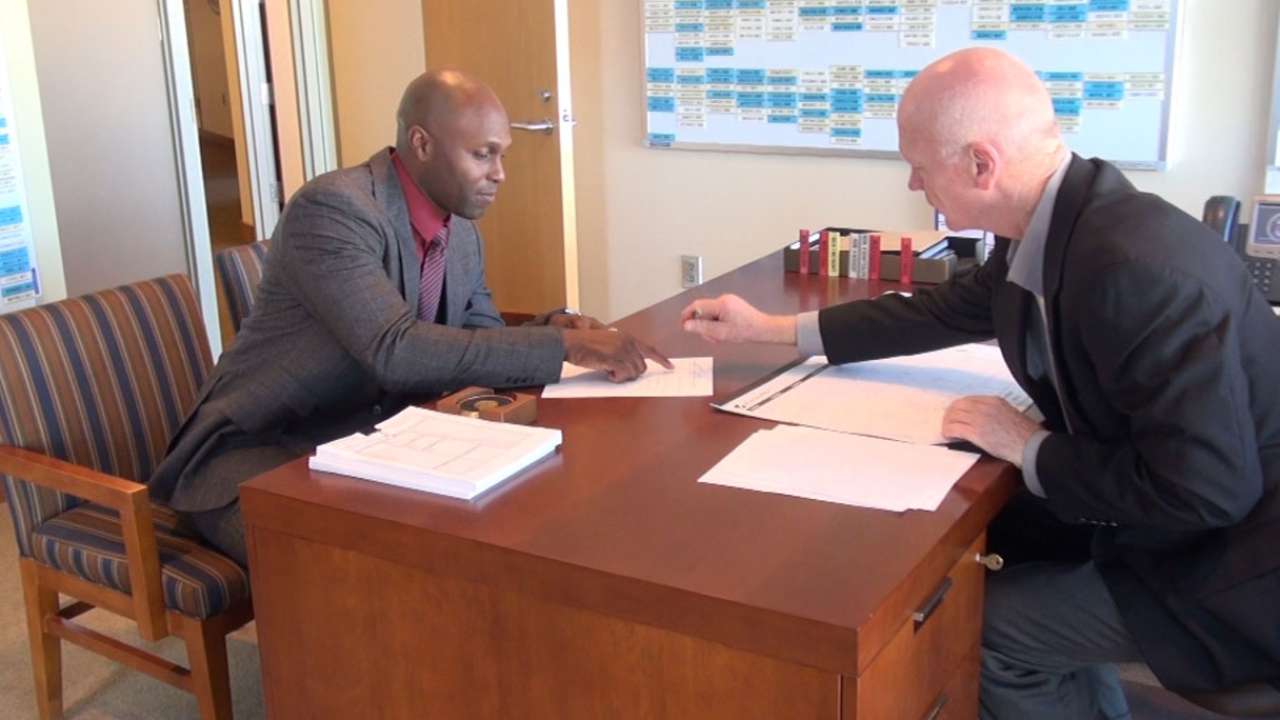 MINNEAPOLIS -- As the lineage of Twins center fielders goes, Kirby Puckett mentored Torii Hunter, who passed the torch to Denard Span, who gave way to Ben Revere before Aaron Hicks was to take over until top prospect Byron Buxton is ready.
Of course, there are gaps in that narrative, as other notable center fielders such as Carlos Gomez have filled in for the Twins since Puckett's retirement after the 1995 season, especially in recent years with Hicks having struggled to lock down the position because of his struggles at the plate. But now Hunter is back with the Twins as the club's starting right fielder after being away for seven years, and he has made it his mission to help mentor Hicks and Buxton this year.
"I know Hicks can play, but with Buxton -- I haven't seen video or seen him play, but every word I hear is good about him," Hunter said. "I definitely think when we get to Spring Training we'll sit down and I'll work out with them and evaluate what they're doing right and what they're doing wrong."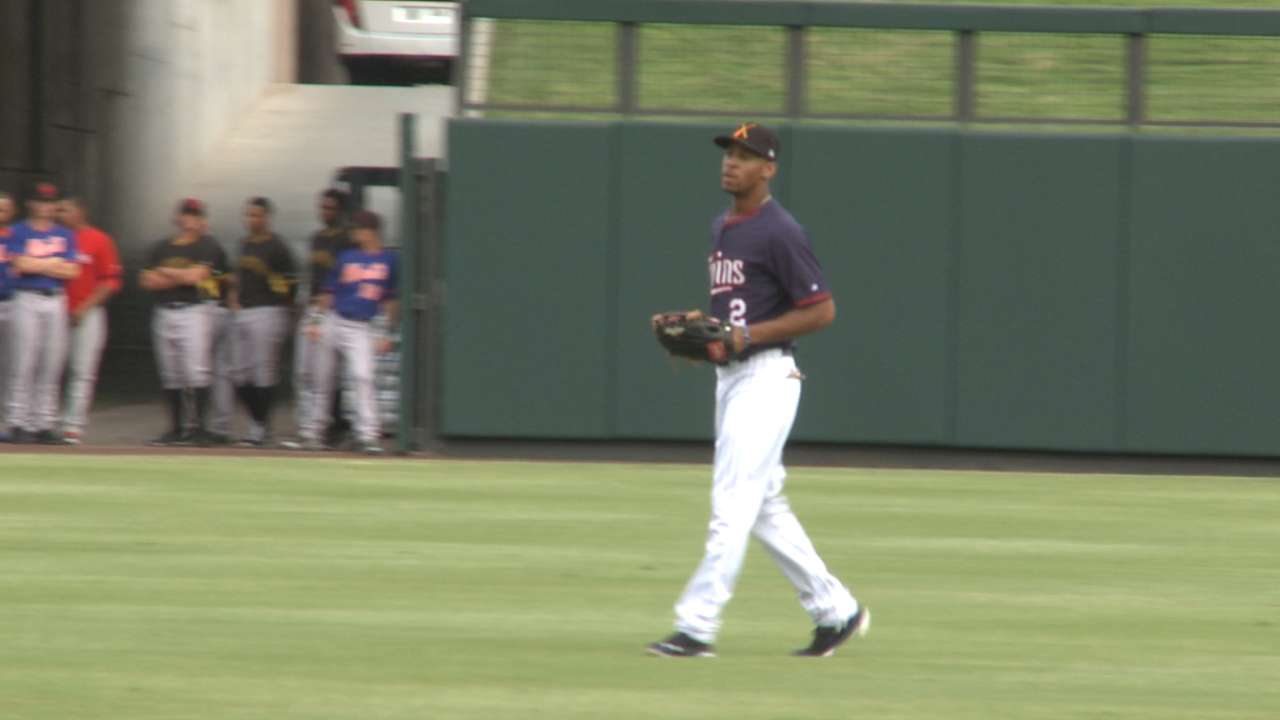 It's a big season for Hicks, 25, who won the job in center field as a rookie in 2013 with a strong showing in Spring Training, but couldn't carry it over to the regular season. The switch-hitter batted just .192/.259/.338 in 81 games and finished the year at Triple-A Rochester. He was given another chance to take over at center field last year, but again struggled at the plate, hitting .215/.341/.274 in 69 games while Danny Santana took over regular duties in center field despite being a natural shortstop.
But Santana is moving back to shortstop in 2015, leaving center field as an open competition between Hicks and Jordan Schafer. Hicks, though, said he's trying not to put any extra pressure on himself heading into spring.
"Of course I want to win the job, but I have to get ready for a long season," Hicks said. "I have to do what's necessary for me to be ready for Opening Day and do everything I can to make the team."
One thing Hicks said he'll do for sure is lean on Hunter as a mentor. He's known him since Hicks was selected in the first round of the 2008 First-Year Player Draft, calling Hunter for advice and talking to him when they played against each other.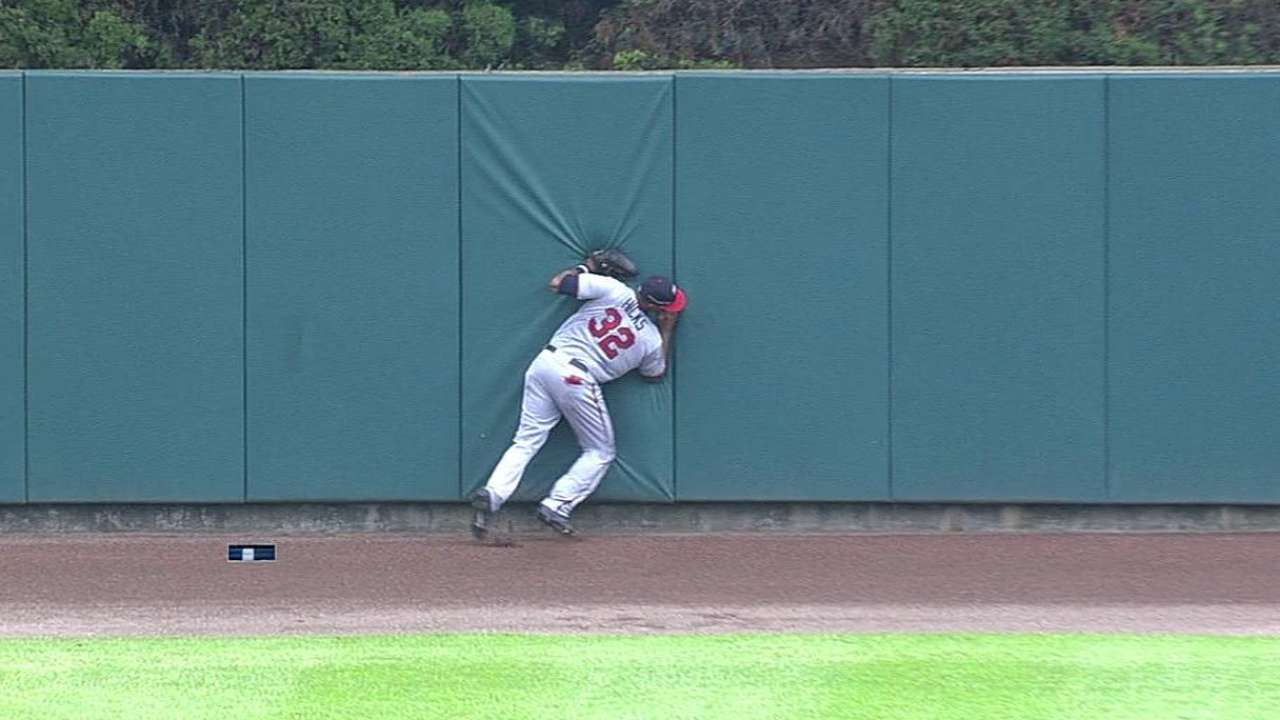 "I'll be all in his ear the whole time," Hicks said. "He might get annoyed I'll be in his ear so much. He's definitely a guy I'm going to go to."
Hicks, who briefly gave up switch-hitting last year before returning to it, also said despite his troubles offensively, he has the confidence he'll be able to turn it around. He played winter ball in Venezuela for the first time, and also trained with Twins hitting coach Tom Brunansky in Southern California this offseason.
"I believe that I have the ability to play center field here for a long time," Hicks said. "I've just got to go out there and show people that I can be the center fielder that everybody wants me to be and also that I want myself to be."
Rhett Bollinger is a reporter for MLB.com. Read his blog, Bollinger Beat, and follow him on Twitter @RhettBollinger. This story was not subject to the approval of Major League Baseball or its clubs.