Phillies have trio ranked among Top 100 Prospects
Shortstop phenom Crawford leads way at No. 21, followed by righty Nola, third baseman Franco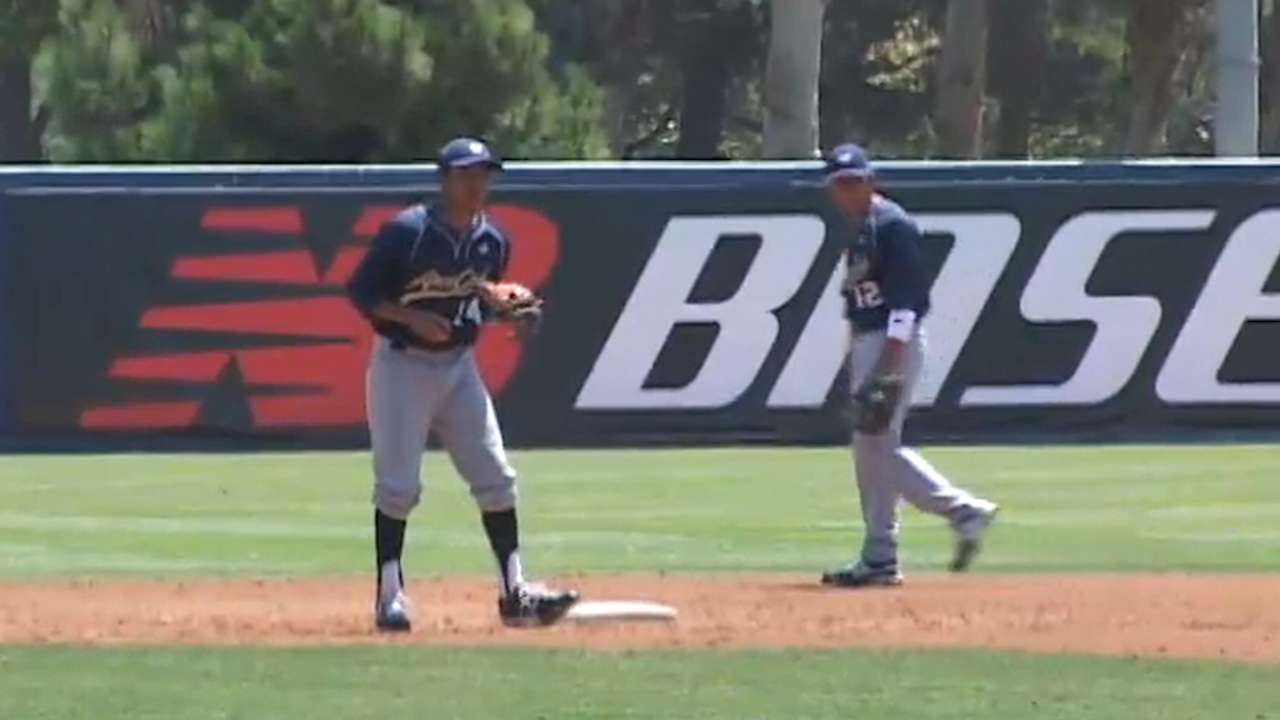 PHILADELPHIA -- A big reason the Phillies won the 2008 World Series was the steady stream of homegrown talent that funneled from the Minor Leagues to the 25-man roster from 2000-07: Jimmy Rollins, Chase Utley, Ryan Howard, Cole Hamels, Brett Myers, Ryan Madson, Carlos Ruiz, Kyle Kendrick and others.
Those players had hit their stride by 2008. The Phillies need another run of talent like that if they expect to contend anytime in the near future.
Perhaps help is on the way. MLBPipeline.com ranked three Phils among baseball's Top 100 Prospects: shortstop J.P. Crawford (21st), right-hander Aaron Nola (37th) and third baseman Maikel Franco (55th).
The annual ranking of baseball's Top 100 Prospects is assembled by MLBPipeline.com Draft and prospect experts Jonathan Mayo and Jim Callis, who compile input from industry sources, including scouts and scouting directors. It is based on analysis of players' skill sets, upsides, proximity to the Majors and potential immediate impact to their teams. The list, which is one of several prospect rankings on MLBPipeline.com's Prospect Watch, only includes players with rookie status in 2015. Team-by-team Top 30 Prospects lists for 2015 will be unveiled in March.
Mayo: Breaking down the Top 100 | Callis: Best tools in the Top 100
Crawford, 20, is Rollins' heir apparent, although he might not be big league ready for at least another season. But the talent is there. Philadelphia selected him in the first round of the 2013 First-Year Player Draft. Crawford hit a combined .285 with 23 doubles, 11 home runs, 48 RBIs and a .781 OPS in 538 plate appearances with Class A Lakewood and Class A Advanced Clearwater.
"It's not pressure for me," Crawford said about the expectations to replace Rollins, who was traded to the Dodgers in December. "It's a good challenge for me to try to be as good as [Rollins]."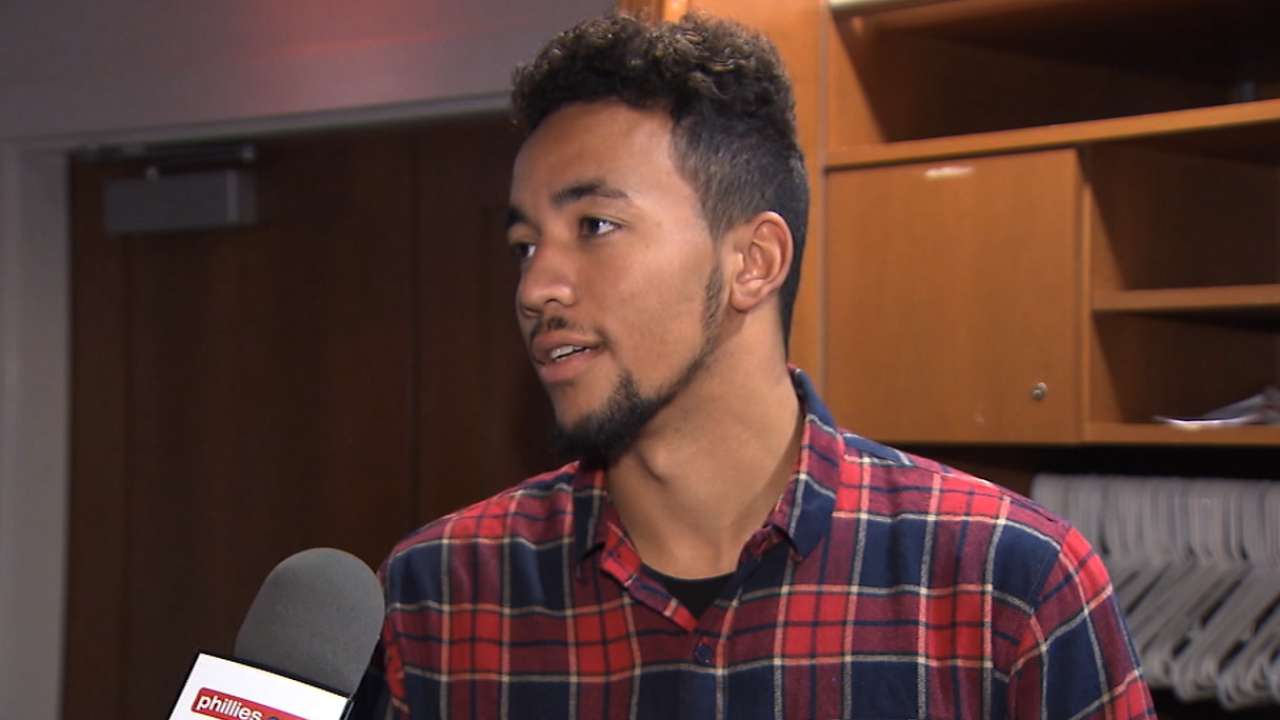 The Phillies selected Nola in the first round of the 2014 First-Year Player Draft. It would not be a shock to see him in the big leagues at some point this season, although there is no need to rush him.
Nola, 21, went a combined 4-3 with a 2.93 ERA in 12 games with Clearwater and Double-A Reading.
Franco, 22, got a taste of the big leagues in September, but he struggled at the plate. He could open the season with Triple-A Lehigh Valley for more seasoning. This spring, Franco will be competing with Cody Asche to be the team's third baseman, although Asche is considered the favorite for the job.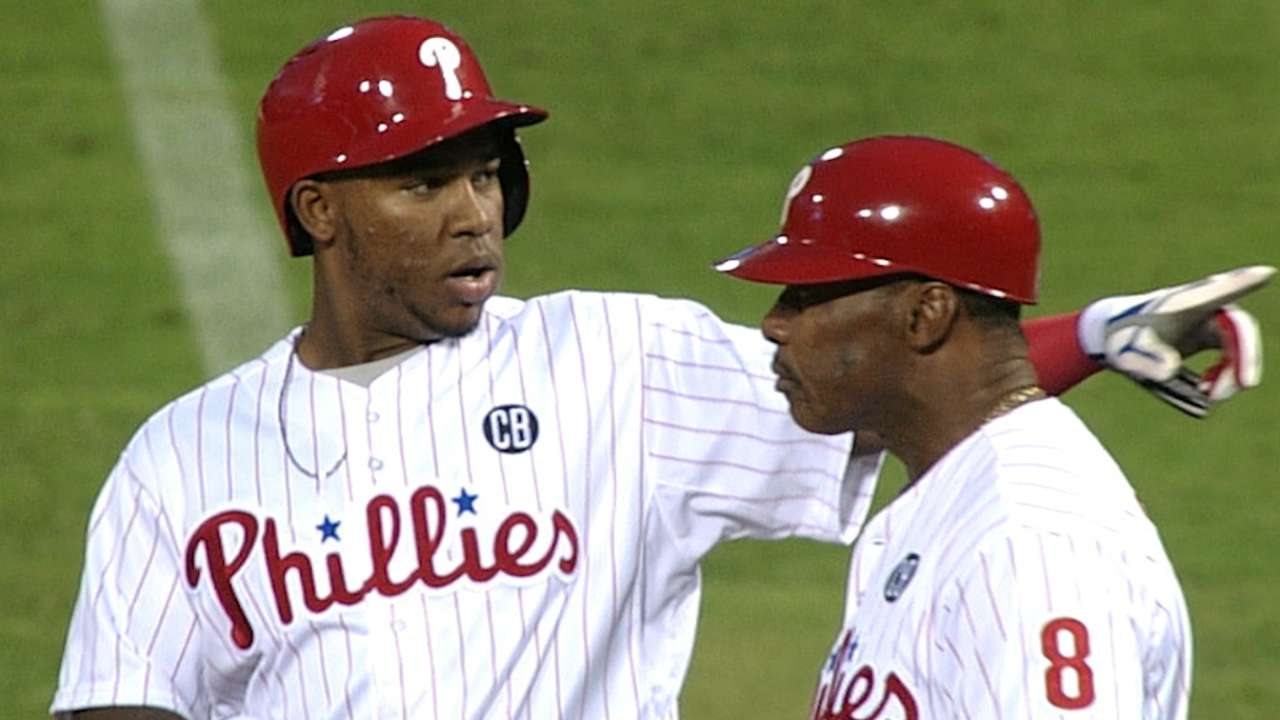 But Franco is hitting the ball very well in winter ball in the Dominican Republic, which should boost his confidence entering camp.
"Maikel is going to be fine," Phillies director of player development Joe Jordan said. "Once he calms down, he'll just take what the game gives him. He's going to be an offensive player for us. He's going to produce. He's going to help us on both sides of the ball."
In the end, prospects are prospects. Some hit. Many miss. But the Phils are hoping Crawford, Nola and Franco hit like Rollins, Hamels and Utley hit years ago.
Todd Zolecki is a reporter for MLB.com. This story was not subject to the approval of Major League Baseball or its clubs.