Fuld determined not to let diabetes hamper him, others
Outfielder hosting fourth annual sports camp, where he helps kids with illness and their parents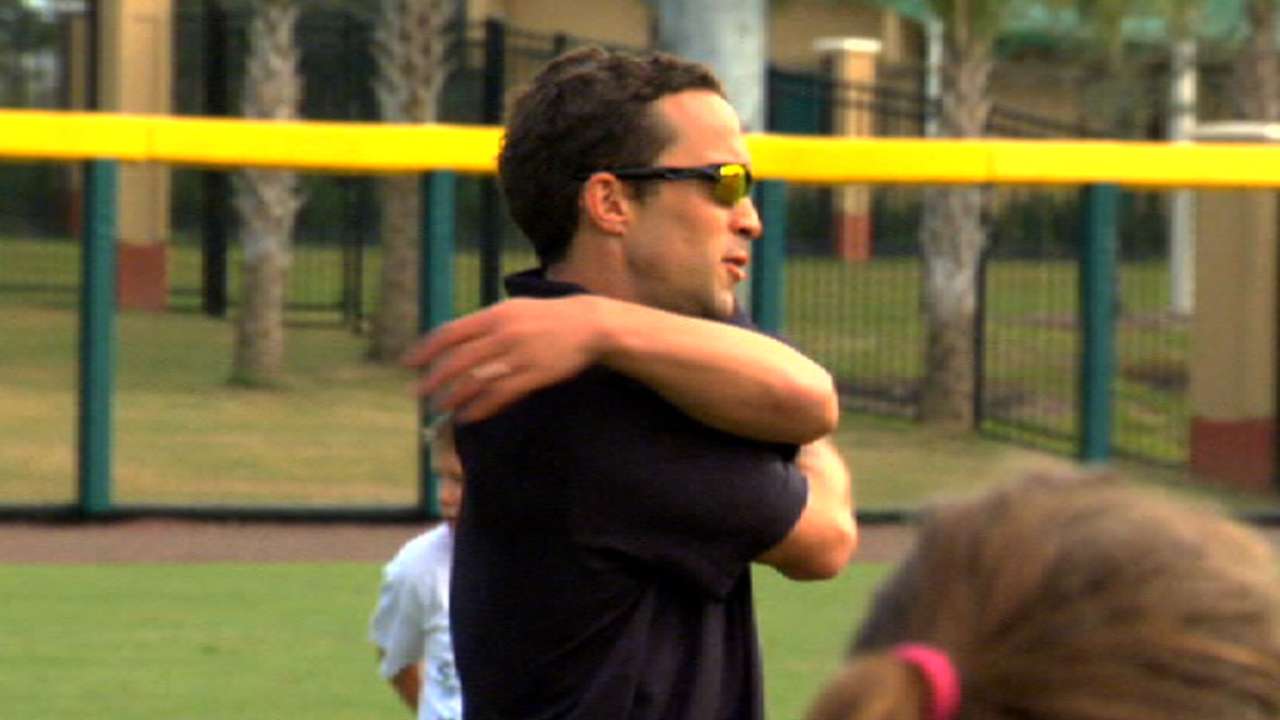 A 12-year-old Sam Fuld, still coming to terms with the Type 1 diabetes diagnosis he received two years earlier, took the field during batting practice at Fenway Park for a meeting with Tigers pitcher Bill Gullickson. A diabetic himself, Gullickson had just two minutes for Fuld, who has since lived out every word he heard during those 120 seconds.
"That's all it took," said Fuld, now 33 and entering his eighth big league season, after attending Stanford University. "I was already a pretty dedicated and inspired kid, but I think that was the extra boost for me. It really sort of set the stage for how I handle things now as a professional diabetic athlete. I like to remember how much of an impact that short experience had on me, and I try to remember that when I'm working with other kids."
The A's outfielder will do so this weekend, when he hosts the fourth annual Sam Fuld USF Diabetes Sports Camp at the University of South Florida.
"I had this idea in my mind for a while," Fuld said. "I was familiar with diabetes camps. There are certainly plenty of them out there, and then, of course, plenty of sports camps. But I hadn't really heard of any camps that sort of blended the two together."
In 2011, during his first season with the Rays, he was invited to tour the new Diabetes Center at USF. It was there where he voiced his vision of gathering diabetic kids together for a sports camp, "and we just kind of ran with it," Fuld said.
The first camp was available that very winter, with about 100 kids from Florida and across the country, aged 8-17, in attendance. Often, Fuld worries about the turnout, yet each time he's greeted by more kids than the previous year.
Already, 125 kids have registered for this year's camp.
"And there's always a few that register at the last minute," said Fuld. "We've had such great success with it, and it just continues to grow."
Campers can choose three out of eight sports -- baseball, basketball, tennis, soccer, football, golf, volleyball and cheerleading -- and are advised by diabetic instructors, an impressive group that just so happens to include Gullickson. Plenty more staffers, including a medical team, are also on hand.
By the end of the two-day affair, the kids are better trained on how to manage diabetes as an athlete. Fuld, meanwhile, is equally exhausted and exuberant.
"There are always two things that stick out," he said. "We hold a parents seminar, and I get a chance to speak to and with a lot of the parents of the diabetic kids, and I can see the relief on their faces after speaking with me and others. That's a really gratifying experience.
"And when everyone leaves, even though it's a really stressful weekend with so much that goes on, it's just an amazing feeling, knowing we gave them such a cool, cool experience."
Fuld's message to them echoes the one he received from Gullickson, who won 162 games in a 14-year big league career.
"Diabetes shouldn't hold you back in any way, athletically or socially or academically," Fuld said. "It shouldn't inhibit you at all. It's certainly a challenge, and that's the way I looked at it. I saw it as a challenge and me needing to step up to the challenge and not let it affect me as an athlete or a person.
"I know the disease isn't going anywhere. We're getting closer to a cure, but I don't think I'll wake up one day and have it be gone. I try to express to these kids that it's just a reality we have to live with and it's not going anywhere, and we just have to make the most of it."
Jane Lee is a reporter for MLB.com. This story was not subject to the approval of Major League Baseball or its clubs.