Viciedo designated for assignment to open roster spot
White Sox part ways with outfielder to pave way for return of infielder Beckham
CHICAGO -- There's a chance Dayan Viciedo will still turn out to be a consistently productive player at the Major League level.
That chance just won't happen with the White Sox, who designated the outfielder for assignment on Wednesday to make room for Gordon Beckham on the 40-man roster. Beckham and the White Sox agreed to a one-year, $2 million deal.
Since Viciedo was tendered a 2015 contract by the White Sox, the team has added outfielders Melky Cabrera and Emilio Bonifacio. Beckham's addition allows Bonifacio to play more in the outfield, leaving Viciedo without a meaningful role on the 2015 roster and the White Sox on the hook for just one-sixth of his $4.4 million salary (approximately $733,000) as a worst-case scenario.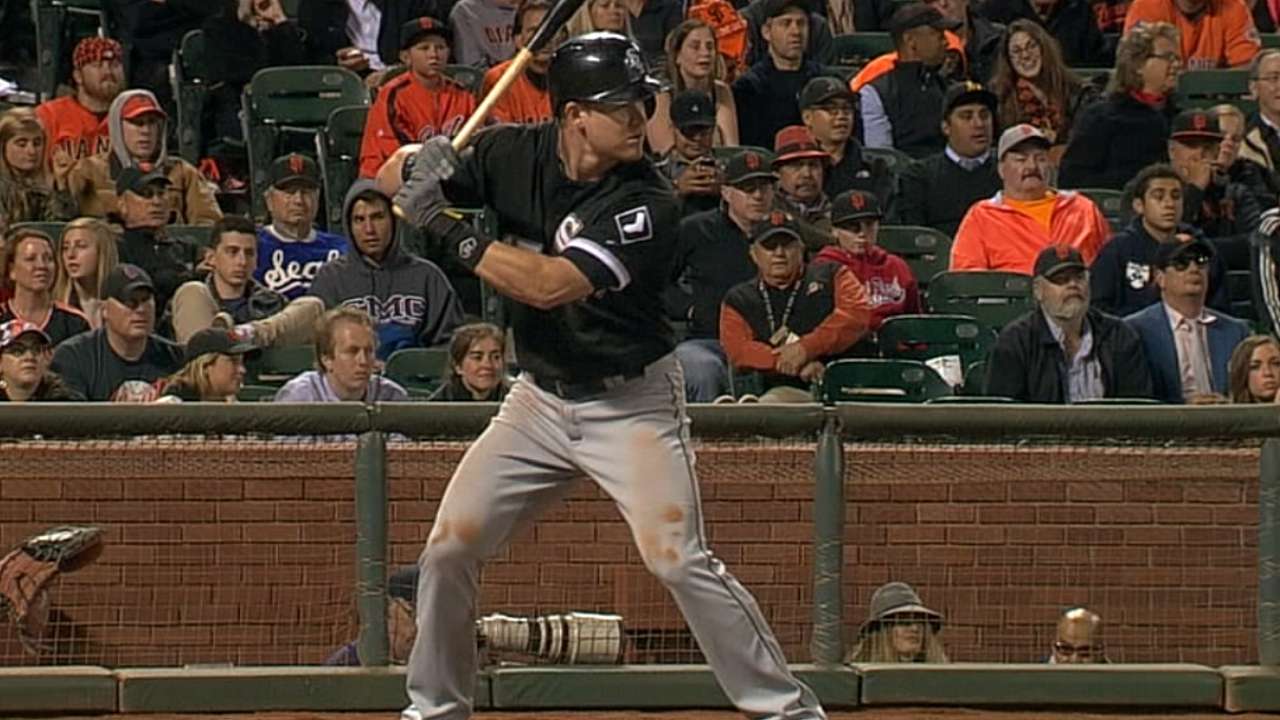 "The thought with designating him was flesh out any interest over the next 10 days or so and find him a better home going into the next season," said White Sox general manager Rick Hahn of Viciedo. "He's still young and he still has a world of talent and a great deal of power that we've all seen on display over a number of years. It's not going to surprise any of us in the least if he goes on to have a very successful career elsewhere.
"It just got to the point with our organization where we decided to go a different direction. Obviously, with Melky and Emilio being switch-hitters and bringing a little bit of a different element of athleticism to the team, it gives us more consistency with what we were specifically looking for. It doesn't mean Dayan is not going to be able to have a long, successful career and help out another club in a different way."
Viciedo batted .231 with 21 home runs and 58 RBIs in 145 games with the White Sox in 2014. The 25-year-old is a career .254 hitter with 66 homers and 211 RBIs in 483 games over five Major League seasons (2010-14), all with the White Sox. Viciedo signed a four-year, $10 million deal with Chicago as a free agent on Dec. 12, 2008.
Although Viciedo possesses an immense amount of raw power, he doesn't really fit in this more athletic, highly-versatile roster constructed by Hahn. Manager Robin Ventura has the flexibility to take advantage of specific lefty/righty matchups, employ defensive substitutions that weren't options in the past, or even something as basic as giving shortstop Alexei Ramirez an occasional break.
They also have talented insurance within their roster depth. Ideally, Micah Johnson or Carlos Sanchez wins the everyday job at second base and holds on to it for the next decade or so. Contingency plans now are in place if the ideal scenario doesn't play out.
"Again, it's about having a flexible roster, one that allows Robin to exploit matchups whenever they present themselves to him," Hahn said. "At the same time, we have insurance policies if things should not go entirely according to plan."
"There is definitely a willingness to win, and it's also nice that I think it's a good team," Beckham said. "I was really keying on the fact of coming back and winning in Chicago. That was important to me."
Scott Merkin is a reporter for MLB.com. Read his blog, Merk's Works, and follow him on Twitter @scottmerkin. This story was not subject to the approval of Major League Baseball or its clubs.