Closer look: Allen a well-rounded bullpen weapon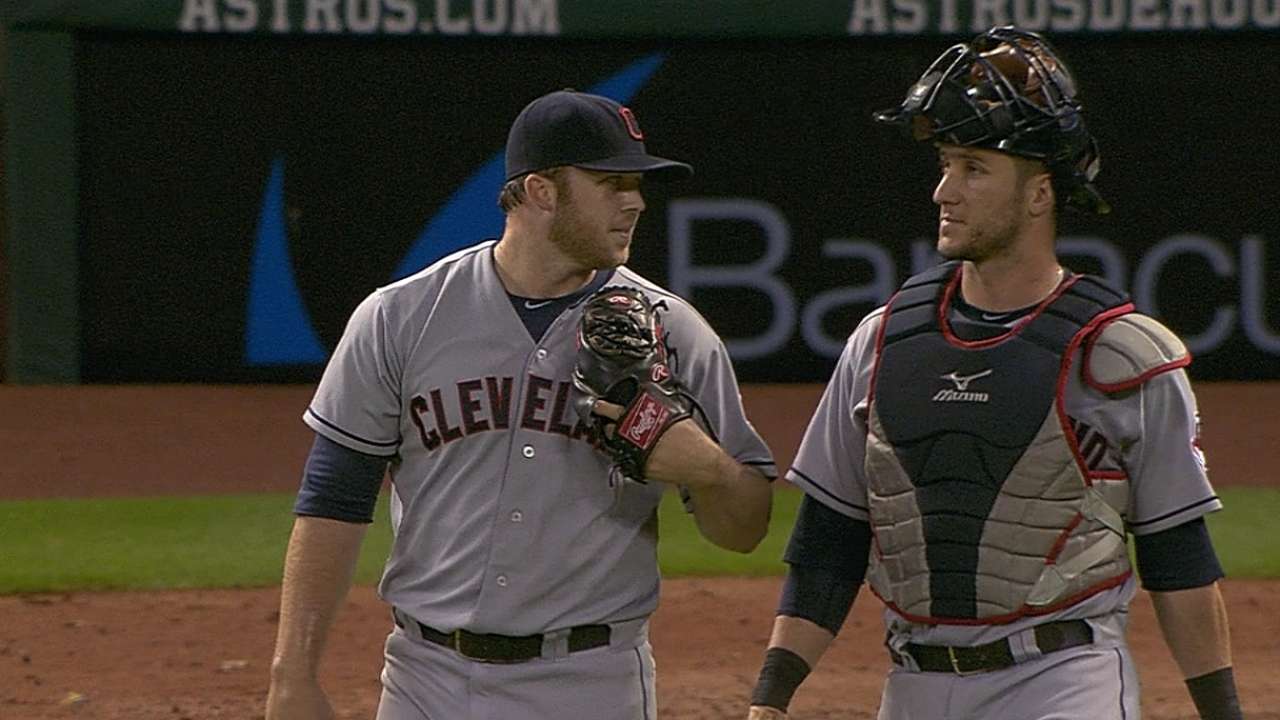 CLEVELAND -- One word is noticeably absent each time that manager Terry Francona discusses reliever Cody Allen. No matter how many times the pitcher has appeared in the ninth inning, and no matter how many saves the right-hander piled up last year, Francona will not call him a "closer."
In the name of flexibility, Francona does not like placing labels on his players. What Francona will say is that Allen is a great "high-leverage" reliever, but the manager does not want to pigeonhole the pitcher into the ninth inning. The way Francona sees it, it is not necessary to slap the "closer" tag on Allen.
"I don't think Tito should," Allen agreed. "And I don't think he is going to back himself into a corner where he has to pitch certain guys in certain spots."
Baseball loves its labels, though.
Everyone wants to know which pitcher is the setup man and which one is the left-handed specialist. Will there be a long reliever? A mop-up arm? Most importantly, who will be the closer? Francona might make the owners of fantasy baseball teams cringe when he says he is not afraid to use Bryan Shaw or Marc Rzepczynski in the ninth inning, but the manager is more concerned with winning real games.
If it makes the most sense to use Allen in the eighth, Francona does not want a predetermined role getting in the way of critical outs.
"He's such a good leverage pitcher," Francona said. "I don't see us really changing the way we're going about it. The one thing I think we'll probably do is, you might see a time or two where he comes in in the eighth if the game is going to be won or lost. I hate to sit around and wait for the ninth and not get there. I think Cody agrees with that, too.
"Sometimes you get established guys down there and they're not real big on doing that. Cody just wants to pitch when it's exciting. If you do that enough, it'll backfire on you, but I also think putting your best pitcher in the best situation, the most leveraged situations, will help you more than it doesn't."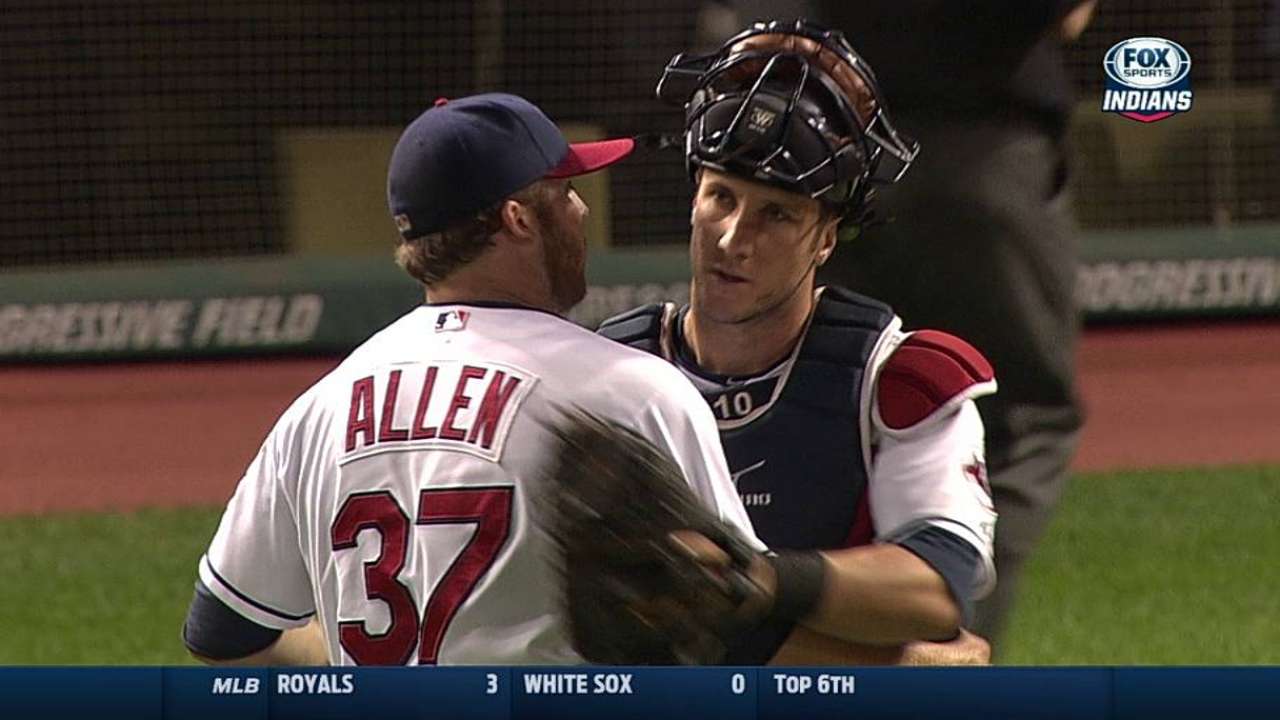 Within situations deemed "high leverage" by baseball-reference.com's metrics, Allen has posted a 2.15 ERA and a .196 opponents' batting average over the past two seasons combined. The right-hander's ERA ranks ninth and his 79 strikeouts rank 10th among Major League relievers with at least 50 innings in such scenarios in that time span.
Over the 2013-14 seasons, however, it is worth noting that Allen led the Majors in games pitched (153) and ranked third in the American League in relief innings (140). That kind of workload could be worrisome, but Allen noted that Francona pays extremely close attention to the volume of pitches thrown outside of in-game appearances.
"He's watching all the other things around [your outing]," Allen said. "He's done a pretty good job of handling the load that we've had on the mound and, as much as we've pitched on the mound, he's trying to keep our workload to just specifically on the field."
Last year, the 26-year-old Allen turned in a 2.07 ERA in 76 games (69 2/3 innings), lowering his ERA to 2.25 over the past two seasons combined. His 179 strikeouts in that two-year period rank third among relievers in the AL, behind only Greg Holland and Koji Uehara. Allen's rate of 11.51 strikeouts per nine innings trails only Kenley Jansen and Trevor Rosenthal in the Majors (among relievers with at least 140 innings).
One interesting note within Allen's strong overall production is the fact that the righty has performed better against left-handed batters (.193 average and .605 OPS) than right-handers (.252/.699). One of Cleveland's setup men, right-hander Shaw, is the opposite. He has limited righties to a .198 average (.566 OPS) and lefties to a .285 average (.745).
Those kind of splits, along with the fact that Francona could have three left-handers (Rzepczynski, Kyle Crockett and Nick Hagadone) in his bullpen, are reasons for the manager wanting to maintain a level of flexibility for late-inning scenarios.
Allen agrees with that kind of approach.
"There might be a time where I'm better suited to come in and face a couple righties in the eighth," Allen said, "and maybe get a guy out in the ninth. And if you've got a guy like Josh Hamilton coming up with a couple lefties behind him, Marc Rzepczynski may be better off closing that thing out."
That said, following the removal of John Axford from the closing role last May, Allen collected 24 of the 30 saves Cleveland converted through the end of last season. He also pitched in the ninth inning 46 times, compared to 13 times for Shaw and 10 times for Rzepczynski.
If you want, go ahead and call Allen the Indians' closer. Just don't expect Francona to use that term.
"Cody just likes to pitch," Francona said. "Sometimes you get a veteran guy that's more locked into, maybe, a role. I just think you need to explain it [to the players], because all we're trying to do is put ourselves in the best position to win games. I wouldn't do it if I didn't think it was going to help us win."
Jordan Bastian is a reporter for MLB.com. Read his blog, Major League Bastian, and follow him on Twitter @MLBastian. This story was not subject to the approval of Major League Baseball or its clubs.