Inbox: Did Blue Jays consider re-signing Janssen?
Beat reporter Gregor Chisholm answers Toronto fans' questions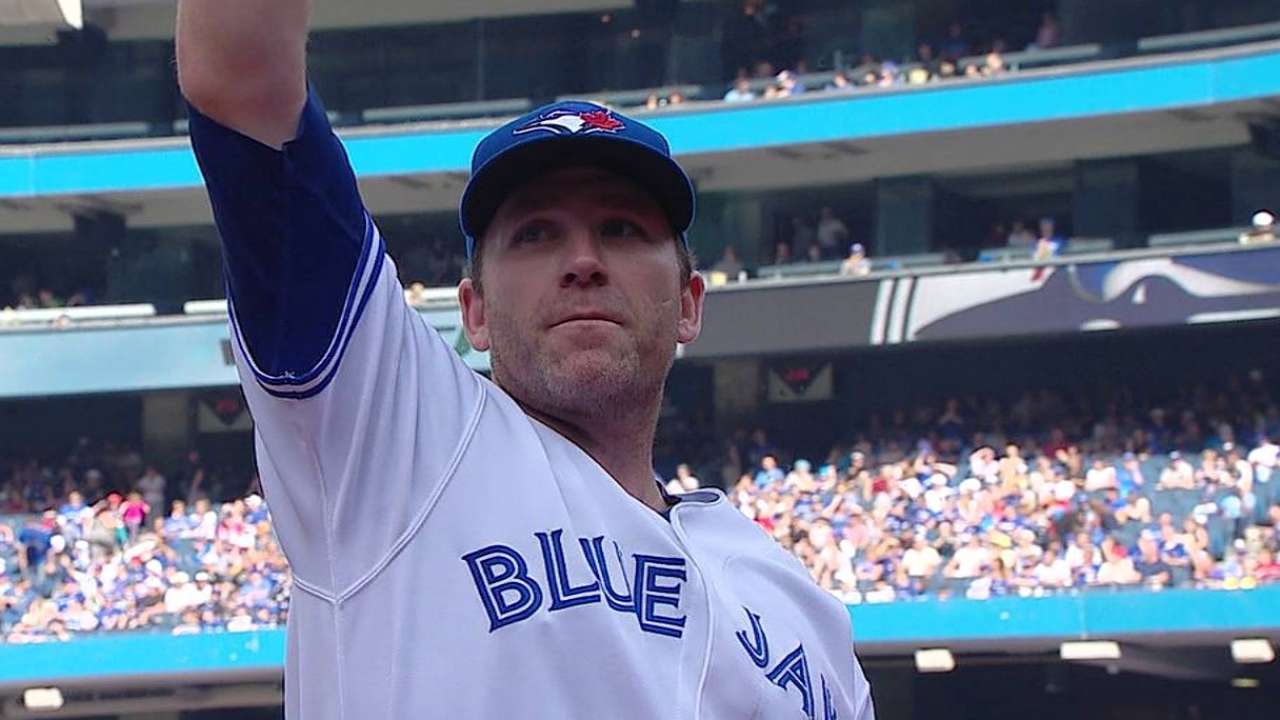 Why didn't the Blue Jays make more of an effort to re-sign Casey Janssen? I could understand if he got a long-term contract, but he went to the Nationals for one year and $5 million.
-- Mike D., Moncton, New Brunswick
Janssen's departure had basically been a foregone conclusion since the end of the season. The veteran reliever entered the final week of September knowing it would his final time wearing a Blue Jays uniform, and even though it took Janssen a long time to sign, the overall outlook never really changed.
There appeared to be a lot of hard feelings on both sides toward the end of 2014. The Blue Jays didn't like how Janssen went public with their contract negotiations over the All-Star break, and he wasn't happy with the lack of communication in his final months with the team. Toronto was well within its rights to hand the closer's job to Aaron Sanchez, but that message wasn't properly relayed to Janssen, and the uncertainty about his role caused a lot of needless drama.
It was an unfortunate ending to an otherwise impressive tenure. But with his new deal with Washington, Janssen gets the fresh start he was looking for while the Blue Jays continue to search for help in the bullpen. In the end, keeping Janssen on a one-year deal worth approximately $5 million would have made a lot of sense for Toronto, but realistically, it was never going to happen.
Submit a question for the Inbox.
What's the situation with the bullpen? There has been plenty of talk, but nothing has happened.
-- Kyle R., Saskatoon, Saskatchewan
The relief market has been pretty slow to develop for a lot of pitchers this winter. It's true that some guys went off the board relatively early, but there hasn't been much movement since the Winter Meetings, when Andrew Miller, David Robertson, Pat Neshek and Luke Gregerson found new homes. There's a chance that could change soon now that Janssen has agreed to terms with the Nats.
Overall, the slow market has been pretty good news for the Blue Jays, because they are one of the teams who still have some glaring holes in the bullpen. It's pretty rare for recognizable names to still be available at this time of the year. Those include Francisco Rodriguez, Rafael Soriano, John Axford and Alexi Ogando.
Washington could still use another reliever even after coming to terms with Janssen. Detroit always seems to need help in the bullpen, while other teams looking for relievers include the Red Sox and Dodgers. One perk to signing with Toronto is that the closer's job remains up for grabs. That would be extremely enticing for a pitcher looking to re-establish some value.
Should the Blue Jays consider signing infielder Everth Cabrera?
-- Jeremy C., Irma, Alberta
Cabrera seems like a potential fit, and according to CBSSports, he's also someone the Blue Jays have discussed internally. The problem is that Cabrera got himself into some legal trouble last year when he was charged with resisting arrest. He was initially charged with driving under the influence of marijuana, and if convicted, Cabrera faces up to a year in prison.
The 28-year-old pleaded not guilty, but his legal situation could carry over into the 2015 season. For what it's worth, Toronto is often open to the idea of giving players a second chance, so the uncertain future doesn't necessary mean Cabrera is someone who would be automatically eliminated from consideration.
Melky Cabrera, Jeremy Jeffress and -- for much different reasons -- Yunel Escobar and Colby Rasmus are a few examples of players who got another opportunity under general manager Alex Anthopoulos' watch. The organization does its due diligence off the field and also examines how the player would fit into the lineup. Everth Cabrera was a disappointment in 2014, but the year before, he hit .283 with a .736 OPS in 95 games, and that production would look pretty good for a club without a clear-cut candidate to start at second.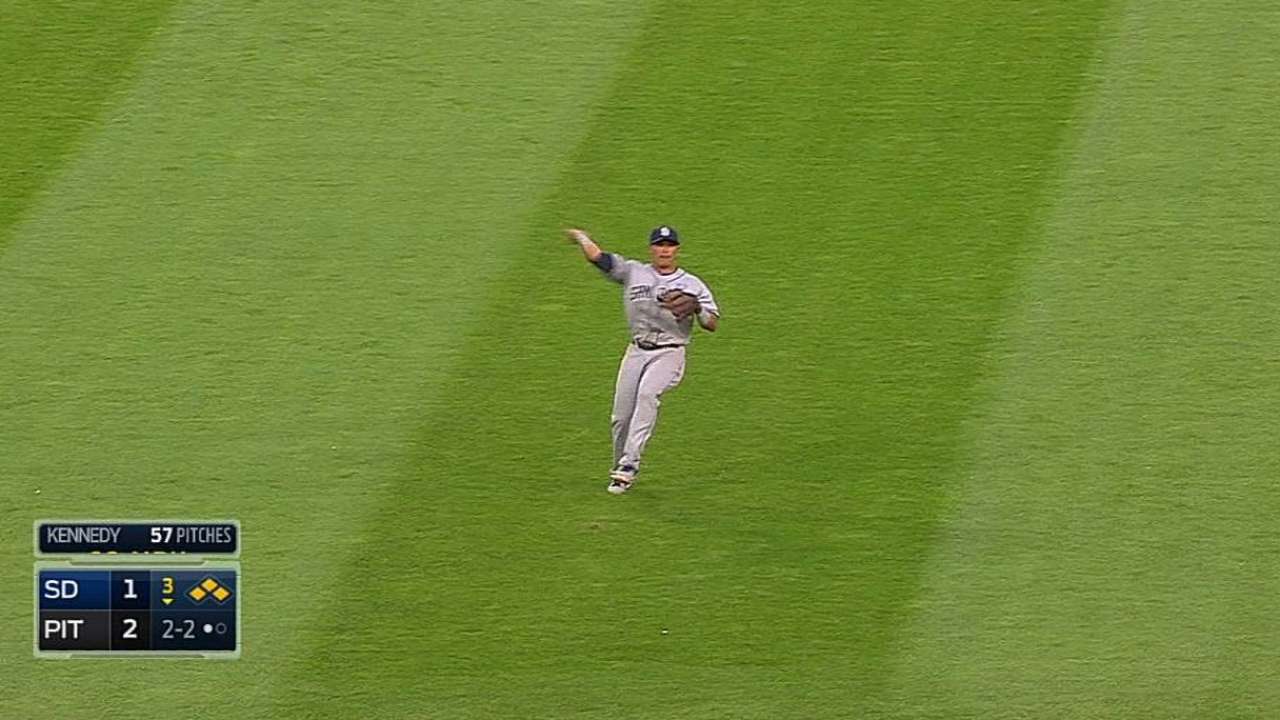 What is Toronto likely to do with Ricky Romero?
-- Thayne D., Lacombe, Alberta
Romero probably would like a fresh start more than anything else, but the fact that he's owed $7.5 million in 2015 means that's unlikely to happen any time soon. For now, the expectation is that Romero will remain with the organization until his 2016 club option gets bought out for $600,000.
There aren't really a lot of other options for the Blue Jays at this point. Romero's salary is enough to stop any trades from happening, and it also makes it pretty unlikely the club would pay him the entire sum to go away. The only thing left is for both sides to continue working together one final time to see if Romero can turn it around in a Toronto uniform.
Romero had left knee surgery last summer, and it will be interesting to see what his status is at the start of Spring Training. The best he can hope for now, though, is a spot in the rotation at Triple-A Buffalo. If Romero is able to do well, then he could potentially become a factor at some point in 2015. But until that happens, he's not someone the organization can rely on.
What do you see as Danny Valencia's role with the Blue Jays? Is it possible he could get some time at first base when there's a lefty pitching?
-- Luc B-R., Innisfil, Ontario
The role you mentioned is exactly the one Valencia should expect to find himself in this season. First baseman Justin Smoak is a switch-hitter, but the organization has been pretty open about the fact that he'll predominantly be used from the left side in Toronto.
The numbers would seem to indicate that's a pretty wise decision. Smoak is a career .223 hitter with a .650 OPS vs. lefties, compared to a .327 average and .870 OPS for Valencia. That means Valencia likely will be at first whenever there's a lefty on the mound, and he'll also receive some occasional starts at third when Josh Donaldson needs a day off.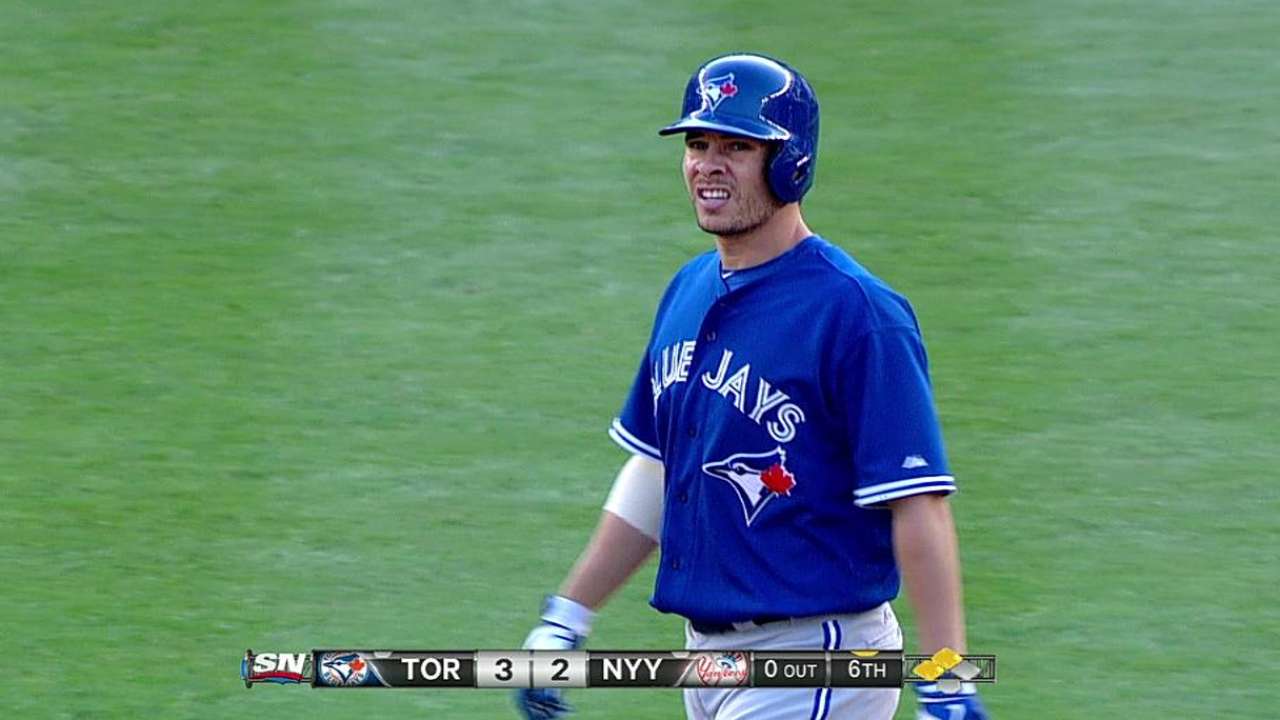 Will the Blue Jays remain long-term tenants at their Dunedin, Fla., Spring Training facilities?
-- Joe B., Burlington, Ontario
The Blue Jays' future in Dunedin has been a topic of constant debate for the past several years, but it appears the two sides are at least moving closer to possibly working out a long-term agreement. Julie Bujalski became the town's new mayor on Nov. 4, and since that election, she's already held in-person meetings with the club. According to the Tampa Bay Times, the two sides have signed a confidentiality agreement, and as a result, public knowledge about the negotiations has been limited.
What we do know is that the Blue Jays aren't particularly happy with their current situation. Florida Auto Exchange Stadium needs a substantial renovation, and the location of the training complex -- which is approximately four miles from the ballpark -- has caused a lot of complaints from players. Ideally, Toronto would have the club's practice fields attached to the stadium, but if that's not possible, a closer location to the ballpark would at least be better than the current arrangement.
A couple of years ago, it seemed like the Blue Jays and Astros were nearing agreement on a shared complex in South Florida. Those negotiations fell apart, and since that time, the focus for Toronto appears to be on staying in Dunedin. That will require some kind of partnership with local government, and it's unlikely to be resolved any time soon.
Gregor Chisholm is a reporter for MLB.com. Read his blog, North of the Border, and follow him on Twitter @gregorMLB. This story was not subject to the approval of Major League Baseball or its clubs.