Banks statue in Daley Plaza for fans to pay tribute
Cubs will keep public memorial of Hall of Famer on display until Saturday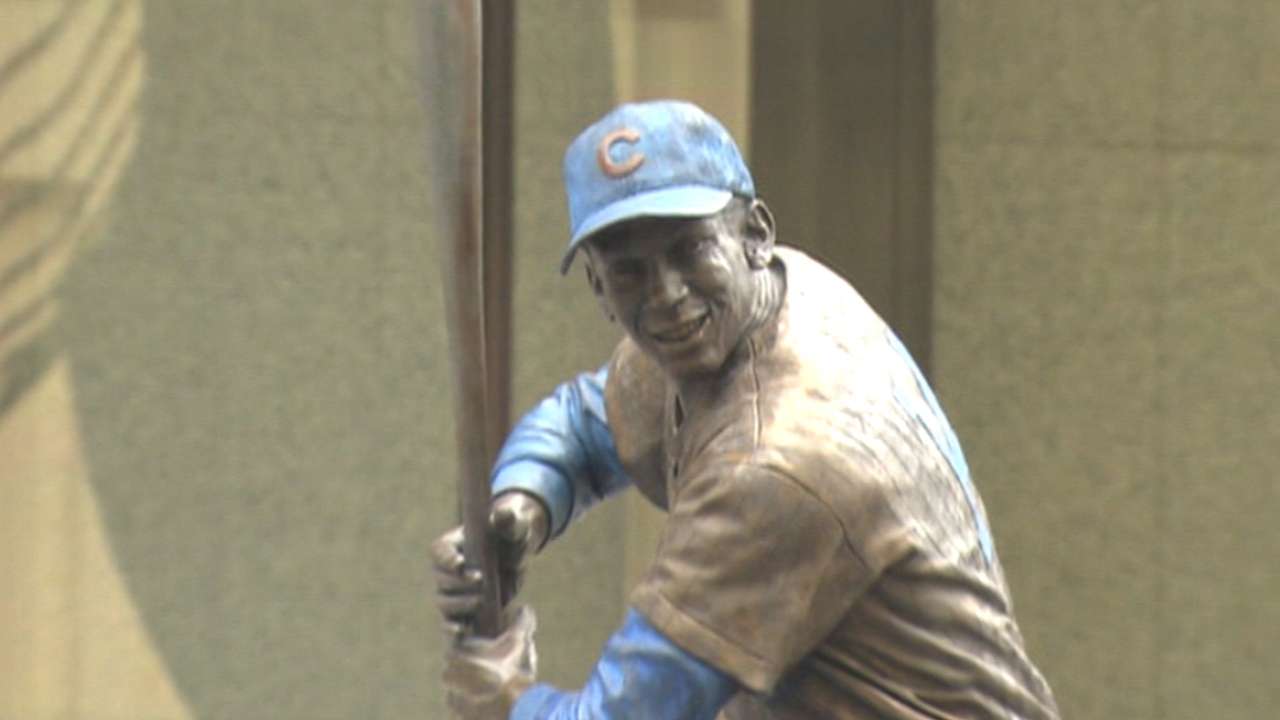 CHICAGO -- Chicago Mayor Rahm Emanuel and Ernie Banks' wife, Liz, placed a red, white and blue wreath Wednesday at the base of a bronze statue for Mr. Cub, relocated to Daley Plaza for a public memorial.
"We all know Ernie was Mr. Cub and you don't become Mr. Cub because you play a lot of baseball games or hit a lot of home runs," said Cubs chairman Tom Ricketts, who attended the brief ceremony. "You become Mr. Cub because you love the team, you love the fans, you love the ballpark more than anyone else.
"We all loved Ernie and we appreciate this opportunity for people to come by and pay their final respects to a great baseball player and, more than anything, a great person."
The statue, which had been removed from Wrigley Field for restoration when renovation work began at the 100-year-old ballpark, is now located near the Picasso statue in the outdoor plaza. Emanuel noted that some critics of the Picasso, which was dedicated in 1967, had actually lobbied for a statue of Banks at that time. Chicago City Alderman John Hoellen had immediately proposed replacing the 50-foot Picasso with a statue of Mr. Cub.
"When the Picasso was first put here, a lot of people didn't like it," Emanuel said. "They said, 'What are we doing with that statue? Why don't we have something like an Ernie Banks statue in Daley Plaza?' So we've finally done that."
The setting created a very appropriate Chicago backdrop, and people passing through the plaza stopped to take photos or pose for selfies with the statue. Some left flowers, signs and teddy bears.
"Ernie Banks was Mr. Cub and will always be known as Mr. Cub, and he always will be and always has been Mr. Chicago," Emanuel said. "We owe [Liz Banks] a debt of gratitude for sharing him."
Ernie Banks statue photos
Banks, who played his entire career with the Cubs from 1953-71, passed away Friday at the age of 83.
"He came here in 1953, and since that time, the city of Chicago has been totally enthralled and engrasped by his smile and that twinkle in his eyes and the way he took this city," Emanuel said. "He took it by storm, and I think you can see by the outpouring of love and affection for him that he has become what started as Mr. Cub, let's play two, to actually Mr. Chicago. He's been our greatest ambassador.
"What I loved about him, even when he was done playing the sport he loved, he was never done engaging kids, not only in sports but in their minds and what they could do. That's why there's been an outpouring of love and affection for him.
"He had that special twinkle that touched people in a way that not all athletes do. He knew the difference between being an athlete and also being what a role model truly is."
The Cubs contacted sculptor Lou Cella, 51, who created the Banks statue, last Friday when they learned of the Hall of Famer's death. The statue was in storage at a foundry in Kalamazoo, Mich., but the restoration work had not begun, Cella said. The artist, who lives in Arlington Heights, Ill., drove to Michigan to pick up the statue and then brought it back. It was installed in the plaza shortly after midnight Tuesday. The Cubs wanted it to be in place when people came to work Wednesday morning.
"There was a sensitivity that [the Cubs] were emphasizing," Cella said. "The level of respect really touched me. Ernie crosses the generations -- he was my grandfather's favorite player. My grandfather was born in 1898. He saw the Cubs win a World Series, which is hard for me to put my head around. He talked about him all the time. My father as well."
The statue, which was created from a photo from an Aug. 29, 1959, game when Banks hit a grand slam off Warren Spahn, will be on display in the plaza until Saturday, which would've been Mr. Cub's 84th birthday.
Joan McEneany, 57, and Bob Quane, 57, were in Daley Plaza on Wednesday morning, bundled against the cold, to see the statue. McEneany recalled getting free tickets to Cubs games for perfect attendance at school and would take the bus to Wrigley Field to see Banks, Ron Santo, Don Kessinger, Glenn Beckert, Fergie Jenkins and others.
"It was so much fun -- it was just, 'Let's play. Let's play two,'" McEneany said.
Both have gone to several Cubs games over the years and wanted to pay their respects to Banks. They planned on stopping at Harry Caray's restaurant to toast Mr. Cub as well.
"He just liked playing the game and was a good role model for everyone playing the game," Quane said.
"If there's one thing about Ernie, he really loved his fans as much as they loved him," Ricketts said. "It just seemed right that they have a chance to come over and pay their respects."
Fans had created an impromptu memorial at Wrigley Field near Addison and Sheffield streets, leaving flowers and signs there.
"Ernie was special," Ricketts said. "He was just this warm, kind, generous man who had all the time in the world for everybody. He touched people, he really did. He was just that special kind of guy."
Public visitation will be Friday and a memorial service Saturday at Fourth Presbyterian Church, 126 East Chestnut St., Chicago. The public visitation will be from 12-8 p.m. CT Friday at the church.
On Saturday, there will be limited public seating available for the memorial service, scheduled to begin at 10 a.m. CT. Several of Banks' teammates were expected to attend.
The Cubs will announce in-season plans to honor Banks at a later date. The team was expected to wear a patch on their 2015 uniforms in Banks' memory.
Carrie Muskat is a reporter for MLB.com. She writes a blog, Muskat Ramblings, and you can follow her on Twitter @CarrieMuskat. This story was not subject to the approval of Major League Baseball or its clubs.