Lowrie helps grow game with trip to Colombia
Shortstop joins Sports Diplomacy Program to host camps for at-risk kids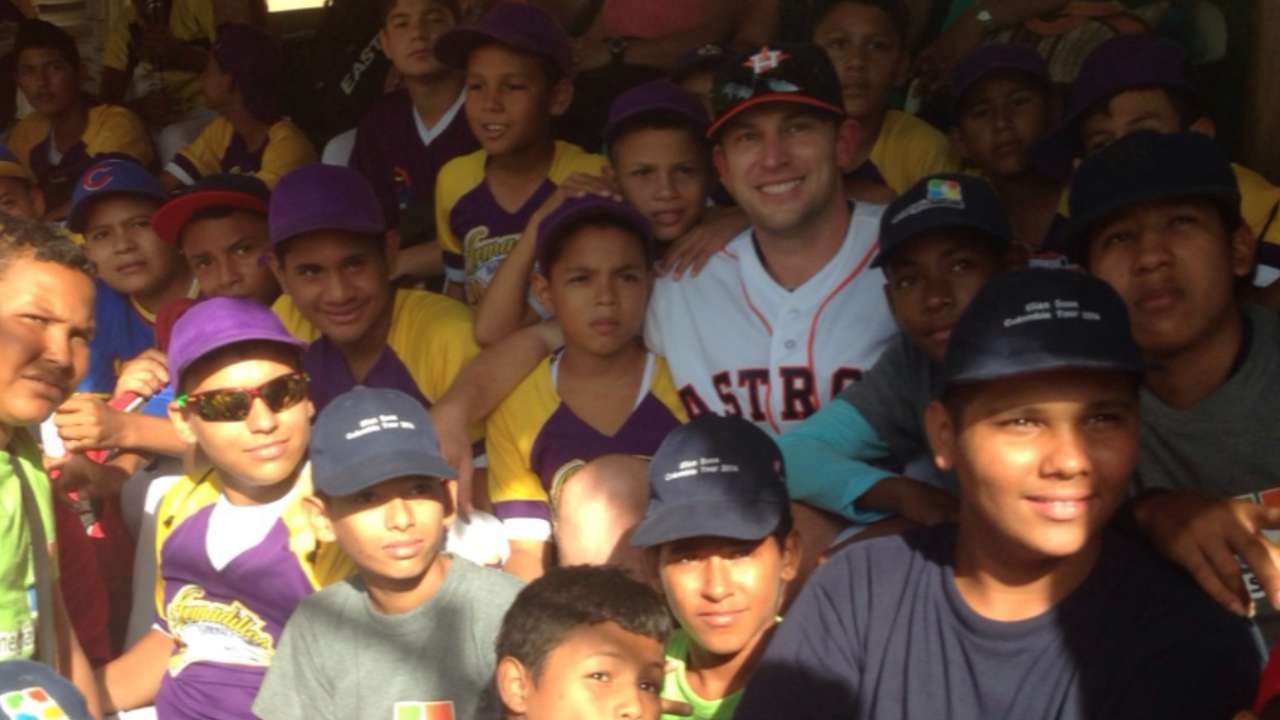 HOUSTON -- When the head of the Sports Diplomacy Program in Washington, D.C., wanted to get in touch with Astros shortstop Jed Lowrie to gauge his interest in serving as a sports envoy, he knew exactly who to call.
Lowrie's wife, Milessa Muchmore Lowrie, is a former Foreign Service Officer who served the Department of State as a diplomat based in Toronto and Mexico City.
It goes without saying she had a hand in connecting the State Department with her husband, who enthusiastically accepted the offer to travel to Colombia as part of Major League Baseball's Diamond Diplomacy program.
"We talked about it for a couple days to make sure logistically everything worked," Lowrie said. "This is a busier time of the year preparing for the season. Once all those questions were answered, it was an easy decision."
Lowrie visited Bogota, Cartagena and Barranquilla, and he carried out the program's goal to connect ballplayers with kids, and to promote the importance of education and of racial and gender inclusion that allows everyone to participate in sports.
Sessions were also designed to engage at-risk youth in sports programs to encourage leadership development and teamwork skills.
"It was getting into underprivileged neighborhoods where kids might not have the opportunity to talk to a Major Leaguer, or even get to interact with someone who has Major League experience," Lowrie said. "In some cases, these kids have never left their hometowns for anything, let alone for a baseball clinic. Reaching out to these underprivileged kids and giving them an opportunity to come out and play the game and learn a little bit about the game is what it's all about."
The Diamond Diplomacy program involved two Major League players -- Lowrie and Royals pitcher Jeremy Guthrie, who served as an envoy in Panama. The program also included Olympic softball gold medalist Jessica Mendoza, who was on the Panama trip. Olympian Ruby Rojas was scheduled to travel to the Colombian city of Santa Marta at the end of the month.
Lowrie's trip was quick -- three clinics in three days, and then back home to Houston. It was time well spent, however, with a jam-packed schedule mapped out each day.
"It was a great experience for me, and I hope it was the same for the kids," Lowrie said. "They had a lot of questions, and they were very interested in what I had to say. Hopefully that's a good sign."
Globalizing baseball was a priority throughout Bud Selig's tenure as Commissioner, and the effort will surely continue under Rob Manfred's administration. Sports envoys such as Diamond Diplomacy are just more examples of baseball's ongoing effort to touch every corner of the world.
"That was one thing I talked about with the kids down there," Lowrie said. "The more kids we can get out in general -- but specifically Colombia, because I was there -- the better it is for the game.
"For Latin players, Japanese players, Korean players that come into the game, it makes the game stronger and more viable worldwide. It's great for the game to have these different cultures and to have these different players come into the game."
Alyson Footer is a national correspondent for MLB.com. Follow her on Twitter @alysonfooter. This story was not subject to the approval of Major League Baseball or its clubs.