First full year in the books, Blackmon out to be better
Rockies' breakout star of 2014 fine-tuning swing to limit fluctuations in production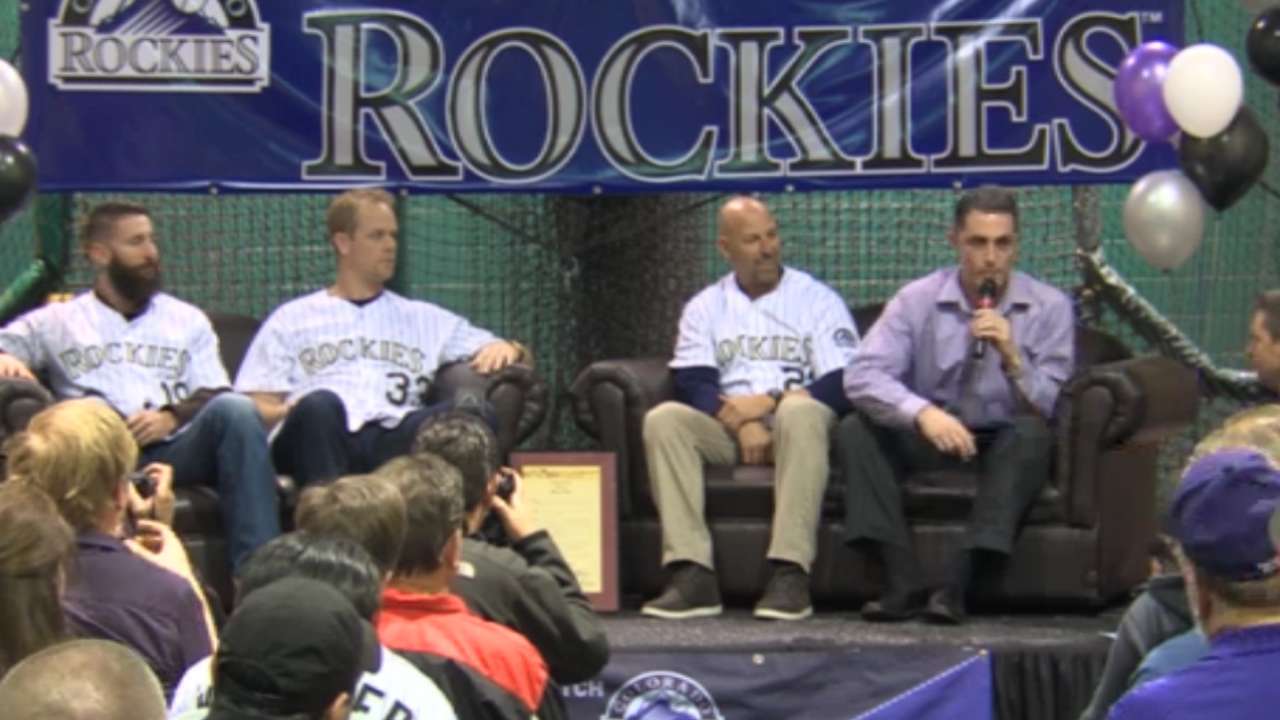 DENVER -- It only seems Charlie Blackmon has been around forever. He made his first appearance with the Rockies in 2011, and his epic beard makes it seem as if he trotted into his outfield position in the days of Julius Caesar. He'll turn 29 on July 1, so in baseball years, he's beyond young and in the so-called prime years.
Last year could be called the year of Blackmon's arrival -- an All-Star Game appearance and finally a full year of health and big league employment after foot and knee injuries limited his participation the previous three seasons. But Blackmon sees himself as a guy still on his way and looks to prove that he can't be defined by last year's statistics -- .288 batting average, 19 home runs and 72 RBIs, arrived at through wild production swings.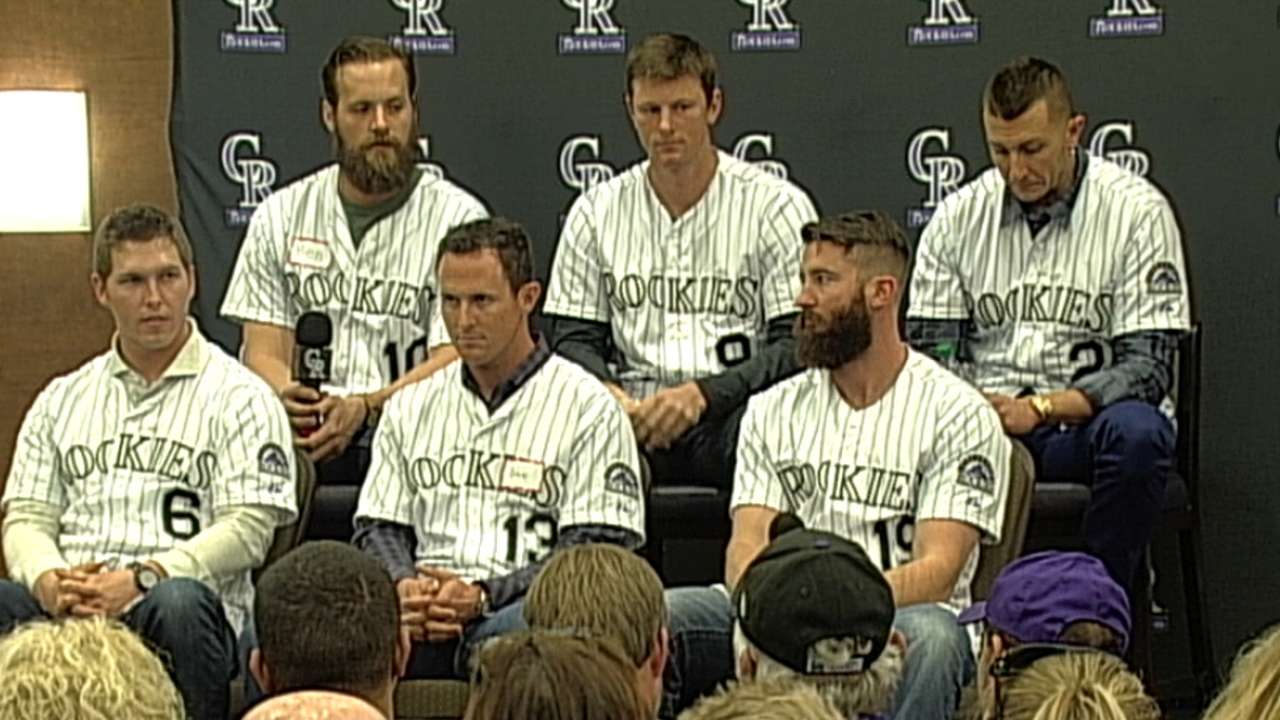 Keep in mind he was on a big league roster for the first time, learning to bat leadoff at the highest level, and experiencing the tricks and adjustments opponents go to when a player catches their attention.
"I had never played that much baseball," Blackmon said by phone during a Rockies Caravan stop in Boise, Idaho. "I started off real good and fought my way through the season, and by the end, I felt real confident. I felt I belong, and I contributed for a whole season."
Blackmon famously tied a club record for hits in a game by going 6-for-6 against the D-backs in the home opener, and he ended April at .374. He hit .271 the rest of the way, but had spikes of .315 in July and .286 in September. Even with the production swings, Blackmon hit all of his homers from the leadoff spot and finished just behind the Majors' leader from the top spot, the Brewers' Carlos Gomez (who hit 20 of his 23 homers from the leadoff spot).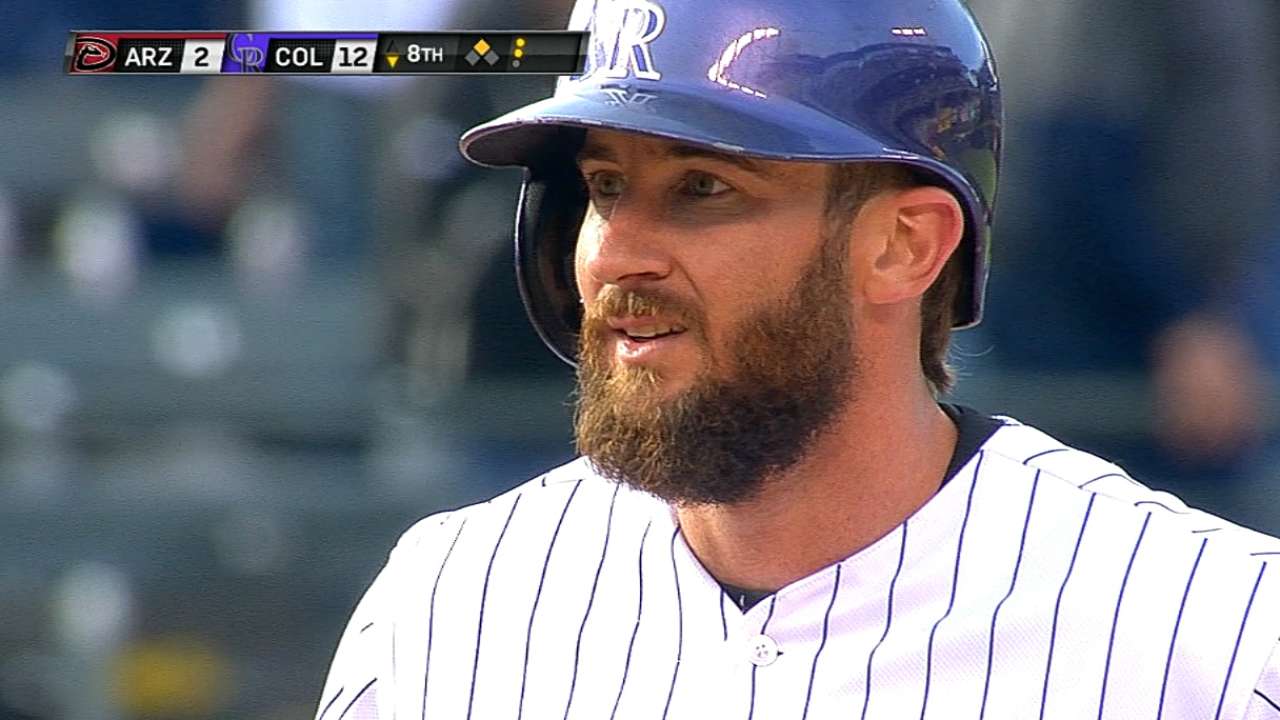 Blackmon also stole 24 bases (in 30 attempts) -- a skill development, considering he stole 30 at Class A Advanced in 2009, but never more than 19 in any other Minor League season. Like last offseason, when Blackmon worked on his speed to increase his versatility (73 games in right field, 69 in center, 22 in left), he's hoping more speed work makes him more effective at steals and taking extra bases.
But hitting consistency is the main focus. Blackmon said he has adjusted his hand positioning and quickened his start-up. Rockies advance scout Chris Warren pitched to Blackmon in the batting cage when he was in town for Rockies Fest, and Blackmon is in better position to hit the inside pitches that at times gave him trouble last year.
"I wouldn't say it's a shorter swing; it's that my swing plane is in the zone longer," said Blackmon, a left-handed hitter who could share center field with right-handed-hitting Drew Stubbs, but also play right when Carlos Gonzalez needs a rest. "My thought is I'll have a better chance to drive more baseballs.
"Last year, I swung the bat really well for extended periods. Going through the ups and downs of 162 games was a learning experience. I'm hoping to do things to become more consistent this year."
Thomas Harding is a reporter for MLB.com. Read his blog, Hardball in the Rockies, follow him on Twitter @harding_at_mlb, and like his Facebook page, Thomas Harding and Friends at www.Rockies.com. This story was not subject to the approval of Major League Baseball or its clubs.