Astros legend Bagwell to rejoin organization
Former first baseman will aid players as guest Spring Training instructor
HOUSTON -- Jeff Bagwell, who has been largely out of baseball since he decided not to remain as hitting coach of the Astros following the 2010 season, will return to the organization after accepting an offer from the team Tuesday to become a guest instructor at Spring Training.
Astros president of business operations Reid Ryan said Bagwell will be in Kissimmee, Fla., for a few days in March, marking his first appearance in spring camp in five years. Ryan and manager A.J. Hinch had worked for weeks trying to get Bagwell back in the fold, and Bagwell told Ryan on Tuesday he would lend his knowledge to the Astros.
"It's awesome," Ryan said. "He is the Houston Astros. He and Craig [Biggio] were big reasons why Minute Maid Park got built, and they took this club to levels it's never been before."
Bagwell, 46, played 15 seasons with the Astros and is the club's all-time leader in several statistical categories, including home runs (449) and RBIs (1,529). A former National League Rookie of the Year and NL Most Valuable Player Award winner, his No. 5 was retired in 2007.
After he retired, Bagwell served as a special assistant to the general manager and frequented spring camp before taking over as hitting coach midway through the 2010 season. He turned down the job in order to focus on his family when he was offered a contract for '11.
Ryan, the son of Hall of Fame pitcher Nolan Ryan, has worked hard to reach out to former players to be a part of the organization since he took his post nearly two years ago. On Friday, he had lunch with Hinch, Bagwell and his wife, Rachel, to close the deal.
"So Monday, [Bagwell] and I traded some messages, and today he and I talked about it and he said, 'Yeah, I would love to come down,' and he took us up on our invite," Ryan said. "He'll come down sometime in March and come to camp for a few days."
Bagwell's longtime teammate, Biggio, is a special assistant and makes an appearance in camp each season, along with special assistant Roger Clemens and Nolan Ryan, who's an executive advisor to owner Jim Crane. Former players Enos Cabell and Jose Cruz also spend some time in uniform in camp.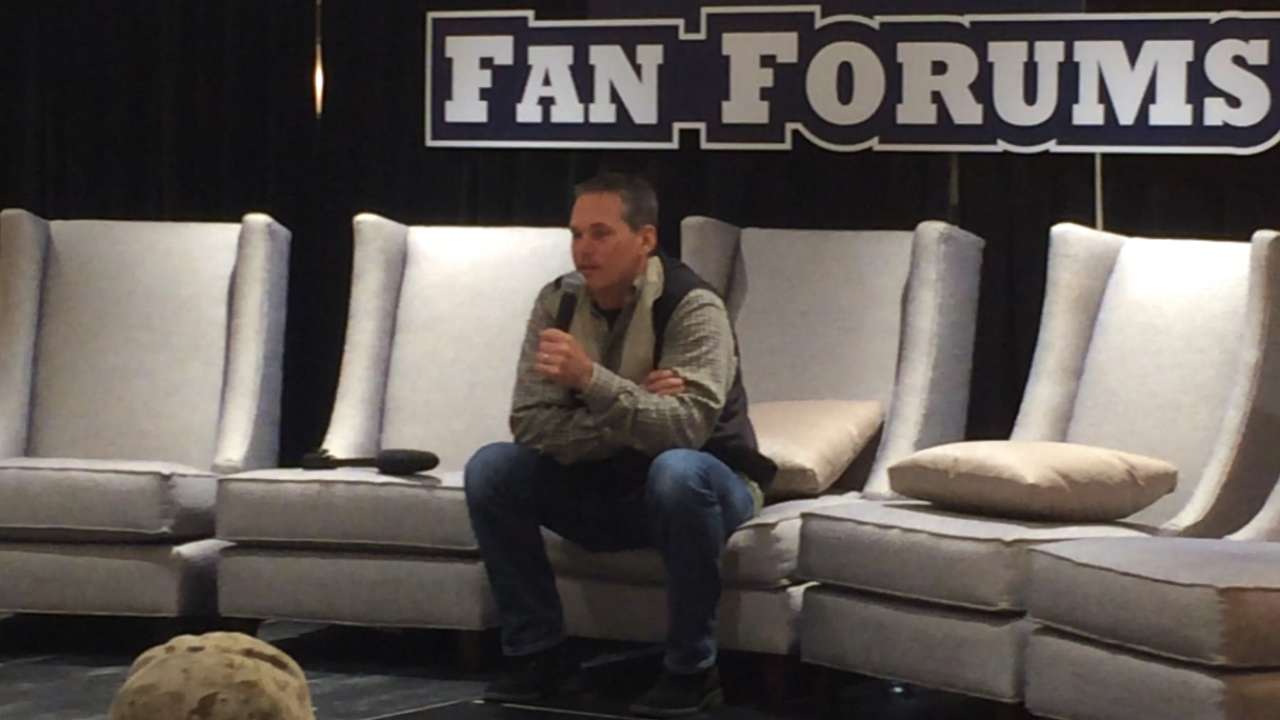 "Our history matters to our fans, and we've had some great players," said Reid Ryan, who's also reached out to Andy Pettitte, Roy Oswalt, Lance Berkman and Billy Wagner about being part of the organization. "I've visited with a lot of folks, and the one message from the Astros to our alumni is, 'You're welcome to be a part of the Houston Astros,' and it's one of the reasons we put alumni on all of our [winter caravan] stops this year.
"Not everybody can be a guest instructor, not everybody can be a special assistant to the GM or the president. We just don't have that much capacity for all of these great former players to be associated with the club on a full-time basis, but what we do have is the ability to make sure people know they're welcome. And when you have someone of Bagwell's stature who wants to give his time to come down and help some of the younger players, we should take advantage of it."
Hinch said Bagwell doesn't have a defined role as of yet.
"We'll work on it as the time comes, but he can help out in all facets of the game," Hinch said. "He was a very, very talented all-around player. He knows a lot about what it takes to win offensively, defensively and [through] baserunning. There's a lot he can offer and a lot I can get his opinion on."
Brian McTaggart is a reporter for MLB.com and writes an MLBlog, Tag's Lines. Follow @brianmctaggart on Twitter. This story was not subject to the approval of Major League Baseball or its clubs.