MLB.com Columnist
Marty Noble
Gripping tale: Monbouquette left lasting memory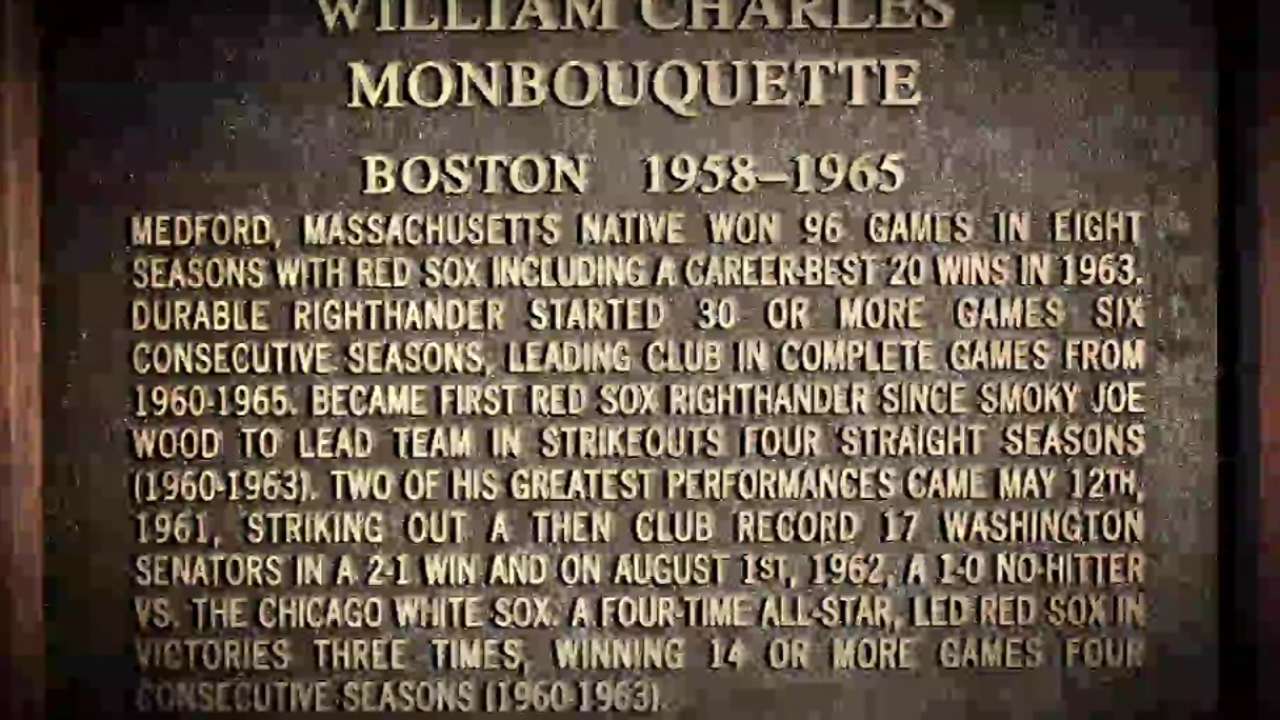 NEW YORK -- They were dark days for the Red Sox then, 1958-66. And oh, how I enjoyed them. I was a Yankees fan, a Mickey Mantle devotee, living just off the intersection of Tremont Avenue and the Grand Concourse in the Bronx. Fifteen cents and 15 minutes could get me to Yankee Stadium and often did.
The Sox seldom had done me wrong, but Ted Williams had denied Mantle a second straight batting title in 1957, and to a 9-year-old, that was a felony. I hated Williams for that indiscretion, and my hatred for him was transferred to all things BoSox. I couldn't like Carl Yastrzemski, Pete Runnels, Frank Malzone or Dick Radatz or that kid pitcher with the long, funny name -- Monbouquette.
Bill Monbouquette reached the big leagues and entered my New York-centric baseball awareness in 1958. I was 9, the prime time for obsessive baseball monitoring. I watched every game that WPIX, Channel 11 televised and listened to the others on WMGM radio (1250), a top-40 station in those days. I seldom adjusted the tuning dial on my transistor -- rock and roll and the Yankees, R&B duo Mickey and Sylvia most of the time and for 2 1/2 hours almost every summer day, Mickey and Yogi Berra. I got to know Mel Allen and Red Barber and later Phil Rizzuto via the radio and the old DuMont TV.
And I got to know -- know of -- Monbouquette, who died Sunday due to complications from leukemia at the age of 78.
Early on, Monbouquette didn't hurt the Yankees much. But he was a full-fledged enemy because of his uniform and status as a teammate of Teddy Ballgame. Williams was my target the first time I spoke the oft-used present participle to condemn a Yankees opponent. And I learned to use the word for Monbouquette as well.
Over the years -- years of success and then decline for the Yankees and years of sub-mediocrity for the Sox -- Monbouquette beat my team as often as he beat any opponent. His career record against the Yankees was merely 14-11; seemed like 140-11 to me. Williams retired, Yaz succeeded him as the Yankees' primary nemesis. But for no reason I can recall now, Monbouquette bothered me most.
Monbouquette produced a 20-10 record in 1963 when the Yankees won the American League pennant for the fourth straight season. He beat them four times in five starts. I reveled in his misfortune -- he led the AL in losses (18) -- in 1965. Serves him right, I said.
Then, the Yankees sunk like a stone in 1966, 10th place. And worse, they signed that right-handed pitcher with the long, funny name after he'd been released by the Tigers on May 15, 1967. I was certain another 10th-place finish would result because of his presence. Maybe 11th place. It didn't happen, though. My baseball awareness diminished aside from the Sox's World Series -- Bob Gibson's Series -- in '67 and the Mets' two years later.
Monbouquette was gone from the big leagues in 1969, never again to enter my thinking. I hoped.
A man with a massive right forearm shook my right hand in Spring Training in 1979. His grip was so strong, friends almost were forced to call me Lefty. Even Frank Howard didn't squash my hand that way. I was in my eighth year covering baseball and my third year covering Spring Training -- Mets in St. Petersburg and Yankees in Fort Lauderdale. I had outgrown my affection for the Yankees and become what I thought was an objective reporter who had no favorites.
The hand that had squeezed the life out of mine belonged to Monbouquette. He was working for the Mets as a Spring Training instructor. A brief conversation that first day convinced me he wasn't related to the devil, and subsequent greetings and conversations persuaded me to adjust my sense of the man I had hated when I was a teenager with a pinstriped brain. He became a favorite.
I called him Mombo, like the dance -- replacing the second consonant in his name with an M. He always corrected me. I never changed my pronunciation. He began to call me "Moble."
Monbouquette was a great guy it turned out; down to earth in every way, unapologetic for his views and quite sincere. I scolded myself for having rooted against him and for having enjoyed whatever misfortune he endured. Lesson learned: Don't judge a player by his uniform.
Monbouquette told me stories of his no-hitter, against the White Sox on Aug. 1, 1962, and without bragging, about how he had stood up for Pumpsie Green, the first African-American player with the Red Sox, the last team to integrate. "We had guys who weren't treating him like a teammate," Monbouquette said. Aware of that right forearm and reputation, they changed the way they treated Green.
The no-hitter tale was vintage baseball. Bill McKinley was the plate umpire that night in Chicago. Luis Aparicio was batting in the ninth inning with two out and an 0-2 count. He checked his swing on a slider low and away. "Even the Chicago fans booed the call," Monbouquette said. "One guy yelled, 'They shot the wrong McKinley.'" Aparicio struck out on the next pitch.
Mombo wasn't an on-the-pension-plan coach for the Mets in 1979, but he was around. We became friendly. When George Bamberger replaced Joe Torre as manager for the '82 season, Mombo became the pitching coach, though Bamberger, an ultra-successful pitching coach with Earl Weaver's Orioles, was in charge of the pitchers.
Still, Mombo was there in uniform, providing insights and anecdotes that filled my memory banks. What a delightful guy. We talked a lot before and after games. His roots were Canadian. He'd been born in Medford, Mass., in 1936. Before he died, Monbouquette had fought for his life for the better part of five years. He lasted longer than his doctors had anticipated. No surprise.
The last time he and I spoke -- three or four years ago -- he had learned the hospital was affiliated with Harvard. "The only way I could get into Harvard was to get sick," he said.
Marty Noble is a reporter for MLB.com. This story was not subject to the approval of Major League Baseball or its clubs.