MLB.com Columnist
Jonathan Mayo
Pipeline Perspectives: Turner to turn heads with steals
Part of trade with Nats, Padres prospect has carried college success into Minors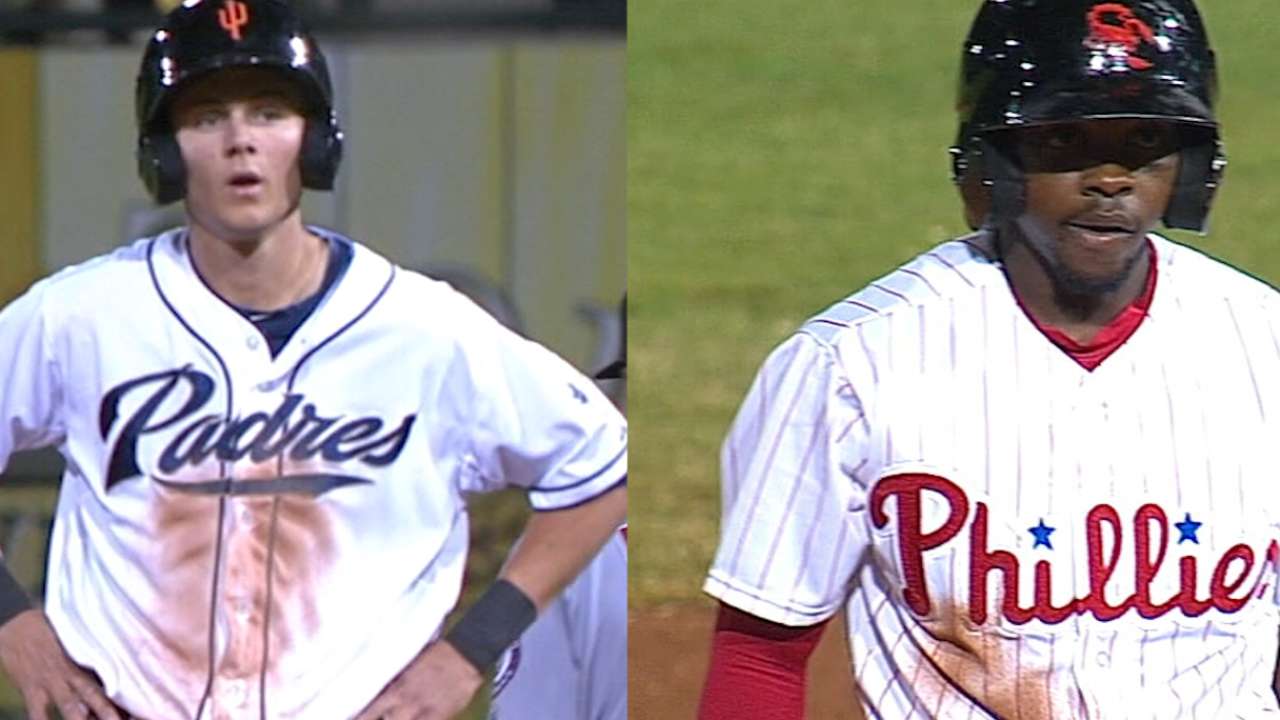 There's a good amount of subjectivity regarding baseball prospects. With the evaluation of talent being in the eye of the beholder, finding consensus is often difficult. Even Jim Callis and Jonathan Mayo of MLBPipeline.com don't always see eye to eye. They discuss their viewpoints regularly in a feature called Pipeline Perspectives. Submit a topic for them to debate.
We feel the need. The need for speed.
Cheesy movie references aside, we are turning the Pipeline Perspectives focus on guys who can run. Or, to be more precise, guys we think can use their speed to steal a lot of bases.
In this, our final chapter in our statistical prediction series, Jim Callis and I are making our selections of who we think will lead the Minor Leagues in stolen bases in 2015. This is the second straight year we've tried to get this race right, and after how 2014 went down, no one would blame me for being cautious with this year's prognostication.
I went with the Padres' Travis Jankowski a year ago, and the outfielder promptly got hurt early on and played just 46 games. Meanwhile, Jim took fellow Padre Mallex Smith, and he was right on the money. This year, he went with the Phillies' Roman Quinn, a worthwhile choice.
After last year, I should make a safer bet, not take any chances, right? But that would be boring, so I'm going with the worst kept player to be named secret in Trea Turner.
That's right, not only am I staying in the Padres' organization, for now, I'm going with the guy who is going to switch systems (to the Nationals) come June to finish off the three-team deal that brought Wil Myers to San Diego.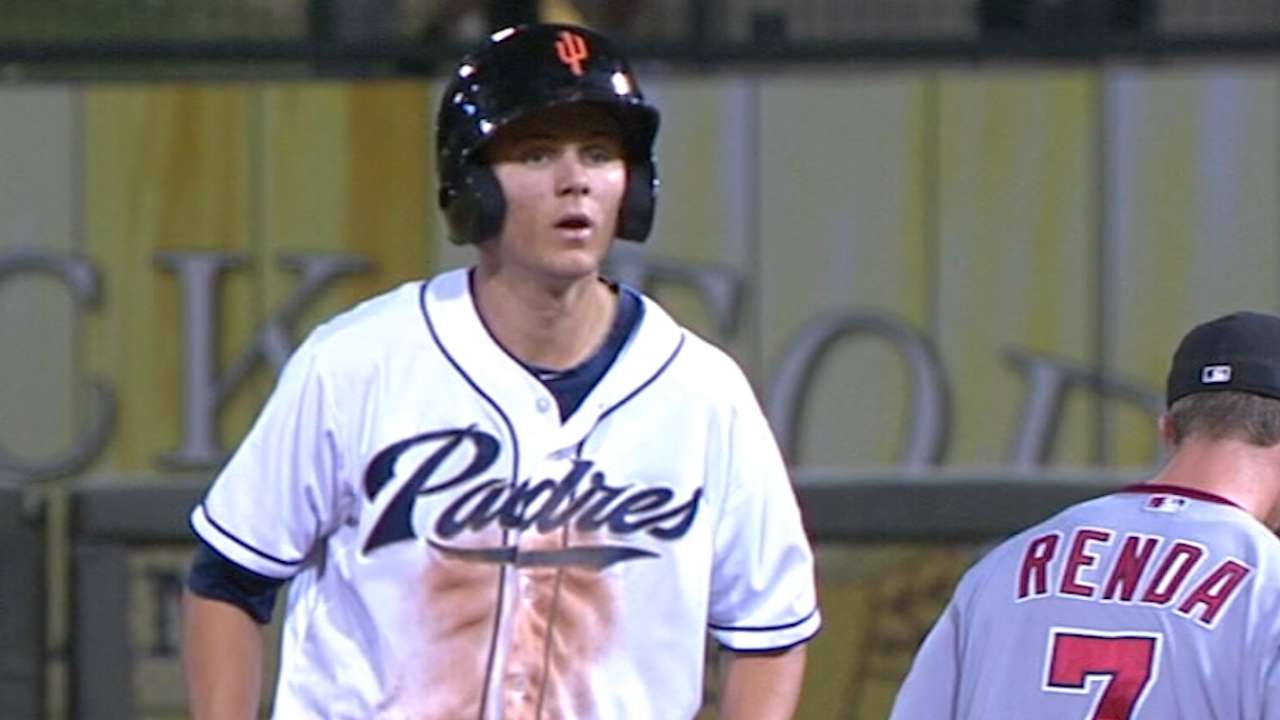 If it hadn't been for the trade, picking Turner would be about as boring a selection for this contest as anyone in the Minor Leagues. He has top of the scouting scale speed, a 75 or 80 according to scouts, on the 20-80 scale. He's already shown an ability to use it well on the basepaths.
It started with his stunning freshman year at North Carolina State, when he swiped 57 bases in 61 attempts. That set an N.C. State single-season record and topped all basestealers in the nation that year. He didn't run as frequently as a sophomore or junior, but he did steal 56 bags in 66 tries over those two years (some of that is because he was asked to hit in the middle of the lineup in 2014). That's 113 stolen bases in his college career, making the previous school record of 73 seem like child's play. That's 113 steals in 173 games, which isn't all that much more than a big league 162-game season, is it?
The transition to the pro game certainly didn't slow him down. Turner stole 23 bases in 27 attempts during his pro debut. He added seven more -- without getting caught -- while only playing in nine Arizona Fall League games as part of the Surprise Saguaros' taxi squad. In case you've lost count, that's 30 steals in 34 tries as a pro, 143 in 161 attempts when you add college to what he's done as a Padre so far. That's an 88.8 percent success rate. As a comparison, National League leader Dee Gordon was successful 77.1 percent of the time. Jose Altuve in the American League was more efficient at 86.2 percent.
Summing all of this statistical evidence up is easy: Turner can really run, and stealing bases is a huge part of his game. But it's also important to point out it's not the only part. Minor League history is full of speedsters who stole a bunch of bases at the lower levels, but couldn't hit enough to keep it up once they moved up the ladder.
That's not a concern with Turner. He's made good adjustments at the plate, especially after starting off slowly during his junior year at N.C. State, when he perhaps was trying to do too much. While his swing can get a little long at times and he'll need to make sure to tone it down some to keep the strikeout rate in check, he is going to hit for average. And he's going to get on base. He has strength: He's not one of those track stars who put up big batting average numbers early on because they beat out infield grounders all the time. The guy can hit, and he showed during his pro debut that he understands what it will take to be a top-of-the-order catalyst. He'll be starting in the California League, a great place to hit and run (just ask Smith).
Picking Turner is not without risk, obviously (it's why I left it to the end). He's in a most unusual situation this year, having to play for the Padres' organization until he's eligible to officially be traded to the Nationals, knowing the whole time he's on borrowed time as a member of the Friars.
How will that play on his psyche? That's not what worries me. It's how much the Padres will allow him to run in an effort to keep him healthy until trade time that is a concern. If he gets hurt, obviously there will be a contingency plan trade-wise. Will the Nationals even want him to run as a result?
Maybe these are unfounded issues. Here's hoping the Nationals and Padres will want Turner to play the game he always does, so both organizations appear to be on the up-and-up, and so the Nats can show what a savvy trade it was. If that happens, then Turner has a chance to -- can't resist -- run away with this one.
Jonathan Mayo is a reporter for MLBPipeline.com and writes a blog, B3. Follow @JonathanMayoB3 on Twitter. This story was not subject to the approval of Major League Baseball or its clubs.