Wilhelmsen will move his way into any role for Mariners
Versatile reliever is a 'long shot' to earn spot in deep rotation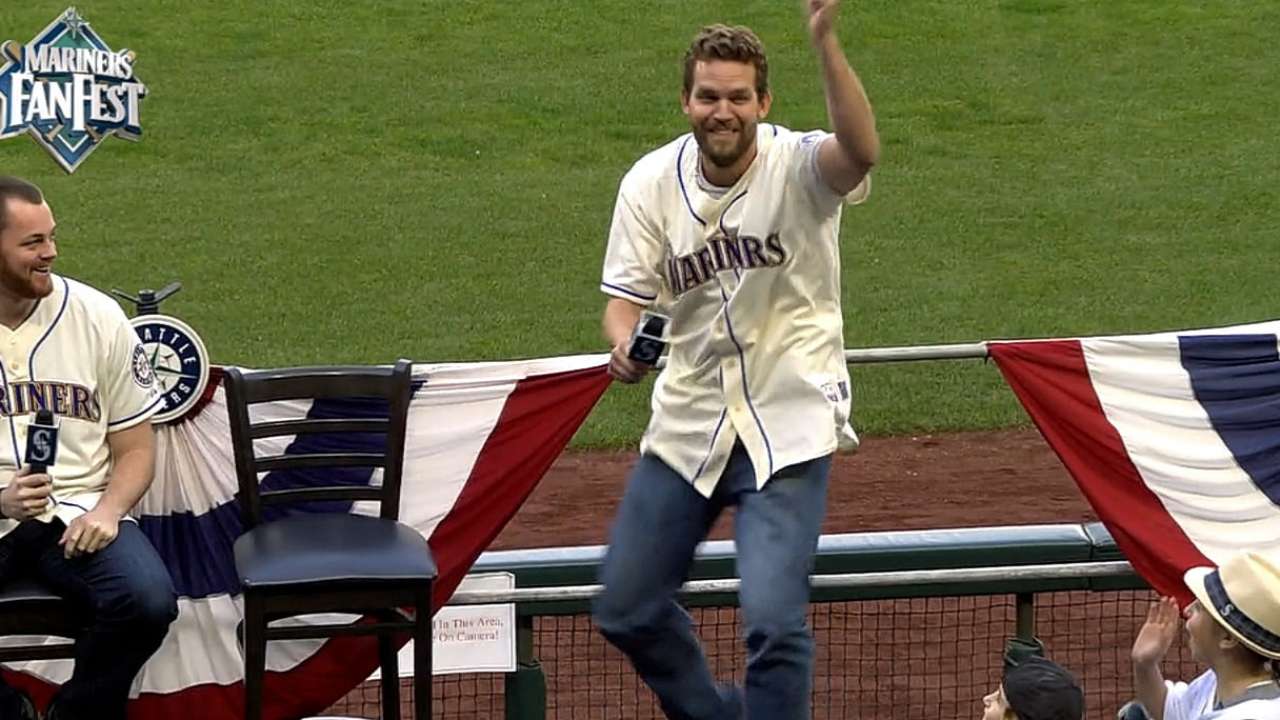 SEATTLE -- Reliever Tom Wilhelmsen proved his versatility -- and personality -- once again at last weekend's FanFest with several impromptu singing and dancing performances atop the Mariners' dugout at Safeco Field. But the looming question for Wilhelmsen now figures to be where exactly he fits into Seattle's pitching plans when the games begin this spring.
Wilhelmsen is a unique talent, and not just in terms of his entertainment value for fans and fellow relievers. After getting out of baseball and working as a bartender from 2004-08, the lanky right-hander became one of the game's better human-interest stories by landing a bullpen job with the Mariners in 2011 and saving 53 games as Seattle's closer from '12-13.
After losing that role during a rugged stretch in 2013, Wilhelmsen reemerged as a potent long reliever last year, proving so valuable that manager Lloyd McClendon called him "the glue" that kept the bullpen together and openly wondered about the big man's potential as a starter.
Those plans appear shelved for now, with the Mariners acquiring veteran southpaw J.A. Happ during the offseason to join a rotation that already returns five other starters in Felix Hernandez, Hisashi Iwakuma, James Paxton, Roenis Elias and Taijuan Walker.
But McClendon hasn't totally ruled Wilhelmsen out as a starting candidate, though he admits it's probably not in the cards at the moment.
"I don't think it's totally dead," McClendon said. "I would say it's probably a long shot. My plan, as we speak right now, is to maybe stretch him out in spring and just play with it a little bit and see what happens, but I think it's a long shot. He was just so good in the role he was in, it'd be hard to take him out of that role."
Wilhelmsen was the man McClendon went to last year if any of his starters got in trouble early, capable of bridging the gap to his late-inning relievers by pitching several frames and allowing others to stay in their normal roles. If all went well, he was available as a tough seventh- or eight-inning right-hander. And in two situations, he was called on as a spot starter to fill gaps in the rotation, though he lasted just 1 1/3 innings in a late-season shot at Toronto.
For the year, Wilhelmsen posted a 2.27 ERA while allowing just 47 hits in 79 1/3 innings, with opponents batting .171. He had the most innings and lowest WHIP of any Mariners reliever and put up a 0.69 ERA in four relief outings of three or more innings.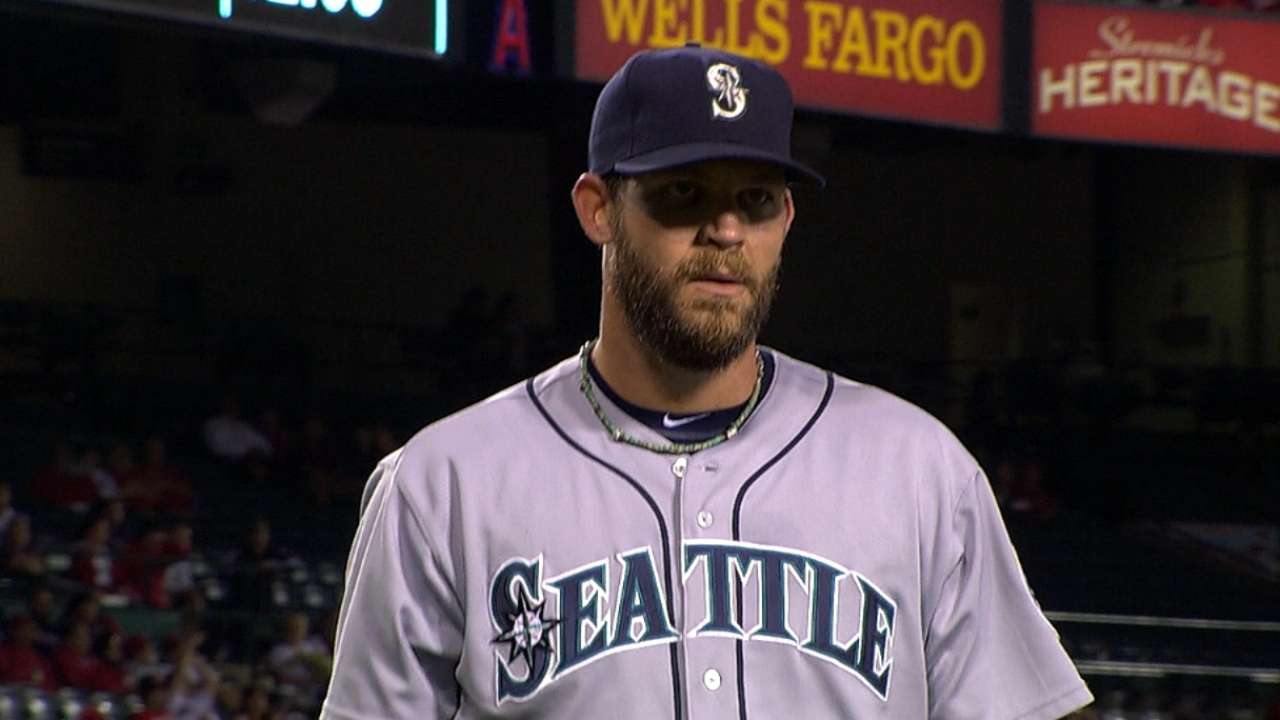 Wilhelmsen said he hadn't talked with McClendon yet about his potential role in 2015, but he wasn't worried about it. Like most of the Mariners, he's more concerned about taking the next step as a team.
"I did the best I could," Wilhelmsen said when asked to evaluate his 2014. "I worked hard and tried to make the most out of every opportunity. I was pretty happy with that.
"It was a successful season. One game shy, but overall a big step from where we were a couple years ago. Whatever role I can possibly fill to help the team win, I'm happy doing."
The 31-year-old Arizona native pitched multiple innings in 24 of his 57 appearances last year, a big adjustment for a one-time closer, but he said he didn't stress over the extended role.
"I really tried not to change anything at all, [other than] try to simplify a little bit," Wilhelmsen said. "If I was going in in the fourth inning, I knew I'd have to throw two or three innings and I just really attacked the zone. But it's not like you don't attack the zone any other time. It's the same thing. You have to get outs."
That will be true whatever role Wilhelmsen fills this coming year. And if he keeps doing it as well as he did in 2014 and helps the Mariners reach the postseason, there figures to be even more dancing in the big man's future.
Greg Johns is a reporter for MLB.com. Follow him on Twitter @GregJohnsMLB as well as his Mariners Musings blog. This story was not subject to the approval of Major League Baseball or its clubs.