MLB.com Columnist
Jim Callis
Pipeline Perspectives: Quinn the top Minor League burner
After impressive AFL showing, Phillies prospect primed to take stolen-base crown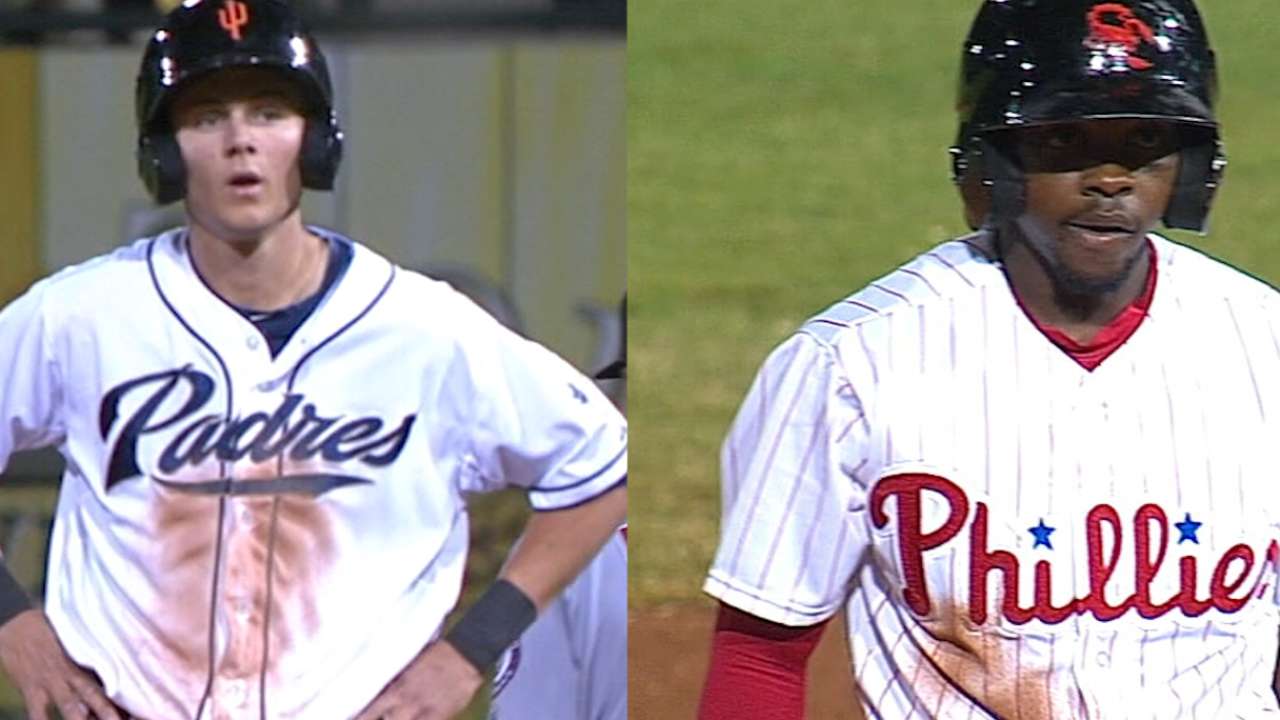 There's a good amount of subjectivity regarding baseball prospects. With the evaluation of talent being in the eye of the beholder, finding consensus is often difficult. Even Jim Callis and Jonathan Mayo of MLBPipeline.com don't always see eye to eye. They discuss their viewpoints regularly in a feature called Pipeline Perspectives. Submit a topic for them to debate.
The Florida Panhandle produced several notable speedsters for the 2011 First-Year Player Draft. The fastest of them all was Gulf Coast Community College outfielder Terrance Gore, who rode his quickness alone to a spot on the Royals' postseason roster last fall.
Rickards High (Tallahassee, Fla.) outfielder Mallex Smith didn't sign in 2011, attending Santa Fe Community College (Gainesville, Fla.) before joining the Padres as a third-round pick in 2012. He has run wild in pro ball, stealing 169 bases in 265 games and leading the Minor Leagues with 88 swipes in 2014. San Diego sent Smith to the Braves in the Justin Upton trade in December.
The best player among the Panhandle speed demons, however, is the Phillies' Roman Quinn, a product of Port St. Joe High. Quinn is the fastest legitimate prospect in the game, capable of getting from home plate to first base in less than four seconds from either side of the plate. He turns in sub-6.4-second times in the 60-yard dash and was clocked at 14 seconds around the bases on an inside-the-park home run in 2013.
Quinn's career has yet to really take off for a variety of reasons. That's about to change, however, as he's my pick to dethrone Smith as the Minor League steals leader in 2015.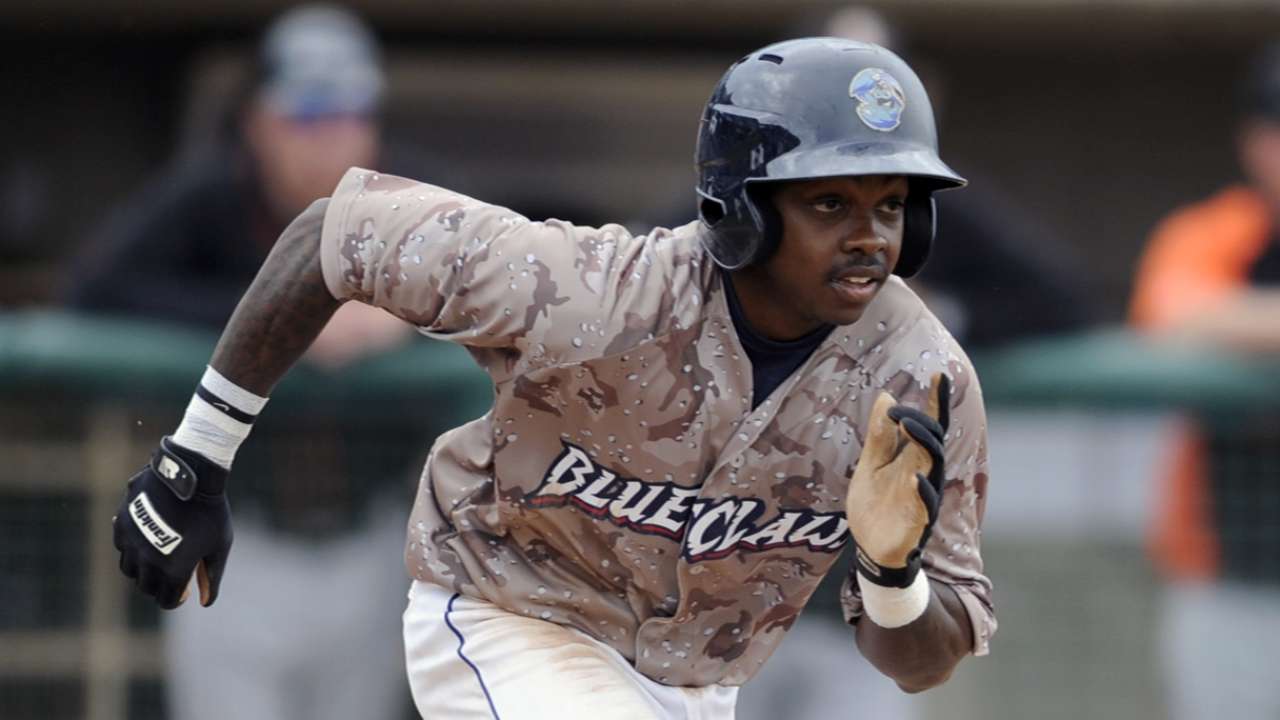 Pipeline Perspectives forecast the Minor League stolen-base race last year as well, and I must pat myself on the back for correctly choosing Smith. I like Quinn in 2015 because I think he's better equipped than Smith to handle Double-A pitching.
Jonathan Mayo's choice of shortstop Trea Turner (who will head from the Padres to the Nationals in June as the player to be named in the Wil Myers trade) is an inspired one. Here's hoping Turner avoids the fate of Jonathan's 2014 pick, Padres outfielder Travis Jankowski, who broke his left wrist three weeks into the season.
Quinn has had injury issues of his own, playing just 221 games since turning pro four years ago. He waited until the then-Aug. 15 signing deadline to sign for an above-slot $775,000 as a second-rounder in 2011, so he didn't make his debut until the following year. When Quinn graduated to full-season ball in 2013, an errant pitch broke his right wrist and ended his season in late June.
Quinn then ruptured the Achilles tendon in his right leg doing sprints during the offseason, costing him the first six weeks of 2014. He regained his top-of-the-scale speed and grew more comfortable as the year progressed, stealing 23 bases in the final 42 games. Quinn continued to run wild in the Arizona Fall League, which he led with 14 swipes in 24 contests.
Scouts still question Quinn's offensive upside, as he's a career .259/.346/.375 hitter who has struck out in 21 percent of his plate appearances. He has more pop than expected for a 5-foot-10, 170-pounder -- and that listed size might be charitable -- but he gets caught up trying to drive the ball more often than someone with his wheels should. Quinn's sole focus should be getting on base and creating havoc with his speed.
Quinn showed more patience in the AFL, and he'll be more dangerous than ever if he can bring that discipline with him when he ascends to Double-A Reading this year. A natural right-handed hitter, he has batted .316 from that side but just .237 as a lefty. Quinn gets down the line so quickly from the right side of the plate that he might be best served by giving up switch-hitting.
One thing that should help Quinn offensively is returning to his natural position in center field. Philadelphia tried to turn him into a shortstop, but it didn't work, as he made 61 errors in 149 games. Quinn shifted back to center in mid-June last year, a move that should make him more comfortable and allow him to concentrate more on his hitting.
If Quinn can refine his approach and everything comes together, he could be a quality leadoff hitter and defender in center field. Even if he doesn't mature at the plate, he should have a big league career as a reserve outfielder who can contribute with his speed and his glove. While Quinn's long-term prognosis has yet to be determined, his immediate future should include the Minor League stolen-base crown.
Jim Callis is a reporter for MLB.com and writes a blog, Callis' Corner. Follow @jimcallisMLB on Twitter. This story was not subject to the approval of Major League Baseball or its clubs.