Padres counting on bounceback year from Gyorko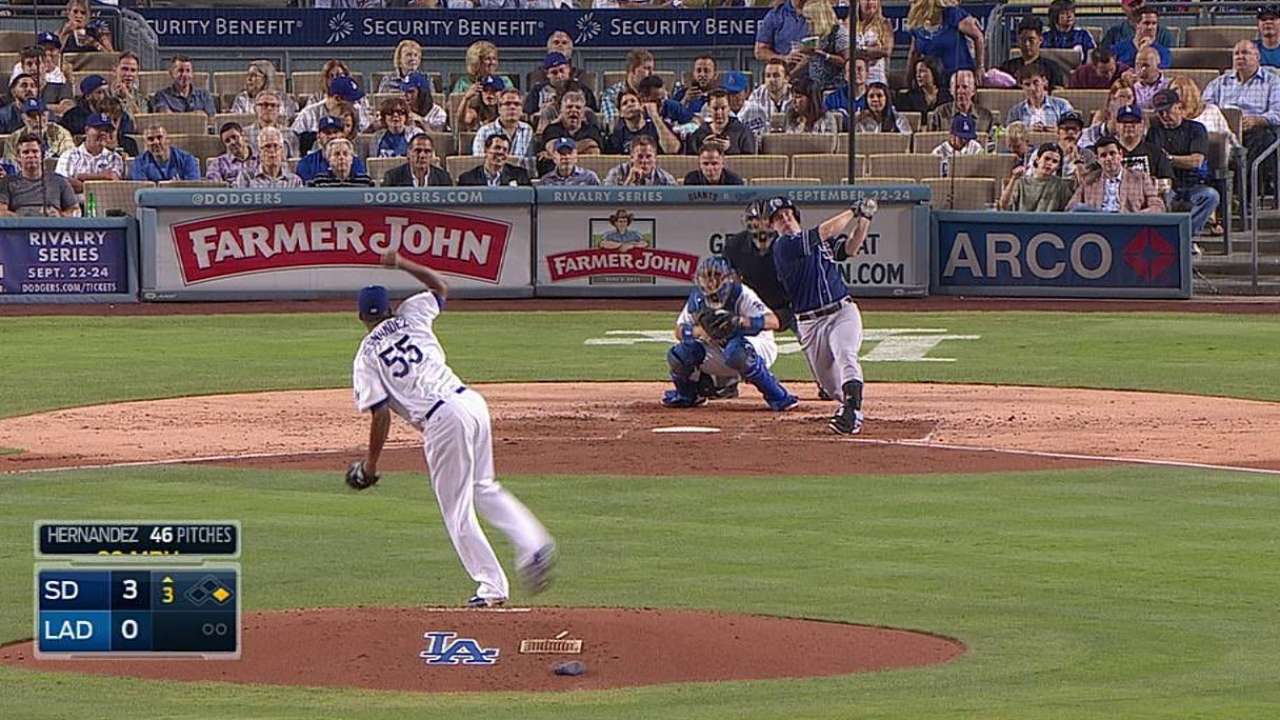 SAN DIEGO -- For as much has been made, and rightfully so, about the Padres' revamped lineup this offseason, the team won't solely rely on the newcomers to improve what was a woeful offense in 2014.
If the Padres are to make headway in the National League West, they'll need some significant bounceback seasons from the incumbents as well, none more notable than second baseman Jedd Gyorko.
After a promising rookie season in 2013 in which he drilled 23 home runs, plus-offensive production for a middle infielder, Gyorko got off to a rough start in '14, hitting .156 in April before later missing time with plantar fasciitis in his left foot, an injury that limited him to 111 games.
The final line -- he hit .210 with 10 home runs and with a .280 on-base percentage -- made it one season Gyorko would just as soon forget, though he's attentive enough to realize what got him into trouble in the first place.
"I think I maybe put a little too much pressure on myself," Gyorko said. "We were struggling as a team. And I think all of us, not just myself, felt like we needed to come up with that big hit to get us going. It's hard to hit when you put that kind of pressure on yourself."
By the end of April, Gyorko had 14 hits in his 93 at-bats with one home run, which certainly wasn't the return the club had in mind when they gave him a five-year, $35 million contract earlier in April -- though he's quick to point out the pressure he felt had nothing to do with the contract.
It was all about trying to help kick start what would become baseball's worst offense, one that eventually led new general manager A.J. Preller to make significant upgrades, adding outfielders Matt Kemp, Justin Upton, Wil Myers, catcher Derek Norris and infielder Will Middlebrooks last month.
Manager Bud Black feels a healthy Gyorko will fit right in with the rest of those hitters and will look a lot more like the hitter who made a big first impression in the big leagues two years ago.
"We saw in 2013 what Jedd can be, and I think there's more to Jedd based on 2013," Black said. "I think last year there were a lot of factors that went into his season that he expected or adjusted to, but that is something he's hopefully learned from. It's a tough game. You've got to work and stay on top of it. In that regard, I think he learned a lot."
Gyorko hit .162/.213/.270 in 221 plate appearances before landing on the disabled list. He was better when he returned on July 28, posting a .260/.347/.398 line in 222 plate appearances. Better still, Gyorko raised his line-drive rate from 16.6 percent to 27 percent, according to FanGraphs, after returning from the DL.
"He was better. I think he started making some adjustments, some mechanical, some at-bat to at-bat in terms of pitch selection," Black said. "Before, you saw him chasing pitches up in the strike zone and also sliders away. I think that a lot of that was him wanting to be aggressive and wanting to help the team."
Gyorko didn't need to see the numbers to know he was in a better place.
"When I came back, I felt way more comfortable," Gyorko said. "I was just trying to get a good pitch to hit, put a good swing on it and hit it hard … hit line drives and not worry about trying to hit home runs."
Which leads Black to believe that with the additions of hitters like Kemp, Upton, Myers and Norris that Gyorko won't have to feel the need to carry the offense.
"He's much more like 2013 than he was 2014," Black said. "… I would place my bets on Jedd Gyorko."
Corey Brock is a reporter for MLB.com. Keep track of @FollowThePadres on Twitter. This story was not subject to the approval of Major League Baseball or its clubs.