Apprehensive at first, Morneau finds home with Rockies
Longtime Minnesota slugger adjusts quickly to Colorado, wins batting title, serves as team leader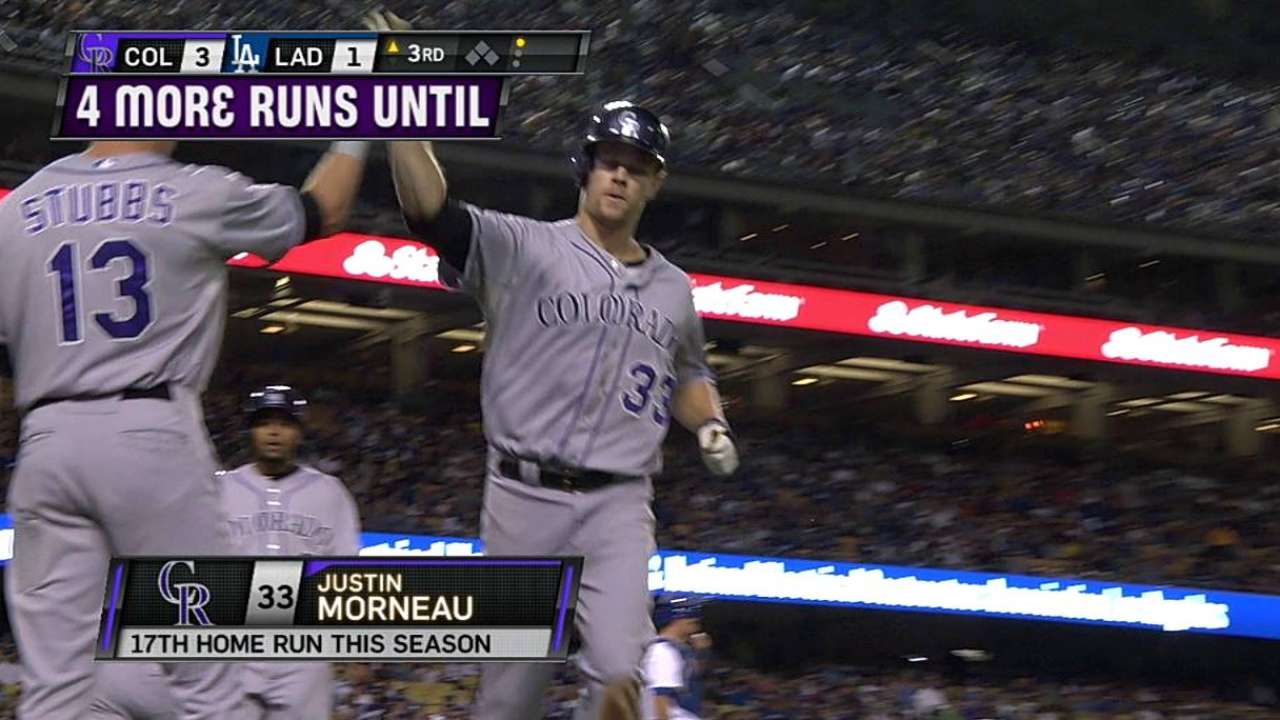 DENVER -- First baseman Justin Morneau wasn't sure how he'd fit with the Rockies when he signed with them before last season. He was a Twins mainstay from his Major League debut in 2003 until August 2013, when he was dealt to the Pirates -- where he helped during a playoff run but admitted he felt like an outsider.
Morneau did more than fit with the Rockies. He won the National League batting title in 2014. His professionalism and mature hitting approach were part of the reason the Rockies, in need of pitching, asked such a high price in trade talks that the Marlins backed away. On top of it all, Morneau found a home with his new team.
"You get down to Spring Training and see all the purple, it takes a little getting used to at first," said Morneau, earning $9 million this year at the end of his contract, which has a $9 million mutual option for 2016, or a $750,000 buyout. "Now I'll reach for a shirt and it'll be purple. That's one of my colors.
"It's funny, it goes in stages throughout your career. This is the next stage and hopefully it lasts for a long time. I was glad that after the Winter Meetings, I was still a Rockie."
Morneau, who turns 34 on May 15, solidified his role as an offensive leader by showing a hitter can go from ultra-friendly Coors Field to the road, in a National League West with mostly pitchers' parks, and not have his effectiveness come and go. His .319 league-leading average broke down to .327 at home and .309 on the road, and his OPS breakdown was .879 home, .839 road.
The even-keel performance was eye-catching, because it was so different from his team. The Rockies' .228 road batting average tied for second worst in club history, and Colorado set a dubious club record with 60 road losses. The lengthy injury-related absences of Troy Tulowitzki, Carlos Gonzalez, Nolan Arenado and Michael Cuddyer (who signed with the Mets this winter) were part of the problem. Still, whoever is on the field will need an example like Morneau, who struggled when the Twins moved from the hitter-accommodating Metrodome to Target Field -- which was tough for lefty hitters -- and can pass the lessons of unselfishness to the Rockies.
"Anytime I felt I needed an extra-base hit, hit for power, I felt like I had to pull the ball," Morneau said. "I really got away from my swing.
"That was part of what coming here last year helped me do, get back to using the whole field. A lot of those big road parks, especially in our division -- San Diego, San Francisco, L.A. -- it's really hard to hit opposite-field home runs, and their pitching staff knows how to hit in their home ballpark. If we use the whole field, have a solid approach where it's not dependent on power and home runs as opposed to getting as many guys on base as we can and driving in those runs when we can, that'll help us on the road."
Last year's stats show Morneau sacrificed power, with 11 homers at home, six on the road, but maintained his on-base percentage -- .363 at home, .364 on the road.
"There was a Q&A [at Saturday's Rockies Fest] that he was involved in, and he said it just about as perfectly as you could say it: The basic gist was it comes down to execution," Rockies general manager Jeff Bridich said. "For me, part of the misnomer is that we have to play some sort of different game on the road than we do at home."
Morneau said he is willing to display his unselfishness in other ways. He is willing to work with catcher Wilin Rosario, who will receive a look at first base so he can start against tough left-handed pitchers, as well as prospects Ben Paulsen and Kyle Parker -- who could move into the job if the Rockies want to go younger.
"Personal stuff is nice," Morneau said. "But winning -- shaking hands at the end of the game, going into the clubhouse, being able to laugh, being able to enjoy it -- that's always big."
Thomas Harding is a reporter for MLB.com. Read his blog, Hardball in the Rockies, follow him on Twitter @harding_at_mlb, and like his Facebook page, Thomas Harding and Friends at www.Rockies.com. This story was not subject to the approval of Major League Baseball or its clubs.