Francona confident Indians have pieces to contend
Manager joins president Shapiro for Q&A with fans during Town Hall Meeting
CLEVELAND -- In one respect, it has not been a quiet winter for the Indians. At the corner of Eagle Avenue and East Ninth Street, construction crews have made plenty of noise for the past four months, battling the weather and doing all they can to have the team's massive renovation project complete in time for the regular season.
Cleveland's decision-makers understand that fans want more than ballpark improvements, though. More than anything, this city craves a championship, and the team's quiet offseason (in terms of acquisitions) has created some concern. During the team's annual Town Hall Meeting on Monday, Indians president Mark Shapiro and manager Terry Francona reiterated their belief that the team in place is more than capable of contending.
"It's very rare in our game where you're bringing back 23 guys under contract," Francona told the season-ticket holders in attendance. "You just don't see that very often. The reason is some of our veterans that we signed are still under contract, and the majority of our guys are within two and six years [of service time], so they're our property. That's good.
"Because of the ages, we're bringing back the same guys and, even though we won 85 games last year, we feel like there's a majority of these guys that are going [to improve]. The tank isn't ... getting empty. We think they're getting better."
At the Idea Center at Playhouse Square in downtown Cleveland, Shapiro and Francona took part in a lengthy discussion hosted by Indians broadcaster Matt Underwood. The event, which will be televised at 7 p.m. ET on Friday on SportsTime Ohio, also gave fans the opportunity to step up to the mic to ask Francona questions about this offseason, the roster and the club's future.
During his time on the stage, Shapiro once again reiterated that the budget for the team's renovation project -- one that will include a reimagined Gate C entrance in center field, new locally based concession options, a two-story bar, an upgraded Kids Clubhouse, new bullpens and tiered party decks in the upper deck -- in no way influences the team's payroll.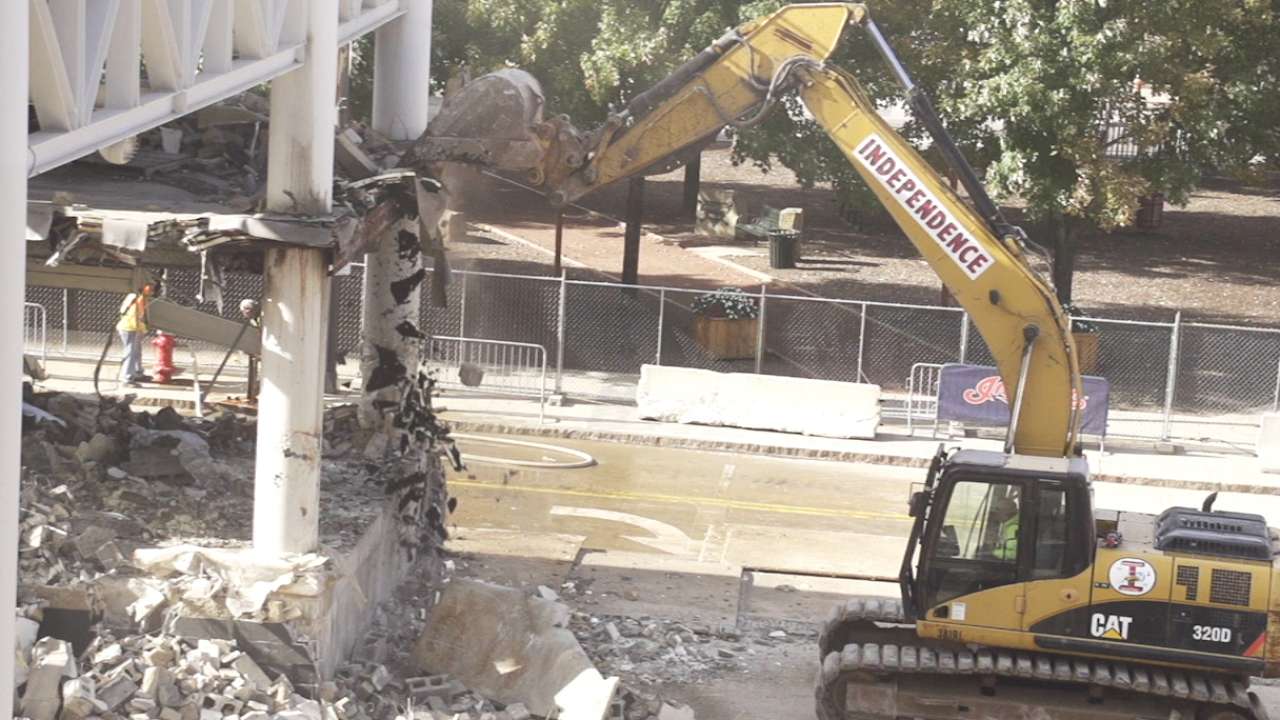 "We partnered on this project with Delaware North, our concessionaire," Shapiro said. "A large amount of the capital is being supplied by them. We've said it's all privately funded, which is important. There's no government money involved in the project. But it's also being funded in a way that it has no impact at all on player payroll."
This winter, the Tribe's biggest moves were trading for slugger Brandon Moss and signing free-agent pitcher Gavin Floyd to a one-year contract. Francona praised both deals and reminded the fans that Cleveland has developed star players who make up much of the club's core.
"To try to put it in perspective," Francona said, "when you're talking about baseball, which we all love to do, it's like, 'Hey, you need to go sign this guy or do this or get this pitcher.' Well, we developed a guy [Corey Kluber] that turned into the Cy Young Award winner and Michael Brantley was third in the league in MVP voting. They went from being good young players to being stars in our game, and they're our guys.
"They're not going anywhere. They're with us. That really bodes well for us, because we need to be that team that develops guys. Certainly, we're going to go out and sign free agents, as we have, but the more guys you develop, the better off everybody is."
In answering questions from fans, Francona indicated that he liked the idea of using pitch clocks to help control the pace of game, he found a comfort level with the new replay system introduced last season and he does not believe defensive shifts can be eliminated from the game.
On the last topic, Francona said emphatically: "You can't tell people where to play, and it'll never happen."
In response to the low-scoring environment in today's game, Francona said he believes hitters will eventually make an adjustment to use the entire field. The manager also stressed the importance of using well-timed bunts, hit-and-runs and stolen bases in an effort to generate more offense. Francona said his team will likely do more in those areas in the coming season.
Francona smirked when a fan began to ask him about his extreme bullpen usage last season, when the Indians set American League single-season records for most relief appearances (573) and most pitchers with 70-plus appearances (four). Francona said he keeps a close eye on the reliever's workloads, especially in warm-up scenarios.
"We concern ourselves with that a lot," Francona said. "Most teams, if you've gone to the bullpen that much, you're going to see some trouble. It shows you how prepared and how hard our bullpen guys work, that we were able to go to them that much and they were still a huge part of us winning. They were a strength."
Shapiro expressed confidence that Francona -- signed this winter to a two-year extension that includes team options for 2019 and '20 -- will continue to get the most out of his roster in the upcoming campaign.
"He's, to me, redefined the impact that a manager that can have," Shapiro said, "and helped our team to exceed, objectively, what we should be able to do. We are extremely fortunate, as are our fans and are players, to have him as our on-field manager."
Jordan Bastian is a reporter for MLB.com. Read his blog, Major League Bastian, and follow him on Twitter @MLBastian. This story was not subject to the approval of Major League Baseball or its clubs.