Inbox: Do Yanks have pieces to contend in 2015?
Beat reporter Bryan Hoch answers New York fans' questions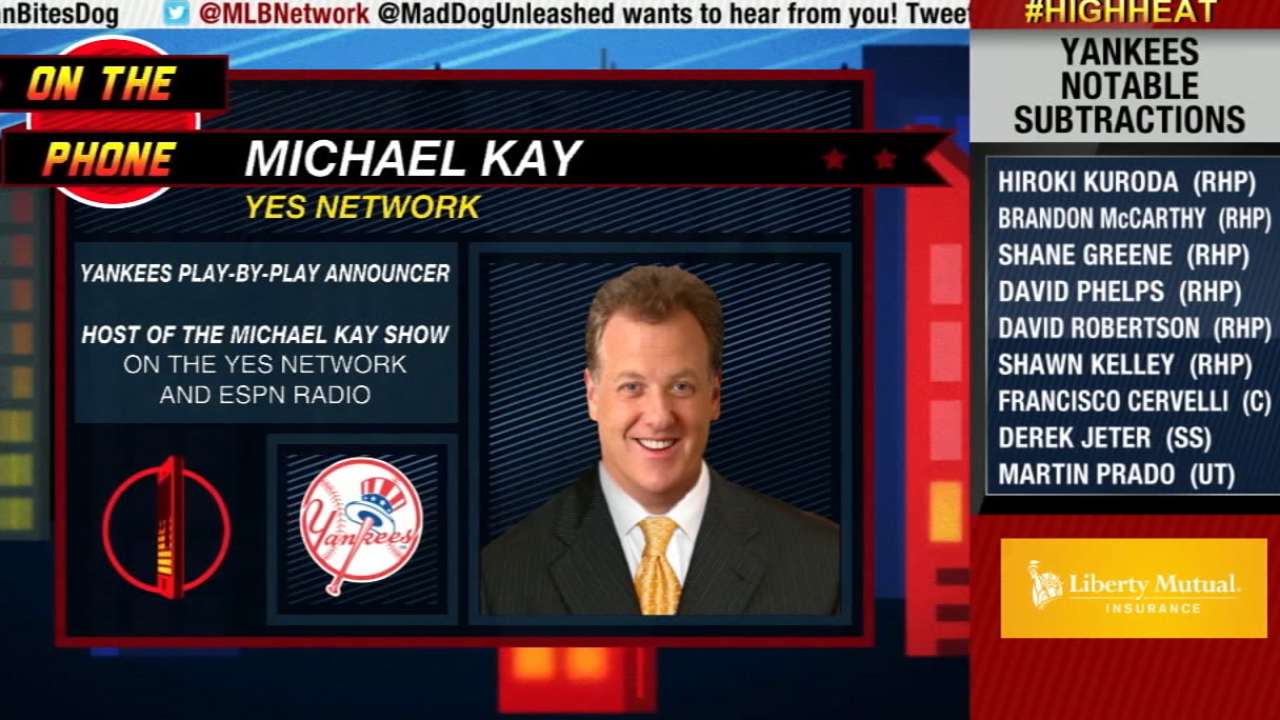 We're just about four weeks from the official report date for Yankees pitchers and catchers -- it's Feb. 20, if you didn't already have it circled on the calendar -- and so this is the home stretch of the offseason. Here's another installment of what Yanks fans are talking about.
The Yankees have made several low-key acquisitions, so what are we to expect of their performance this upcoming season? I could see them fighting for .500 or possibly better. What will we see come Opening Day?
-- Bradley W., Provo, Utah
This won't be breaking news, but two major things jump out about this roster: The Yankees need to get better seasons out of big-ticket veterans like Carlos Beltran, Brian McCann and Mark Teixeira, and they can't afford injuries to their key performers. Sure, that's true of every team in the league, but the Yanks really do have to keep guys out of head trainer Stevie Donohue's office -- especially Masahiro Tanaka, where any one pitch could be his last for 12-18 months. The Yankees like how their defense and the bullpen look, and so it's going to really weigh on the health of the rotation and the middle of the lineup to get the Yanks back to the postseason in 2015.
Submit a question to the Inbox
You know what John Sterling always says (by the way, we're glad that he is safe after a massive fire at his apartment complex and is already replenishing his collection of neckties): "You can't predict baseball." But that doesn't stop people from trying, and as of right now, Fangraphs.com computes the Yankees to finish 83-79 with a plus-14 run differential, scoring an average of 4.15 runs scored per game and allowing 4.04 runs per game. According to those projections, that'd have them tied with the Rays for third in the American League East, trailing the Red Sox (88-74) and Blue Jays (84-78). I'm no math major, but that feels about right to me.
No one in the organization was satisfied with last year's 84-win showing, and so it's probably a good thing that those projections can change between now and April. At the very least, what you can read into it is that the Yanks seem to be on the low end of the playoff range going into the spring. If things break right and they can add a few more wins -- one example would be by making a productive midseason addition, like last summer's move for Martin Prado -- you could be thinking about October baseball. We shall see.
What are the chances of the Yankees signing another mid-tier pitcher to a one-year deal, like Chris Young or Brandon Beachy?
-- Frank P., Puerto Rico
They say you can never have enough pitching, and after the Yanks used 13 starters last season, it's a statement that they are acutely aware of. Last week, we talked a little bit about Johan Santana being the ideal kind of guy that you could bring into camp on a flyer, but Young's expected pay bump (from $1.5 million, coming off last year's strong comeback campaign) probably takes him out of the running, considering New York just gave $5 million to Chris Capuano.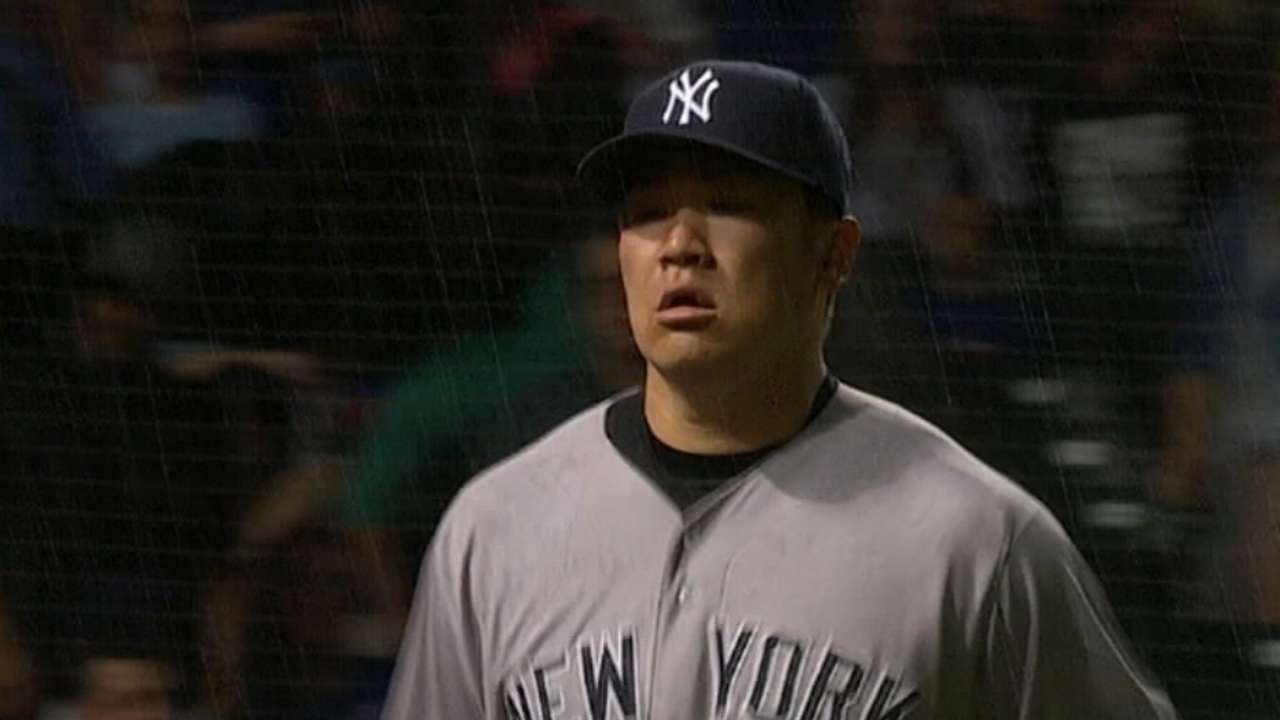 Beachy is coming back from his second Tommy John surgery and isn't expected to be ready until May, at which time the Yankees believe they'll have Ivan Nova just about ready to contribute. Considering that and the fact that all seems quiet on the pitching front, it looks like they may be content to go into the spring with Adam Warren, Bryan Mitchell and Chase Whitley as their main depth options, while mixing in a few non-roster invitees to fill out the crowd.
Could the Yankees play Didi Gregorius at shortstop with Stephen Drew at second base against righties, and then use Drew at short with Rob Refsnyder or Jose Pirela at second base against lefties?
-- John C., Commack, N.Y.
It's something the Yankees can kick around in the spring, and it would be good to keep Drew sharp at shortstop just in case, but that scenario probably means that Brendan Ryan isn't on the 25-man roster for some reason. Ryan doesn't hit much, but the Yankees feel he'll earn a spot with his plus defense and serve as a versatile 25th man of sorts. If not, Ryan is a movable piece at $2 million (trade or release), and the Yanks expect that Pirela or Refsnyder will play a role at some point.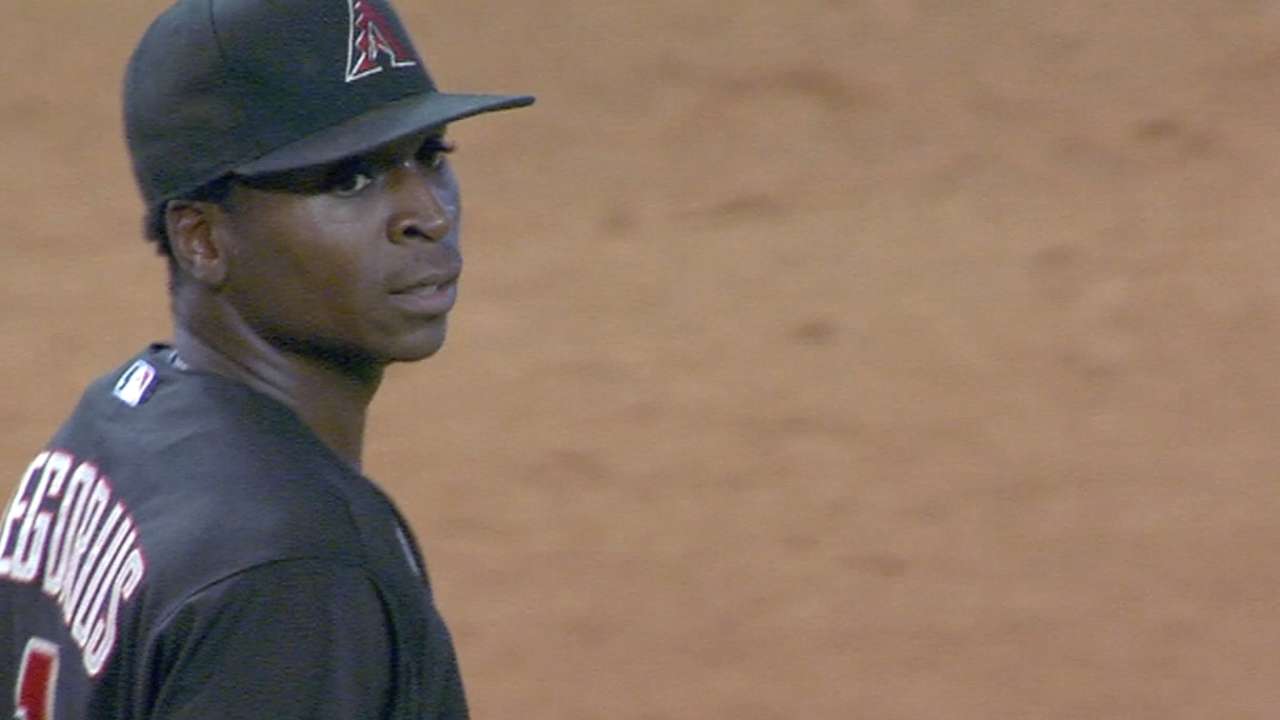 Gregorius' performance against left-handed pitchers could improve; he told the YES Network that he has been facing lefties while hitting during the winter, and he surely will face as many as possible this spring. General manager Brian Cashman said that the Yankees are ready to have Gregorius platoon against righties if necessary, because lefties have eaten up Gregorius to the tune of a .184 average (30-for-163) with a .490 OPS. He'll be just 25 next month, so there's time to improve on that relatively small sample.
There seem to be two theories on how to beat the shift -- hit through it or hit the other way. How does hitting coach Jeff Pentland feel about hitting with a shift on?
-- Chris, Philadelphia
Not surprisingly, that topic came up during his recent introductory conference call with reporters. In response to a question about Teixeira's difficulties with the shift, Pentland replied that players sometimes need to think more in the middle of the diamond rather than trying to pull the ball so much, but he wanted to keep specifics to a minimum until he builds a relationship with those players.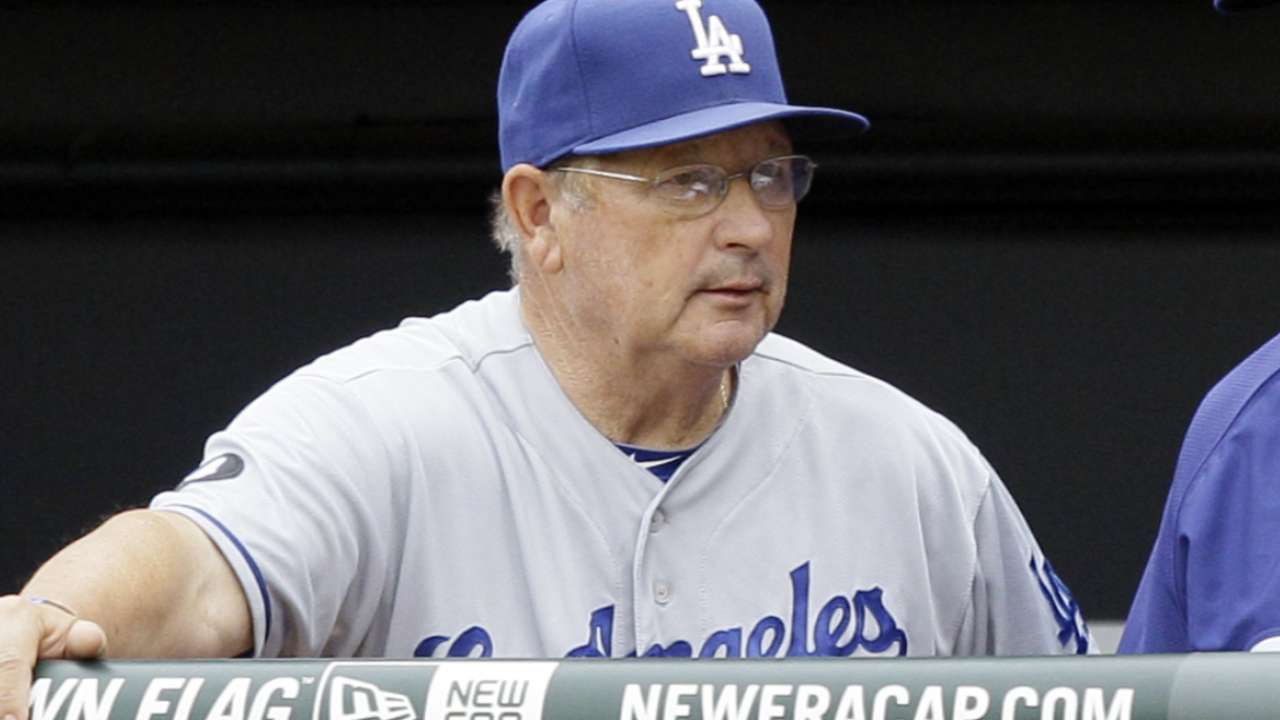 In general terms, though, Pentland acknowledged there is some weight to the idea that these players have been successful for a long time doing things a certain way, and if anything is to be changed, it needs to happen during the six weeks of Spring Training. By the time Opening Day rolls around, it will be too late.
"Once the season starts, it's very difficult to even think about changing swings," Pentland said. "You're always tinkering and fine-tuning, and you've got older guys ... you're not inventing the wheel here. You're not making wholesale changes. If I tried to do that, they'd shut me out in a heartbeat.
120 Sports: Reviewing Yankees' offseason
"These guys have been around, they know what they're doing, and they know how successful they've been. You'd be surprised how open-minded most of them are. I've got my work cut out for me as far as them getting to know me and trust me. Then we go from there. If we're not making any adjustments at all, then I'm not doing my job."
Marco Scutaro was designated for assignment by the Giants. Is there a chance the Yankees could pick him up for second base?
-- Josh Z., New York City
Not likely. Scutaro had fusion surgery in December, and it seems possible that he has already played his last big league game; it'll be four to six months before they know for sure, but back injuries are never easy to come back from, especially at 39. By the way, just hearing Scutaro's name always brings me back to Oakland in April 2007 and that walk-off homer off Mariano Rivera that clanged off the Coliseum's left-field foul pole. Ctrl-A, delete, rewrite.
Bryan Hoch is a reporter for MLB.com. Follow him on Twitter @bryanhoch and read his MLBlog, Bombers Beat. This story was not subject to the approval of Major League Baseball or its clubs.