No more winter in Punxsutawney for Mesoraco
Reds catcher packed up for Cincinnati to start ramping up workouts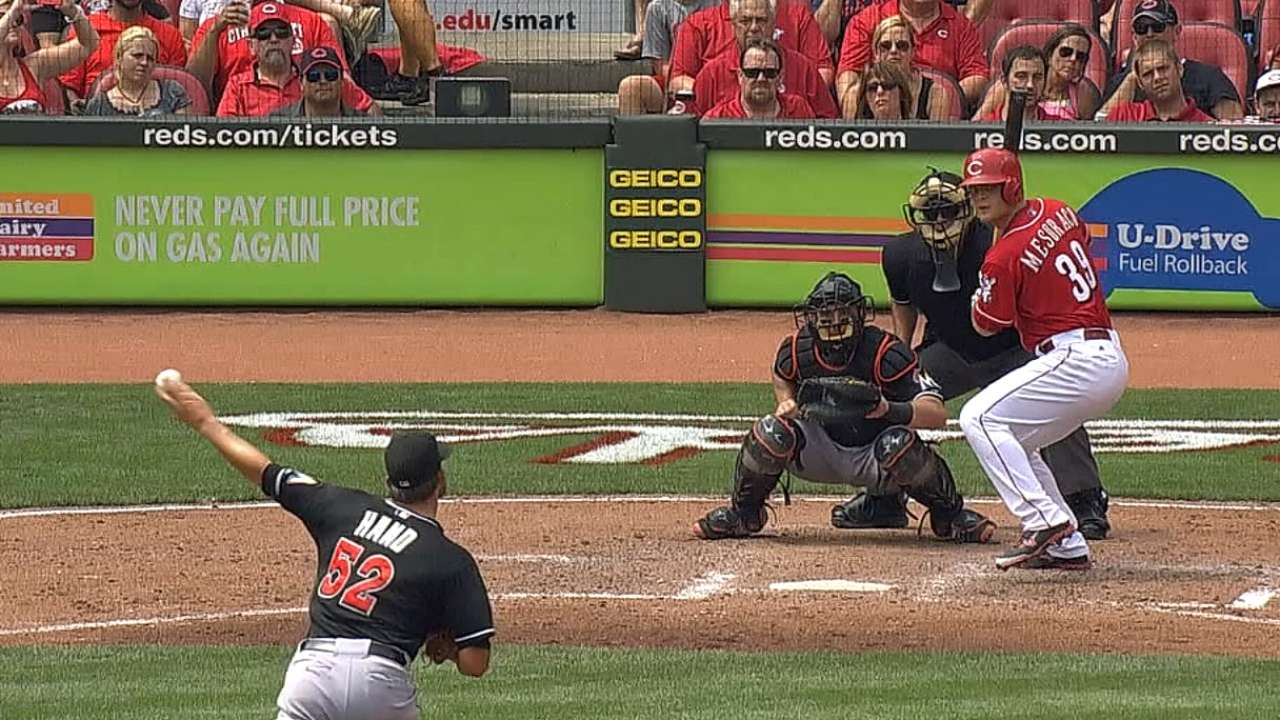 CINCINNATI -- It's not quite time for Spring Training yet, but Reds catcher Devin Mesoraco and his wife already have packed up their belongings and left their hometown of Punxsutawney, Pa.
This wasn't done to avoid nasty winter weather or the onslaught of tourists headed that way for Groundhog Day next week. Last week before heading out on Reds Caravan, Mesoraco moved back to Cincinnati for the final month before camp to take his offseason workouts into a higher gear.
"It definitely helps," Mesoraco said. "Up until this point, I've focused on my body and getting in good shape and getting all my strength back, doing agility and stuff like that. But I hadn't done baseball stuff as much."
Mesoraco works at Great American Ball Park with Reds catching coordinator Mike Stefanski. He also catches bullpen sessions for relievers Sam LeCure, J.J. Hoover and Ryan Dennick -- all of whom have been based in Cincinnati during the winter.
"Hitting-wise, we've got the cage and the machines. We can crank all of that up," Mesoraco said. "It gives me a good chance to get after it. In Punxsutawney, we don't have too many baseball facilities. It's very tough to do baseball stuff there."
Mesoraco, 26, became the Reds' regular catcher for the first time last season and a first-time All-Star during a breakout season. He batted .273/.359/.534 with 25 home runs and 80 RBIs in 114 games, while establishing career highs in most offensive categories.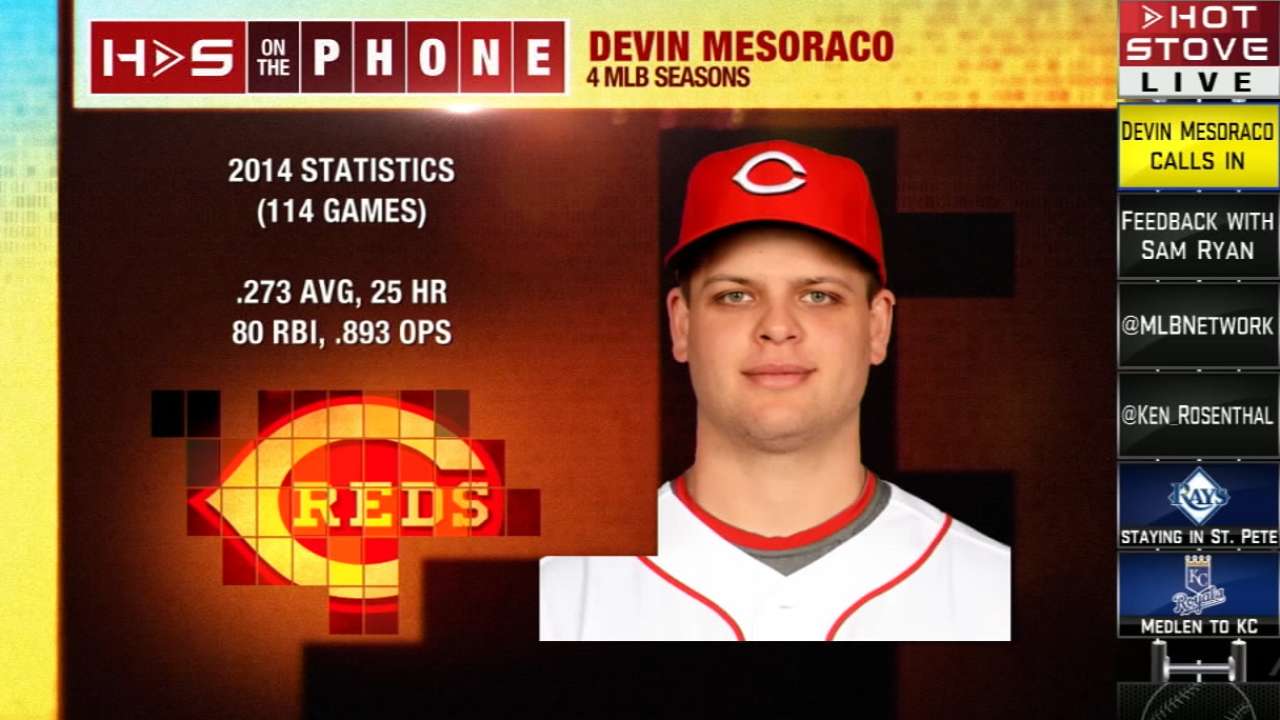 Second on the club in homers and tied for first in RBIs in 2014 with Todd Frazier, Mesoraco's numbers came despite spending two stints on the disabled list. First, he strained his left oblique muscle during Spring Training and missed the first six regular-season games. From April 26-May 15, he was out with a strained left hamstring.
Still, the long season had taken its toll and Mesoraco is looking to be more durable in 2015.
"I could definitely tell at the end of the year that my body was worn down," Mesoraco said. "I didn't catch as many games as I really wanted to because of the injuries. I knew that this offseason, I'd have to prepare just as hard, if not more, to get my body into as good of shape as I can possibly be in so there is no question come September or October, I'll be in good shape and ready to go."
One other piece of business left for Mesoraco before Reds pitchers and catchers report to Spring Training on Feb. 18 was a new contract, but he and the club avoided arbitration Monday with a four-year, $28 million deal.
Mesoraco made $525,000 last season and was first-year arbitration eligible. The catcher filed for $3.6 million, while the Reds offered $2.45 million.
"I definitely enjoy it here," Mesoraco said. "It's a perfect city for me. Team-wise, I feel as comfortable as I could possibly feel."
Mark Sheldon is a reporter for MLB.com. Read his blog, Mark My Word, and follow him on Twitter @m_sheldon. This story was not subject to the approval of Major League Baseball or its clubs.